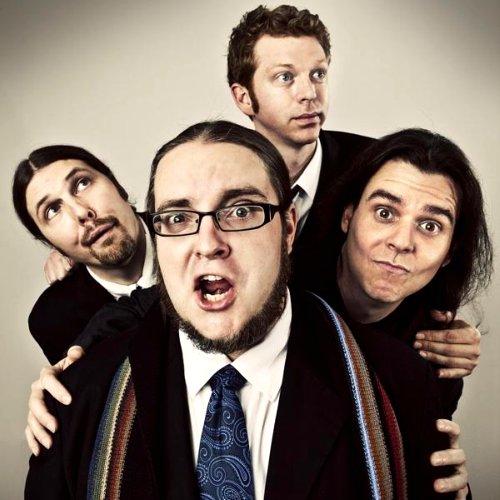 John Heishman - Bass & Vocals
Brian Triola - Organ, Keys & Vocals
Pat Gray - Drums & Percussion
Jeremy Parks - Guitar, Lap Steel & Vocals

Moksha's debut album, "Mammal or Machine", features lush horn arrangements. deep pocket grooves, soulful instrumental and vocal melodies. For "Mammal or Machine", Moksha combined their efforts with New Orleans funk guitar legend Brian Stoltz (Neville Brothers, Funky Meters, Bob Dylan and others), turntable veteran DJ Logic, Peter Apfelbaum and Santana's own Bill Ortiz/Jeff Cressman on horns. The album was mixed by James "Bonzai" Caruso (Madonna, Bono, David Bowie and Damian Marley) and Mastered by Gavin Lurssen (Phish/Joy, Robert Plant & Alison Krauss/Raising Sand and O'Brother Where Art Though). Both are multiple Grammy winners.
In true Moksha fashion, "Mammal or Machine" takes the listener on a journey that twists and turns through different landscape's of the musical palate with an excitingly fresh approach. Perfectly exemplified bu the way Moksha weaves the groove rock sound of "Blind to the Time" with soaring vocals and sweet horn lines into the British neo-soul sound of "Interface". Next, the album glides through the sultry funk of "Say U Will" which takes a few twists of its own when it transitions into a sublime fanfare movement and then launches off into outer-space with a Jungle/Dance finale. The Fact that they have such heavy hitters involved in the project insures the listener a smooth ride the whole way.

Explosive shows, filled with an arsenal of well-crafted material, have earned Moksha their reputation as Las Vegas' secret weapon. This well-oiled machine is now emerging from the glitz and glamour of Sin City and quickly garnering a solid following of loyal fans on the West Coast. With guitar, keys, bass, drums, and horns, this unique blend of musicians lives and breathes in a deep pocket of funk rock. Swirling in subtlety, their music paints a sonic landscape that unfolds in the moment and feeds on the dynamic ebb and flow of audience and band interconnection. In other words, they will melt your faces.