Dan Labich: lead vocalist, acoustic guitar
Benj LeFevre: Bass guitar
Randy Funke: electric guitars
Eric Kalb: drums
King For A Day, a Connecticut based original blues/rock band, has just released their first full length CD, entitled "Fortress". Fortress is a brand new 13 song disc that features powerhouse lead vocalist and songwriter Dan Labich, a mainstay in the CT music scene. Bassist Benj LeFevre from
Deep Banana Blackout
, guitarist Randy Funke from
The Grapes of Vaudevillian Fantasy
, as well as veteran freelance drummer Scott Lebish round out the quartet. This new CD is a mix of hard drivin' rock, soulful and heartfelt ballads, as well as mid tempo new classic rock style songs. The power and richness of Danny's vocals are equally matched by Randy Funke's raging guitar, layering a tapestry of sonic greatness that is both inventive and familiar at the same time. Benj and Scott hold down the bottom with solid authority, never letting the listener forget that the low end is where it's at! "Fortress" is a great collection of fresh original rock music, be sure to turn it up!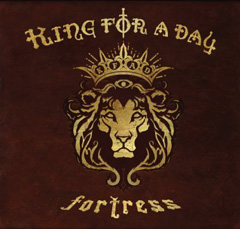 PURCHASE CD
"The CT press has already referred to King For A Day as a Fairfield County "Super Group."  Its powerful jams are complimented by strong heartfelt lyrics and a kicking rhythm section. -Gathering of the Vibes Website 2009 "
-Gathering of the Vibes
"Who are these guys?!" screamed an excited audience member to his group of dancing friends. Within minutes the entire crowd was chanting, "King-for-a-Day, King-for-a-Day!" like a roaring wolf pack. Making the Band roar back in turn! -Wendy Logan, Darien News
-Various
"Everybody listens to all the classic rock songs. At some point, they're going to want something that has the same soul to it but it's new and that's where King for a Day comes in. -Rich Monetti, Associated Content"
-Associated Content
Tour Dates
Sunday July 18th. Barcelona Bar Fairfield CT 1-5 PM no cover
Wednesday July 21st Noon-2 PM New Haven CT, on the green downtown; free show!
Saturday July 24th. Danny solo acoustic KFAD at The Yellow Sofa Northampton MA  6:30-8 PM no cover.
Saturday July 31st Gathering of the Vibes. 6 PM set, green vibes stage
Saturday July 14 Norwalk Reggae and Blues Festival set time TBA
http://www.kingforaday.net