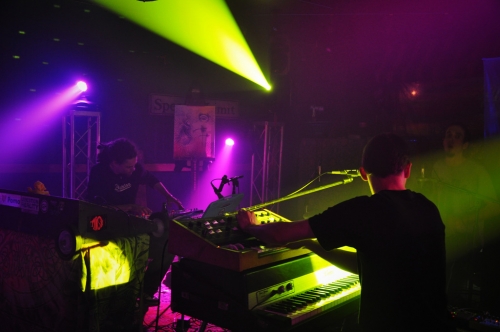 Trey Hebson
: synthesizers, sequencers,  and glockenspiel
Chase Hudson
: electric piano, synthesizers, and loops
Sean Sullivan
: drums, cymbals, and percussion
GREEN HIT listens to the music that exists naturally around them and becomes a funnel for the modern world as they translate their musical vision into song form. Using an original blend of instruments and effects they are able to capture tones and colors not typically found in popular music.

GREEN HIT was formed in 2005. Since that time, the ingredients have changed and the pot has been simmering! The efforts of this collaboration have produced something truly unique, challenging, and tasteful.
GREEN HIT's music appeals to a wide spectrum of people. With influences ranging from Afrobeat to Electronica, and from Funk to Post-rock, GREEN HIT won't sing you songs. Instead of telling the listener what to think, they allow the mood and feel of the music to communicate meaning. When GREEN HIT shows up at your local music venue, you can expect a full-on production, complete with intense intelligent lighting. The band incorporates multiple synthesizers, sequencers, tones, and colors that you won't hear on the radio, into every show.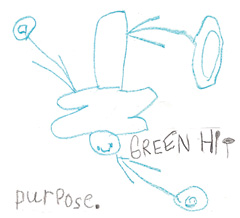 PURCHASE ALBUM HERE

"Purpose." is presented to you in all honesty. It is a live album which has been polished.

"live" - meaning all the players played simultaneously in the same room to record all of the music. There were no over-dubs, no click-tracks, and no safety net.

"polished" - meaning the sound was mixed and mastered in a traditional manner.

The whole of the album was recorded in three sessions during February and March of 2010. These sessions were held at 3rd Floor Recording, located at the Old Sacred Heart Hospital building, in Pensacola, FL., by Sean Peterson. All songs were written, arranged, and produced by members of Green Hit, and all songs are copyrighted by Green Hit.

It has been rumoured that the Old Sacred Heart Hospital in Pensacola is haunted. During the recording sessions several anomalous occurrences met with the band. Some of sounds on the album were donated by multiple Lo-Fi radio stations via Chase's amp. The content of these offerings brings into question whether the occurrences were by chance or due to intervention.

Tour Dates
October 30, 2010 - Mellow Mushroom - Jax Beach, FL
November 14, 2010 - Bear Creek Music and Arts Festival - Live Oak, FL
November 17, 2010 - Handlebar -    Pensacola, FL
January 14-15, 2011 - AURA Music and Arts Festival - Saint Cloud, FL
http://greenhit.net