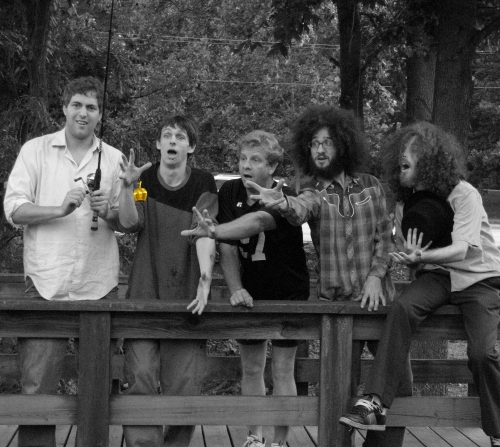 Bass/Vocals:
Davz Not Here
Guitar/Vocals:
Alfonso Graceffo
Drums/Vocals:
Scott Poe
Tenor & Alto Sax/Vocals:
Paul Juhl
Keys:
Max Melner
The Discordian Society, is an eclectic combination of funk, jazz and rock, with influences that range from Zappa and John Zorn, to Jaco Pastorius and Les Claypool. Formed by bassist/composer Davz "Not Here" Annarelli, The Discordian Society has awed crowds across the country and has performed with numerous artists including Larry Keel, Yonrico Scott, Ozric Tentacles, Hot Politics, Col. Bruce Hampton, The Mantras and Ani Difranco.
In March of 2010 Discordian Society released the long awaited "Primordial Soup". It has garnered excellent reviews and is slowly working its way up the charts. With the success of "Primordial Soup", regional and national touring, and rave reviews of their live performance, Discordian Society has etched a place in the musical landscape in which lovers of all genres can find a scenic view. With the recent announcement of a 3rd album slated for 2011, Discordian Society is quickly finding itself on the radar as a band to be watched.
Tour Dates
Thur Dec 2 - Terrapin Brewing Company - Athens, GA
Fri Dec 3 - The Mellow Mushroom - Asheville, NC
Thur Dec 9 - Martins Downtown - Roanoke, VA

Fri Dec 10 - Shamrock's Pub - Huntington, WV
Fri Jan 14 - Clementine - Harrisburg, VA
Sat May 14 - Spring Fling Festival - Boone, NC

"Wandered into the Preservation Pub sort of randomly late Friday and caught the latter chunk of a really good set by Asheville's Discordian Society. Yes they're a jam band or a groove band or whatever, but they actually really jam and groove."
--  J. F. M., Metro Pulse
"If The Discordian Society is representative of the current music scene in North Carolina then the world is in for a pleasant surprise and North Carolina will soon be on the map on a huge scale".
--  Dirty South TV
"... for all the skill and care to be found on Primordial Soup, it's pretty certain that where Discordian Society is most at home is on the stage. So, listen to the record and then catch the band in the flesh."
--  Ali Marshall, Mountain Express
" What seemed like an acid-tripped mix of funk, ska, rock, and punk, was punctuated by the smooth rhythm changes, precise starts and stops, and tight harmonies that some bands couldn't do with all the practice in the world."
--  The Phantom Critic, Phantom Critic / Roanoke Times Blog
"The Discordian Society embodies an important evolution in modern music. They set aside the pyrotechnics and flair of the eighties and bring forth a unique combination of experimental jazz. It is safe to say the music stands on its own."
--  Tarani Duncan , Knoxville Daily Times
"The Discordian Society from Asheville, NC can throw down some funk with their dynamic note progressions and high energy rhythms. This eclectic group seamlessly progresses from low to high."
--  Brad Winecoff, Home Grown Music Network