Come and join the HGMN crew for a great night of music down at Shakedown Street. We'll be giving away tons of free music so be sure to pick up your raffle ticket!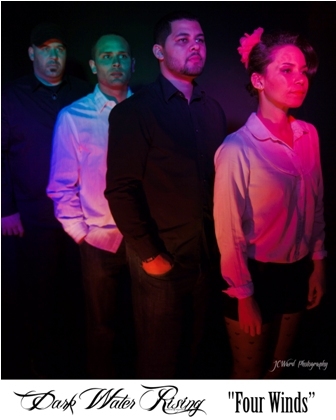 Dark Water Rising stays strong, continually developing their sound. As for the name, well, it stays strong too.
Led by Charly Lowry (lead singer/rhythm guitar), Aaron Locklear (keys/guitar/bass), Corey Locklear (lead guitar/cello/bass), and Shay Jones (drums), the band works to harness the sounds of Soul, Rock, Country, and R&B. Lyrically, Dark Water Rising explores all themes of life, whether it is love, heartbreak, sacrifice, celebration, despair, or pain; all the while expressing their sentiment on issues affecting Native American communities. Everyone always wants to know what you sound like; must be to test the waters. Dark Water Rising's live shows are worth going to with large groups of people-preferably friends and family.
Transitions come and go in life; the key is learning to adjust. DWR spends many days and nights thinking about the best songs for an album, or how to get a better tone. For Dark Water Rising, it's all about the music and the feelings it brings. The band has been blessed to meet friends, feel encouraged, and loved along the way. 
Following the success of their debut, DWR is making plans to records their sophomore album. "Dark Water Rising" helped to open the doors for performances throughout the Southeastern US, considerable radio airplay, a distinguished interview with NPR's "The Story with Dick Gordon", and a Native American Music Award for "Debut Duo or Group of the Year" (2010).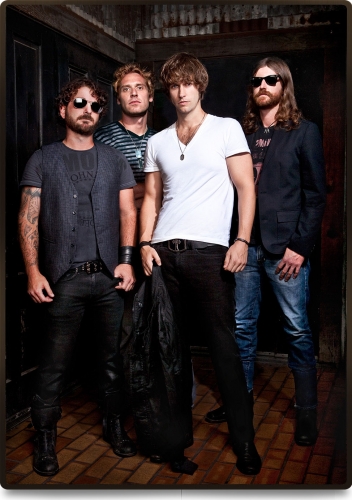 Coming from a familiar place where the story really matters, Ten Toes Up has been five years in the making. Five years of hard work, prolific song writing, dedicated practice and self-promotion have created the foundation on which they stand. Nine hundred shows worth of performance experience has built Ten Toes Up; nine hundred shows of original rock & roll gives them an exclusively distinctive sound repeatedly described as "huge"...with some comparison as a distant nephew to the Allman's. Three studio recordings happily reside in thousands of ipods, cd players and car stereos up and down the east coast. Ninety-seven thousand miles have been logged bringing this music to the people.
Highlighted by screaming lap-steel guitar, harmonica and infectious drum solos; these four musicians play various instruments throughout the compelling energy exchange where the audience is irresistibly drawn into the performance. An eclectic fusion has generated a depth and layering of sound that has emerged as real rock & roll with "born & raised in the south" underpinnings, a little jazz, latin, funk and uncivilized passion. The Charleston City Paper's T. Ballard Lesseman writes "They snap with almost as much stout-hearted blue-eyed soul as anything the Faces, The Band or indeed the Allman's- ever attempted 30 years ago"
Ten Toes Up is a formidable wave comprised of singer/songwriter William Craven's vocals/guitar/weissenborn/slide whose voice and playing lend a presence reminiscent of the allure of a rock star to the common man; accessible yet elusive. Like an artist with a brush, William paints lyrical portraits on a backdrop of skillful phrasing with a clear succession of melodic, broodingly soulful sounds that captivate as well as seduce. We'll make sure to hold his future spot on the list of great slide guitar players too. Bassist/vocals Charles Freeman adds a masterful approach to visceral bass lines, developing a sound other musicians pay attention to. Listen closely and you will hear Charles and his bass having a sub-conversation within a song. Also a singer, Charles brings it with an undeniably edgy rock vocal laced with a shot of Tennessee's finest. With an irresistible beat, percussionist/harmonica/vocalist Joshua Gregory attacks with adrenaline-infused energy; rousing the audience like a musical preacher. The conguero behind the art plays his colliding beats, forming a creative tension which not only demands your attention, but commands it. His harp skills can best be conveyed as an alliance between wistful, sweet grace and primal passion. Drummer Adam Miller drives the underlying pulse of the band keeping the colorful rhythms in perfect sync with a complex intelligence of class& style. Using his sticks, he adds surprise intuitive touches while mirroring guitar and bass riffs. Fluid and agile, Adam keeps it rocking.
Ten Toes Up just swept entertainment magazine The Surge's 2011 reader's choice awards winning best band, best lead singer, best drummer, best bass player, best song writer, best guitar player and best original band in Myrtle Beach. They have been featured both on the cover of The Surge and Coastal Business Life. They have received numerous other press appearing in various media outlets. The band is also endorsed by Haywire Custom Guitars, Hercules Stands, Clayton USA picks, Mental Case Road Cases, and Axekisser Guitar Cables. Recently they've rocked-out on ABC's "LowCountry Live" on Fox's "Not The News" and Time Warner Cable's "Live at the Jam Room". Three of their songs are played in daily rotation on a local TV station. 
The Home Grown Music Network Show Case Night at SHAKEDOWN STREET!!
2500 Hillsborough St., Raleigh, NC 27607
DARK WATER RISING & TEN TOES UP
All Ages to Party 21 to Drink!!
Doors at 9pm
$6