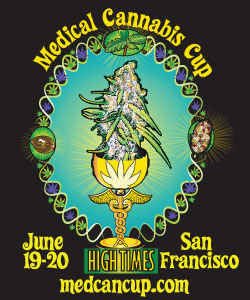 TWO DAY EVENT
* Daytime expo featuring medical marijuana experts and activists, leading dispensaries, medical cultivation seminars with Jorge Cervantes, Danny Danko, Nico Escondito and more!
* Saturday night VIP party featuring performances by Eagles of Death Metal, Lyrics Born, and other top acts.
21 and older to enter Saturday night party. ID will be required at the door.
* Sunday night MEDICAL CANNABIS CUP Awards show honoring top medical sativas, indicas, hashish, and edibles from California's legally operating medical marijuana dispensaries.
The first annual HIGH TIMES MEDICAL CANNABIS CUP in San Francisco will include prizes for the best and most medicinal cannabis, hashish and edibles from California's legal medical marijuana dispensaries. Lead by HIGH TIMES cultivation reporter Jorge Cervantes, our small panel of expert judges will award MEDICAL CANNABIS CUPS based on the medical efficacy of the submitted varieties, and will provide notes on the winners designed to help California's estimated 150,000 legal medical marijuana patients make well-informed decisions when seeking cannabis medicine.
HIGH TIMES first annual MEDICAL CANNABIS CUP will also feature a two-day medical marijuana and hemp expo that will include cultivation seminars with HIGH TIMES editors Jorge Cervantes, Danny Danko and Nico Escondido, activism sessions with leaders of the medical marijuana movement and major cannabis celebrities, seminars on how to open and operate your own legal canna-business, an all-star MEDICAL CANNABIS CUP awards ceremony, and an unforgettable Saturday night party with surprise musical guests.
Early bird price of $50 gets you unlimited access to both days of the Expo, including all cultivation seminars and activism panels, plus the awards ceremony. For $100, the VIP Medical Cannabis Cup grants all access at the Expo, plus admission to an official Medical Cannabis Cup party on Saturday night at a separate location. Tickets to the Saturday night party may sell out, so act now to secure your spot!
21 and older to enter Saturday night party. ID will be required at the door.
Entry into the medical cannabis cup is limited to legally operating, licensed medical cannabis cup dispensaries in the state of California. For more information on entering an indica, a sativa, cannabis concentrates or medical-cannabis infused edibles, please contact us directly at (212) 387-0500 or by email medcancup@hightimes.com

 

Daytime events, including the Expo, all seminars, and the awarding of Cannabis Cups will take place at Terra in San Francisco


On Saturday night (June 19), HIGH TIMES will host a party with special musical guests and entertainers.

EPIC DAZE. This event will feature an all-star music line up with celebrity appearances, live art, political speakers-  all coming together in a nationally recognized platform.
The EPIC DAZE celebration will be held June 19th at The Mezzanine and will without question be the highlight of the weekend.  Featuring an ALL-STAR music line-up (Eagles of Death Metal, Lyrics Born, DJ RAS MG (of Sublime), Ila Mawana, celebrity appearances political speakers, comedians, live-art galleries, a video-game contest, and strictly the most notable and influential people in the cannabis culture.
Line Up:

THE EAGLES OF DEATH METAL (Queens of the Stone Age) - http://www.eaglesofdeathmetal.com
Lyrics Born - http://www.lyricsborn.com
DJ Ras MG (Of Sublime) - http://www.myspace.com/marshallartsmusic
The Lazy Stars - http://www.myspace.com/jonnykaplanandthelazystars
Ila Mawana - http://www.myspace.com/ilamawana
Stand Down - http://www.myspace.com/standdownmilitia
**Tickets to the after party might still be available at your local medical marijuana dispensary.
21 and older to enter Saturday night party. ID will be required at the door.


We have also developed an entertaining and appropriate video game to compliment our promotion, which conveniently gives our sponsors an opportunity for multi-media exposure.  We have the ability to imbed Advanced Nutrients logos and products as elements of the game. Check it out! http://www.bcnorthernlights.com/assets/games

All ticket buyers will receive a list of California dispensaries participating in the Medical Cannabis Cup. State sanctioned medical marijuana patients can visit those dispensaries on their own and sample each dispensary's entered strain in the weeks leading up to the Cup.

 

The Medical Cannabis Cups will be awarded by a panel of independent experts, lead by Marijuana Horticulture author Jorge Cervantes, based on extensive sampling in a blind tasting. This expert panel will be at the Expo on Sunday evening to announce their decisions and award the Medical Cannabis Cups to California's top medical marijuana providers.


Epic Daze promoters are willing to grant press outlets a pair of tickets, a back stage pass, as well as access to interview performers, celebrities, and contributors to the event.

To RSVP your publication for EPIC DAZE, please call Eddie Bernard (310)-606-0912.


For more information please check out

http://hightimes.com/public/medcancup/

http://www.bcnorthernlights.com/epicdaze