They are a progressive jazz funk rock hybrid with an emphasis on lyrics, songwriting, and compositional sections. With the release of "Polygraph" their 2nd full length album in four years, Strange Arrangement comeback strong, Utilizing out of the box time signatures, left of center harmonies, and catchy melodies.
It was a crazy time at the Bear Creek festival as we searched for a good place to conduct an interview. The back stage area was slammed full of cars and whatnot so there was no room for the band to go inside and park their van. Our only option turned out to be inside Wildman Steve's RV, which actually turned out to be the perfect place to sit and chat in private.
Interview by Chris Robie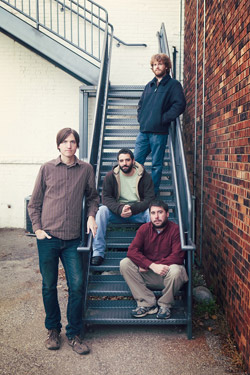 Strange Arrangement
Jim Conry - Guitar, Vocals
Joe Hettinga - Keyboards, Piano, Vocals
Steve Sinde - Drums, Vocals
Kevin Barry - Bass, Vocals
HGMN: Everyone from Chicago?
Joe: Yup
HGMN: How long have you been together?
Jim: About 5 years.
HGMN: With the current lineup?
Joe: This lineup just changed about a year ago. We grew up together with our first drummer, Bob Parlier, playing in high school years ago. Everyone studied music and played in a lot of different bands over the years and got back together about five years ago to start Strange Arrangement…again, basically. We had a lot of new material and it was impetus enough to get back together and do it. About a year ago our drummer Bob Parlier went back to school and Steve Sinde, we met at a festival we played at. He was playing in a band called Tula. We loved his playing and thought it would be a good fit.
HGMN: Was this in Chicago?
Steve: It was right outside of Chicago where we met. It was at a festival called Duck Fest.
HGMN: How many albums do you have out, just the one?
Jim: Two records, "Side by Side" and "Polygraph". "Side by Side" was kind of a collective of songs that Joe and I were writing together and the band wasn't really fully formed at that point. The music, it's different.
Joe: "Side by Side" kind of started with songs we wrote together and also songs that were written individually before we even got together as a band again. So, a lot of the material, it's like one song is mine and one song is Jim's… It's kind of like the beginning of something and then with "Polygraph" everything is a lot more collective. We are all a part of the writing process and everything.
HGMN: How would you describe your music to someone who has never heard it before? 
Joe: I would say that it's progressive, funky, jam…with a lot of lyrics in the songs.
Kevin: It's Disco Jazz. The improvisational aspects of jazz are definitely present. We definitely stretch out musical situations. If the funk gets going we usually carry it through. It rocks and its house influenced as well.  
HGMN: House?
Kevin: We've got the ableton running.
Joe: Yea, There are a couple songs and who knows where it's going to end up going in the next two years because we obviously have a lot of ideas. What we're going to do now is really just start to play and record it and get a lot of new material that way. 
HGMN: What do you mean?
Joe: Just improvisationally. If we could just play 2 hrs and record it there's bound to be a couple songs that can come out of that. Every time we do improvise there's always a section or two that we think is a really good riff for another song.
Jim: Remember what you were doing.
Joe: So that's why recording it is key.
HGMN: So the music usually comes before the lyrics?
Jim: Usually.
Joe: Yea, for the most part. Sometimes, though, some songs, even on "Polygraph", "Polygraph" itself, the song was come up with just by the lyrics and then the bass line.
Kevin: It seems like the lyrics go on tangents sometimes. We've got Al who's helping out and we're on the road traveling and we're driving…the lyrics go in tangents. We'll get this idea and we'll run with it. 
Joe: We write all our lyrics in the van (laughs).
HGMN: So coming up with the lyrics is a group effort?
Joe: It's a group effort. The three of us mostly have been the lyrical and then Alan, our tour manager, he helps to write lyrics to.
HGMN: Oh yea?
Joe: Yea (laughs)
HGMN: Does he get credited?
Joe: Yea. He's actually credited on the song "Polygraph and "Route".

HGMN: So what's the story behind the song "Bed Bugs"?
(Laughter)
Jim: We stayed at the worst Knight's Inn in the world. And there was a thunder storm…yea, kinda crazy weather and a really nasty Knight's Inn.
Joe: And one of our friends that was driving the van, it was raining like cats and dogs and you really shouldn't be driving in that and he was inexperienced at driving the van…
HGMN: Who was this?
Joe: Just our friend Pat that helps us out.
Steve: I can't believe that you ever let him drive the van.
Joe: Yea, he was driving the van and it was kind of scary and we made him pull over. But that's the part about…
Jim: "I kicked him out of the driver's seat."
Joe: Yea, right and the Knight's Inn was a part of it to. And a lot of times you never know where you are sleeping when you're on the road. We tend to just kind of figure that out sometimes (laughs). 
Jim: Just sleep in the van.
Steve: You don't want to bunk in the van.
Joe: You never want to.
Jim: I'm happy to. 
HGMN: Biggest influences?
Joe: For me it's Jeff Tweedy and Wilco, My Morning Jacket and Phish. I grew up listening to Trey's songs. A lot of jazz musicians too, like Herbie Hancock, Chick Corea and Keith Jarrett. So I think I get a lot of the musical elements from the jazz musicians and then the song writing from the like of Jeff Tweedy and Bob Dylan.
HGMN: Are you guys all into the same stuff?
Kevin: For the most part. There's at least a respect to the music you're in to. If it's not your cup of tea it doesn't mean that you think it's terrible. It's just not something that you prefer but it doesn't mean that it's not good or worth while.
HGMN: I heard that you guys covered "Electric Feel" by MGMT?
Joe: Thursday night. Yup, that was Kevin's idea.
HGMN: I heard that you nailed it.
Joe: It was fun. We've been playing that song for a little over two years.
Jim: It's contemporary and it's awesome and I never really heard a song played that way. And people will respond to it, I think. It's just one of the tricks in choosing a cover to do.
Kevin: It has a sexy jungle feel going on.
HGMN: So "Polygraph" came out in 2011, right?
Joe: No, 2010.
Kevin: What?
Joe: Right?
Steve: What?
Joe: No, "Polygraph" just came out this year. So 2009 was the first one and 2011 was "Polygraph".
HGMN: Do we even have the first one?
Joe: I don't think so. It's worth listening to.  We'll get you one.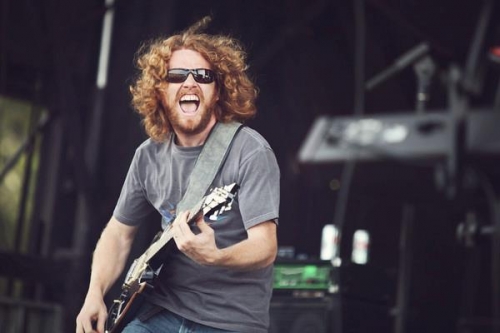 Abby Fox Photography
HGMN: You guys should come down and play Chapel Hill. It's more of an indie scene, though.
Joe: That actually is a cross over scene with us. We have some stuff that is more toward the indie side than jam band side.
Jim: When we write a song we want to write good songs, not just jam.
HGMN: Sure. It's like HGMN. We're not out to just find jam bands. We just want to find music that doesn't suck. 
Jim: And we want to represent music that doesn't suck.
HGMN: Out of all the songs on the new album which is your most favorite?
Jim: "No Light"
Joe: On the record, for me, it is probably "No Light". It's the ballad on the album.
HGMN: Why is that your most favorite?
Joe: Well, we worked with Manny Sanchez at I.V. lab studios in Chicago and just had a blast. Also, Chris Harddon worked on the record with the guitars but the way that Manny mixed it, it was different than what I thought it would be and it was exciting to hear what he did with it.
Jim: The writing of it and the way that it just kind of organically grows throughout the song. I like that song the best for sure.
Steve: I personally, as a fan of Strange Arrangement, since I was a fan first before I joined the band and didn't have any clue that I was going to be the drummer for the band, I think "Siete" is smooth. It's just a smooth track.
Joe: Well, thank you.
Kevin: Smooooth (laughs)
Steve: It is! I'm not joking.
Kevin: That just reminds me of that gig we played. We played this gig in this really small town. And the owner of the bar…
Jim: Yeah, she's like this country music fan. She's an older lady in Sterling Rock falls, IL.(In a country accent) "you boys sound real, real smooth". 
(Laughter) 
Jim: She told us that we should hit up this country music festival and we're like…
Joe: I'm not sure if we're smooth enough for that, really (laughs).
HGMN: Look what happened with Grace Potter and Kenny Chesney. They have a huge country hit song. It's insane.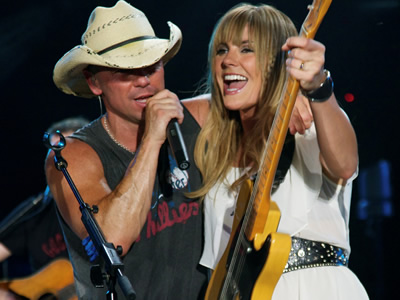 Joe: That is amazing.
HGMN: So what would you say would be your most memorable moment on the road?
Joe: I'll have to think about that for a second.
Steve: We got robbed.
Jim: It was his first gig.
(Laughter)
HGMN: What do you mean? Was this by gun point?
Jim: Somebody broke into our van.
Steve: Somebody stole my music history books.
Joe: Well, this is the funny part about that, we left all the gear in the club that night and we have never done that.  We're like, let's just grab it tomorrow. We have a place to stay. And they broke into the van that night. There was nothing in there but an ipod and some books and stuff.
Steve: They took my school books!
Joe: I say for me one of the most memorable things in the last couple years has been The Canopy club opening for Umphrey's. That was just really fun. The energy of the Umphrey's crowd, they're ready for something different and open to what we did. A lot of them hadn't heard of us yet because that was two years ago and yet the whole crowd was just really looking, engaged and listening. 
Jim: To win them over was definitely a feeling of achievement. It's not that they were going crazy but there was definitely "you guys don't suck" applause.
Joe: It was fun. Summer Camp was a blast to, playing the last two years.
Steve: Summer Camp for sure, Summer Camp and Hoxeyville.
 Joe: Hoxeyville in Michigan. Do you guys know about Hoxeyville?
HGMN: No. I've never even been to Michigan. I've never even been to Chicago. 
Joe: Really? 
Kevin: Stay away.
HGMN: Did you say stay away from Chicago?
(Laughter)
Joe: No. Don't stay away (laughs). It's awesome. I love Chicago.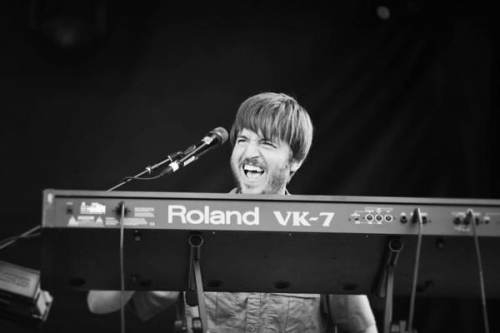 Abby Fox Photography
HGMN: Do you guys know Lubriphonic?
Joe: Yea. Actually, we haven't met up with them a lot because we're both touring so much. We don't go and see a lot of stuff in Chicago because we're always gone or playing. We haven't really met them too much. Umphrey's, I guess, has really been instrumental in helping us. That scene is so revolved around them because they're in Chicago still. They're really one of the most important bands for us to be connected with and working with. Chicago is great. 
HGMN: What would you say has been your lowest moment as a band? Don't say losing your school books.
Joe: I think going through a transition. 
HGMN: What do you mean?
Joe:  When someone is looking at moving on from it and you're still really invested in what's happening musically. I firmly believe that our music is universal enough to really just keep doing it. I really want to keep doing it. And when one person wants to move on it makes you reassess everything. That was a low point for me, "what am I going to do now?"  
Steve: There's that perspective but from my point of view I haven't had a low moment in this band. There might have been a couple very small ones. Strange Arrangement has been a very welcome addition to my life.
HGMN: What would you be doing if you were not in Strange Arrangement, if you were not even a musician?
Steve: I'm in my last semester of school for music. I'm a music performance major in school at Columbia in Chicago. I would probably be teaching.
Joe: I would be a teacher. I teach piano actually. 
HGMN: You kind of look like a teacher.
(Laughter)
HGMN: You do, really.
Steve: I accidently get taught by him every day.
(Laughter)
Jim: I would probably be in school if I wasn't doing this. Yea, I would probably just be going to school and I don't know if it would be for music but it's kind of hard to say. But more than likely school or a waiting job or something awesome like that. 
Kevin: I would still be playing music, somehow, somewhere or teaching it.
Joe: It's interesting that no one in the band would pretty much want to do anything else other than music. 
Steve: I would much rather have an office job, actually. 
HGMN: An office job is not that bad. So what do you guys have coming up that you're excited about?
Jim: Two dates in Colorado and then we're doing a run with D.T.M.
Joe: Digital Tape Machine.
HGMN: Is that like a side project?
Joe: Yea. Kevin and I play in Digital Tape Machine.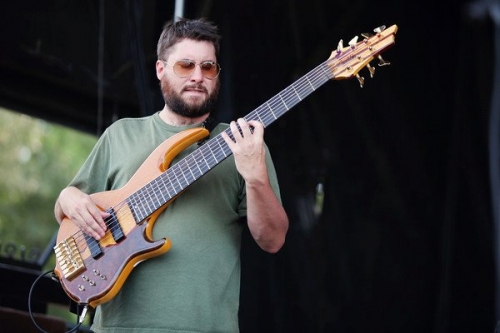 Abby Fox Photography
HGMN: How would you compare that to Strange Arrangement?
Joe: It's completely different. It's instrumental electronic music. We have a DJ, we have Kris and Joel from Umphrey's and Marcus Rezak from the Hue. We've done maybe twelve shows within this past year, 14 or something like that and a lot of them Strange Arrangement is playing with. So at this point we are touring with Strange, Ohmphrey, which is also Chris, Joel and Jake from Umphreys, and Chris Poland the guitarist who was in Megadeath and then Robert Pagliari is the bass player. 
HGMN: Are you guys working on an album for Digital Tape machine?
Joe: Yes, we are. Actually, today is the first day of tracking and I'm not there. And then Strange will be, like we said we're going to start having our recording set up in our rehearsal space and then just start recording a lot of jamming. Our plan is to try and write some new stuff.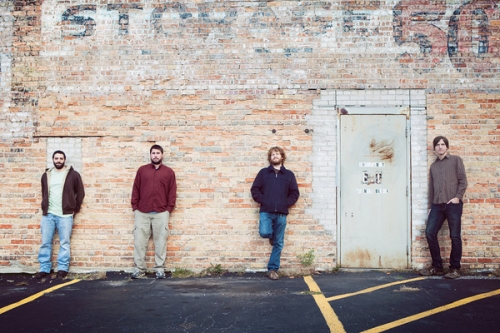 Winter Tour Dates
The Loft
December 8, 2011
Lansing, MI
The Castle Theater
December 9, 2011
Bloomington, IL
The Mousetrap
December 10, 2011
Indianapolis, IN
The Crooked I
December 16, 2011
Erie, PA
Beachland Ballroom & Tavern
December 17, 2011
Cleveland, OH
Bell's Eccentric Cafe
December 30, 2011
Kalamazoo, MI
Bell's Eccentric Cafe
New Years Eve Party
December 31, 2011
Kalamazoo, MI
Pyramid Scheme
January 20, 2012
Grand Rapids, MI
Union Street Station
January 21, 2012
Traverse City, MI
Park West
Co-Bill w/Greensky Bluegrass
January 27, 2012
Chicago, IL