By John Phillips
Photos by John Phillips/Festy Shots Photography
Lineup changes are inevitable for any band, and the Tampa-Bay area jam band Cope is no exception.  Earlier this year, their longtime drummer Dave Gerulat decided to leave the band due to the heavy touring schedule and the need to spend more time close to home.  The change had been coming for awhile and wasn't driven by any artistic differences.  Gerulat's jazzy, R&B style and his percussion virtuosity defined Cope's sound as much as the other members of the band.  The parting was very cordial, and Dave still occasionally sits in with the band on percussion for local gigs (as he did during the Orange Blossom Jamboree in May of this year).  In steps Brad Elliot, a Chicago native who moved to Florida in late-2010.  While Elliot brings a more rock-based drumming style, he also brings a "road warrior" attitude that will come in handy with Cope's aggressive touring schedule.  He joined the band in March of this year, and has found the willing acceptance of Cope's rabid fan base.
Cope is a band that's hard to nail down.  While most bands fit into a definable genre or stylistic range, Cope takes you on a journey across a wide swath of the musical landscape, often doing so within a single song.  The two brothers that form the nucleus of the band, Dennis and Kenny Stadelman, have been playing together since high school.  Kenny's bass work anchors the band's compositions, while Dennis' handles guitar and banjo.  They share lead vocal duties, and have honed their playing style over many years of jamming together.  Rounding out the group is Juan "Juanjamon" Montero, who brings a funk and Latin-infused style to keyboards of all kinds, as well as horns.  This musical melange is central to the band's ability to easily shift from funk to jam to bluegrass and back again.
I was able to check them out at this year's Orange Blossom Jamboree.  Nailing them all down at the same time for an interview was another thing altogether.  We had several close calls, but it just wasn't meant to be.  With their busy schedule, it took until July before we could set up this phone interview.  The band had just finished rehearsal, and Dennis and Kenny were headed to an acoustic duo set later that night.  I interviewed them one at a time.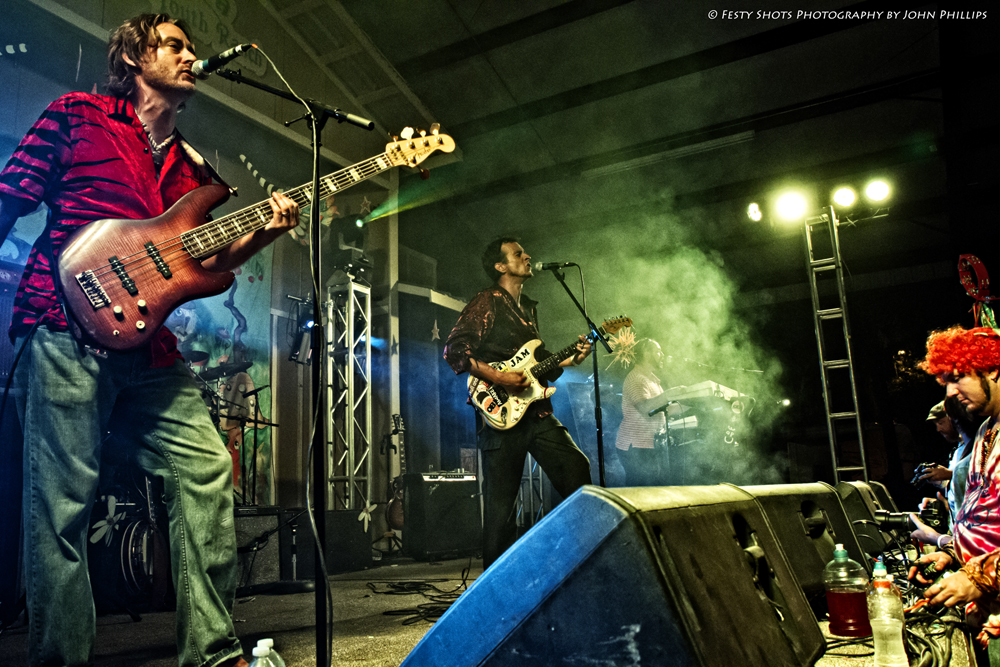 Dennis Stadelman – Guitar, banjo, vocals
Kenny Stadelman – Bass, vocals
Juan "Juanjamon" Montero – Keyboards, saxophone, vocals
Brad Elliot - Drums
Brad Elliot
HGMN: So Brad, you joined the band in the February/March timeframe, right?
Elliot: Yeah, it was March.  I think March 8th was my first show.
HGMN: So how's the transition going?  Do you feel comfortable where you're at?
Elliot: Oh yeah, definitely.  I keep making more progress every time we play and when we practice. We get tighter and tighter as a band and start to feed off each other more.  After playing with Dave (Gerulat) for so many years they developed a groove with each other, you know, that unspoken thing with each other.  And then when I came along we all just connected right away, man.
HGMN: So are you putting you own imprint on the band and the way you approach it?
Elliot: On the tunes for sure because I have a bit more of a rock 'n roll style of playing as opposed to Dave who has a more jazzy style.  But I kept a lot of the parts true, you know, like the important pieces that were structured into the song.  I kept those, but for like jam sections I just swing the tune differently because of the way I approach the kit.  It's different than Dave does so naturally I swing it differently so everyone else kinda swings it differently.  I mean, the songs are the same and the songs are still there but they're a little more rockin', you know?  
HGMN: Yeah, so key rhythmic elements are still there and then you break open on the jams.
Elliot: Yeah. I definitely stay true to Dave's parts that he wrote for the majority of the stuff, but I put my own flavor on a lot of it, and then on the jam sections we just open up a lot more.  
HGMN: So who did you play with before you joined Cope?
Elliot: I'm from Chicago originally.  I moved down here in October of 2010, so all my playing was done up North.  I was in a band called Reverie (now known as Model Stranger), and a lot of the touring I did was with that band.  And I've been playing in studios all over Chicago since I was 15 years old, so I've got a lot of studio work under my belt.  I did quite a bit of session playing for my friend's production company called "Go Flat Productions" out of Chicago. So I would come in and track drum parts to a lot of the pre-existing music.  They'd already written songs and I would just come in and lay down drum parts.  So I got exposed to playing a lot of jazz and blues.  I played a lot of punk rock for awhile and have been exposed to a lot of things because of the session work I did.  So, coming into Cope, their music allows me to be really open with my playing and they always support that.  There's so much different about the music that Cope does.  It's all part of the same underlying vibe that Cope puts out there, but the music is really diverse, so it allows me as a drummer to flex on a lot of different styles which is fun for me.
HGMN: Yeah, that's very true.  It's hard to nail down a particular style because there's so much diversity in what Cope plays.  So you're no stranger to touring.  I know that Cope's been on a pretty heavy schedule the last few months.
Elliot: Yeah, we hit the ground running right away.  I like being on the road a lot.  That's why they hired me as well, because I'm used to being on the road for weeks at a time.  I'm used to living in a van and roughing it, you know, and making it show to show.  I enjoy that, man.  I love doing that.  Going state to state, making new friends and extending the Cope family.  I love that, man.
HGMN: It takes a certain personality, that's for sure.  So, what's next, what's new coming up?
Elliot: Dennis would probably have a better idea of what's coming up.  We have a one-week run coming up here in July, and then we've got a two-or three week run later.  We've got some festivals to play; there's one in West Virginia, then Pennsylvania, North Carolina.  In November we'll be at Bear Creek at Spirit of the Suwannee.  It was fun playing the Wanee festival there, not even three weeks after joining the band, and that was pretty sweet.  It was cool that we got to tighten up on the road before we came back home.  We tightened up a lot by playing so many shows on the road.  The repetition and the consistency of what we were playing really helped.
HGMN: Well, welcome to the band.  Look forward to watching the development of the style as you guys play more together and start bringing in new material.
Elliot: Thanks, man.  I'm not apprehensive at all because I know Dave laid a lot of groundwork and people love Dave, and they love the band with him, so I was just gonna come out and do what I do and if people dig it, then people dig it.  And if not, I'll know quickly, but people have been really getting off on it.
HGMN: It definitely seemed like people were into it at Orange Blossom Jamboree.
Elliot: Yeah, there's definitely a new energy in the band.
Kenny Stadelman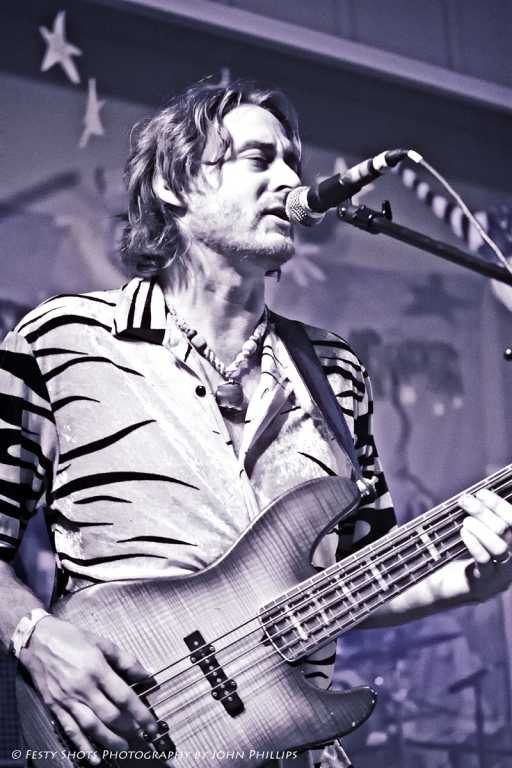 HGMN: I was talking to Brad about how he's getting settled in with the band.  From what I heard down at OBJ, it sounds like you guys haven't missed a beat, and he brings something different to the table.  Not to take anything away from Dave, of course.
K. Stadelman: Yeah, Dave had some different things he had to do.  It definitely wasn't a talent issue; it was just an availability issue.  But yeah, Brad has stepped right in and he's picking it up.  
HGMN: So I've seen you play that monstrous bass, man.  That thing is a beast!
K. Stadelman: That five-string jazz?  Ha ha.
HGMN: Yeah.  What model is that?
K. Stadelman: It's a Fender Jazz Deluxe, American.  It's pretty standard but it's got some special features like some double active electronics and the fifth string so I can work the low B.  I've probably had that one about six or seven years now.
HGMN: It has sort of a rough-hewn look to the wood.
K. Stadelman: It's called a tobacco burst.  It's like a sunburst without the red, so it's like a light brown that works its way out to the outside with the finish.  You can see the wood grain through the whole thing.
HGMN: I tend to gravitate towards the bass players anyway.
K. Stadelman: Ha ha, right on.
HGMN: You and Dennis have been playing together a long time, I know.  
K. Stadelman: Yeah, since high school.
HGMN: One of things that amazes me is the incredible diversity of the music, the different styles that you play, even within one song you'll shift among two or three different styles.  Is that something that you guys consciously thought about or did it just evolve?
K. Stadelman: It just kind of naturally comes out because each of us has so many different influences and each one of us is not just limited to rock or blues or whatever.  I mean, if you plugged in my iPod you'll hear everything from Charles Mingus and Miles Davis to Graham Parsons to Fred Eaglesmith to Phish to whatever, you know.  There's nothing that's not in there.  Whatever genre of music it is, if it's a good representation of that genre of music it's in my stereo, with the exception of, like, hard-core gangsta rap, you know.  And I'm not a big fan of country pop singing, you know.  I like old classic country and stuff like that but I'm not a big modern country pop fan.
HGMN: Yeah.  I grew up listening to classic country when it was new and mainstream.
K. Stadelman: And all our influences, even between Dennis and I, have different things that have inspired us, but we each listen to each other's stuff, you know.  So you put all of us together and all our different tastes in music, I think it just naturally comes out.  We'll be thinking about what to do on one part and then somebody just tries something, you know, and if that doesn't sound right we'll just try something else until we get something we like.
HGMN: Yeah.  Some of your songs, you can "tag" them, if you will.  Like "Creeker" to me is just a straight out funk tune.
K. Stadelman: Like a rock, funk song, yeah.
HGMN: But most of them you can't say it's this style or that style.
K. Stadelman: You can't put a genre on them.  Yeah, there's a couple of songs that you can definitely say are reggae or reggae-ish, you know, or some bluegrass, and some that have a rocking quality to them.  But some just don't have a really set style, it's just a song.
HGMN: And I think that's what makes you guys fairly unique.  You embrace all these different styles and genres, and make it work.
K. Stadelman: We pride ourselves on not being afraid to just put it out there, you know.  Especially at a show, you go out there and feed off the crowd.  If the crowd's feeling something you just go with it.  Go for broke, you might fuck it up, you might not.  Either way, your gonna keep that energy there, you know.
HGMN: Well, that energy was obvious at OBJ, that's for sure.
K. Stadelman: Right on.  Thank you.
HGMN: Yeah, that was an excellent set.  I wish I had more opportunities to see the band.
K. Stadelman: We're coming up your way (Virginia) later this year.  I think in the fall we'll be in Wilmington (NC), and I think in October when we're heading to New England I think we'll be coming through Virginia.  For some reason I think I saw that on the radar.
Dennis Stadelman
HGMN: One of the things that have always struck me about Cope is the diversity in styles from one song to the next or sometimes within a song, you'll transition to different styles within a song.  And I'm sure a lot of that has to do with the different influences that each of you bring to the table.  What were some of your early influences that shaped how you play?
D. Stadelman: Well, real early, it was my mother, my grandfather and my uncles playing mandolin and guitars, the acoustic thing.  That's where the country/bluegrass thing comes in.  Then I got into the Beatles really young through a couple of different uncles, and then I started listening to Kiss and heavy metal when I was in high school and got kind of a rock influence.  Then, right after high school when I first moved to Florida, Kenny got me listening to The Grateful Dead and Phish, and that lead me to some of the more electronic bands.  It's just been a very eclectic mix.  Then when Juan joined the band it brought in reggae, it brought in more funk and things like that.  Plus the instrumentation; we all play a number of different instruments and it really supports doing different styles and you can have different tones and different sounds.
HGMN: Yeah, each of you bring a little something to the table and with everyone being multi-instrumental it gives you a broader range of styles that you can work out.  You've had a heavy touring schedule here lately.
D. Stadelman: Yeah.  We're going to be hitting it pretty hard here from late July pretty much through November with the festival season, places like Bear Creek and things like that.  We have several festivals on the East coast.  We have Chaffee's in Pennsylvania this month, next month we have Mantrabash, a big one in North Carolina.  So the tour will center around the festivals and have dates along the way.  And because of our genre we don't get mass media, we don't get television, we don't get commercial radio so the only way to spread the word is to go town to town.  Sometimes it can be tough, a bit of a grind, but it's rewarding.  Maybe not financially at the moment, but hopefully that'll come.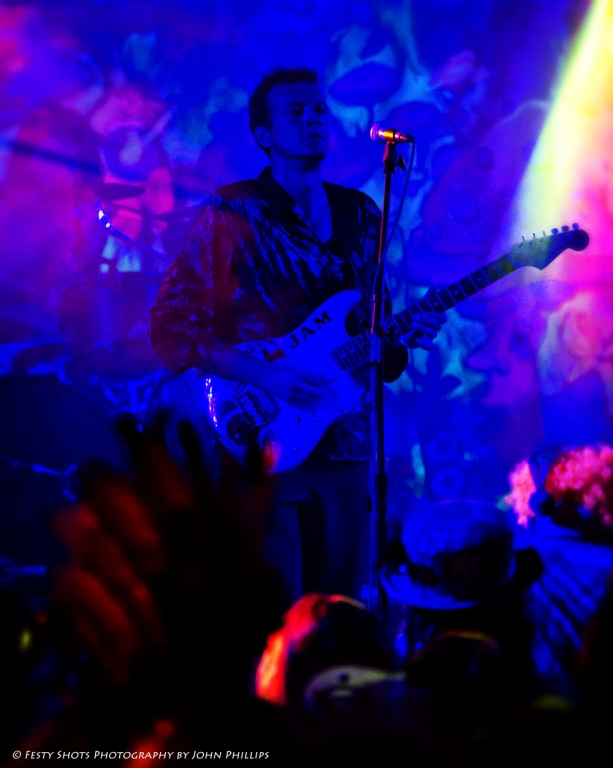 HGMN: Yeah, that's the hard part.
D. Stadelman: Yeah, but we all say if we were in this for the money we would have quit a long time ago.
HGMN: Very true.
D. Stadelman: But we're playing music for people that enjoy it, and that keeps us going.
HGMN: That's a reward unto itself.  So, any new material coming, maybe a new CD anytime soon?
D. Stadelman: We have 8 tracks pretty much ready for the new album.  Some of them we've played out, some we haven't.  Once again, it's a very broad range of genres.  We're going to take some of them on the road because that's what we do.  It's kind of an improvisational style around structured parts, so a lot of stuff has to develop over time and we don't want to beat the home crowd up with these songs before the album comes out.  So we'll take them on the road and tighten them up before the album is released here.
HGMN: Makes sense.  And like you said, with your approach you start with something composed and then you want to work it out.
D. Stadelman: Yeah, expand on it.  We can explore and experiment with different things, and then what's funny is through that you start hearing things that you like and they become part of the composition later.  They become parts that stick that started out as something we improvised.
HGMN: That's a very cool thing.
D. Stadelman: Yeah, it's fun to watch it grow.  It's fun to listen to something that we wrote a year ago and listen to what it sounds like now.
Juan Montero
HGMN: The style that Cope brings to the stage is really unique.  I've listened to a lot of music over the years and bands tend to fall within a fairly definable range.  I don't see that with you guys.  From one song to the next you can go in two completely different directions and even within a song jump from one style to the next and then segue into something else.  Was that a conscious effort to try and blend all these styles or was it a product of all the diversity of different types of music that each of the individual members bring?
Montero: I think that the brothers write songs in a unique kind of style that's based off of things that they've grown up listening to but at the same time they have kind of a unique songwriting style that is not too cerebral, but it is intelligent.  And I have a very rootsy style that's based off of my love of original instruments, you know, like real horns and all.  I like playing with synths, but I really love playing a B3 and Fender Rhodes, getting those classic sounds and doing the classic genres like funk and reggae and rock, but kind of doing them in a pure sense.  But at the same time I feel like maybe our band, although we listen to a lot of music and we like a lot of bands, we're not particularly fans of bands, you know what I mean.  Like, none of us are really too obsessed with any bands that are on the circuit.  We're not big fans of anyone, which kind of makes us less exposed to what's already out there and gives us a little bit of originality.
HGMN: I'd say you have a lot of originality.
Montero: Yeah.  I mean, we're not Phish fans, we're not Widespread fans, we're not Disco Biscuit fans, we're not Umphrey's fans.  We love all those bands, we respect all those bands, but none of us are like "Oh, I gotta go see Phish every time I can", Phish, Phish, Phish, Phish, Phish, you know.  We don't have any real allegiance to anyone, we just kind of keep ourselves open to learning and liking new music and old music, anything that's unfamiliar to us is kind of like what we want to listen to.  Not comparing, but seeing what other people are doing with music and appreciating their styles, and maybe taking a little bit from them and turning it into our own style.  Like I said, not one specific band's style too much and just letting everyone's influence kind of flow naturally.
HGMN: So you hear something and say "Hey, I like what he was doing there, let's see if we can incorporate that".
Montero: Yeah. Sometimes when I hear something I like, it's like "I've actually done that before".  It kind of reminds me that it's something I can do that we've done before, or "I like what he did with that, we can do something similar to that".  You're always kind of taking from people and making it your own; that's where music is.  It's gotten to the point where you can't write too many things that aren't going to sound similar to something already written, unless you're going outside the box, you know.
HGMN: But it's definitely not formulaic in any sense of the word.
Montero: We have a basic formula for our songs.  I think that we're just able to make it sound like there's more going on than there actually is.  Sometimes I think when people are really trying to figure out what it is that we're doing, we're just letting the music take us.  At a certain point, in a jam, the music asks you to do certain things, you know.  And you have to listen to it.  You have to keep your mind and your heart open to giving the music what it needs at that moment, and then hoping that you all get to the same climax and release at the same time.
HGMN: And the crowd will let you know if you've succeeded.
Montero: Yes.  It makes the crowd go "Woooooo" and it makes us smile.  A little bit of a chill down our spines, you know, it feels good.
HGMN: So, what were some of your earliest influences as far as developing your style?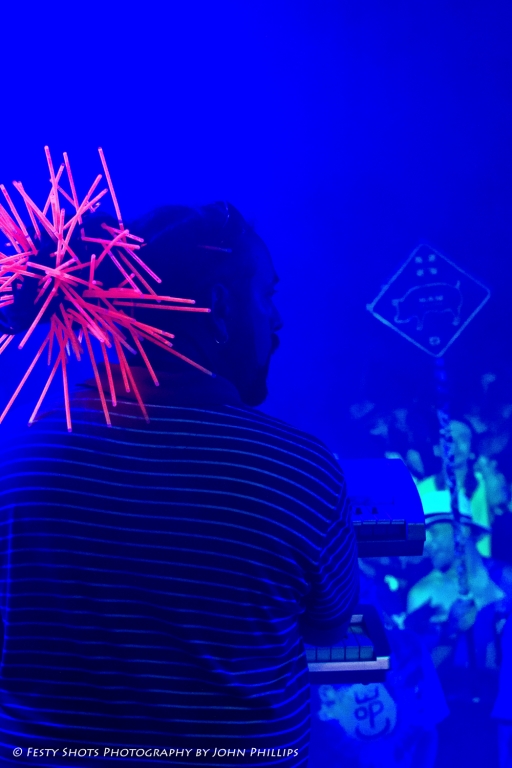 Montero: Well, some of my earliest influences were Mozart, Latin music because my parents listened to Puerto Rican music constantly in the house.  So I had that rhythm.  And I listened to and played classical, and then when I got to be about 15 I started listening to metal, rock, etc.  Around 18 I got introduced to funk and disco and rock.  And I thought disco was interesting music, it was good music, you know, but I thought that funk had really something cool that I could identify with.  I kind of like fell in love with that and started smoking more weed and realizing how awesome Parliament Funkadelic was.  That really like blew my mind for several years.  It almost kind of ruined me, because I didn't want to hear anything unless it was funk, you know.  I got out of that stage eventually.  But one day me and a friend were watching people dance to Yonder Mountain String Band.  I was kind of bored you know, I mean I like bluegrass, it was okay, but I was a little bored. And I'm looking and everyone is just dancing their asses off.  And I thought to myself, "If this music makes them feel that way, I need to understand it better so it can make me feel that way".  I have to take my walls down and give myself to all styles of music.  And that's when I started really listening to music in a different way, instead of being like "Oh, that's not funky.  Change it."  I'd be like, let me listen to it and try to find out what is so beautiful about this song that's being played.  And I have the opportunity to listen to it and maybe take away something from it.  And I realize now that, for me, music is situational.  The kind of music I want to listen to depends on the mood I'm in.  I can appreciate something that's like a slow, relaxed ballad but I have to be really relaxed and have the mindset of falling asleep or just meditating, you know.  And when I'm out and about I want some walking music, some strolling music, some dancing music.  I think every occasion calls for a certain type of music, and that maybe some of my success as a musician comes from being able to read the crowd and kind of orchestrate the night.  You know, take them up and down on a roller coaster and give them what they want.  And never give them a chance to walk away, too, is also one of my big philosophies, you know.
HGMN: If it's not working for the crowd you've got to try something else.  How do you change things up on the fly?
Montero: It's a constant experiment.  You use people's facial expressions, and I've actually learned to read lips, so when people are talking to each other in the crowd I can kind of follow their conversation.  Sometimes I can tell if they're talking negatively about us or if they're talking positively.  Sometimes you see someone that, no matter what you play, they're just not gonna dig it.  Eventually, they'll leave, and you can't force it on everyone, but I find that just because they didn't like it the first time it doesn't mean they won't come back and really enjoy themselves.  Maybe they're having a bad day or they weren't with good company.  A lot of times you have a good time based on who you're with.
HGMN: Or maybe they weren't in the mood for that particular kind of music that night.
Montero: Sure.  That happens, you know, sometimes I'm just not in the mood.  I always try to not judge a band until the third or fourth time I've heard them or seen them.  There are a lot of factors.  They could have an off night, I might not have been in the mood to hear that shit, they could have had a bad sound man.  So I like to give every band a fair shake and see them a couple of times before I answer that question, "Hey, what do you think of them?"  
Discography
Going Home (2010)
See (2011)
Live at Wanee (2013)
Upcoming Tour Dates
Tampa fl. Skippers Smokehouse aug 16th
Atlanta Ga. Peachtree Tavern aug 23rd
Ferguson, NC  Mantrabash aug 29th- Sept 1st
Asheville NC Lab Sept 6th
Tucker Ga Moonshadow Tavern sept 7th
Orlando fl The Social w/ Kung Fu sept 19th
Ybor City Fl The Crowbar  w/ Kung Fu sept 20th
Tampa Fl. Skippers Smokehouse Sept 21st
St Pete Fl. Ringside Cafe October 4th and 5th
Biscayne Bay Fl. Stiltsville oct 11th and 12th
Hilton Head SC The Boardroom oct 14th
Greensboro NC Blind Tiger Oct 15th
Morgantown WV 123 Pleasant St. oct 17th
New Philadelphia, OH Bud N Tooties Oct 18th
Erie Pa. The Crooked I Oct 19th
Worcester, Ma Electric Haze Oct 23rd
Portsmouth, NH Thirsty Moose Tap House Oct 24th
Manchester, VT The Perfect Wife/The Other Women oct 25th
Falmouth ( Cape Cod), Ma The Beach House Oct 26th
St Pete Fl Halloween at Ale and The Witch Oct 31st
Live Oak Fl. Bear Creek Nov 7th -10th
Bradenton Fl, Aces Lounge Nov 15th
Birmingham Al. Stillwater  Nov 22nd
Tampa Fl. Skippers Smokehouse Nov 30
Ybor City Downtown River Jam Dec 7th
St Pete Fl. Ringside Cafe Dec 13-14th
St. Pete Fl The Blueberry Patch Dec 22nd
Lakeland Fl. Hometeam Rally Dec 27th