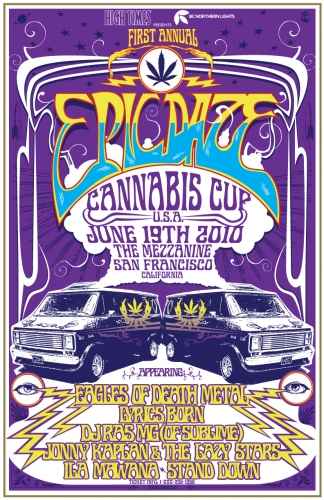 EPIC DAZE. This event will feature an all-star music line up with celebrity appearances, live art, political speakers-  all coming together in a nationally recognized platform.
The mother of all cannabis related events finally comes to American soil.
The Cannabis Cup
will last the entire weekend of June 18th-20th in San Francisco, CA. The EPIC DAZE celebration will be held June 19th at
The Mezzanine
and will without question be the highlight of the weekend.  Featuring an ALL-STAR music line-up (
Eagles of Death Metal
,
Lyrics Born
,
DJ RAS
MG (of Sublime),
Ila Mawana
, celebrity appearances political speakers, comedians, live-art galleries, a video-game contest, and strictly the most notable and influential people in the cannabis culture.
Tickets are NOT being sold to this event.
  They will be exclusively distributed to select members by
High Times Magazine
,
BC Northern Lights
, and other cannabis related sponsors acquired between now and the event.
We have also developed an entertaining and appropriate video game to compliment our promotion, which conveniently gives our sponsors an opportunity for multi-media exposure.  We have the ability to imbed Advanced Nutrients logos and products as elements of the game. Check it out! http://www.bcnorthernlights.com/assets/games.