Lineup Includes: SOJA, Dirty Heads,Tribal Seeds, Ballyhoo and more Set Times Have Been Announced - See Schedule Below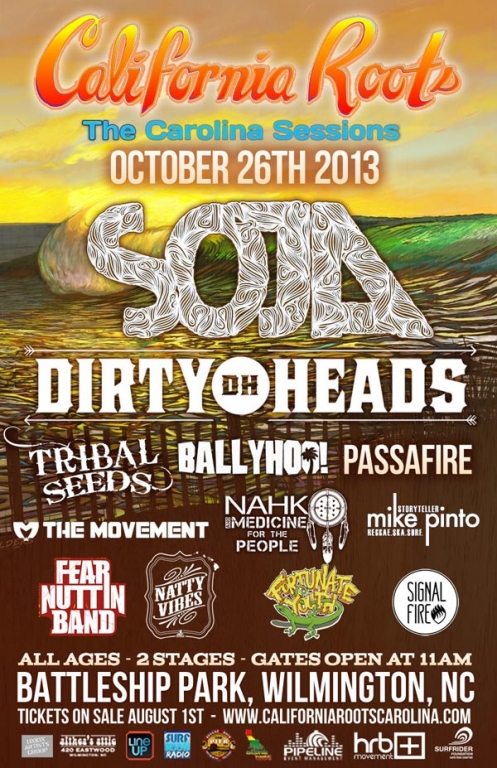 Appearing on the East Coast for the first time, The California Roots Festival is proving once again that it is a potent event, no matter where it is held.
 
Boasting a 12 band lineup of national talent, Calfornia Roots: The Carolina Sessions is poised to make a big impact in its first go-round, signalling that future Cali Roots festivals on the East Coast are a sure bet. The festival will see 5000+ people in attendance, and is poised to sell out.  VIP passes for Cali Roots: The Carolina Sessions sold out within minutes of going on sale, and early bird tickets sold out in mere hours.
 
The first four California Roots festivals, held in Monterey, CA, drew fans from every state in the U.S., as well as many international fans. This widespread interest spurred the organizers to set their sights on the East Coast, to bring the buzz and positive vibes of California Roots to the right side of the Mississippi River. The idea worked, and then some; to date, California Roots: The Carolina Sessions Festival has sold tickets in each of the lower 48 states.
About California Roots:
California Roots: The Carolina Sessions at Battleship Park in Wilmington, NC, is a reggae music festival featuring two live stages offering a roster of national and regional live acts spanning both the West and East Coasts. The lineup includes SOJA, The Dirty heads, Tribal Seeds, Ballyhoo, Passafire, The Movement, Mike Pinto, Fear Nuttin Band, Natty Vibes, Fortunate Youth, and Signal Fire. The event is also eco conscious and dedicated to sustainability and Earth-friendly practices.
For all media requests please contact:
Jeff Schad at Montauk Music: 703.581.7441 jeff@montaukmusic.com

California Roots: The Carolina Sessions Set Times:
 
Cali Carolina Stage
Fortunate Youth - 12:00-12:40
Passafire - 1:35-2:25
Ballyhoo - 3:20-4:20
Tribal Seeds - 5:15-6:15
Dirty Heads - 7:30-8:45
SOJA - 10:10-11:30
 
Battleship Stage
 
Signal Fire - 11:25-11:55
Natural Vibrations - 12:45-1:30
Mike Pinto - 2:30-3:15
Fear Nuttin Band - 4:25-5:10
Nahko and Medicine for the People - 6:20-7:10
The Movement - 8:55-9:45
 
Links/More Information:
General Admission Tickets: $50 + $5.74 service fee | Parking $10 + $1.74 service fee
Parking
http://calirootscarolina.com/
http://www.facebook.com/CaliforniaRootsCarolina