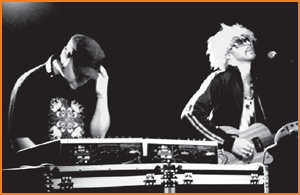 The tour plans include near sold-out performances at the legendary Newport Music Hall in Columbus, OH, the Pour House in Raleigh, NC, and Cervantes Masterpiece Theater in Denver, CO. On the heels of an up-coming studio release, BoomBox is laying down the groundwork to accomplish great things in 2009.
Hailing from the legendary Muscle Shoals, Alabama, BoomBox offers encyclopedic insight into decades of music and popular culture influence in a one hundred percent original musical message. Comprising of two parts sonic interplay, DJ/producer
Russ Randolph
and singer/songwriter/guitarist
Zion Rock Godchaux
have built BoomBox on a foundation of danceable rhythms, hypnotic mixes and shimmering guitar phrases. Adding to the distinctiveness of the experience, the duo incorporates a live DJ with guitars and vocals mixed in real time.
BoomBox takes to the stage each night with unmatched energy and an unspoken vibe, winning audiences over on a city-by-city basis. Evolving through the common visualization of a pair of forward thinking artists from diverse musical backgrounds, BoomBox creates a sound that appeals to an extensive audience for fans of all ages and musical influences. As 2008 winds down, BoomBox is just getting started. With a full touring schedule booked until the end of the year, expect gigantic things from the duo. Intent on infecting the masses with the BoomBox vibe, Randolph and Godchaux's ambition is unrivaled. For fans looking forward to the next great chapter in musical history, the future is now. The future is BoomBox.
FALL TOUR DATES:

10/02 - Rhythm and Brews - Chattanooga, TN
10/03 - The Jupiter - Tuscaloosa, AL
10/08 - Boone Saloon - Boone, NC
10/09 - World Grotto and Gallery - Knoxville, TN
10/10 - Newport Music Hall - Columbus, OH
10/15 - Stella Blue - Asheville, NC
10/16 - The Pour House Music Hall - Raleigh, NC
10/17 - The Canal Club - Richmond, VA
10/18 - The Lantern - Blacksburg, VA
10/24 - Cervantes' Masterpeice Ballroom - Denver, CO
10/25 - Fox Theater - Boulder, CO
10/30 - Rick's Cafe Live - Starkville, MS
10/31 - Zydeco - Birmingham, AL
11/05 - Rocktown Grill - Harrisonburg, VA
11/06 - Rex Theater - Pittsburg, PA
11/07 - Jigsaw Saloon and Stage - Parma, OH
11/08 - Jigsaw Saloon and Stage - Parma, OH
11/12 - The Lyric Theatre - Oxford, MS
11/15 - Copper Mountain - Copper Mountain, CO
11/28 - Crossroads - Huntsville, AL
12/03 - The Pour House - Charleston, SC
12/04 - Loco's Deli and Pub - Savannah, GA
12/05 - French Quarter Cafe - Statesboro, GA
12/06 - Georgia Theatre - Athens, GA
12/19 - Gottrocks - Greenville, SC
12/20 - Shoreline Ballroom - Hilton Head, SC
01/30 - Newby's Restaurant - Memphis, TN
01/31 - George's Majestic - Fayetteville, AR
http://www.thisisboombox.com/
http://www.myspace.com/thisisboomboxcom