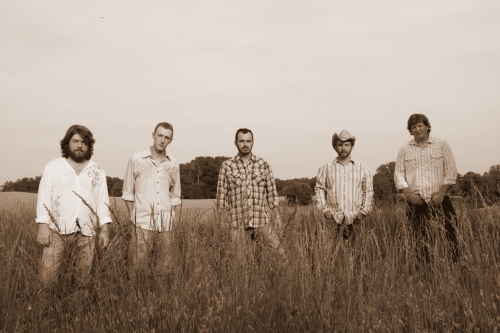 Fresh off their win of the Under the Radar Series competition at Floyd Fest this year, Big Daddy Love is out on the road, racking up the miles and racking up new fans as they bring their Appalachian Rock to venues across the Southeast.
Lately, the five-piece band has been on a tear, playing four to five shows per week to new audiences in support of their most recent album, the critically acclaimed, To the Mountain.  "We are very busy," Daniel Smith, the lead vocalist and primary songwriter of the band said.  "Our booking agency has been great and they are putting us to work.  We're focusing on the five-state region surrounding our nucleus of Western North Carolina where it all got started, but we're looking forward to branching out and spreading our music and our message as far as we can."  
Yet even as the bluegrass influenced rock & roll band has been receiving increased recognition and air time on a variety of radio stations across the Southeast, as well as a slew of compliments from music critics and writers from Virginia to Georgia in response to their debut album, they aren't the type of band to rest on their haunches.  Instead, the band hopes to segue the success of their first album this year into their next effort, which they plan to begin recording as soon as possible thanks in part to their prize package at this year's Floyd Fest.  
For winning this year's Under the Radar Series at Floyd Fest, Big Daddy Love received 25 hours of studio time at Blackwater Studios in Virginia.  "We're a professional traveling band," Daniel Smith, the lead vocalist and primary songwriter of the band said as he and his bandmates were en route to Knoxville, Tennessee to play a show.  "We don't have paychecks or anything - playing music is how we make our living.  So anytime we can get free studio time to help us out toward reaching another goal helps us out tremendously."  
But what excites the band the most about their recent success at Floyd Fest is the invitation they received to return to the Festival next year with a spot on the Floyd Festival's Main Stage. 
This is my trade, these are my tools, this is how I make my living...  
The commendation the band received for their live performance at Floyd Fest is well-deserved, as anyone who has seen the band perform live can attest to their powerful sound.  According to lead vocalist and songwriter Daniel Smith, being part of a full-time touring band is hard work, but watching people in the audience who seem to be truly enjoying their music makes all those highway miles worth it.  "We try to play every show with a lot of energy and enthusiasm and dedication to what we do," Smith said before they went on in Knoxville.  "We try to come from the heart and bring all we got each time we come to perform."
Come celebrate Halloween with Big Daddy Love! We are playing Sunday, October 31st at10 pm ($7 cover) at the Pourhouse Music Hall. Foothills Brewing is sponsoring the event and there will be a cash prize ($100) for best costume. We will also be performing at The Blind Tiger Oct 30th with The Deluge.
Tour Dates
10/14/10 The Soapbox Wilmington, NC
10/15/10 The Tavern Durham, NC
10/16/10 Private Event Somewhere in NC
10/17/10 Freeborne's Laurel Springs, NC
10/24/10 Cary Street Cafe Richmond, VA
10/28/10 The Tap Room Spartanburg, SC
10/30/10 The Blind Tiger Greensboro, NC
10/31/10 The Pour House Music Hall Raleigh, NC
11/04/10 The Double Door Charlotte, NC
11/05/10 Emerald Lounge Asheville, NC
11/11/10 The Double Door Charlotte, NC
11/12/10 Surrey Tavern Augusta, GA
11/18/10 The Double Door Charlotte, NC
11/19/10 Murphy's Boone, NC
11/20/10 Old Winston Social Club Winston-Salem, NC
11/24/10 The Camel Richmond, VA
11/26/10 Silver Dollar Music Park Glade Valley, NC
12/02/10 Olde Hickory Tap Room Hickory, NC
12/03/10 Martin's Downtown Roanoke, VA
12/15/10 Preservation Pub Knoxville, TN