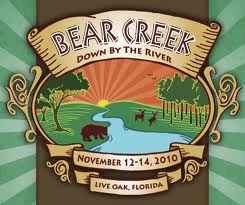 What has become one of the most anticipated festivals of the year Bear Creek prepares itself for its fourth annual event at The Spirit of the Suwannee Music Park in Live Oak, Florida. Founded by Big IV Productions, owned and operated by Paul Levine and Lyle Williams, Bear Creek 2010 looks to be the best lineup the pair has ever put together.
This year the music will kick off a day early on Wed night with acts such as The Heavy Pets, Honey Island Swamp Band, Zoogma and Aquaphonics. Fans this year will also have the chance to earn a free ticket by choosing which bands they think will be playing on each stage at each time slot on Friday night.  The deadline for submission is October 19th 2010 at 11:59 PM EST. Winner will be announced October 20th. Enter contest here.
Other Highlights for this year include -
Lettuce will be performing a special set of music on Sunday honoring the distinguished careers of Maceo Parker, Fred Wesley and Pee Wee Ellis. The set will devote 30 minutes to each of their respective careers, including their solo work, their time together with James Brown and other work. Maceo, Fred and Pee Wee will play with Lettuce throughout this set and Bear Creek fans can look forward to an unforgettable funk retrospective.
In addition to playing with his Live Band, world acclaimed DJ, and producer Bonobo (aka Simon Green) will also perform a DJ set at Bear Creek on Saturday, November 13.
A second Dead Kenny Gs set has been added to the schedule. The DKJs will play on both Friday and Saturday night at Bear Creek.
In honor of Ralph Steadman, the artist who created the official 2010 Bear Creek Music and Art Festival poster, we are excited to announce the Fear and Loathing at Bear Creek Costume Party on Saturday night at Bear Creek. Let your freaky imaginations run wild and help us fill the Spirit of the Suwannee with a colorful swirl of energy and fun. 
This year's artists at large include:
Fred Wesley:  The trombonist, composer, arranger, bandleader and author known worldwide as one of the architects of funk music. Fred's work with Godfather of Soul James Brown in the 1970s established him as the world's funkiest trombone player.
Pee Wee Ellis:  An American saxophonist, composer and arranger. He was an important member of James Brown's band in the 1960s and appeared on many of Brown's most notable recordings. He also worked closely with Van Morrison.
Chali 2na: An American rapper and hip hop artist, formerly associated with the groups Jurassic 5 and Ozomatli.
Skerik: Performing on the tenor and baritone saxophone, often with electronics and loops, Skerik is a pioneer in a playing style that has been dubbed saxophonics. He is a founding member of Critters Buggin, Garage a Trois and Skerik's Syncopated Taint Septet. He is also an original member of both Les Claypool's Fancy Band and Frog Brigade and has toured with and played with numerous others in a variety of genres.
Mike Dillon: a percussionist, vibraphonist, bandleader, vocalist and songwriter born in San Antonio, Texas. He is a member of Critters Buggin, Les Claypool's Fancy Band and Garage A Trois. He has performed with many musicians including Ani DiFranco, Galactic, Brave Combo, Karl Denson's Tiny Universe, Marco Benevento and New Orleans musicians Kevin O'Day, Johnny Vidacovich and James Singleton.
The Shady Horns: Sam Kininger and Ryan Zoidis aka 'The Shady Horns' bring the rage as the original and current horn section of Lettuce.  In addition to Lettuce, both have been consistently tapped to tour with Soulive throughout the years and appear on numerous Soulive releases including Next, Break Out, and Soulive's soon to be released Up Here.
Kofi Burbridge: The keyboardist and flautist of The Derek Trucks Band.
Jennifer Hartswick:  one of the most refreshing new voices of the twenty first century. A consummate performer, she thrills audiences as a vocalist, trumpeter, composer, lyricist and educator. She is equally at home singing soul, funk, pop and R&B, but her passion without question is jazz. In her seven years of touring, she has shared the stage and studio with such legends as Carlos Santana, Dave Matthews, The Rolling Stones, Trey Anastasio and Herbie Hancock to name a few.
Yonrico Scott: is a Grammy Award-winning drummer and percussionist. He is a member of The Derek Trucks Band and is bandleader of his own ensemble; the Yonrico Scott Band.
Jans Ingber: Former Motet vocalist and percussionist. Charlie Hunter says about him, "Jans Ingber is a musical force to be reckoned with. His affinity for deep soul music, whether it is Donny Hathaway or Los Munequitos de Matanzas, is evident in everything he does. His long years of study and practice, in what some may think of as disparate aesthetics, have created a unique and soulful musical voice."
Donna Hopkins: An amazing musical force from Atlanta, GA she combines the elements of blues and rock. Influences range from Susan Tedeschi to Derek Trucks to the Allman Brothers and with her wailing guitar leads and soulful voice her style and substance can eclipse even the loftiest influence.
Freekbass: Recruited by P-Funk alumnus and onetime Bootsy's Rubber Band vocalist Gary "Mudbone" Cooper to record a track for a Jimi Hendrix tribute, Freekbass was introduced to Collins himself, who christened him with his stage name; in 1992. He is perhaps one of the most talented bass players alive today. HGMN Interview with Freekbass.
Jonathan Lloyd: a trombonist, singer and percussionist born and raised in Atlanta, GA.
With a passion for reggae, soul and funk/jazz but also enjoys playing all genre's. He has been a part of many bands during his career: Prodigal Son Music, The Robustos, Mandorico, Coxone's Studio One Band, Cadillac Jones, Kingsized, DubConscious, Errol Moore Band, Eugene IV, Gurufish, Entropy, Lloyd's Rocksteady Revue and more.
Full Lineup
Thursday. November 11
    * Umphrey's McGee
    * Toubab Krewe
    * Rebirth Brass Band
    * John Brown's Body
    * Garaj Mahal
    * The Heavy Pets
    * Lubriphonic
    * Billy Iuso & The Restless Natives
    * The London Souls
    * Suenalo
    * The Fritz
      Friday, November 12
    * Umphrey's McGee
    * Soulive
    * The New Mastersounds
    * Perpetual Groove
    * Everyone Orchestra
    * Chali 2'na Duo
    * Zach Deputy
    * Toubab Krewe
    * Papa Grows Funk
    * Bernie Worrell & Socialybrium
    * Big Sam's Funky Nation
    * John Brown's Body
    * Alex B
    * Eliot Lipp
    * DJ Motion Potion
    * Tony Hall Band
    * Sam Kininger Band
    * Garaj Mahal
    * Orgone
    * The Macpodz
    * Lubriphonic
    * The London Souls
    * The Malah
    * Greenhouse Lounge
    * Flight Risk
    * Papadosio
    * The Burnin Smyrnans
    * Diocious
    * Lingo
    * FSU Blues Band
      Saturday, November 13
    * Moe.
    * Maceo Parker
    * Ivan Neville's Dumpstajam
    * Lettuce
    * The New Deal
    * Perpetual Groove
    * Bonobo Live Band
    * Break Science
    * George Porter Jr. & the Runnin Pardners
    * DJ Logic
    * Will Bernard Band
    * Eric Krasno & Chapter 2
    * The Dead Kenny G's
    * Dubconscious
    * Alex B
    * Eliot Lipp
    * DJ Motion Potion
    * Orgone
    * Rubblebucket
    * The Macpodz
    * Snarky Puppy
    * Cadillac Jones
    * The Soular System
    * Catfish Alliance
    * Saltwater Grass
    * Green Hit
    * Cope
    * Curious Circus
    * Spiritual Rez
    * Entropy
    * Tazerfunk
    * Team Jaguar
      Sunday, November 14
    * Ivan Neville's Dumpstaphunk
    * Lettuce
    * The New Mastersounds
    * George Porter & the Runnin Pardners
    * Zach Deputy
    * The Brian Stoltz Band
    * Dr. Klaw
    * DJ Logic
    * Brock Butler
    * Nigel Hall Band
    * Josh Phillips Folk Festival
    * The Legendary JC's
    * Matt Grondin Band
    * Van Ghost
    * Avis Berry's Soul Revue