Interview by Chris Robie
Photos: Keith Berson

Seth Gordon: Guitar
Matthew McDuffee: Drums
Gabriel Weiner: Guitar
Greg Zachan: Bass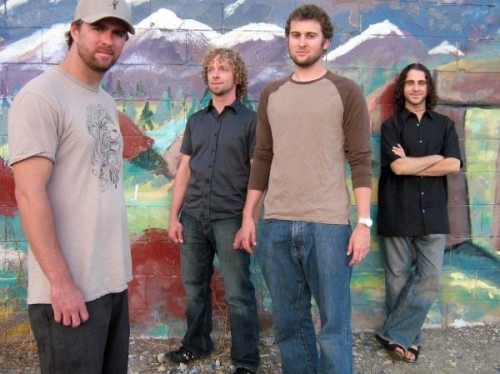 HGMN: What has Quactus been up to these days?

Seth: We have been playing gigs, writing and working on new material and covers, and recording and mixing our second album.  When we first started playing shows, they were small shows out here in LA, but now we are on to that "next step" of playing bigger shows and festivals, both in California and in neighboring states as well.  We just played the Phamily Reunion Festival last week in Colorado, and a few months earlier we had a small tour through California, Arizona and Colorado.  We really enjoy playing in new cities, so we are really excited to travel even though it's hard work.

Greg:  Being in the "Jam Band" genre, means we always have to be on our toes when it comes to musicianship.  The audiences that we cater too are fans of Umphreys, Phish, The Dead, Govt Mule ect ... and those bands set the bar pretty high when it comes musicianship.  There is no time for relaxing!!  When I'm not in the studio, or at my day job, my bass is rarely out of my hands!  Ask Duffy!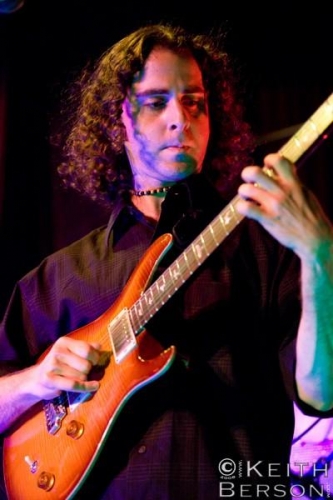 HGMN: What are your day jobs?

Greg: I work for a marketing company who does advertising promotions for car dealerships across the country.  Business man by day, musician by night.  I like to think of myself as some sort of super hero, but we'll let the readers decide!

Gabriel: I'm a guitar instructor by day. I teach privately, and also for a nationally recognized music chain.

Seth: I am an elementary school music teacher.  It's very entertaining.  One minute, I might be explaining basic music theory, and the next minute one of my students could disrupt the whole lesson to make a fart joke.  There is no way to truly plan for a lesson with elementary school students, but that makes it interesting.

Matthew: I am an acoustical engineer by day; basically a giant audio and sound geek that optimizes the acoustics of studios and performance halls, designs noise control for the environment (transportation sources) and within buildings, and deals in ground borne and structural vibration.  It sounds really cool, but in practice it is way too much math and writing sometimes.

Greg: Getting out on the road and playing festivals has definitely been exciting for us. Our name is getting out there, and we're making new friends and fans.  We seem to be getting a good response when in new towns, and that makes life on the road pretty fuckin' fun and worth the tough travels ...we've also recently had a few interviews with interested management, but have yet to find the right fit.  It's not easy finding people with similar interests, goals and dedication. All and all - things are going well for Quactus!
  
Matthew:  2009 has been a really fun year for us; we played quite a few festivals this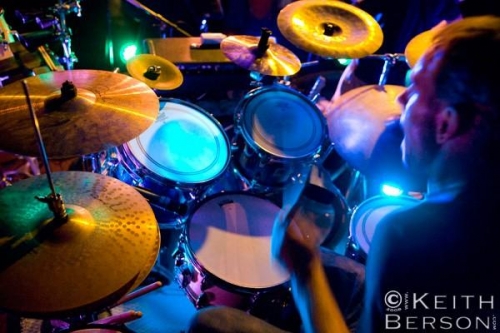 summer, opened for a lot of great bands (Most notably for me was New Master Sounds - Those guys can lay down some serious funk!), and have really been savoring getting out and doing what we love to do, play live music on the road.  We toured to Colorado twice this year and met a lot of really good people during our travels, stayed in some great places full of hospitality, and a few hotels that seemed to be grossing out the roaches on the floor.
A few interesting notes about Colorado: Some of our band members cannot seem to bring the proper "shoes for the season" regardless of what time of year it is there.  I always end up on a portable air-mattress that deflates every night; it does not matter where the air-mattress is from or who owns it, I always get the flat one.  I bought a brand new one on the way last time for our camping run at Phamily Reunion and even my brand new mattress leaked all of its air out the first night.  One could say in Colorado I cannot seem to "keep it up" with all my limp mattress problems.

HGMN: Who's wearing sandals in Colorado during the winter time?

Greg: ok, you got me... I looked at the weather report, I swear!  I saw sunny skies ... it was April! That's spring where I come from!  I caught lots of shit for this one.  So, I highly recommend, when traveling to areas that have a tendency to "snow," pack more than sandals, just in case!

Matthew: We also have had some really great trips down to San Diego, the fans in San Diego and Arizona really know how to bring it out and make a band feel loved.

HGMN: Are you guys planning an east coast tour anytime soon?

Gabriel: We hope to be doing that after the next album is done. So probably some time next year. Since we all still work, finding the right time can be tricky, but we will make it happen.

Matthew: We spent a few months placing very highly on the Jambands.com radio charts.  We also did well on the Homegrown Music radio charts and have placed in the top sellers list on homegrown a few times.  Our Debut album appears to be reaching the end of its glory days, so it is a good thing we have the sophomore album underway, hopefully to be released in early 2010. As always we are hard at work writing new tunes, learning new covers, practicing hand signals, and thinking of creative ways to sew our songs together in our set lists.  Other than that we have been working hard on the business end of promoting and making contacts. 

HGMN: When will the new album be ready? Will this be all new material or have you already been playing the songs at live shows?

Gabriel: We're planning to have it ready around the end of the year, or early next year. It will be a mix of material that we've been playing for years at live shows, along with some newer ones that have started becoming regular staples of our live sets.

HGMN:  How would you describe your music?

Seth: That's a tough question.  One of the things I like most about Quactus is that all four of us have such different inspirations and musical tastes. 

HGMN: What are your musical tastes?

Gabriel: Mine are very eclectic. I can go from listening to a Beethoven symphony to some progressive metal a la Dream Theater to classic soul or funk, or some flat picking bluegrass or instrumental guitar virtuoso stuff to a heavy raga performance by Ravi Shankar to some Coltrane, Miles, Scofield, or Charlie Parker. So I'm really all over the place. Overall, the music I dig the most has to be musically interesting or in some way inspiring.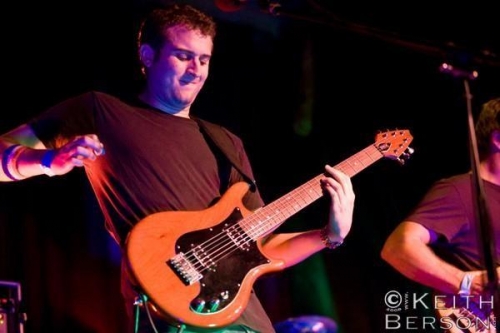 Matthew: That is a dangerous question to ask me, how much time do we have?  As a child I was raised on the Grateful Dead, Led Zeppelin, and Crosby Stills Nash, and Young, the Rolling Stones, Andres Segovia, John McLaughlin, and tons of symphonic music.  My parents regularly took me to see the Chicago Symphony Orchestra which was a real treat.  During middle school and high school I went through a very big hard rock, punk, and metal phase, bands that come to mind are Metallica, Sepultura, and the Misfits.  Chicago had a bustling industrial scene so I was into bands such as Ministry and Front line Assembly.  College was where I discovered Bitches Brew by Miles Davis, which led to a huge appreciation of all things jazz and fusion.  From there I decided I would listen to as much music as possible from all the available genres.  The more diverse your tastes, the more open minded you become to other cultures and artistic impressions.  The "Number One" hands down greatest band of all time is: Pink Floyd.  These days I listen to a lot of Phish, Ween, MMW, The Meters, Burning Spear, Meshuggah, SCI, Weather Report, Fugazi, Dead Kennedys, I should stop there this could go on forever.

Greg: I think we all have a very eclectic ear for music.  But, I will say, I am the only one with the hip hop back ground! I still love early 90's rap!  I had my music on shuffle driving around the other day, and I went from bumping some old school Too Short to singing bluegrass with Keller Williams.

Seth: My favorite band of all time is Phish, and they definitely inspired me to start a "jam band," because I love the flexibility in the songwriting and the live shows.  Musically though, my taste is all over the map.  My other favorite bands are Pink Floyd, The Beatles, Guns N' Roses, The Velvet Underground, Ben Folds, Eve 6, Weezer and Cake.  They all inspire me for different reasons, whether it is for musicality, lyrics, or energy. 
One thing we all agreed on when we started this band was that we are all open to trying any type of musical idea that someone has for the band, and because of that, our sound is really eclectic.  Ultimately, we are a rock-jam band, but there is a lot more to the music than that.  We have songs that are hard rock, progressive, psychedelic, punk, reggae, dance, pop, funk and metal.  We even have a bunch with Latin and Indian textures to them, so it's really hard to categorize our music.  The one thing I will say is that we are really proud of the songwriting.  A lot of thought goes into these songs when we write them, and we hope they are songs that will entertain those who like more complex compositions, as well as those who just want to dance and have a good time.  We're having fun when we are jamming, so we hope the crowd has fun too.
Greg:  Like Seth said, this is a tough question because we don't fit under one specific genre.  I also hate having to compare our sound to other bands just to describe our style of music. We all have such different backgrounds with respect to "taste" in music, yet we all approach music in very similar way, which is what I believe gives us such an eclectic sound.  We have 3 different song writers, a solid rhythm section, we all sing, and we have the soon to be Dr. Gabriel on guitar! 

HGMN: Dr?

Gabriel: Yeah, pretty soon you can call me that. (Laughs) I'm working on my PhD in Historical Musicology at the University of Southern California. My thesis deals with Indian classical music and jazz, as played by Indians in India. I was fortunate enough to spend 6 months conducting research in India for my thesis awhile back.

HGMN: Who does the majority of the songwriting?

Gabriel: Greg, Seth, and I do the majority of the writing, with Duffy writing all the drum parts. Greg's style is artistically innovative, with lots of great grooves and interesting chord progressions and sections. Seth leans towards a mainstream vibe, meaning the tunes are catchy, with melodies you can hum, and riffs that immediately grab your attention. I tend to do more of the technical, odd meter, world music-infused type stuff. However, we all put our stamp on each others tunes as well. So for certain sections of some songs, I'll compose my part according to the harmony someone else wrote. A lot of times for my tunes, I write all the music, except the drum parts, and the guys take my original ideas and make them their own. Also, Seth usually writes lyrics for my songs, since I'm not much of a lyricist. It's always a collaborative effort.

HGMN:  How did you guys meet?

Seth: We met through craigslist.  That's not the coolest story, but it's true.  I put up a post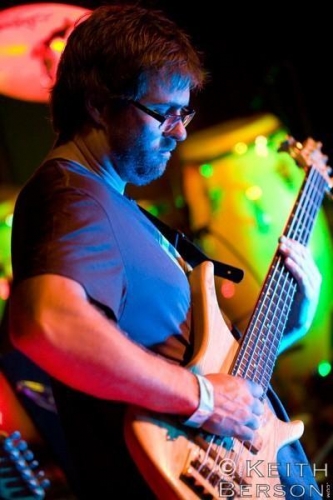 on craigslist about 5 years ago saying that I'm a guitarist who is trying to start a jam band in the vein of Phish, Umphrey's, Allman Brothers, etc.  Duffy responded, and although we talked on the phone and through email, we were never able to meet up.  He hurt his ankle one week, and the next week I had a family emergency, and it just never happened, so I moved on.  A few months later, I put up another post and met Gabe.  We got together and jammed, and I knew from the first five minutes of playing that Gabe was "the guy" I was looking for.  We played a few of my songs, and he soloed on them as if he wrote them.  I was so excited, that the next day, I went back on the hunt to find a drummer and a bass player, and by chance, that next day, Duffy wrote me and said his ankle was feeling better and he wanted to play.  So I met up with Duffy that next day and found out that he was an awesome drummer.  All the pieces were coming together, and strangely, they happened in a 24 hour time span.  I had been looking for the right guys for about a year prior to this and didn't find anybody that fit with the idea I had for this band.  Soon after the three of us started playing together, we met a keyboardist named Michael Russeck who was a member of the band for about 2 years.  He left on good terms, and we still jam with him sometimes.  In fact, he played a show with us a few weeks ago.  We tried quite a few bass players, and about 9 months after the band had been together, we finally found Greg and the band was complete.  The thing that makes this band work is that we all have a real understanding of not only our songs, but of jam band music.  Good improvisation is more than just noodling on a guitar, and everyone in this band has a really good ear, so we all clicked well with each other.  That's how I knew that each of these guys was something special.  Even before we really started writing original music, we understood how to make a good jam, and we could feel the music and sense each other's moves.  It was very cool when we started, and it has transformed into something well beyond our imagination.

Greg:  I played for a brief moment with the drummer of Revolutionary Side Effects and made a good enough impression that when he heard Quactus was looking for a bassist, he passed my number along to our old keyboardist, Mike.  The phone call couldn't have come at better, yet worse time!  Better because of the fact I just stopped playing with the guys I was playing with, and worse, because like Duffy, I too was a wounded soldier with a broken hand!  I happened to get in a scuffle with 5 or so bouncers and things did not land in my favor!  After the hand was healed, I met up for a session, and soon became the bassist of Quactus.

HGMN:  I hear you guys put on an interesting live show.  How would you describe your stage antics?

Seth: We really want to change it up for every show, so we try new things all the time.  We never repeat set lists.  We segue in and out of songs in different orders to keep the listeners and ourselves on our toes.  We like to add teases from different songs in our originals.  For instance, Gabe teased the theme to "The Daily Show" last week at the Phamily Reunion, and we all followed him and did a little thing around that theme for a few seconds.

HGMN: Is this something that you guys rehearse or is it spontaneous?

Gabriel: Sometimes we preplan it, so we can work out a cool guitar harmony or just to figure out how we're going to get into or out of the tease, or how many times we'll play it. Other times, one of us might throw it in without having mentioned it to anyone beforehand.

Seth: We also like to put our stamp on some covers.  Our most requested cover is "Poison" by Bell Biv Devoe.  We turned it into more of a funk song than a hip hop song, and it's definitely a crowd pleaser.  We use a lot of hand signals while we play.  We use these hand signals to change key, tempo, style, and just to communicate on stage.  Most of the time, we let our music do the talking but we like to have fun on stage as well.  We've covered the training music to "Mike Tyson's Punch-Out" from the original Nintendo, and when we play that song, we like to run in place and train the same way that Little Mac did.  I remember one time we ended a show by throwing big handfuls of confetti into the air.  That seems so cheesy, but it was fun.  You have to have fun when you are performing.  If you take it too seriously, it's hard to enjoy it.  We're a bunch of goofballs, so we definitely like to have fun on stage, and hopefully that translates to good music as well.

Greg:  We always try to have a good time when we're on the stage, and hope that energy finds its way to the audience. We want to give them an experience - play some serious rocking stuff, grooves they can dance too, and even slow it down a bit and play songs like Better Days, which is truly a beautiful tune. I like to hit all aspects of the spectrum, and truly make it a show they can remember ...  I always enjoy our teases and covers that we play, but what I really like is when a jam starts from nothing, and we're able to take the listeners for ride!  Esprit D' escalier is a perfect example.  The jam starts with a drum solo, then the bass comes in followed by the guitars.  Starting minimal gives the band room to build and take the jam in different directions. Check out Esprit from OC Tavern 4-16-09.

Matthew: High Octane, Mind Bending, Signal Throwing, Intergalactic Jam-stra-fication with a side order of Rocking Out with Our Quack Out. 

HGMN: What other covers have you done Quactus style? What's your favorite?

Gabriel: We've done "The Ocean" by Led Zeppelin, "Have a Cigar" by Pink Floyd, and also "Mike's Song" and "Suzy Greenberg" by Phish, among others. We just did "West LA Fadeaway" for Jerry's b-day a few weeks ago, and we've done "Scarlet Begonias" before too. I really like doing "Ghostbusters" or the "Knight Rider Theme" because the crowds usually get a kick out of them.

Seth: We do a rocked up version of the music from "Mike Tyson's Punchout" on old school Nintendo when Little Mac is training.  As kids of the 80's, that makes us really happy.  We've also done "Cult of Personality" by Living Colour, a groovy version of "Me & Julio Down by the Schoolyard" by Simon and Garfunkel, "Radar Love" by Golden Earring, and one of my favorites was when we covered the "Entry of the Gladiators", which is more commonly thought of as the music you hear when you go to the circus.  The crowd was kind of creeped out and totally into it at the same time.  It was fantastic.

HGMN: You guys use a lot of hand signals on stage. Has anyone ever mistaken one signal for another?

Gabriel: We haven't had any major train wrecks in a long time. Early on as we were developing the signals they would sometimes get confused, but we'd still make the mistakes work in our favor. Recently, we've been getting a lot tighter and quicker with changing from one thing to another. We now have an established "vocabulary" so we all know what we should be doing if a signal is thrown. It's a lot fun on stage and keeps us all on our toes and we still come up new ones from time to time.

HGMN: I like the claymation Quactus video. Did you guys do that?

Gabriel: Duffy and I did that one night. There was a lot of beer involved. Ha! It took us like 6 hours of work for that 1 minute of video. We had a lot of fun doing it. I'm sure there will be more.

HGMN: What do you guys do to keep from being bored while traveling on the road?

Gabriel: We came up with a word game during the last big road trip. It was a pretty simple game, and there's no real winner or way to actually end it, so it kept us occupied and laughing quite a bit.

Greg: We once made an art piece out of animal crackers ... we are a crazy bunch!

Seth: The word game really didn't have any rules.  I think we were supposed to come up with a phrase or thing that started with the same letter that the last person ended with.  We would give a category like, "things you can eat," and see how long we could keep that going.  Naturally, we all thought of the most heinous and perverse things imaginable, so we were entertained with this game for hours.

Matthew: Group yoga and meditation, although we have run into a few issues with the driver going off the road during that.  I like having really bad pictures of me taken, I probably should not tell the story but Greg snapped a real winner of me somewhere in Arizona or New Mexico during a roadside bathroom break at an abandoned mine shaft.  Personally I love being on tour and do not find it boring at all, I love the open road, cheap hotels, and much more so camping.  I am pretty sure I was a gypsy in my last life.  I am the most hyper talkative person in the band which makes me the hardest one to irritate; this works out really well for me.  Recommended stay in Flagstaff, AZ is the Relax Inn, the rats make for good early morning alarm clocks.

HGMN: Seriously, how did you guys come up with the name, Quactus? Was it from a dream or a strange acid trip out in the desert...?

Gabriel: Unfortunately, it's going to remain a band secret. Sorry.

Matthew: Trade Secrete, we have that under lock and key just like the Corneal has his top secret blend of 11 herbs and spices.  The best I can say is it all has to do with the power of the "Q", its 10 points in scrabble you know.

Seth: Ummm... how did we come up with the name Quactus, eh?  Well ... how did you come up with the name Chris Robie?  Huh?  You don't like it when we turn the tables on you, do you?  No seriously, it's a band secret.  I wish we could tell you, but we can't.

HGMN: Actually, I was named after one of the characters from Winnie the Poo. (Laughs) I was named after Christopher Robin, the kid with the umbrella and Poo's best friend.  Up until the age of eight all I got from anyone for holidays and birthdays was Poo shit! So we both have names that resemble a cartoon character. If you guys don't want to give up your secret that's fine, I'll just speculate. I'm guessing the "cactus" part came from Matthew because he has some serious body hair issues - cactus skin. That would explain the mattress leaks. I can also imagine a lot of things about where the "duck" came from. Duffy...does that have anything to do with Daffy?

Matthew: All kinds of Poo shit for your birthdays, is that like double chocolate?

Seth: Damn!  You're on to us!  Our secret is safe with you though, right?

Matthew: Are you agreeing that I am excessively hairy?  Duffy is extracted from my last name McDuffee, I add the "Y" because no one ever spells my last name correctly anyway

HGMN: What's coming up for Quactus?

Seth: Quactus is going to stay very busy.  We are going to tour some more soon, but we are still figuring out the details, so we have no specifics yet.  For the very near future, we are really focusing on making our second album spectacular.  We have a few tracks completed and the next month or so will probably be dedicated to recording.  We are also working on a bunch of new tunes that we are very excited about.  So, with some good luck on our side, 2010 will be a big year for Quactus, and we can't wait to tour and share the new album with everyone.