Held at the sprawling Spirit Of The Suwannee Music Park and campground in Live Oak, FL. it has become a rich southern tradition. This was our second time attending, and we had not been since 2013, when the allure of my favorite bands beckoned us to Fl. Growing up in the South, I have always been enamored with Southern Rock and Jam Bands. My favorite two bands on the planet call this festival home. The Allman Brothers Band certainly are the Fathers of Southern Rock married to Jam Band, and Widespread Panic also revels in gritty Southern Jam to keep the heritage alive. Something about the bluesy, hard sound is ingrained in my very D.N.A. Like real homemade Wormwood Absinthe, it tastes strong and intense to my soul, and feels just as inebriating. If you love Southern Rock, Bluegrass, Jam Bands, and Bluesy Delta region music, Wanee is the place to be.
We camped on the lake, our spots held by friends of friends for 5 days, no more than 100 yards from the Mushroom Stage entrance. This was marvelous for attendees who are 40 or older, as the walking to the venue was at a bare minimum. Although if you plan to walk from stage to stage inside the venue, it is about .3 of a mile from stage to stage which can add up fast for older arthritic festival goers. I did see handicapped golf carts shuttling injured or disabled people around all weekend, and was glad everyone got to experience all Wanee had to musically offer. It had not rained in several weeks there, so the dust was at a pinnacle, and a real nuisance for those allergic. The weather was sunny and warm all weekend, and the older crowd was as relaxed as we were, happy to be in attendance.
We set up camp by early afternoon on Wednesday April 19, and it was only $20 per person to add the extra day of primitive camping and enjoy the pre-party. We got along famously with all our camping neighbors, many of whom were from VA and SC. Wanee Wednesday kicked off with Brothers & Sisters from PA. All the music Wednesday and all but the Thursday headliners Dark Star Orchestra played on the Mushroom stage, and we could hear each band beautifully from our campsite. So we enjoyed all of the music from our camp and relaxed in the shade of gorgeous live oaks and cypress trees. I had never heard any of the first three bands, Brothers & Sisters, Matt Reynolds, and the Ben Sparaco Band. I was pleasantly surprised by each band which were not only entertaining, but contributed to our peaceful inclination. Our mood was light and I smiled in contentment at all the auditory gratification.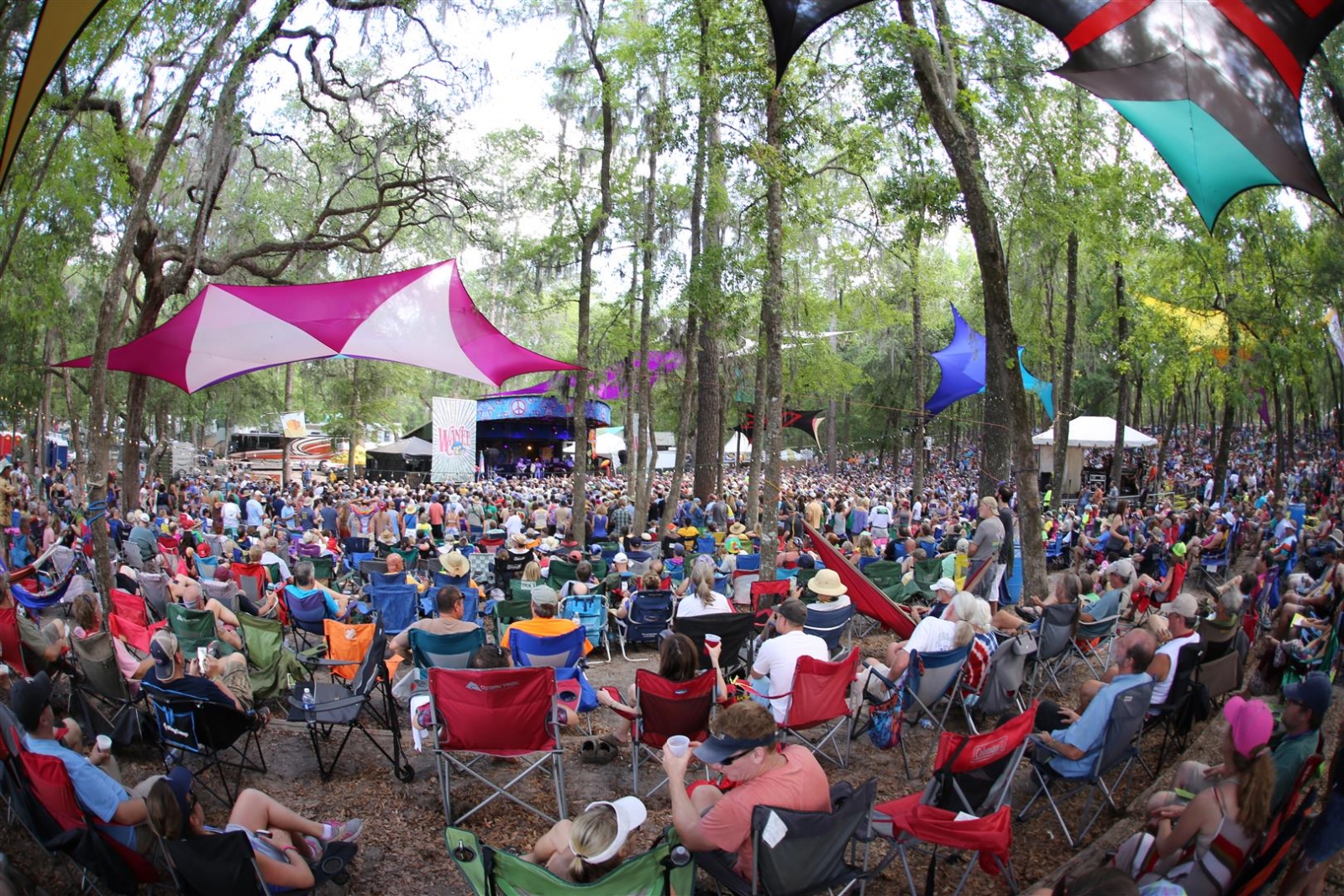 Southern Florida's foremost Grateful Dead tribute band Crazy Fingers played from 7:30pm to 9pm, and spiced up the ambiance with their positively charged and nimble Dead tunes. Many people as close as we were enjoyed the music from their camps, and danced and sang from their slight seclusion. We were drinking and fun flowed on the wind like the airy spheres of dust that penetrated our sinuses. Delight swarmed around our faces like the gnats interrogating our auras, which made the persistent hordes aggravating but bearable. Crazy Fingers set was enchanting and fun.
New Orleans Suspects continued the funky flow with their prodigious R & B flavored New Orleans style music for which they have become renowned. With their array of celebrated musicians like drummer Willie Green from the Neville Brothers, Jake Eckert on guitar of Dirty Dozen Brass Band acclaim, and Jeff Watkins on Sax who spent 12 years with the James Brown Band, they are a cataclysmic cosmic brew of stellar musicians. Add to them C R Gruver on piano and Hammond B3 organ, and the fuse is lit for an explosive and spirited blend of Zydeco, Funk, and Art Neville seasoned fare. With influences like Bob Dylan, The Allman Brothers Band, James Booker, Little Feat, The Meters, and Led Zeppelin, their sound is incomparable. They have carved a niche' in American music leaving a younger generation of musicians paddling to ride the wake of original sound. To boldly relish in originality, and courageous enough to blaze their own new trail in music. Their set was a fascinating blending of Galactic meets The Allman Brothers Band, and we were glad to have been seduced by their magic.
Last of the night was Cody and Luther Dickinson (the brothers from the North Mississippi Allstars), with The Freight Train and special guests. They enticed our spirits from 11:30 pm to 1:30 am. We listened from our camp, The Freight Train was a Butch Trucks side project. Their soulful sound agreed with my palate, and this weekend was a celebration of Butch. The heat was released and flowed like lava from their performance. They had a rich and spicy tightness that was appetizing to the soul. From spine tingling vocals amalgamated with blues and affluent southern rock guitar riffs, their core was solid and melodies erotic. We listened intently, and when they were done, drifted off into peaceful sleep.
Thursday was our second and last day to enjoy all the music without any overlapping sets, and I was ecstatic for the entire day and night's lineup of phenomenal bands. We listened to second sets of Crazy Fingers and Brother's & Sisters to kick off our day, and spent time acclimating ourselves to the festival grounds layout. The vendors area was larger than I remember, and as far as the food went, there was a great variety to choose from. The LED ferris wheel was there which is always fun, and even more real toilets and porta johns in both stage areas. Front, back, and beside, I thought the facilities much more convenient than our last journey there in '13. The crowd seemed to double as people arrived to join in the merriment.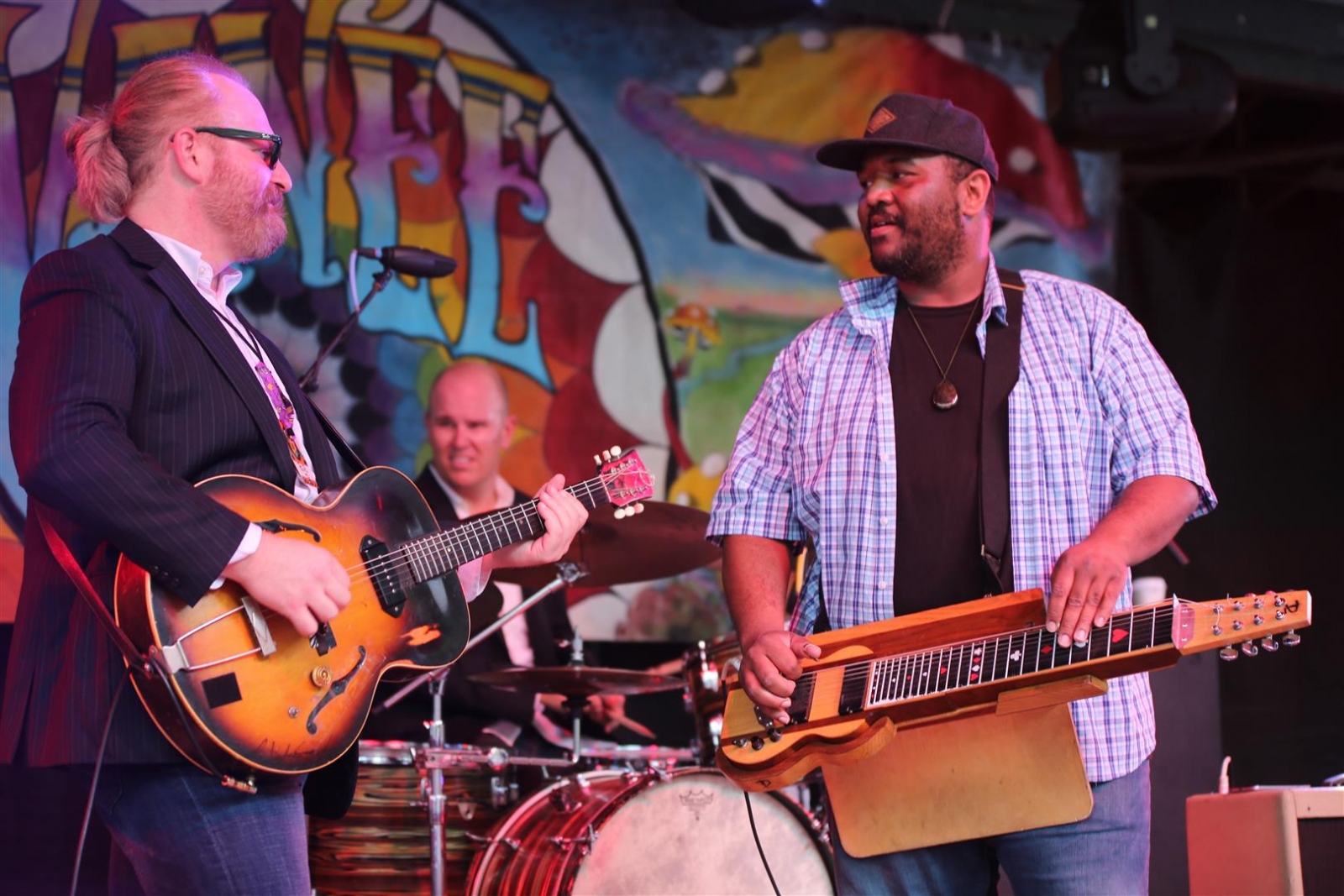 At 1:45 the Bobby Lee Rodgers Trio took the stage, and played with special guest Roosevelt Collier. Bobby Lee Rodgers has the most unique sound in all of music. He is an extremely talented genius, and plays his vintage guitar through both a vintage amp, and a Leslie Cabinet; giving his music a distinctive and haunting quality. Roosevelt Collier was perfectly matched to accompany Bobby Lee, and is a slide guitar prodigy. They were a complete and faultless music machine. Graceful yet arduous, like a hunting eagle, erupting into the sky, victorious. Their set will be embossed in my musical memories forever.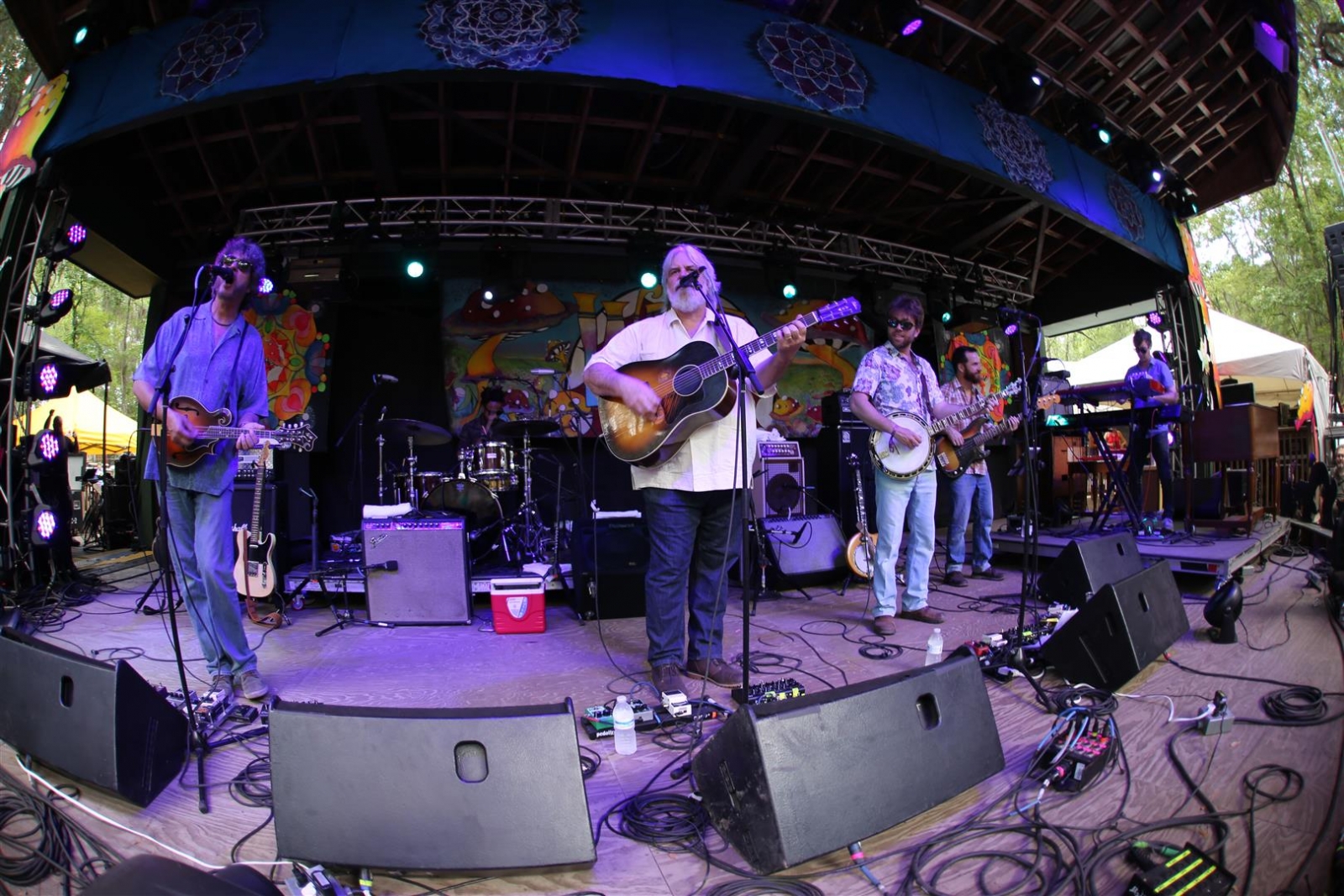 At 3:45 Leftover Salmon started an eagerly anticipated Neil Young tribute set, and we were jubilantly celebrating the holiday. They have been a festival staple since I can remember going to festivals, and I LOVE Leftover Salmon. Founding members Vince Herman on vocals and guitar, and Drew Emmitt on fiddle and mandolin inject the spices necessary to sear cajun into the jamgrass music they virtually invented. Andy Thorn on banjo simultaneously infuses delight and fury into each composition, and always keeps me smiling. Greg Garrison on bass and Alwyn Robinson on drums hold down the foundation, and now they have Erik Deutsch on keys as well. Their set seemed to fly by, the shade was wonderful, and the mushroom stage area was filled up to the road. They finessed such Neil Young songs as Comes A Time, Cowgirl In The SandB, Out On The Weekend, and a truly magnificent Heart Of Gold. Their set was a welcome warmth of memories and happiness.
We went back to camp to make dinner and heard Blackberry Smoke from there. This is the only big festival I know that concentrates on southern rock & roll, and this kind of music is what lures me to Wanee. We had not heard Dark Star Orchestra in several years, and I was really looking forward to their set. I still could not believe the amount of amazing music we had been witness to. Band after band, set after set, that's what makes it worth the money to me. I feel like you get your money's worth and then some at this festival. We headed out early to put our chairs in a good spot for the night's headliners, and I was giddy with anticipation.
Dark Star Orchestra went on just after 8 pm to roars of admiration. They started off sincerely with a brilliant Minglewood Blues, and encapsulated us with Loser. They displayed perfection with a glorious El Paso, into an ardent They Love Each Other, and got us all singing with Jack Straw. They kicked it up with an awesome Deal, and Lazy Lightning > Supplication. They whipped Brown Eyed Woman into Mama Tried, and took a set break.  I was in awe, and could not believe how effortless their transitions were. I couldn't help but reminisce of a time when Jerry and The Grateful Dead were in their prime and changing lives. Dark Star Orchestra played with flawlessness, and they were only halfway done. The night was as perfect as it could ever be.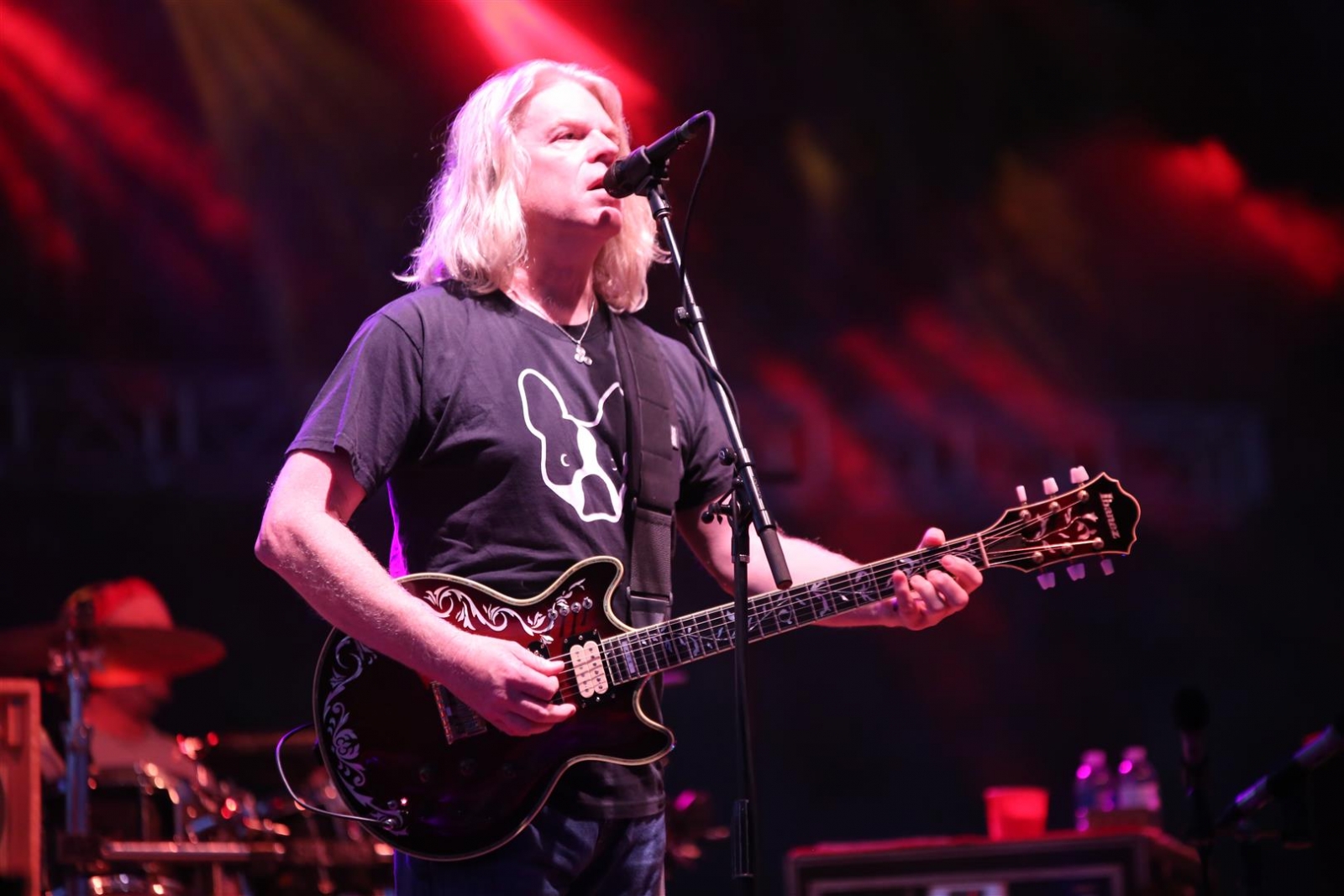 After a short break, Dark Star Orchestra came out and played an invigorating Dancing In The Streets. The crowd was up and dancing and we were all in a jovial spirit. They did Scarlet Begonias > Fire On The Mountain which were embellished with excellence. They beguiled us with Estimated Prophet, then went supernova! St. Stephen > Not Fade Away > St. Stephen > Morning Dew, and the crowd was delirious with delight. They jammed out a fantastic One More Saturday Night and left the stage. Dark Star came back for an encore to a fervent crowd, announced that the setlist they just had played was the legendary 5/8/77 Cornell show!  Then they played the Jefferson Airplane hit White Rabbit, and ended the night with Dylan's Rainy Day Women #12 & 35. Truly the best Dark Star Orchestra show I've ever seen in 16 years of attending festivals. A magnificent set, and executed with such precision and passion I am still affected.
Friday morning I got up early enough to make breakfast while we listened to The Marcus King Band romance the very clouds in the sky with musical cleverness. We went to the venue, and my spouse saw the Devon Allman Band, and I went and caught Matisyahu. Their set was great and I found a shady spot to enjoy the music. The day was flying by, and JJ Grey & Mofro played the Peach stage, as Jaimoe's Jasssz Band played the mushroom stage.Turkuaz played the mushroom stage, and an hour later at 6pm Bob Weir & The Campfire Band played on the Peach stage. So if Bob Weir was not your cup of tea, Turkuaz and then Papadosio on the mushroom stage were killing it! We went to Bob Weir & The Campfire Band at 6.
Bob Weir came out with an acoustic, and began the set with an earnest and touching Easy To Slip (Little Feat), then When I Paint My Masterpiece. He was joined by The Campfire Band, and they eased into Blue Mountain, off Bob's new solo album Blue Mountain. They carefully serenaded us with Lay My Lily Down, Me & My Uncle, Gonesville, and charmed us with Only A River. They led the crowd of thousands in a rowdy TN Jed, and the tempo rose. They played a vigilant West L.A. Fadeaway, Cassidy, and an uncanny Knockin' On Heaven's Door (Bob Dylan) into China Cat Sunflower. They left the stage to chants of, "Bobby", "Bobby" and appreciation wafted on the breeze. They came back and did an encore of Goin' Down The Road Feelin' Bad which seemed ghostly. I could sense that not only Butch Trucks was in attendance all weekend in spirit, but Jerry, Mikey, and Duane as well. The older we all get, the more appreciative I am for the special moments like these. We went back to camp to get ready for Widespread Panic, and the darkness.
When we came back and got settled for the Panic set, you could see Butch Trucks' drum set sitting side stage on Jimmy's side. With a plaque and a spotlight on them, inviting him to play along, it was an emotionally moving touch. Panic was late and I almost couldn't contain my enthusiasm. When Widespread Panic took the stage the atmosphere changed, and seemed to get a little wild. They came out and jumped right up with Ain't Life Grand. People were going crazy, and I saw a guy down below us stop in the footpath and set off fireworks. He was proud of himself, and celebrated as he walked away. Panic went into a joyous and heady Love Tractor that made us all sing along. They went into Cease Fire, and Dave Schools bass was making my ribs vibrate! Another idiot lit off a bottle- rocket which went sideways and exploded into a group of people sitting just behind the sound stage. Things were getting out of hand fast. We had seen someone getting arrested by uniforms in the Peach stage area vending earlier, but I don't think they caught the guys lighting off the fireworks.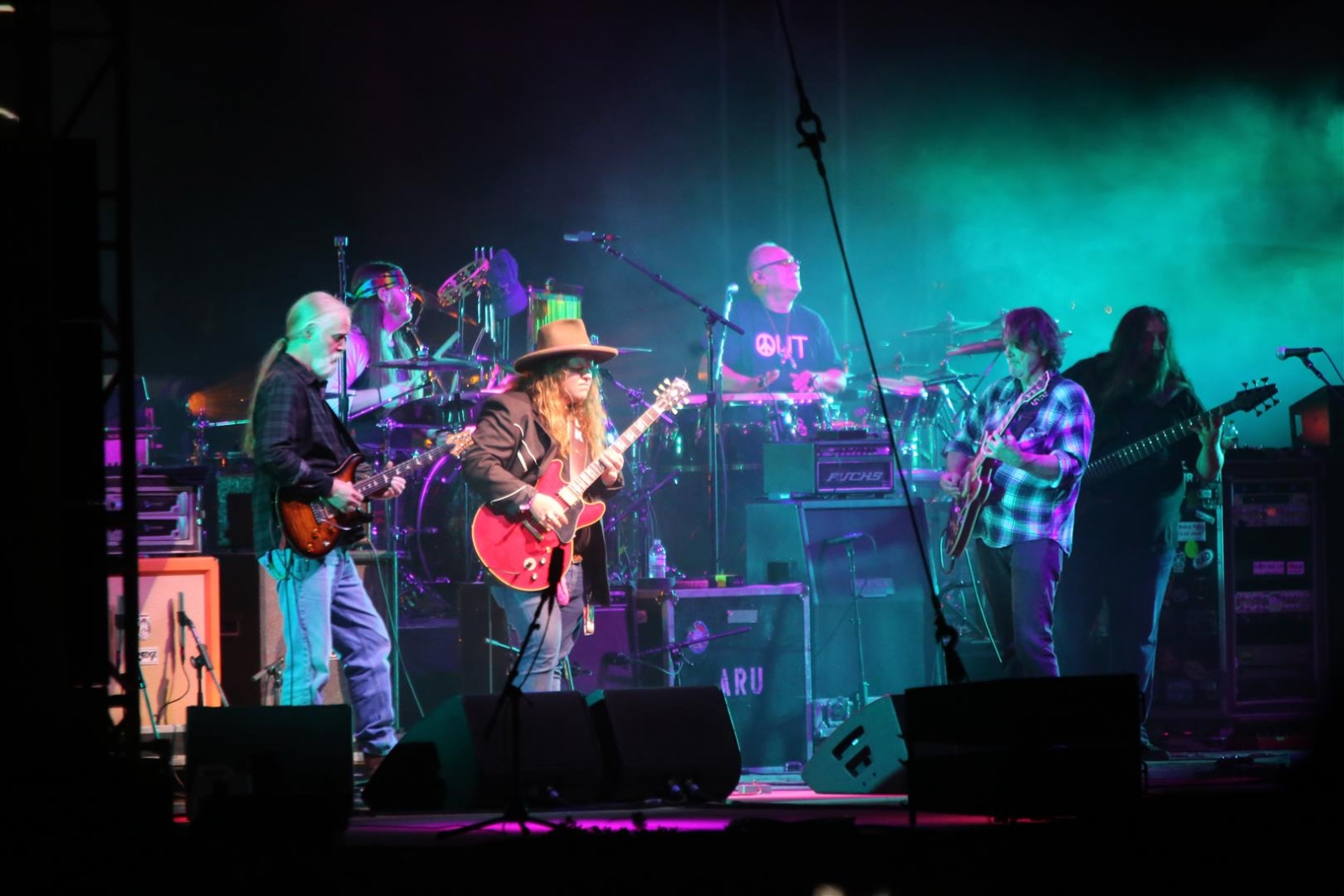 The whole atmosphere had me anxious, and I heard 3 notes of Heaven (The Talking Heads), and I forgot about everything else. It was ecclesiastic, and I had my arms raised, praising at Widespread church. They broke out an outstanding Little Kin > Junior (Jr. Kimbrough) > a voracious Party @ Your Mama's House and the entire crowd was infected with rapture. They possessed us all with a boisterous Stop Breakin' Down Blues (Robert Johnson) and had us breathless with an old school Tall Boy. JB captivated us with an immaculate The Last Straw, and the guys were transcendent. Marcus King joined them, so I knew the next song would be exponential. Our hearts began bursting with love and pride when Widespread Panic began to play the Allman's "Mountain Jam", and my reverie was obvious. Widespread Panic has not played that song live since 1988. We were experiencing a momentous event, and I was filled with reverence.
WP then tore open one of my old favorites which I had not heard live in a while, Big Wooly Mammoth. I was beyond ecstatic, and dancing up a great dust cloud the entire song. I wasn't the only one, and a light cloud hung over the crowd. Christmas Katie gave me a song to slow down and catch my breath to, then they finessed a beautiful See That My Grave Is Kept Clean (Blind Lemon Jefferson). They did Saint Ex into a delicious Imitation Leather Shoes. They left the stage, and we all went wild! Widespread Panic returned to screams of insatiable hunger. They played an astonishing Blackout Blues > End Of The Show (Bloodkin). Their set had me floating around on a cloud. I had to go take some sips and drink a beer, then came back with a friend for "ladies night" at Wanee.
Les Brers was the second band Butch Trucks formed after ABB stopped touring toward the end of the Summer 2014. They had the late night set at the Mushroom stage from midnight till (past) 2am. Besides Butch, ABB members Jaimoe, Mark Quinones and Oteil Burbridge also founded this side project with Butch. Butch's nephew Duane Trucks, drummer for Widespread Panic joined Les Brers in honor of his Uncle. Along with Jack Pearson on guitar who did a 2 year stint with The Allman Brothers Band ('97-'99), the talent on the stage was substantial. They began with a very poignant Hot 'Lanta and I could not stop smiling! I was in my element and feeling outstanding.
The entire massive sea of faces rolled and danced like changing ocean tides, given freely to the wind. Our souls were sails and Les Brers our Captain. They played the most impeccable Ain't Wastin' Time No More I've heard in 25 years, and the gathering sang along with Lamar Williams Jr. whose voice sounds compellingly like Gregg Allman's. They were alight with the spirits of Butch Trucks, and Duane Allman, and their ardent devotion radiated into our souls. They blazed Every Hungry Woman > Trouble No More > I Can Fix It > Just An Expression. I was in disbelief as they went into Blue Sky > Dreams > Jessica and felt like I had entered another dimension. Every song was spotless, and I was filled with amazement.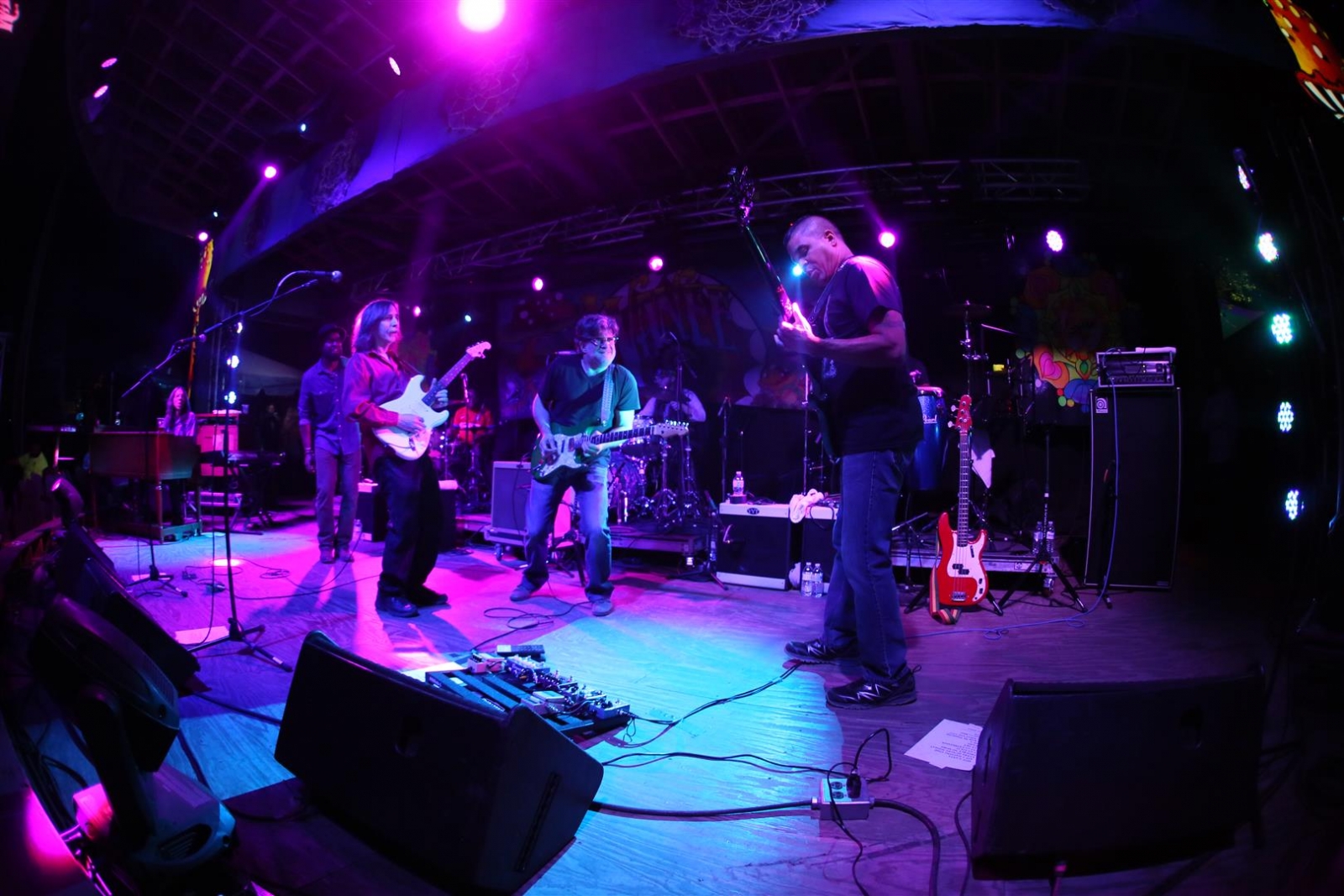 Les Brers continued to amaze with Don't Keep Me Wonderin', Hold What You Got, into a stunning In Memory Of Elizabeth Reed. They slayed an explosive Come & Go Blues, then encored Whipping Post. Thousands of us sang along with gusto before Les Brers left to cheers and worship. We went back to my friends camp to have a campfire, and I ended up walking around the lake watching the sun rise. I didn't want to come down off the musical high from the night before, and it took me a while to finally fall asleep.
Yeti Trio started off the next morning at 11am playing my dreaming soundtrack on the Mushroom stage. Bobby Lee Rodgers Trio played the Peach stage from 12:15 to 1, then Dr. John & The Night Trippers took the helm from 1:30- 3pm. My partner tried to wake me to no avail, and went and caught Kung Fu on the Mushroom stage 12:30- 2pm, and said they were astounding as usual. And it was their bass player's Birthday! I got up and moving after 2:30 and the heat was really getting to me by day 3. I made it out with my chair to set up at the Peach stage to catch the last night's bands.
Gov't Mule took the stage at 3:30pm and began a glorious set starting off with World Boss > Mother Earth (Memphis Slim). Warren Haynes has only gotten more soulful over the years, and they sounded fantastic. They blasted About To Rage > Trane > Eternity's Breath (Mahavishnu). They excelled with Forsaken Savior, Larger Than Life, Doing It To Death (The JB's), and blessed us with the live debut of Revolution Come Revolution Go. They did a spirited Freeway Jam (Jeff Beck), into a tender When Doves Cry (Prince), and a very powerful Beautifully Broken which had me near tears. They left the stage for a few moments, and came back for their encore. They played an angelic Effigy (Creedence Clearwater Revival), and ended their influential set with Hey Joe (The Leaves). I still did not feel well, and left to try to eat. The heat had caught up with me, and we heard some of Trey Anastasio Band as we left.
Meanwhile the Mushroom stage had been featuring delectable bands all evening long such as Pink Talking Fish, and Keller Williams Grateful Grass, which is always a fun excursion in musical enterprise - the latter featuring Jeff Austin on mandolin and vocals. The always energetic and exciting Greyboy Allstars played the Mushroom stage from 7:30 - 9pm, and they had the crowd moving and grooving. Karl Denson and his allstars of equally impressive musicians are there to explore the musical mountains and melodious meadows of America. Their mastery takes you on a funky astral journey of epic proportions. Just before they got done, we walked to get a spot for what would be our last set of this year's Wanee Music Festival.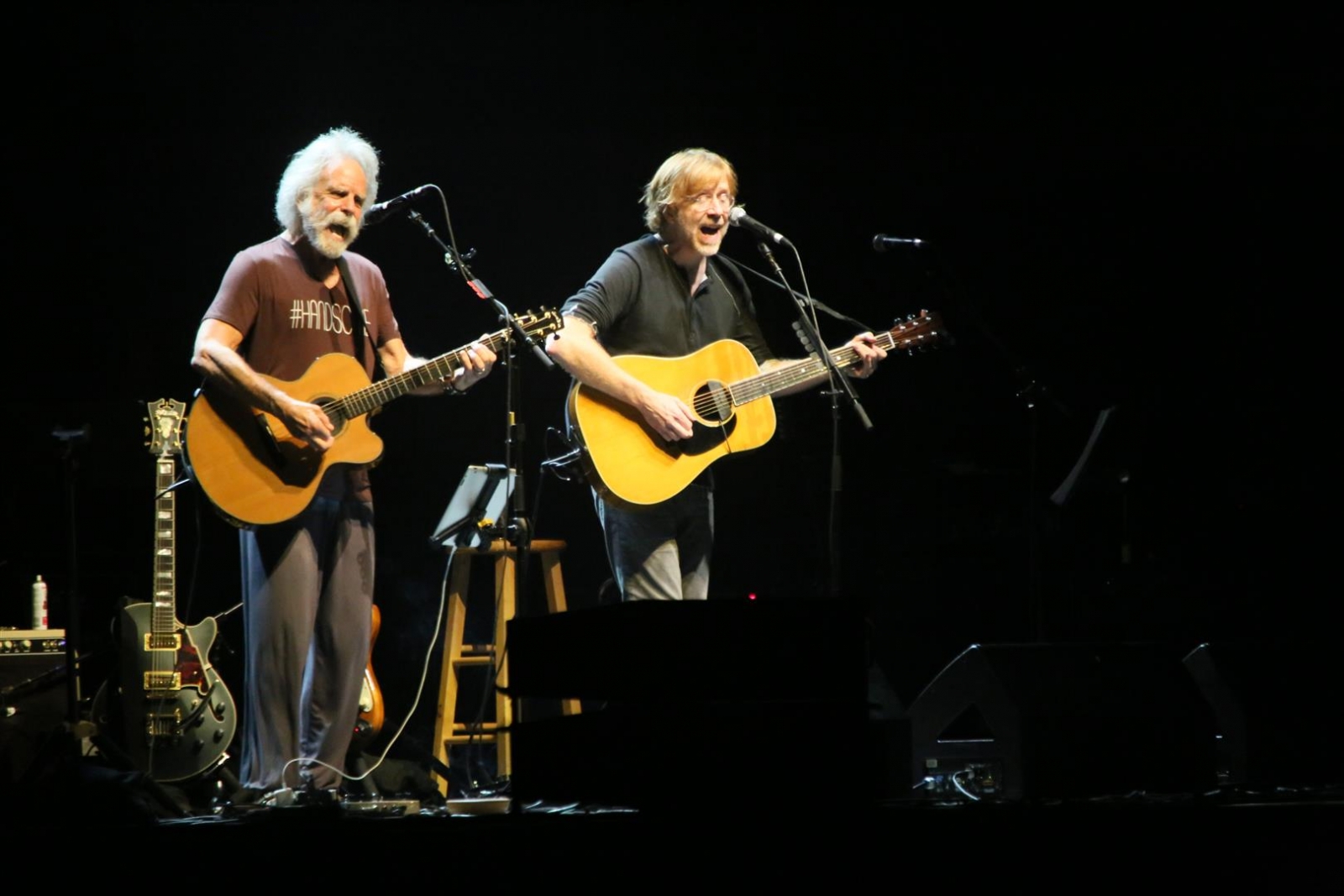 At 9pm Bob Weir & The Campfire Band graced the Peach stage for one last time. He came out alone with an acoustic guitar, a spotlight caressing his spirit, and seemed to glow like a star in the nighttime sky. He played a peaceful and stirring Two Djinn, and then a heartfelt Corrina. Trey Anastasio joined him and the two coaxed a celestial Deep Elem Blues (Georgia Crackers) into a jovial Friend Of The Devil. They played a gallant Bird Song > Miss You (Phish) > into a crowd pleasing Million Reasons (Lady GaGa).
The Campfire Band joined them onstage and included the masterful guitar of Steve Kimock. They kept the slow and reticent vibe going with Darkest Hour > Ghost Towns > Cottonwood > Lullaby > quite possibly the slowest version of Shakedown Street I have ever heard. We left before his set was over so I could go to sleep. I still felt exhausted, and may have had a slight case of heat exhaustion Saturday. We got back to our camp around 11:40pm and I sat down to relax for a minute.
In all an extremely positive experience, with the one exception of seeing our camping neighbor busted for smoking weed.  I leave you all with a friendly reminder. Big and small festivals alike, just please assume there are undercover police everywhere. Because most of the time, there are. Wanee is no different than any other large festival, where alcohol is sold, they MUST allow the ATF in to enforce the alcohol laws. At least that's their excuse to get their foot in the door. So please, have fun, mind your P's & Q's, and don't become a victim.
- review by B.A. Jones
- photos by Jerry Friend (Sustained Notes)