Wanee 2012 was an incredible delight for this festival enthusiast. Five days of legendary music giants and nights of jamtronica light shows that kept everyone smiling, grooving and "ahhhing."
Pulled in on Wednesday after 7 hours on the road alone, having decided from experience that I may be the only one from my area who would have to get back to a job early Monday morning. So, I checked all my daily responsibilities, routines, and worries at the gate and promised to pick'em up again on the way out on Sunday. Our photographer, my buddy Paula, directed me into The Loop where she and other friends where forming a community around an RV full of friends made at Springfest. The cypress trees and Spanish moss made for a relaxing setting and I began to breath deeper in the freedom of the outdoors. I checked the corner space across the way from my friends and okayed setting up my tent there with the golf cart security folks in charge. I popped my tiny tent up and impatiently tried to wait for the others to finish their more complicated arrangements. Not wanting to miss all of Cope though, I headed for the familiar stage and vending area. It was just Wednesday, but it looked like a festival in full swing already. Vendors were happily busy and Cope had a huge crowd dancing in the dark. Funky keyboardist Juan Montero switched to the sax while guitarist Dan Stadelman showed off his banjo skills for a few songs. I rode my first journey on the musical waves only to be broken off as Cope shocked the crowd back to reality with a sudden stop. The crowd, forced to acknowledge the magical journey they'd just experienced and awakened from, spread hushed "ahhhs" and applause exploded. I listened to Cope's final notes as I made my way through the maze of vendors and bought a few arepas to take back to share at camp.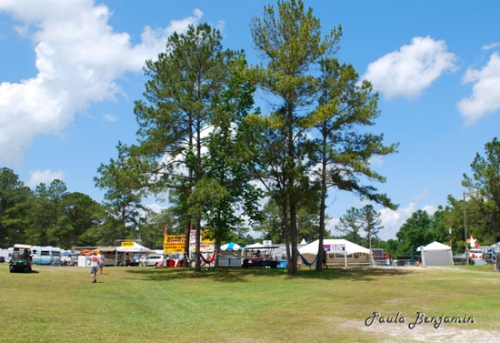 Waking early Thursday, I grabbed my gear and headed to shower before the unwritten 6:30a.m. end of warm water. I respect the custom of seeing how many days one can go without a shower at festival, but let's just say I can see and think better after one...even a freezing cold one or a dip in the river. I won't give myself a gold star though until I actually make 9a.m. yoga one of these years! A nap and then trip to the river with the gang! Skies were overcast with rich hues of gray, blue, and black. The air was a little chilled, but we hurried into shorts and bikinis and braved the cold coffee-colored waters of the Suwannee River. I love the white rock walls bordering the far side and the crystal white sand. We played for a couple of hours before heading back to catch the last of Bobby Lee Rodgers Trio in the amphitheater, slide guitar extraordinaire Roy Rogers and true legend Ray Manzarek, formerly of The Doors, who surprised the crowd with new tunes as well as the classics we longed for and a piano solo dedicated to Jim Morrison.The clouds grew more ominous overhead and Mother Nature was making her own festive plans.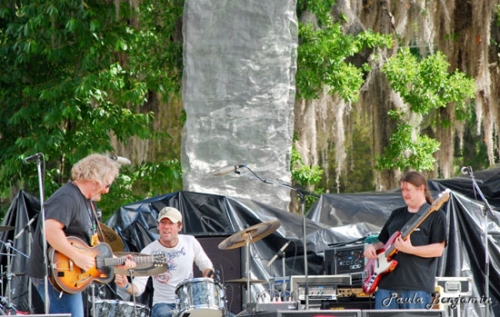 I couldn't take my eyes off Devon Allman. He took the stage by storm...literally, as the bottom fell out of the sky and we were washed in the cleansing, rocking, glorious strength of Devon's voice and guitar riffs, echoing his father's more powerful, younger, healthier years. Devon's stage presence kept me riveted and as the rain got heavier and the crowd drew in closer, he belted out a a killer "Midnight Rider." I gave up, like those around me, all pretense of protection and distraction, closed my eyes and turned a joyful smiling face up to receive the rain and to sway, lost on the waves. The chill didn't hit me until the music ended and the crowd started back toward dry clothes. We had time to dry off, change and get back in time to see Hot Tuna Electric tear it up for the end of their two-hour set. Jorma Kaukonen and Jack Cassidy of the original Airplane band showed us what it took to shape an era of sound.
Next came the first electronic and laser light show band of the weekend. Conspirator, the  Disco Biscuits side project, got the crowd pulsating and thumping late into the night in true rave-like fashion to the delight of everyone, especially the young."Scarlett Begonias" and "Fire" (Hendrix) became favorites of the weekend. Paula and I met up back at camp and made a pact to make it to every single band appearance
Friday....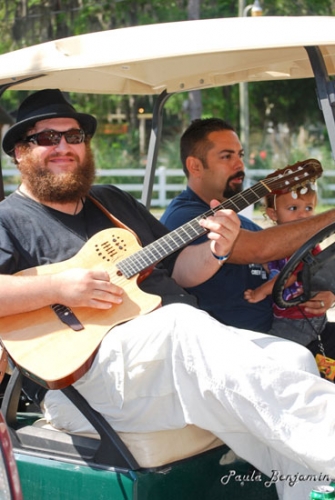 And we did it!!! Thirteen bands later, self-satisfied smiles and an incredible sunburn for me by evening. What an amazing, dreamlike day for this follower and lover of The Dead. Friday dawned clear and was made even more delightful when Zach Deputy and company stopped their golf cart on his way to perform on the Traveling Stage to speak to us. The park had filled and campers were still steadily pouring in. Paula and I began the day eagerly at the Peach Stage with the Bobby Lee Rodgers Trio. I first met songwriter and musical artist Bobby Lee years ago at a local favorite venue, Smiley's Acoustic Cafe in Greenville, SC. He was playing that acoustic guitar through an old amp and I could've sworn there were more artists on stage with him! He is a master of sound and all instruments. Bobby Lee played everyday at Wanee at several stages,including the Traveling Stage, which I only caught as it rolled through "Main Street" on Saturday. Paula and I ran from the Peach Stage after Bobby Lee's opening two songs to catch some American pop rock tunes from Florida locals, the Jacob Jeffries Band at The Mushroom Stage and then back to the Peach Stage for Bruce Hornsby.
Paula left me comfortably up in front of the crowd as she took off to the pit to get some close-ups of Bruce Hornsby and The Noisemakers, lucky duck. Do I need to admit my crush on Bruce Hornsby? Is he not the fittest, amazingly good-looking, crazily talented man?! I turned to gaze out over the sea of people anxious for more than just one hour of Hornsby. Bruce himself expressed his disappointment at the short time allotment, but didn't let us down as he rode into classical piano solos and, was that a dulcimer? and washboard duet. Hornsby paid an appropriate tribute to Levon Helm, legendary performer with The Band who gave up his battle with cancer April 19th. Bruce's moving, breath-taking, soul-reaching rendition of "The Night They Drove Old Dixie Down" left everyone's heart pouring out not so much for a loss, but in appreciation for the life of inspiration and contributions and defining of a musical era that was Levon Helm. Tearing myself away in order to keep our pact to catch every band was not easy. But, Paula and I trekked back over to Mushroom to catch some of Matt Schofield's gorgeous English accented jazzy, blues funk. I was hoping to hear a favorite cover among their originals, "Lights are on but Nobody's Home."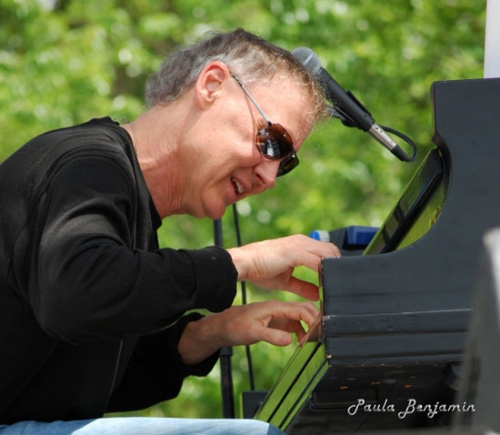 I ran to my favorite all organic food vendors just before Buddy Guy took the stage and halved a black bean and avocado wrap with Paula and drank an incredibly refreshing iced coffee. We watched the preparations of the gigantic white flowing jellyfish that would be part of the fun and lights for the night time shows, stopped to talk with our friends Barry at the Hammock booth and Katie and Mia at the Blown Glass and the girls with the adorable ferret running around their shoulders. We bought similar dresses with cool prints and headed back to the Peach Stage. Buddy Guy, all smiles and awesome antics took the stage in scorching heat and got us all singing along to "Slippin Out,Slippin In." Mr. Guy dedicated his performance to the stage crew and to his personal driver. I felt personally involved in the performer's original "74 Years Young." So there really are lots of good and fun times left...which 76 year old Guy demonstrated by playing his guitar with his buttocks!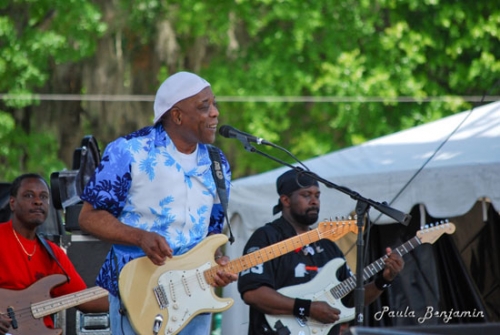 We had time to walk around the vendors and visit with friends for awhile before seeing Mickey Hart in the amphitheater. Paula snapped photos of the colorful costumes, body painted works of art and decorated golf carts. Back to Mushroom Stage for drumming legend Mickey Hart and Crystal Hall's thrilling vocals. "Fire on the Mountain," old and young bobbing heads all around me brought reminiscent tears of joy...and back to the Peach Stage for the dynamics of the golden-haired love duo of Derek Trucks and Susan Tedeschi that now fronts the Tedeschi Trucks Band. Joined by Kofi and Oteil Burbridge and a tight horn section, they proved there's no limits to their talented creations. They were recently awarded Best Blues Album Grammy for "Revelator." The crowd got visibly caught up in the whirling cyclone of talent present on stage. Working in frenzied harmony on air charged with the obvious and beautiful attraction Derek and Susan share, the couple sent sparks flying. Derek presented a long guitar solo during "Midnight in Harlem" and Susan responded with a fiery guitar solo of her own during "Bound for Glory." The crowd appreciated the fun when the band gave a thumping rendition of The Beatles' "Why Don't We Do It In The Road" also during "Bound for Glory." The sexual charge this married couple has tastefully channeled onto the stage reminds me of the first time I really GOT what dancing a tango was all about.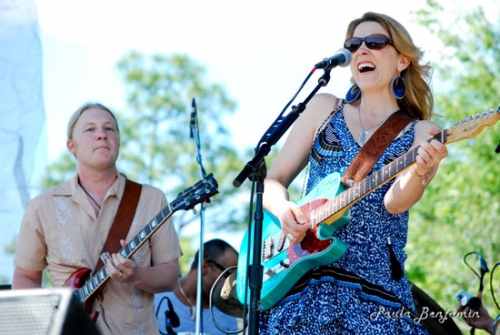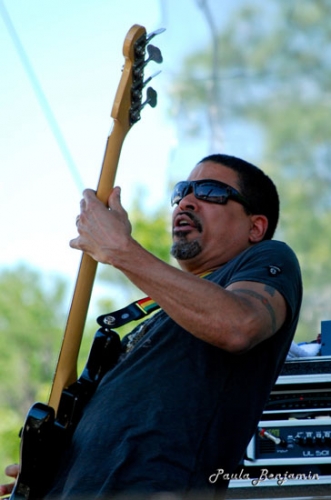 Tearing ourselves away to keep our pact and to enjoy all the variety we could in one day, Paula and I ran for Zach Deputy and were delighted to catch Deputy showcasing his vocals to a new song he dedicated to Jimmy Johns. Normally a one man show, we enjoyed the band Zach is now touring with, allowing him to highlight each of his talents one by one.
I regretted my pact when I realized my musical hero worship would have to be reigned in if I were to see any of the worthy Bonerama as well. I comforted myself with the incredible fact that Further would be playing another 3-hour set on Saturday as well! So, back to Peach Stage for the opening songs from Mickey Hart's former co-band members and legendary founders of The Grateful Dead, and the reason my pulse was racing in anticipation, Phil Lesh and Bob Weir who have rekindled with Joe Russo, John Kadlecik, formerly of Dark Star Orchestra (a band my friend David and I followed one very memorable summer all the way up to Maine) and Jeff Climenti. The guys played a mix of classic Dead and tripping jams to a grateful, vigorously alive crowd. (See the setlists at the end of the article.) "Death Don't have No Mercy" had to have gone out in effigy to Levon Helm. I would have to wait one more day to gloriously and thankfully drown myself without interruption in this band's magic and my own nostalgia. I did run back from the amphitheater in time to join the gyrating crowd and ride the energy of the encore "Touch of Grey."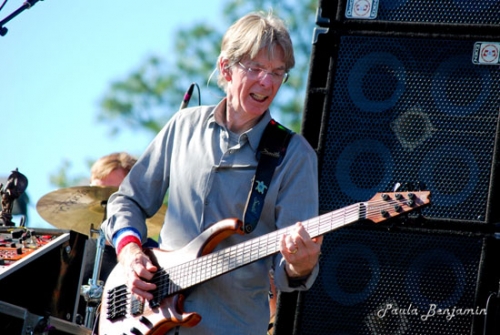 I love New Orleans and its flavors, but admit I would have appreciated the incredible talent of Bonerama much more if they had not had to share the time slot with this older festie's favorites. However, having learned early in life to always be in the place and the moment, I relaxed and found myself snapping my fingers and juking it out to the brassy funk of this NOLA band. I hope to find them close by again soon. The time space between this band and Dumpstaphunk on the same stage allowed me to go back to camp and change out of my sweaty clothes into something comfortable for the night. It was then I noticed how completely sunburned I was! Oh well. I was secretly happy to remember the days of my youth when sun worshiping was the norm.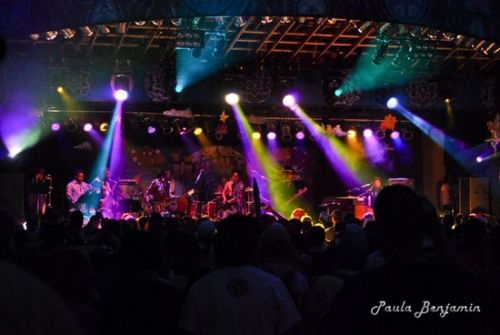 Dumpstaphunk came into my life about 6 years ago at Gottrocks in Greenville, SC, and sweep me up in the funkiest heart-thumping dancing frenzied evening I'd had in a longtime. I always look forward to them and Wanee was no disappointment. The best was,I knew I could relax and enjoy the whole 2 hours. Ivan and Ian Neville, Tony Hall and their clan played covers of Parliament Funkadelic including "P.Funk (Wants to Get Funked Up) " and "Let Me Ride."
Time for Festival hosts, The Allman Brothers. Paula and I got down front early and she left me for the pit. To date, things had been running on time and we anticipated the Allmans taking the stage at 9:30. As it drew closer to 10p.m., it was obvious ABB was there and several of them had been out on stage rechecking everything, a worried crowd whispered about Gregg's health issues of the past year and respectfully waited. Sources from backstage told me Gregg had injured his back and was in a lot of pain still on the bus. Finally an obviously weary and weakened Gregg took the stage, but no one could tell it from his performance. Still the greatest Hammond organ player to rock the stage, Gregg Allman wowed the crowd backed by his band and members Warren Haynes and Derek Trucks. He gave his all on vocals as well as he sang the song for which his newly released book is titled, "Ain't My Cross to Bear." "Blue Sky " was, to my knowledge, a first at Wanee. Warren Haynes took the mic and offered up his dedications to Helm. The crowd lended every voice and swaying body to "Midnight Rider." Susan Tedeschi and Bob Weir joined ABB for a moving cover tribute to Levon Helm with "The Weight." The giant screen behind stage rolled photos of Helm and a trombone tribute drove the importance of the evening home to the hearts of all in attendance. Closing the set with "In Memory of Elizabeth Reed," for all guitar lovers and returning to the stage with encore "No One to Run With," The Allman Brothers left no room for doubts of their continued strength of majestic talents and longevity for years to come.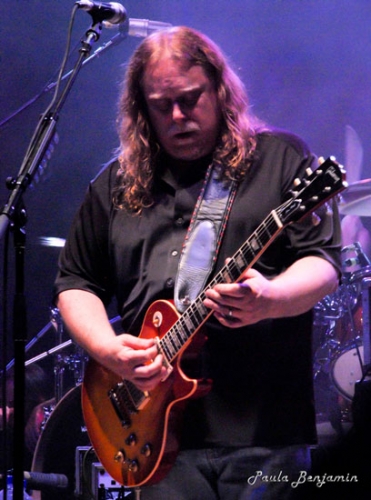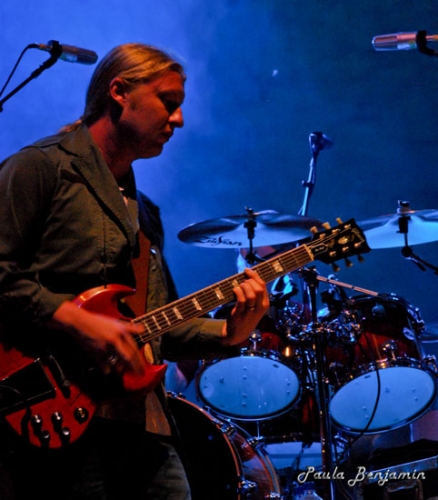 Back at the Amphitheater, Particle churned up the energy with their after dark show and late into the night jam-rock techo sounds and lights. The livetronica party was reflected by the trees overhead and everyone slowly left to finally head back to camp, where smaller parties were already fired up.
Saturday...

Up early, but feeling the exhaustion and the sunburn from the determined ambitious day before, I blindly made my way to the showers, this time not really regretting that at 7a.m.the water was freezing. It woke me, refreshed me and soothed my burn so that I could see on the walk back to my tent, greet the always welcoming couple of folks who care for the bathhouses, and actually see to whom I was speaking a quiet good morning. A young man I remembered speaking to earlier passed back by me and paused to offer sympathy for my sunburn and to share his aloe and mangos... Always the free and trusting soul, I reflected I should probably think for a second to determine if I'd heard any unspoken strings attached before skipping over alone to a stranger's tent for an aloe massage invitation. My trusting spirit, and pain, got the best of me and I walked across the road to receive some aloe in my hand for my face and front and granted permission for him to cover the angry red across my shoulders and upper back. We introduced each other over some of the sweetest mangos and wound up hanging out most of the day and the last day no strings attached, just the loving, caring , generous Spirit of the Suwannee personified. I still regret declining his invitation to kayak that morning thinking I should get back to the music with the same work ethic drive as yesterday. Kayaking the river remains a part of Suwannee I haven't yet experienced;but then, I've learned there will be new experiences every year...always. Being neighbors though and both on the adventure alone, we caught up with each other later to share the evening, supplies, and each other's friends.
Armed with lots of sunscreen for the middle of the day Saturday, I set out for the field alone while my friends took off to bathe in the river. However, halfway over to hear more of Bobby Lee, I realized how drained I was from the sun and chasing the music the day before. So, I visited my favorite organic food tent again, where they were calling to me by name already and bought another refreshing iced mate and drank it as I walked back to camp to see if anybody wanted to join me for the day yet. I sat down in a friend's hammock and I don't remember anything else till I woke around 3. Jumping up and seeing no one around, I trekked up to enjoy Gov't Mule where I was sure I'd find our photographer. She was there I can see from the photos, but once again the skies let loose with a torrential rain that drove Warren Haynes and crew off the stage, cutting short their rendition of Levon Helm's "The Shape I'm In."
I wish I had been there for SOJA as I adore reggae and rarely get enough of it live where I live, but I did enjoy soaking up more of the crowd love, having my arms painted,sitting at the back of the crowd and lounging in the hammocks strung among the oaks at the amphitheater. I also missed Trigger Hippy and most of Leftover Salmon, so I paid to see them at The Handlebar the following week back home and stayed to talk with Joan Osborne, Jackie Greene and Vince Herman. With the changes made by the heavy but brief rain that cut off Gov't Mule, there was a hefty crowd gathered and waiting for the clouds to disperse and the start of the funk that is Charles Bradley and His Extraordinaires at the Mushroom Stage. I swung by on my way back to my tent to change into dry clothes and head back to my reason for being there, Further and the Allman Brothers, with some EOTO and North Mississippi Allstars in the mix. Older fans entitled to call themselves Deadheads and newly ordained younger fans were all gathered and knowingly predicting the evenings setlists. Bodies began moving as if wound up for it as Further cranked it up with "Playin' on the Band" and brought it with favorites "Shakedown Street" and omg, my heart sang, "I Know You Rider." I finally landed gently again for awhile to "Stella Blue" as images of Jerry's soul-filled eyes and sweetly loving smile flowed comfortingly through my mind.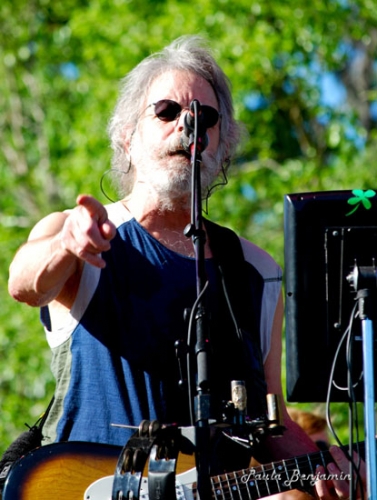 Knowing a very similar trip was in store for me at 9:30, I made my way over to EOTO, for a light and dance fest that made the time between Further and ABB incredibly exciting.
With numerable notable sit-ins during The Allman Brothers closing set at Wanee 2012, Gregg's frequent absences from stage were still lamented by the seasoned and concerned. Luther Dickinson gave us a preview of his upcoming official closing of the festival by his own band, North Mississippi Allstar's, by joining the stars on main stage for "Gilded Splinters." Jimmy Hall highlighted his voice and harmonica skills on "She Caught the Katy" and "Statesboro Blues." "The Sky is Crying" was too appropriate after changing into dry clothes twice during the day already. ABB classics with Gregg settled behind the organ, his heated powerful dedication and skills far outweighing his weariness and illness brought the entire festing crowd to new heights of rejoicing. Despite the extended break he needed during the final set, during which Bruce Katzart fully filled in on the keys, Gregg reemerged and seated himself painfully on a folding chair next to Warren Haynes and Derek Trucks. A heart-wrenching rendition of "Needle and the Damage Done" ensued that left every heart soaring and every eye moist with emotion.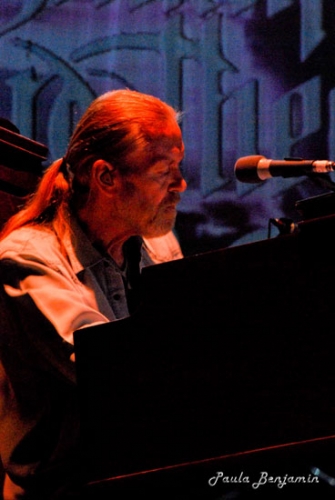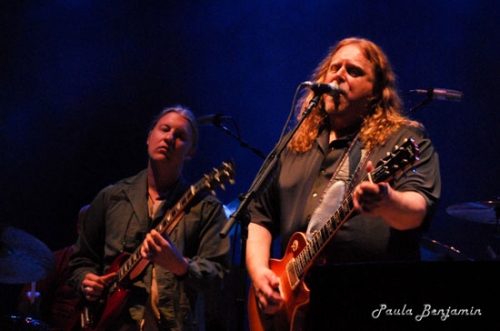 And yet the night wasn't over...and I drifted over with new and old friends to experience North Mississippi Allstar's take the Mushroom Stage to officially close Wanee 2012. I uncharacteristically hung out at the back of the crowd and surveyed the night , the swaying, singing crowd, the colorful clothing and bared feet, happy but festival-weary faces of people young and old joyfully hugging themselves to the music and everyone around. My new friend offered me the new experience of lying in his hammock he'd strung in the trees earlier. It was wild to lower myself to that level among a sea of bare legs and swaying hips and let go and just gaze up at the lights and the bodies around me....
Back at camp, my longtime friends were gearing up to rip and romp around on the golf cart they'd rented for the weekend. My new friend and I walked to a fireside bluegrass music show, enjoying the last night and the off-stage performers twirling fire and lighted hoops.
Sunday. No hurry packing up and easily making the decision to gather at the river before heading out. Everyone with anything to share brought it all down to the beach and the vibe was that of a beach family outing. A bottle of wine, some leftover bloody mary mix, some oranges, graham crackers, cheese, fruit roll ups, etc. and whatever.The day was made complete as someone showed up with an ipad and music! The death of the ipad was followed by an impromptu drum circle and the afternoon delightfully and smoothly became evening...and I still had to be at work at 8a.m. 7 hours away!! So, I said goodbye to all (as predicted, everyone else from home decided to stay just one more day) and bravely headed out toward routine and responsibility again,but loaded with smiles and warm memories.
Thank you, ABB, especially Gregg Allman, for your perseverance, dedication, genuine love of giving to, sharing the music and the joy with us all. Always looking forward to next time.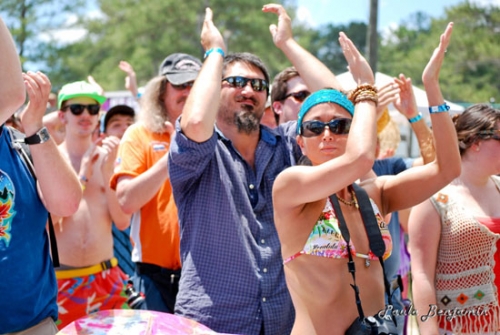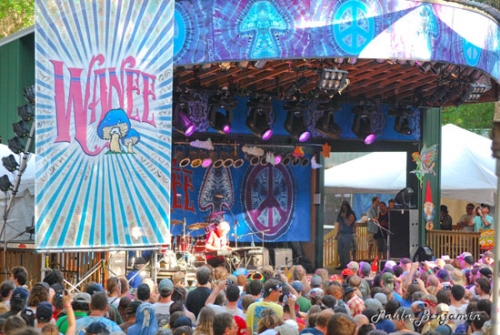 Setlists Further Friday: Not Fade Away/ Brown Eyed Woman/ Alligator >> Ripple, My Brother Esau/ Scarlet Begonias >> Fire On The Mountain, Eyes of The World >> Caution>> King Solomon's Marbles/ Unbroken Chain >> Death Don't Have No Mercy/Turn On Your Lovelight. Encore: Touch of Grey Saturday: Playin' In The Band >> China Cat Sunflower >> Estimated Prophet >>Ramble On Rose/ Bird Song/ Sugar Magnolia >> Playin' In The Band Reprise/Help On The Way >> Slipknot >> Franklin's Tower/ Cryptical Envelopment >>The Other One, Shakedown Street >> Viola Lee Blues >> Bertha >> Viola Lee Blues > >Stella Blue >> I Know You Rider. Encore: US Blues
Setlists Allman Brothers Friday: Don't Want You No More >>It's Not My Cross To Bear/ Midnight Rider/Blue Sky/ Worried Down With The Blues/Egypt, Stand Back/ It Makes No Difference/ Blind Willie McTell/ The Weight >> It Makes No Difference/ Dreams/In Memory of Elizabeth Reed. Encore: No One To Run With Saturday: Jessica/ Come and Go Blues/ Walk On Gilded Splinters/The Sky Is Crying/Hot 'Lanta >> All Along The Watchtower >> Hot 'Lanta >> Rocking Horse/She Caught The Katy/ Statesboro Blues/ Into The Mystic/ You Don't Love Me/Mountain Jam >> Smokestack Lightnin'>> Mountain Jam. Encore : Needle and The Damage Done/ Southbound
Submitted by Janice Boyles


Photos by: Paula Benjamin