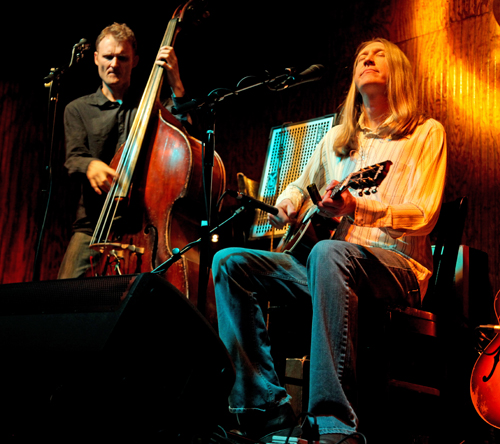 The fans loved the Richmond Virginia concert that included the opening acts Joe McGuinness and Sol.
"We're glad to be performing in Richmond for the first time!"
declared Oliver Wood to an enthusiastic crowd at the Capital Ale House. Friday March 12 was The Wood Brothers second stop on a two week tour of the east coast. The downtown Richmond crowd was focused and appreciative of the Wood Brothers making their city a stop on their musical voyage. Sol and Joe McGuinness were both two extremely talented opening acts that complimented the
Wood Brothers
Virginia show perfectly.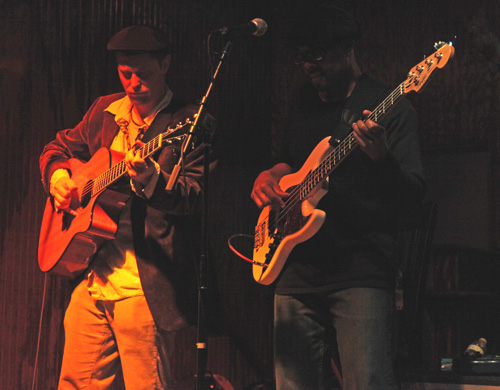 Starting the night off with a bang,
Sol
, a fiery guitarist and soulful singer, kicked into some bluesy songs that included a local harmonica player Wave Milor. Sol performed a set of originals and his super solid bass player Mike Tony Echols provided Sol some space to stretch out and wow the crowd with his guitar virtuosity. Sol's album includes musicians that work with Corey Harris, Jah Works, and Hobex. Oliver Wood compared Sol to songwriter Mutlu (Philadelphia based Mutlu works with The Wood Brothers fellow label mate Amos Lee).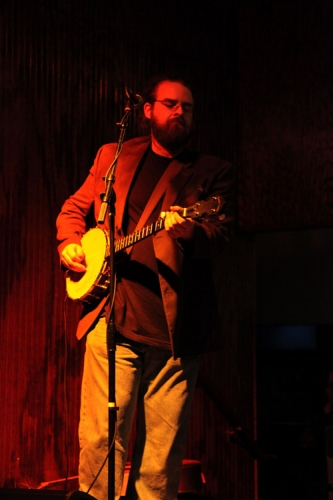 Next up, Atlanta based Joe McGuinness presented very some tasteful guitar finger picking and also breaking out an electric banjo. McGuinness performed many originals including one of his signature songs "My Name Is Joe" and a cover song by another Atlanta underground blues legend Bill Sheffield. Joe's CD release also includes guest appearances by the great guitarist Sean Costello. Joe ended his set with "I Feel So Good"
and everyone in Capital Ale House was certainly feeling good!  
Oliver gave thanks to the opening acts and The Wood Brothers jumped into "Stealing" and "One More Day" with the crowd singing along. Chris Wood tore into his stand up bass, ripping out grooves, with Oliver perfectly strumming infectious rhythms on his old Gibson guitar. Both brothers would occasion break into emotional solos that brought cheers from the audience. Tyler Greenwell provided some very tasteful drumming and percussion work. Tyler also works with Colonel Bruce Hampton, Derek Trucks, Susan Tedeski and others. The musical connection between guitarist Oliver Wood and his brother Chris Wood was incredible. Chris Wood's bass was rumbling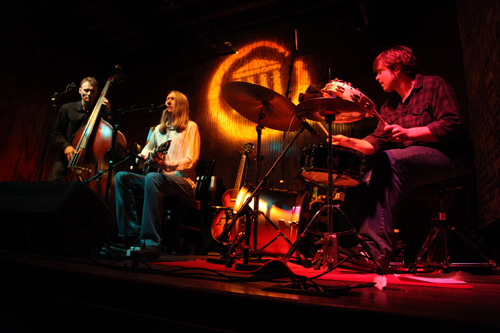 through the sound system and he would hit high vocal harmonies to accentuation Oliver's lyrics. Capital Ale House was set up for mostly sitting and dining, but even the first opening act the music had folks up dancing. The dancing was brought to a head with The Wood Brothers performing their slinky rhythm on the tune "Spirit".    
The night ended with The Wood Brothers returning for an encore to perform "The Luckiest Man Alive". The feeling was though out the air: the crowd felt lucky to be at a great concert and you could sense The Wood Brothers felt so lucky to be celebrating life and music with such an enthusiastic audience.
The crowd gave heartfelt cheers to The Wood Brothers presentation of stripped down acoustic songs, danced to their rocking electric songs, sung along with well know tunes, and listened attentively to the brand new unreleased tunes and songs from their newest album Loaded. The Wood Brothers put on a wonderful show, getting a great first taste of their fans appreciation in Richmond, Virginia.
- by S.Taylor
- photos by Taylor Harris Photography
* editor's note: Many songs the Wood Brothers perform also appear on CDs from Oliver Wood's prior group, King Johnson.  KJ featured a full band complete with funky horns!  They called their sound "adultcontemporaryrootsrockbluesjazzfunk" and have a song of that title as well. Check out "Live '05" here.