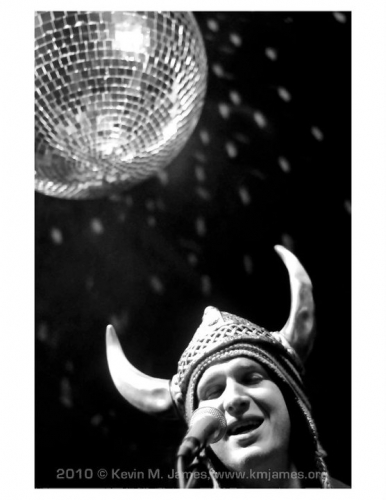 Hosted by Nick MacDaniels and his band mates in the Big Something, the event offered a nice highlight to close the summer festival season and celebrate work accomplished.  For those new to the phenomenon, the roots of the Big Something were born in the Anonymous Band, a Burlington, North Carolina group that had labored in the trenches over the years.  After coining themselves "the Big Something" earlier in the year, they release an incredible album, "Stories from the Middle of Nowhere."  The album displays colorful songwriting, "classic rock" likability, and choruses that prompt one to sing along.  Guitar, bass and drums mix elegantly with saxophone in the tracks of "Stories."  Tales of daring and adventure are mixed with "larger than life" characters, creating a nice, harmonious stew.  Relix magazine displayed a track from the album on one of their compilation discs this past summer; the album has been high on Home Grown Radio charts since its printing.  I had seen Big Something play at the Get Down, and looked forward to seeing them in a spotlighted position on the playbill.
My lovely redhead and I woke up Saturday morning, and I bustled my boys off to their mother's house, ready to spend a resplendent autumn day with friends, old and new.  We make the scenic drive, arrive before 11 am, and prepare for Jennie's work shift in the Hospitality Hut.  The crowd is dispersed at this point, but there is a look of hilarity and laughter in people's eyes.  The night before had featured a few bands, including CRR, Flux, Wax Planet and Greensboro's Electric Soul Pandemic ("ESP") in the late night slot.  The crowd seemed to be in a great mood when I got there Saturday morning, and the early sets featured a nice combination of funk and jam (Greensboro's Brand New Life was awesome) and the soulful styling of Brandon Scott McLean.  The Saturday Morning Zombies offer good reactions and applause, and we hang out in Hospitality and raid the vegetable tray.  I reconnect with Phil Bates from Viavant Productions and the GetDown crew, meet some really nice folks, and the day looks to be promising.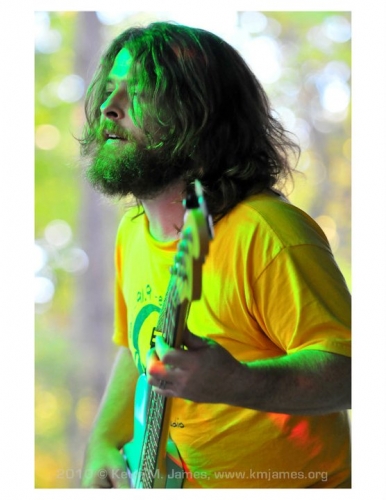 I meet Nick MacDaniels, who had masterminded the event, and he strikes me as a likable,hard working fellow.  Throughout the day, he is immersed in the business of running the festival, but always has a good smile and enthusiastic reply, obviously eager for his chance to play later that night.  Not that I have an enormous amount of "street cred" or anything, but I usually know a large chunk of people at any musical event in North Carolina.  But I was in a decidedly newer crowd for me, making me more of an observer than some outlandish participant.  The crowd was classy, full of good cheer, and ready to throw down.  Fellow Home Grown act, Big Daddy Love, offered a spirited, rowdy dose of bluegrass and rock with their late afternoon set. 
I take a work shift at the front gate for the early evening hours and unfortunately miss the Moon Water set.  I got a thrilling ride home on the back of a four wheeler, clinging to the RedHead for my life, and we arrive back at the Honda, ready to fuel up and layer on for the night ahead.  Unfortunately, due to travel issues, Incognito Mosquito missed their set, but Big Something arrived in costumes, ready to kick ass.  They open with an enthusiastic rendition of "Psycho-Killer," each wearing a different Monster costume, and play a set list that matches favorites from the album (like "Pinky Goes to Jail") with tracks like Cake's "Going the Distance."  A giant Fire Cannon is employed early in the first set, and the roar of propane is met with roars of wide eyed approval.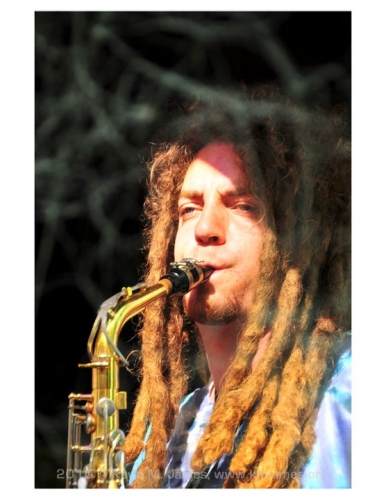 They take a set break, and Mister takes the stage to deliver an enthusiastic set of hip hop originals.  Big Something returns to the stage for their second set, opens with "Waltzinblack" (Psycho Halloween Jamtronic version), and offers an extended jam of "Saturday Night Zombies."  This version is complete with fans in costume, dance moves, and footage for future video use.  They tear into other excellent renditions of "Pinky's Ride," "Josh's Disco," and cover a Chili Peppers song later in their set.  I hover near the well-stocked bonfire, mill through the crowd, and enjoy the unseasonably warm weather...  It is late October, after all, but I feel great and the weather is superlative.  The band closes with "Big City Song" and I feel the weight of the day in my bones.  After rabble-rousing by the bonfire and enjoying a long day in Possum Holler, I enjoy a few songs by The Native Sway, but voyage up the hill.  I know that there will be others burning the midnight oil, but the warmth of the Accord, and the giggles of the RedHead are too much to deny. 
We have play rehearsal in Greensboro, so we can't mill around for too long Sunday morning.  We enjoy the bonfire, and the banter of an electrified conversationalist or two, before making the voyage home.  We had a wonderful time in Possum Holler, but there was business to attend to.  I checked in with Nick MacDaniels again after the event, and he followed up with me on a couple of questions.  The event served as a fundraiser for Guitars Not Guns, which provides guitar lessons and a free guitar for disadvantaged youth.  Nick relayed with pride that they had raised enough money to fund 8 free guitars and a round of classes for those recipients.  He also relayed that the Costume Ball had generated 4 huge boxes of canned food for donation to Loaves and Fishes.  MacDaniels is a sharp guy; down to earth, hard working, and his band is hot.  Perfect Fall weather, excellent music and like minded people combined to make the Big Something Costume Ball a rousing success. 

- J Evan Wade
- Photos courtesy of Kevin M. James