Article by Jenna Moore
TAUK Moore
Kanika Moore - Vocals
Alric "AC" Carter - Keyboards
Matt Jalbert - Guitar
Charlie Dolan - Bass
Isaac Teel - Drums
What a collaboration!! This live show was absolute fire!! The energy from start to finish was incredible, to say the very least. TAUK Moore and Funk You blew Savannah music fans away with two funky sets filled with new tunes and some killer covers!
Savannah, Georgia | Set List 2.2.2023
CMF9000
Aquatic Curtain
Supernova (Kanika)
Daydreams (Kanika)
Whipping Post - Allman Brothers (Kanika)
Pitter Patter (Funk You Horn Section)
Malware (Funk You Horn Section)
Step Back (Kanika + Funk You Horn Section)
Flex (Kanika + Funk You Horn Section)
Deal Breaker (Kanika)
STFU (Kanika)
Encore
Dazed and Confused - Led Zeppelin (Kanika)
Without a doubt, TAUK's covers of Whipping Post and Dazed and Confused with Kanika were highlights for me, but their recent releases like Daydreams, Step Back, Flex, and STFU are phenomenal, as well. A 100% MUST-SEE show for all music lovers!  
I am super grateful that Alric Carter (AC), the key master for the band, took some time to chat with me. Read on to hear more on the band's return to Savannah, learn some insights about AC, and find out about TAUK's recent collaborations with Kanika Moore and Funk You's horn section.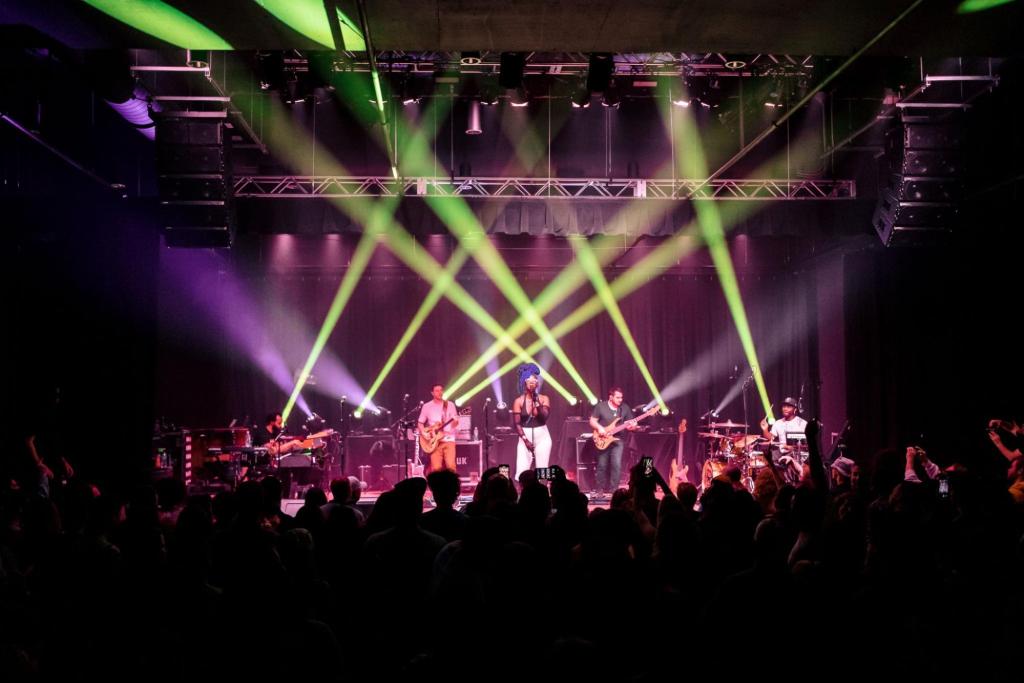 Photo Credit: Em Walis - Instagram: @emwalis_glitznstone
A Quick
Q&A with AC
---
Welcome back to Savannah, AC... Let's TAUK!
Where did you grow up? (Geographic location | City)
I grew up "on" Long Island in a town called Westbury about 15 mins from Queens, NY.
How long have you been playing piano?
I've been playing piano for as long as I can remember.
Tell me where it all began. Who changed your life with music?
My mother began teaching me when I was about 5. There was always music around my household. Whether it was my mom and aunt practicing for church services or listening to my dad play old reggae records, something was always bumping.
When was the moment you knew music was your fate??
Around 10th grade, Charlie, Matt, and myself had already been playing together for a few years as TAUK. We decided to cut a demo CD so we could get gigs locally and in Manhattan.
On that demo, we recorded 5 songs including Phish's "Free", "Little Wing' by Jimi Hendrix, and a few originals. Once we were done mixing and mastering, I listened back and thought to myself, "I can do this..." That was in 2004 and we haven't looked back since!
I must know- what are your top go-to 5 bands | musicians?
These are the bands I'm digging into right now.
Big Yuki

Nubiyan Twist

Bad Bad, Not Good

Quincy Jones' entire catalog

Kaytranada
Top 3 favorite songs?
Okay, it varies, but right now my top 3 in rotation are:
Find Me In Your Dreams, Pat Metheney; Brad Mehldau

Gimme Some More, Busta Rhymes

Reflection Eternal, Talib Kweli
What's happening in TAUK's future? Spill the tea...
So, the future is filled up with new music releases and collaborations. We constructed a studio space during the pandemic which has been our much-needed HQ. During the past 18 months, we've recorded over 3 albums worth of material that we're eager to share.
TAUK Moore plans to release a full-length album in March with three brand-new unreleased songs. We've released 4 singles thus far and can't wait to share the others.
We've also had the opportunity to collaborate with Antwaun Stanley (Vulfpeck), Clyde Lawrence (Lawrence), Jason Hann (String Cheese Incident), Jenn Hartswick (Trey Anastasio Band), James Casey (Trey Anastasio, and Jordan Cohen (Lawrence) in West Virginia at Mountain Music Fest. Make sure to find that footage on YouTube.
Immediately after the holidays, we got back into the studio for 10 days to record the bulk of our newest instrumental album since "Chaos Companion".  We're shooting for an instrumental release prior to our 2023 Fall Tour.
Prior to Kanika teaming up with the band, TAUK was an instrumental masterpiece. Why did you decide to add vocals?
Part of our goal in the past was to build our identity based on the instrumentals we recorded and relentless touring. This is an aspect of our sound that we're not looking to change or replace. That being said, we've always entertained the idea of collaborating with other artists who we felt could create something fresh and organic together.
We met Kanika back in 2019 and crossed paths at a handful of festivals afterward. She joined us on a few sit-ins and the synergy was palpable. Kanika happened to be one of those artists who has the magical ability to adapt musically and demand your attention. There's room musically for her and she's not afraid to take risks. Neither are we.
To say the very least, Kanika is incredible. What a brilliant idea to join forces with her! And the addition of horns to TAUK's sound!? I am absolutely blown away!! I love everything about these collaborations!
Now, because I promised to keep this short and sweet, here's the final question...What do you love most about music?
It may be understated, but I feel the most human when I'm listening, breathing, and creating music. It helps keep me connected with the community in ways I didn't realize I needed. It's a symbiotic relationship for me and I wouldn't change anything about it except for streaming royalty rates!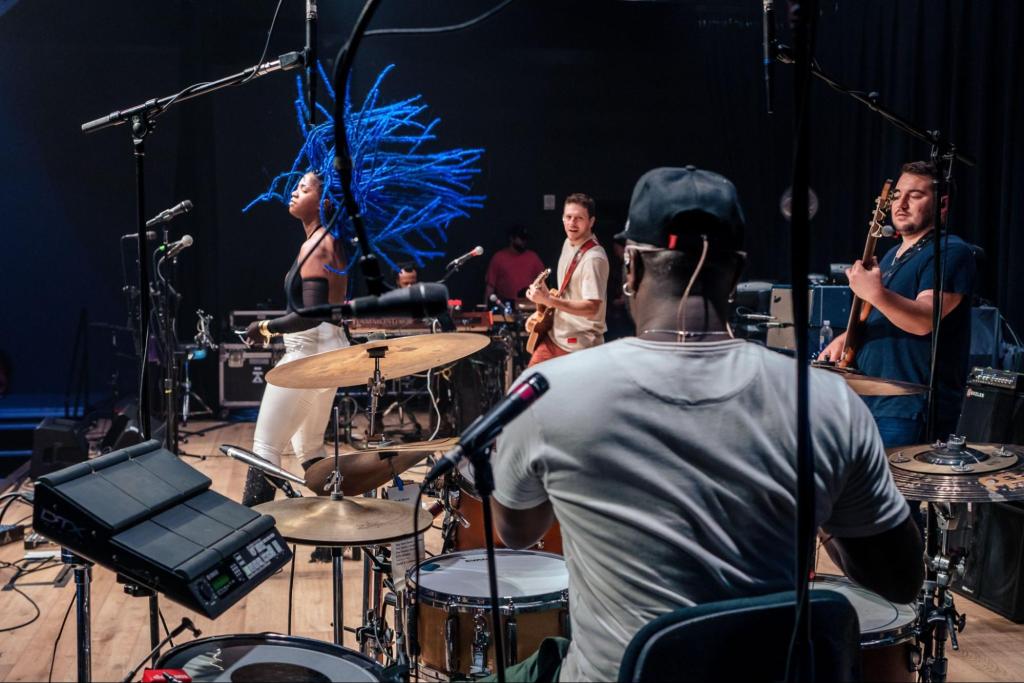 Photo Credit: Em Walis - Instagram: @emwalis_glitznstone
Check out TAUK's website for upcoming shows, set lists, live downloads, and more!
You can support the band by purchasing some merch at TAUK's Official Merch Store.
FOLLOW | LIKE on Facebook, Instagram, Twitter, and watch them get down on YouTube.
If you want to book the band, contact Jesse Rosoff with Mint Talent Group.
---
Funk You
Gavin Hamilton - Lead Vocals
Evan Miller - Guitar
William Foster - Keys | Vocals
Will Clark - Drums | Vocals
Mark 'Earl' Dykes - Bass | Vocals
Gnarly G - Saxophone | Flute
Josh Spilliards - Trombone | Sousaphone
Geoff Wood - Trumpet | Guitar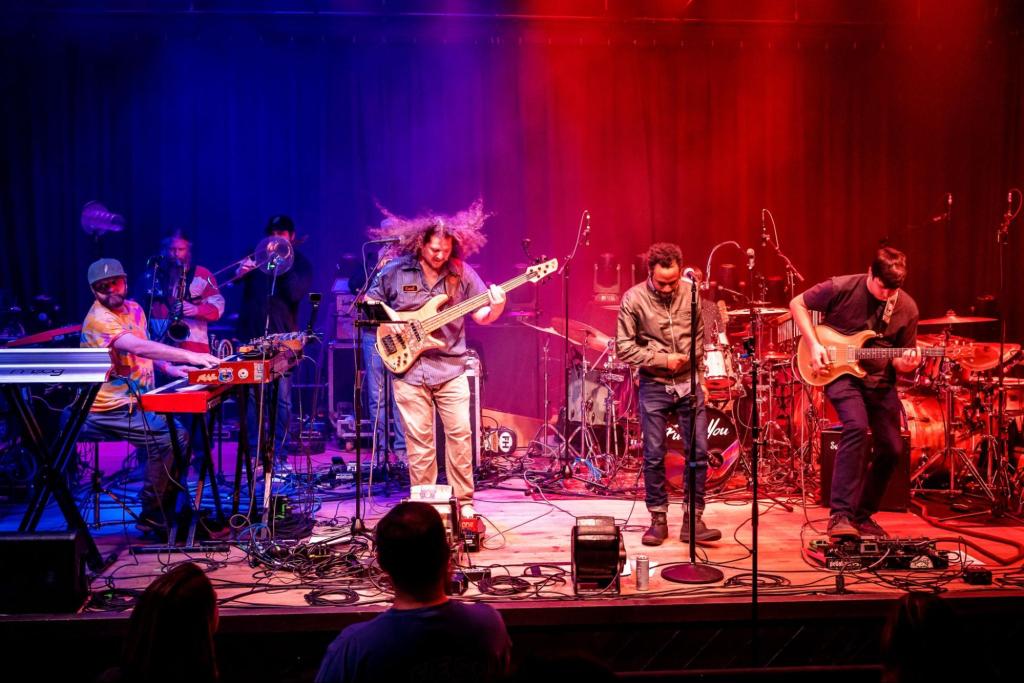 Photo Credit: Em Walis - Instagram: @emwalis_glitznstone
A new year and new beginnings for Funk You. In addition to recording new music, the band recently transitioned to a new booking agency, Royal Artist Group.
I was able to catch up with Funk You in Savannah on their tour with TAUK Moore and here's what they had to say...
We know this isn't your first Savannah show and this is not the first time the band has teamed up with TAUK-- Back in 2018, Funk You and TAUK joined forces and hit the road.
So, tell me...
Is everyone excited about opening for TAUK Moore - You're a few shows into the tour...How has this tour been going so far compared to the last in 2018?
We are very excited to be back on the road with such amazing people and musicians. We have our horn section this time so they have been sitting in with Tauk every night which makes their huge sound even bigger! It's been very enjoyable to collaborate with Tauk and Kanika. Not the first tour nor the last. :)
Tell me about this new album. What can fans expect to hear?
We wrote these songs during our 2021 tour. They have a lot to do with life on the road with some unexpected musical twists and turns. They are upbeat and funky along with some progressive experimental sounds. We always try to keep our music funky at its core but like to branch out some and explore many other genres that we all love. We can't wait for you to hear them!
How has recording been going with your busy tour schedule? Any challenges or successes?
We have been taking our time releasing these 3 new songs. We took a little time away to focus on mixing some live shows for Nugs.net which you'll hear more about shortly :) Luckily the studio is at my (Will Clark) house so we have 24/7 access haha.
What's different about this album from your past releases?
These 3 songs are similar to our last songs in the fact that we collaborated on the writing. But it was cool and unique to us to write them mostly on the road on days off in the studio. One song called Atlantic City is about our experience playing a Phish afterparty and then going to see Phish a couple of nights afterward. Wild times indeed :)
Favorite tracks?
Gavin Hamilton - Atlantic City
Evan Miller - Society
William Foster - Society
Will Clark - What You Listening To
Mark 'Earl' Dykes - Atlantic City
Gnarly G - Atlantic City
Josh Spilliards - What You Listening to
Geoff Wood -  Society
So, I've heard rumors about a possible collaboration with a live-streaming service...Care to share some secrets with Homegrown readers?
We'll have some more news for you on February 7th! But it is very awesome to start our partnership with Nugs.net and will give us the opportunity to share some of our live shows with the world!
Follow Funk You for more on this BIG ANNOUNCEMENT - February 7th!
Photo Credit: Em Walis - Instagram: @emwalis_glitznstone
Funk You fans!! Get your tickets and boogie down on Tour -- Funk You!
And as always, support the band at Merch -- Funk You.
"We are thrilled to welcome the electrifying contemporary funk octet, Funk You to the Royal Artist Group family! Creating an unmistakably intoxicating blend of modern and vintage sound, Funk You delivers an incredible live music experience," says the Royal Artist Group.
For booking inquiries, contact Eric Puente at eric.puente@royalartistgroup.com