Music lovers couldn't ask for a better setting to open the first big festival of the season than right here in the tranquil, awe-inspired setting of Live Oak Florida.
Thursday
We enjoyed a somewhat later wake up call this morning after the 7 hour drive from upstate South Carolina. I'm glad I went with a group of people who had attended the festival several times before because they picked out the supreme location for camp set up. We tented out just up the hill in front of the Big IV Amphitheater stage, the festival's natural main stage surrounded with tall oak trees which are wrapped with a plethora of hammocks and draping Spanish moss to set the unique and picturesque display for the festival. The Uncle Charles Porch Stage and the SOS Music Hall were the two other stages open for the live mix of tunes today.
My music outing for the extended weekend started out with the swinging sound of the Two Man Gentlemen Band, who were playing on the Uncle Charles Porch Stage. Composed of Andy Bean on the tenor guitar and Fuller Condon on the string bass, these guys got the crowd jiving with catchy and humorous hits including "Chocolate Milk" and "Cheese and Crackers.
Just as the sun was starting to go down we were treated with an hour and a half set from one of my favorites from the weekend, Hot Buttered Rum. They started off with a fan favorite "Busted in Utah." The crowd also received a much welcomed pickin' version of Grateful Dead's, "Bertha". I turned my head back to check out the crowd by the time they came on with the "Guns and Butter" encore and honestly couldn't point out a single person that wasn't at least shuffling their feet or bouncing their heads to the "in your face" high energy bluegrass that these guys put on.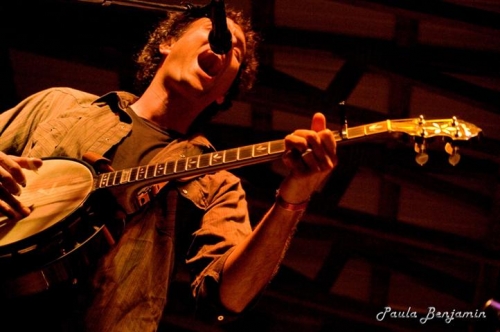 Next up on the bill we headed over to the Big IV Amphitheater stage for Great American Taxi with great anticipation of hearing Vince Herman belt out the "FESTIVAL!!" chant as he and his crew from Colorado broke into an amazing Americana filled set. The one other time I've seen them was at DelFest in 2008 and it's highly evident that the sound has really come together in a progressive way. I'd recommend their album, "Paradise Lost" to give a taste of the accomplished multi-genre talent that they've produced.
To close out the evening we stayed in place at the amphitheater stage for the Ryan Montbleau Band. "75 and Sunny" was a slowed down storyteller song that exemplifies Ryan's soulful vocal skills as an artist. They definitely started touching on a bit more blues and funk throughout the set. By the end of the weekend, we had no doubt that we had danced harder and crazier at his Friday night set than most others during the 4 days.
Friday
Three more stages were added to the mix today with the addition of the Magnolia Meadow Stage, the Old Florida Campground Stage and the Music Farmer's Stage. I noticed just after breakfast the large incoming crowd of festival goers that understandably couldn't fit all 4 days into the vacation time. After talking to many of them, I think everybody agreed that there's enough activities on the 700-acres of private land here that could keep one satisfied for the given time, whether it's taking a paddle trip down the coffee colored Suwannee river, basking on the white sandy beach, yoga activities, or biking/golf cart riding around the premises.
To start off my day of music we went down to check out the Joe Craven Trio at the Amphitheater stage. This man has an amazing multi instrumentalist talent whether its the mandolin, bongos, fiddle, jawbones or a tin can. Craven praised tribute to the late Vassar Clements as he picked up his fiddle and said "He's watching down on us this beautiful Friday," as he continued into an old Stephen Foster tune, "Angeline the Baker." The accompaniment by John R. Burr on keyboards and Kendrick Freeman on drums/percussion seemed to really give the crowd their moneys worth, providing a welcomed mix of jazz, latin, blues and folk music.
I took a stroll over to the Magnolia stage for the Songwriter's Set with Jim Lauderdale, Justin Townes Earle and Jason Isbell. It was my first time out seeing any of these guys. I was told by a couple of music buddies before driving down for the weekend that it was imperative that I check these guys out because the Americana sound they put out would be right up my alley. It was a treat for me to catch the two sets of country singer-songwriter, Jim Lauderdale over the weekend.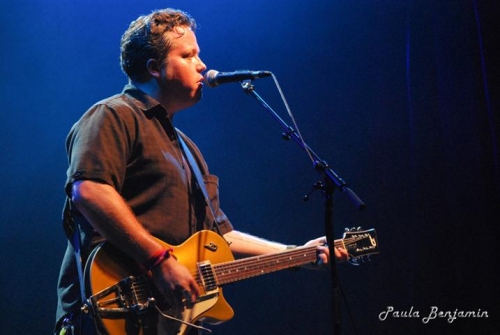 Any fans of bluegrass or folk pickins' should have an idea or have experienced by now the high energy jams administered by the works of Larry Keel & Natural Bridge . Alongside Mark Schimick on mandolin, Will Lee on banjo, and his wife Jenny Keel on the standup bass, this crew took the stage just after 4 pm, working the Springfest crowd with authority. Larry's rapid and distinct flat-picking technique with the band to back only seems to intensify and get more fannies shaking every time I see them.
Tonight's headliner was the Gourds. Starting right off the bat with (Hooky Junk, Cranky Mulatto, Mister Betty, You Must Not Know), things got interesting when leadman Kevin Russel gave the crowd a honky tonk boogie take on the Allman Brother's "Midnight Rider" cover. This powerhouse from Austin Texas finished out the set with a jam packed "Burn the Honeysuckle" encore.
We finished out the late night with Greensky Bluegrass, a hard driving bluegrass band from Kalamazoo Michigan. Greensky consists of Paul Hoffman on mandolin, Dave Bruzza on guitar, Anders Beck on the dobro, Michael Arlen Bont on the banjo and Mike Devol on bass. These guys have never delivered anything close to sub-par performance on the large number of occasions that I've seen them. While they did catcj me off guard with their cover of Bruce Springsteen's "Atlantic City", it was carried out flawless. Pink Floyd's, "Time" was another I was glad to get a repeat of from previous Greensky outings.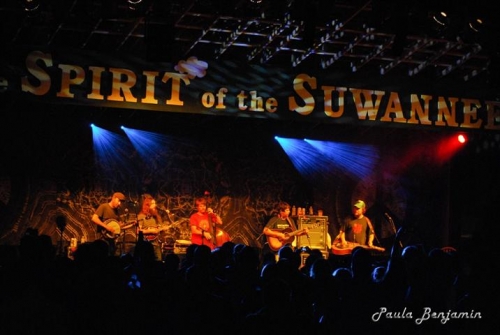 Saturday
We woke up today to dark skies and a strong front moving over Live Oak Florida. I partook in the laziness that many others enjoyed by staying plopped down in the tent and looking out the small plastic window of the rain fly to enjoy the thunder and cracks of lightning during this brief but intense spring storm. I made it a point to finally get moving around 11 to go down and catch Mickey Abraham's mandolin workshop next to the country store. I bought my first mandolin this past Christmas and feel like I've been catching on slowly but surely. Mickey was great at simplifying a lot of the theory and chord progressions so that beginners could make some head way with getting a feel for the instruments. It was a good way to stay dry from the rain and also learn a few things to bring home with me.
I decided to head over to the country store for a little R & R on the porch for a few hours and to grab a little charge time for the phone. What ensued next is one of the more self rewarding instances of my 4 day weekend than any other. I introduced myself to the Bennett and Anderton families from Fairhope Alabama. They decided to come up Friday and enjoy the weekend for their first Springfest experience as well. They asked if I'd be so kind as to give their girls Marian(10), Koestler(8), and Catherine(6) a guitar lesson with the guitars they'd just bought for them. No more than 10 minutes of E minor blues riffs and beginner slide turn arounds, these three young ladies were picking up on it and teaching each other how to play. The initial smiles and visible feel of accomplishment that they displayed once the picking came together was enough for the price of admission to this festival alone. After the lesson the family adopted me as one of their own to venture to the next music feature as it continued raining on and off into the afternoon.
For the afternoon music run, we found ourselves back for more Larry Keel and crew. I'd been looking forward to seeing Tony Rice the whole weekend as he was scheduled to join Larry and Natural Bridge. Unfortunately Tony had fallen just recently and couldn't make it out for festival weekend so on behalf of the weekend's festival goers and bluegrass heads alike, I'd like to wish him a healthy and speedy recovery. What ensued for Larry Keel's second set of the weekend was bluegrass rage at its finest if I'm just being honest. With the accompaniment of Darol Anger on fiddle, it didn't take long at all for the stage to go into full fledge jam. Drew Emmitt, Billy Nershi, Greensky Bluegrass and Brett Bass from Grandpa's Cough Medicine were just a few to grace with their presence for songs like " John Hardy" and a Tony Rice "Gold Rush" cover.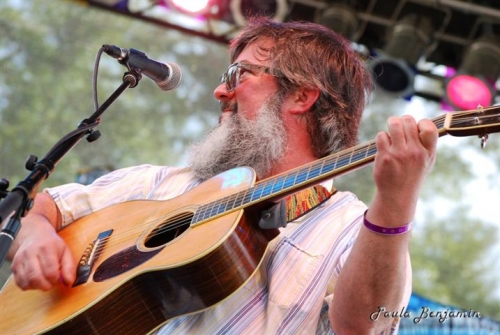 Tonight's headliners started off with the Infamous Stringdusters on the Uncle Charles Porch Stage. Composed of Andy Falco on guitar, Andy Hall on the dobro, Jeremy Garrett, Travis Brook with the bass and Chris Pandolfi on the banjo, these guys from Nashville Tennessee are in my opinion among the forefront of modern bluegrass powerhouses. I don't recall seeing a band of this genre playing with more intensity or in sync as much as these boys did between Saturday night and Sunday afternoon. Whether they were roaring up the crowd with Police covers like " Walking on the Moon, The Beatles "Here Comes the Sun", Phish classic "Free", or some of their originals which included "Get it While You Can" and "Fork in the Road", there was never a dull moment.
Yonder Mountain String Band took the amphitheater stage just after 9:00, delivering a enduring set of greatness (Casualty, Rag Doll, Ripcord Blues, All the Time, Looking Back Over My Shoulder, What the Night Brings, Pockets, Blue Collar Blues, Cuckoo's Nest, Two Hits and the Joint Turned Brown, Bill Monroe's "Southern Flavor"). Darol Anger joined on Rag Doll to play the remainder of the set and then after a five minute set break it was time for the collective Saturday night fest jam. The Talking Heads cover of "My Girlfriend is Better" and Vince Herman's lead on "Wake and Bake" were standouts for me as Larry Keel, the Stringdusters, Emmitt-Nershi, Greensky and others from the weekend's talent got things moving into the late night jam.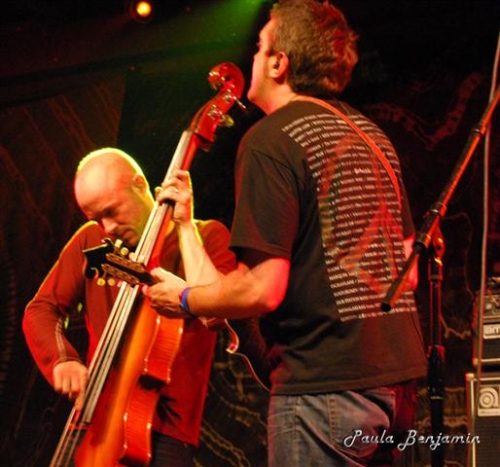 Later that night we went over to check out San Francisco's own, Tea Leaf Green at the Meadows Stage. We felt like these guys were a great mix addition to the weekend's predominant Americana line up, giving more of a laid back jam-funk feel. We followed up the set with a tour of the venue's late night activity spots. Stopping over first at the Bill Monroe Shrine, we were met with a few picking parties that no doubt showed some significant talents . Groups of pickers were playing requests of many classic bluegrass greats including Peter Rowan, Old and in the Way and "Father of Bluegrass" himself, Mr. Bill Monroe. I threw out a request for "Midnight Moonlight" and was granted with about eight minutes of spot on rendition. Things were in full swing over at the drum circle with fire dancers getting down and I can't help but forget the smiling baby that couldn't have been more than 7 months old joining in the circle for some bongo time around 3 am. It was a priceless scene for sure. "Slopryland", a torch lit scene that can be found just beyond Rees Lake and also one of the festival's better known camp spots for late night picking that goes until sunrise appeared to be jumping off as well.
Sunday
Plenty of activities were in store for the last day of this epic festival. Widely celebrated as "Vassar Clements Day" among the festival goers, many paid homage to the dubbed "Father of Hillbilly Jazz" himself. The fiddle great had contributed to over 200 albums in his lifetime, including but not limited to the works with Nitty Gritty Dirt Band, John Hartford, Jimmy Buffett, Paul McCartney, the Grateful Dead and his own, Old and in the Way.
We started off the gorgeous and relaxing day with a bike ride down to the river to take in the sites and unwind with the white sand under our feet and to indulge the scenic coffee tinted water that the Suwannee has to offer. This place is a must stop for anyone who finds themselves at a Spirit of Suwannee event.
Guy Clark's presence as a top notch songwriter gave a peaceful afternoon showing at the amphitheater stage with the accompaniment of guitarist, Verlon Thompson. Clark has had his songs covered by many industry top artists including the likes of Ricky Skaggs, Johnny Cash and Emmylou Harris. This year's 16th anniversary marks the first time back to the festival for Guy in three years as he's had to battle with health problems. "Stuff that Works", slow song that Guy attributed to country great Rodney Crowell, was an apparent stand out among the crowd.
After stopping by one of Springfest's many food vendors to get a true taste of Florida with some gator bites, we walked over to the Porch Stage for The Mosier Brothers. Led by Bluegrass Undergrass' Jeff Mosier on banjo, brother Johnny on guitar, David Blackmon on fiddle and Kris Dale on bass, the crowd received an electric Guy Clark rendition of "Dublin Blues." Toting a Robin Hood-ish cap and his colorful cello, Rushad Eggleston of Tornado Rider also joined in for the occasion.
To close out the four days, it was time for crowd favorite, Donna the Buffalo. With their zydeco infused roots background and the fact that this was my first time out to see them, they made me a fan in just a matter of two songs. Jeb Puryear's guitar combined with the swift melodies of Tara Nevins' accordian prowess had everybody up and moving. Throughout the crowd, the infectious dance moves of repeat festival attendees simply known to many as " The Chicken Dancer" and "Boogie Cat", had fest goers who were standing somewhat stagnant with their arms crossed, convert to boogie mode within minutes. With songs including "Tides of Time" and earlier material with a Suwannee themed touch titled "Mystic Waters", we couldn't have asked for a better way to close out the four day outing. Verlon Thompson added to the evening by joining in for a few songs including a Dylan cover, "She Belongs to Me."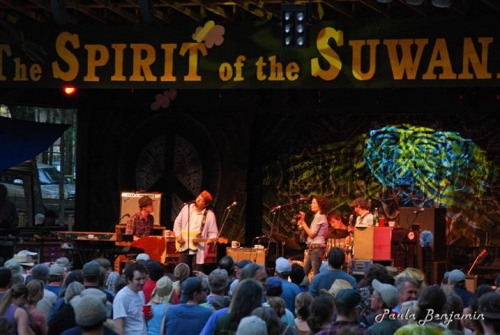 After all was said and done, I'm fully convinced that this was the best four days of live music I've experienced. It wasn't solely just the grand collection of amazing artists as much as it was the combination of music family experience I got out of it. The reward of friendships made with the large number of amiable and good hearted people who all share a passion for music and nature makes this experience one that won't soon be forgotten. To the artists, volunteers and staff who worked hours on end and went out of their way to accommodate the thousands who gathered for the 16th annual SpringFest at Suwannee possible, I thank you! To experience a festival that has come along and grown so much, I find it easy to see why those who've been here time and time again keep coming back. The festival stories of years past shared over the community campfires, witnessing for myself first-hand the expressed gratitude that friends and family exemplify over the four days here and just the all around scene as a whole have given me all that I need to say without doubt, "I'll be back next year."
Article by: Brent Mill
Photos by: Paula Benjamin