As a seasoned festival-goer and photographer I have been fortunate to witness numerous musical acts in a variety of wonderful locales but Suwannee is without doubt, my new favorite for many reasons. Suwannee is basically a 500 acre campground, and a really, really nice one at that.  The majority of the grounds I was privy to visiting while there was largely wooded with Spanish Moss draped here and there from the trees thus providing a wonderful addition to an already beautiful scenery. The camping area is spacious, shady and inviting and everything you might need is within a short walk. I would consider staying there even when music wasn't an added bonus but you might be hard-pressed to find a week where music in some fashion isn't featured at the park!
The primary draw to this festival was obviously SCI.  I first discovered them in '98 and through '01 I had a habit of following them around during East Coast runs.  Over time they went one direction and my tastes went another.  I most certainly remained a fan and this event provided a great avenue for me to see how their sound had evolved since I last saw them in '03.  Hulaween was billed as a festival that encapsulated that evolution; from their early bluegrass-infused compositions to many of today's Hollingsworth-led jamtronica explorations.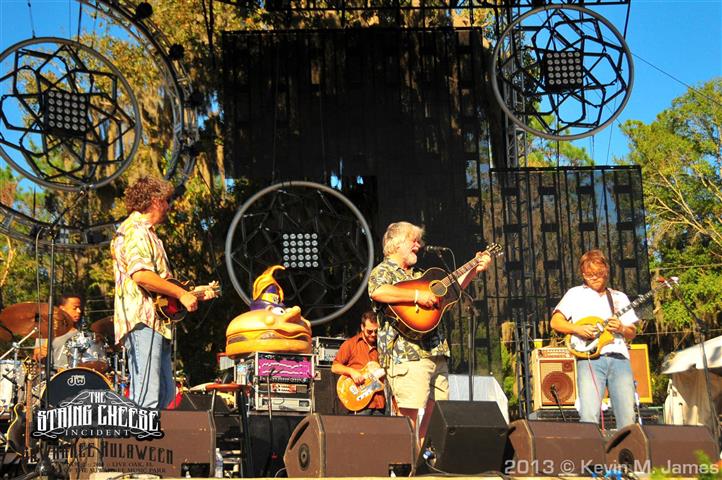 And the accompanying acts also paid tribute to the aforementioned evolution and the various genres involved.  Larry and Jenny Keel, Leftover Salmon, and the Applebutter Express took care of the rootsier side of things while electronic heavy-hitters such as Emancipator and Conspirator rounded out that end of the musical spectrum.  In between you had fantastic groups like Moon Taxi, the Steve Kimock Band, and although her main set got rained out, Jennifer Hartswick took on somewhat of a very welcome artist-at-large role.  Of the supporting acts Sound Tribe Sector 9 was easily the highlight for me and their entire production from music, to sound, to lights was phenomenal.
Over the course of the three day festival there were to be seven sets of Cheese.  The boys did not disappoint, the energy was high, the noodling at a minimum and I was solidly reminded of the String Cheese of yore.  On Halloween we were treated to three sets including a second set of nothing but solid cover choices, Friday's show included a lengthy sit-in by Mr. Steve Kimock and Saturday showcased all of Leftover Salmon on stage with SCI at the same time for several Americana-flavored tunes.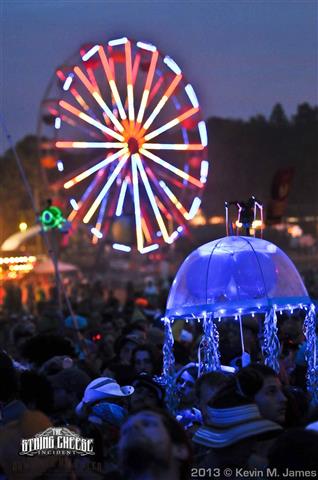 Did I mention there was a Ferris wheel?  Never did I think I would have the opportunity to not only listen to, and watch, but also photograph one of my favorite musical acts from atop a carnival ride. That was a first!
I could go and on but hopefully some of the photos here will help you understand what a wonderful experience Hulaween was and what a magical place The Spirit of the Suwannee Music Park really is. I will most definitely return.