PART 1: Of or Pertaining to a Certain Grit…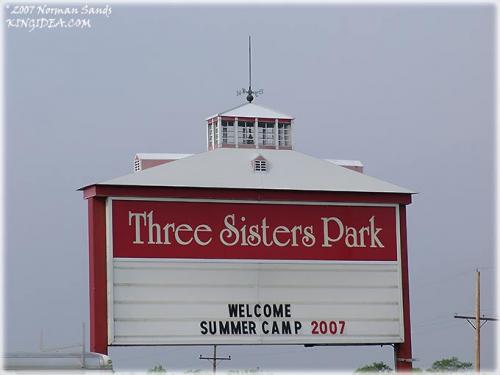 This type of event guarantees a sense of airiness on the grounds and a more relaxed, alternative camping experience. The "family fests," as I'm dubbing them, are the usually midsized annual parties thrown by and for a specific band, as in moe.'s moe.down in upstate New York, Ekoostik Hooka's Hookaville in Ohio, Big Wu Family Reunion in Minnesota and Missouri's Euphio Campout for Bockman (formerly Bockman's Euphio). These are known for their concentration of diehard, longtime fans for one band, a collection of supporting acts in the same vein as the headliner and an older crowd. There also exist, of course, tiny "community jams" like Tree Hugger's Ball in West Virginia and Strip Mines in Illinois, where a regional contingent gets down to predominantly local heroes. All of these have their merits, their ecstasies and their gripes. To each his own, and as is often the case, all to each.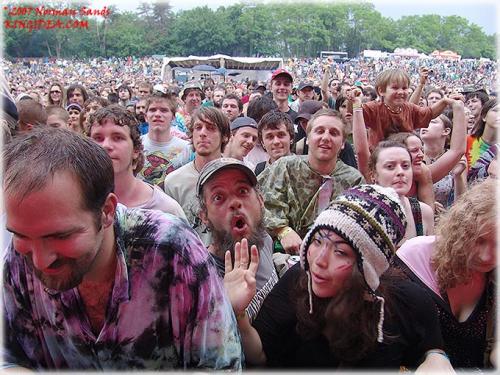 Then – drum roll, please – there are the "dirty festies." A "dirty" scene is categorized by excessive, blatant drug use; a higher percentage of hard drugs; undercover cops roaming the grounds; frequent, sometimes violent arrests; theft; general paranoia and occasional malaise. One of the festivals said to have become a bit soiled is Summer Camp, a moe. vehicle now in its seventh year. Held at serene Two Sisters Park in Chillicothe, Illinois, about three hours southwest of Chicago, the Memorial Day Weekend event is attended by roughly 30,000 music fans. In 2006, Three Sisters Park effectively told organizers that Summer Camp was no longer welcome; a parade of hospital emergency room visits for drug overdoses and nuisances to nearby communities are alleged as the primary factors. Yet by jumping through some collection of bureaucratic hoops, the organizers, Jay Goldberg Events and Jam Productions, managed to sign on again with the park for several years. This begs the question, has Summer Camp become too dirty for its – and our own -- good?
As someone who has attended this festival since its second year when there were just 3,000 people and one of the most open, low-key atmospheres I'd experienced thus far, I must say that things have changed with growing size and popularity. It is, of course, natural for a festival's management tactics and basic essence to evolve alongside its nature, and I would never proclaim Summer Camp as not worth going to. It still is the most bombastic jam in the woods that Illinois has to offer, and three nights of moe., two nights of Umphrey's McGee, Keller Williams, Les Claypool, Galactic, New Monsoon, The Wailers, Brother's Past, Hot Buttered Rum, Chicago Afrobeat Project, Tea Leaf Green and Medeski, Martin and Wood, among several dozen other acts, could not go wrong in a million years and a billion dimensions. The sonic journeys are plentiful and unending, and since the music is (or should be) the true reason for any festival's livelihood, Summer Camp is still a formidable frontrunner. Yet atmosphere, community spirit and fellow festivalgoers' intent indeed play an important role in one's experience. After all, one cannot constantly glue one's eyes and ears to a particular stage and completely block out all else; food probably has to be procured at some point, ice bought, sleep had, campground visited. Probably have to talk to someone at some point.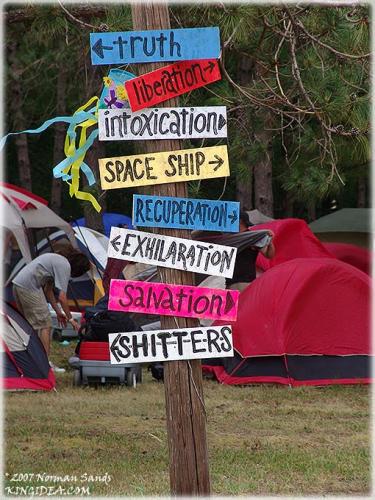 Perhaps it is the nearly 200% growth the fest experienced each year in the beginning, with word-of-mouth amongst the area's cadre of major universities – University of Illinois in Urbana-Champaign, Southern Illinois University in Carbondale, the handful in Chicago alone – having lent the crowd its current younger, more debauchery-focused air. Growth is a desired phenomenon amongst grassroots events and scenes, and festival culture is no different, though diversity of constituents is also desired. This year I witnessed firsthand, a mere twenty yards from my campsite, a young man get tackled, violently thrown to the ground, and constrained by all of three bulky undercover cops after what appeared to be peaceful, though surely illegal, drug exchange. The thin boy could not have been more than nineteen years old, and literally trembled with a fear that resonated deeply within me after seeing this happen. A young child walked past with her mother as the man squirmed along the ground, toppled by the three men, and looked sadly bewildered. This was in the middle of the main campground road during the early afternoon, and this sort of thing was commonplace. Paranoia abounded.
Or, perhaps it is the occasionally decried lack of alternative activities on the grounds. Some festivals, like High Sierra or Wakarusa in Kansas, have a multitude of contests, games, parades, community jam circles, carnivalesque rides, art booths, yoga classes and the like. Though past years have included "Most Creative Campsite" prizes, mind-shatteringly huge trampolines and other small diversions from the music-and-drinks mainstays, this year was discernibly lacking. To its credit, Summer Camp included its always-popular daily musician workshops with some of today's most revered performers, giving giddy aspirants substance-free joygasms. But what about musical laymen and others who sought ways to occupy parts of their three days sans partying?
Ultimately, whether Summer Camp has truly acquired "grit" or not depends on what experience each individual festivalgoer makes for him or herself while there. It's known that the nucleus of any festival campground is probably going to be a big party spot. It's known that Shakedown Street may have some undesirables. If an attendee does not want any part of the party atmosphere, he or she can simply camp further out, come to the shows of interest and have a quieter, and just as enjoyable, time amongst nature and good friends. If an attendee wants to party until the wee hours yet not feel paranoid, there are multiple ways to do that. Festivals, including Summer Camp, are about freedom of expression, escaping daily, often mundane toil in the workaday world and the exuding and absorption of creativity. How certain people choose to express, escape, exude or absorb differs widely, and it is up to each to find their niche while there. True – an abundance of those in the red zone, so to speak, can usher in negativity for the crowd at large, as seen in the mere fact of Three Sisters Park deciding to kick the festival out. But Summer Camp is back, it's fearless, and only time will tell how these aspects will be handled in the future. In the meantime, there's enough goodness remaining to light a fire under nearly anyone's fancy, namely…
PART II: Rocking the #&@%!! Out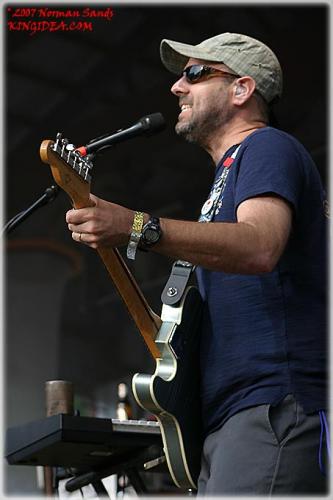 I am a moe.ron. This is admitted. Back in college when I first heard a live version of "Plane Crash," on a High Times magazine rock compilation, I felt utterly amazed, lifted up, glided atop a jet stream of raucous, textured beauty. I was surprised that there were folks actually making music today that sounded, in my opinion, like the best of the classic and psychedelic rock era, and without sounding contrived or nostalgic – just natural. moe. brought me into the jam scene, whereas before I had been strictly Led Zeppelin, Doors, Cream, Guess Who, Neil Young, Jimi. Essentially moe. sounded like what Led Zeppelin would have if they had formed in the early 1990s, with all the musical history that had happened since the '60's informing and circulating through their sound. For instance, buying 1998's Tin Cans and Car Tires (Fatboy Records), moe.'s third LP, was like buying Led Zeppelin's Zoso that had been mutated with silver flecks of Sex Pistols, Prince, Boy George and Phish. So seeing them live for the first time at Summer Camp those years ago was truly manna from heaven, and their live show has never wavered. Rob Derhak, Al Schnier, Vinnie Amico, Chuck Garvey and Jim Loughlin emit a solid wall of power; the song constructions are like brick walls that crumble again and again, only to be rebuilt with ferocity, emotional palpability and single-minded craftsmanship. Though occasionally silly and strung with riddles – especially in older compositions – the lyrics don't fail to tackle the larger issues of day-to-day living and elicit strong emotion. Culminating with the release of this year's The Conch (Fatboy Records), the albums have increasingly acquired more lyrical depth, acute thematic perception and grace. The Conch is a masterful elegy to times past, and a wish for the collective future.
That said, the band had buckets of fresh material to spin out during their three-night Summer Camp stand (some songs, like The Conch's "Tailspin," being fresh as in being polished album versions of rough live favorites). Two entirely new songs – never before played – also made their debut: "Skrunk" on the first night and "Runaway Overlude" on night two. "Y.O.Y." with Kris Meyers of Umphrey's McGee on percussion during Sunday's show was a moment that felt new, given the mutations awarded this classic tune. moe. exuded the usual mellow-yet-exuberant energy and pure joy that they do during Summer Camp performances, wherein the audiences can feel the "this is our time" motif shooting through the air. It lends a relaxation to the extensions of and playtime had during songs, as the guys know that they own these nights and that there's no need to rush: airiness between the notes of "Wormwood," "Kyle's Song" and "Blue Jeans Pizza;" childlike sarcasm circling the jams of "Yodelittle" and "Recreational Chemistry;" lighthearted sentimentality on "The Pit" and "Faker."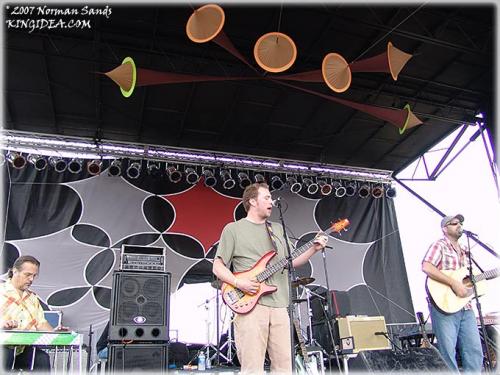 An interesting offshoot of the moe. fun was Al & The Transamericans. Formed in 1999, Schnier's side project includes members Gordon Stone on pedal steel guitar and banjo, Kirk Juhas on keyboards and harp, Erik Glockler on bass and backing vocals, moe.'s Amico on drums, and Schnier, of course, handling lead guitar and vocals. Initially spawned as an experiment for occasional performances during moe.down, the final line-up solidified in 2003 and the endeavor took on a more serious air. They played – for the first time ever at Summer Camp – in the early afternoon on Saturday at the Sunshine Stage, the second largest of the grounds. Al & The Transamericans' sound could be likened to a rougher, more hard rock and rockabilly-tinged version of moe.'s, with Schnier seemingly feeling free to let his extreme guitar-solo fantasies fly even farther. Certainly not unlikable but needing some fine-tuning, more performances will allow them room to grow and space to mesh with one another's distinct styles.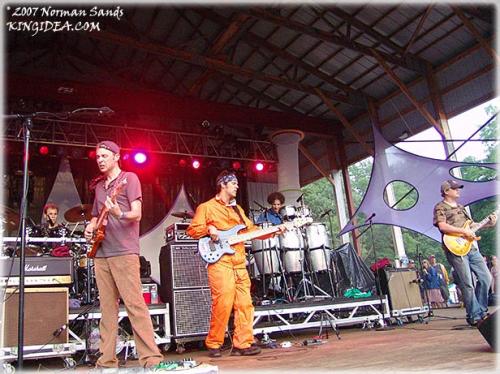 The second biggest "stars" of the weekend (because isn't everyone a star at a festival, really?), were Chicago's own Umphrey's McGee. Umphrey's has come a long way since the days of opening for myriad roots rock and jamband acts at the likes of the Canopy Club in Urbana, Illinois, on the University of Illinois campus, which is owned by Summer Camp's organizers. When they'd play there years ago, I remember thinking they had a bit of a discordant sound, and after listening to a few experimental-sounding songs, I and a few dozen others might have used that opportunity to fill up on beer before the headliners. Oh my, how things have changed. Umphrey's are veritable rock gods these days, and the recent designation is well deserved. Their ability to sway and hold captive a large audience is undeniable, with the visual and sonic interplay between Brendan Bayliss (guitar, vocals) and Jake Cinninger (guitar, synthesizers, vocals) being especially interesting. The entire band throws in unusual individualized elements, though the difference between now and when they were "discordant" is a heightened sense of how to more harmoniously blend these together. The sound is raw and meandering in the best sense of what a jamband purveys, but is polished and melodic in the best sense of what an accomplished rock band purveys – jammy sensibility notwithstanding. They still play the Canopy and other homegrown-sensibility clubs, but now they headline and pack bodies like so many eager sardines.
As for a rundown of other great performances: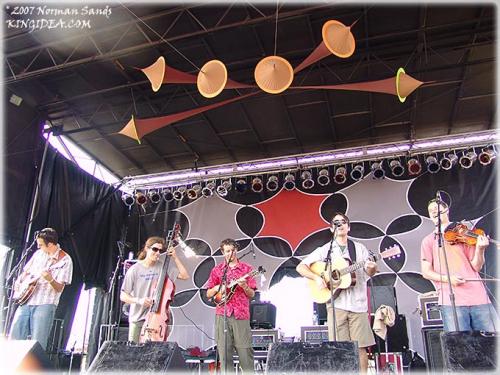 California's Hot Buttered Rum was a standout, sending their foot-stomping, eternally spirit-lifting brand of bluegrass into the air surrounding the Sunshine Stage for a delightful mid-Sunday afternoon set. This band is comprised of serious musical and vocal virtuosos, and passionate ditties like "Desert Rat" and "Cheatem's Dream" flowed outward supported by ridiculous banjo traipsing. A great surprise for New Monsoon fans was Marty Ylitalo sitting in on drums for "Return Some Day." Philadelphia's organic electronica supermen Brothers Past never fail to innovate; they meld booming-bass, '90's rave-worthy beats with rock improvisation that is hard not to swoon – and pump your fists in the air – to. And what makes the music so much more inspired is that the fellows create these synth underworlds with nary a computer or laptop: everything is done traditionally, with guitar, bass, keyboards and drums. Keller Williams' late-Friday-afternoon Moonshine (main) Stage appearance proved refreshing, as the one-man power-band was joined by his new side project, the WMD'S. The WMD'S are named for Williams on a bit of everything, Keith Moseley on bass, Gibb Droll on guitar and Jeff Sipe on drums. Though this was Williams' sixth appearance at Summer Camp, it was the first for the band and one of only a few festival performances they were to play in 2007. The WMD'S essence gave Williams' trademark wacky compositions a steadier, more flowing feel. Detroit's neo-synth funk-revival gods, the illustrious Bump, played a rousing early Saturday afternoon set at the Camping Stage, wherein all sleepy eyes were caroused awake by the rhythmic pumping of Yorg Kerasiotis' demonic keyboards and angelic croon, Chris Sterr's melodic guitar strumming acting as hyperactive molasses, prankster Eric Novak's anchoring basslines and Clint Carpenter's busy-bee drum mania combining to form a danceable electronica sound bathed in the best of Motor City's old-school Motown soul. And of course, catching the certifiably insane Les Claypool splinter eardrums on Saturday's Moonshine Stage while wearing a pig mask was worth the price of admission alone, for many.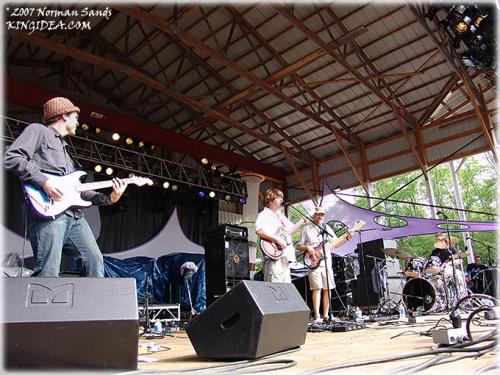 Meanwhile, many off-the-beaten-path performers shined right alongside the tried-and-trues. A favorite new discovery for me this weekend was Chicago-based acoustic funk seven-piece 56 Hope Road. Though I'd interviewed lead singer/lyricist/guitarist Dave Hamilton back in April and heard their studio and live discs, I was in no way prepared for the bombastic, upbeat force of their live show. Driven by an acute perception of the dichotomy of mellow, languid rhythm undercutting continuous kinetic explosions of funk-infused revelry, saxophonist Casey Fitzpatrick, keyboardist/vocalist Tim Reid, drummer Greg Fundis, upright bassist Chad Sanders and Hamilton certainly know how to move bodies – all while stimulating minds with perceptive, often poignant lyrics. These five core members are the touring group, with operatic virtuoso Anne Hamilton-Katzfey joining in on vocals and her husband Matt Katzfey offering trembling percussion during Chicago performances. The Summer Camp audience was lucky enough to have the Katzfeys in attendance, and the lush, full-band sound and radiant energy was enough to gather a large, boogie-down crowd of appreciative Camping Stage listeners, even at an early Sunday hour. Lyrics to songs like "Future Sons" and "New Philosophy" -- old favorites for the band's cultish legion of fans, having been together since 1999 and playing an average of 220 shows per year – poetically describe the world through perceptive eyes and spin tales of leaking positivity through action, while new songs such as "Burn Me" and "Whole Way Down" poke sharp holes in the ideals of romance and companionship. Certainly shoulders above the stereotypical roots rock outfit, 56 Hope Road's set was like strong black coffee in a gilded mug; it got the day started perfectly, and I wanted to petition to keep the cup.
The other wonderful new discovery this year was singer-songwriter wunderkind Chicago Farmer, a.k.a. Cody Diekhoff. Another Camping Stage performer, Diekhoff ripped through one wailing, emotive Dylanesque tune after another, rousing his audience with his country-boy aesthetic mixed with city-streets mentality. Born and raised in Delvan, Illinois, population 25, he began playing in Nashville and in small towns throughout the Midwest before settling in Chicago in 2003 and making a name for himself in that city's surprisingly sweltering folk underground. Diekhoff's website states, "He didn't go to college but he drank all of their beer," and this man-of-pain, salt-of-the-earth, shut-up-and-listen-to-beauty artistic theme was painted all over him, with a glaze of comic wit that rose his lyrics and passionate playing that much higher.
Part III: The Comedown
Indeed, this was a weekend full of melody, a weekend full of sonic thrashing, a weekend full of purpose on display. Many eyes, ears, bodies and sensibilities were weary come the warm, hazy glow of Memorial Day morning. Though Summer Camp organizers have come under scrutiny in the past by venue managers and some festivalgoers for a perceived dirtiness of aura, the opportunity for pure musical magic and uncommon human interaction is ever strong, and this has the capacity to overshadow misgivings. Additionally, several well-placed beer tents, a 24-hour general store, large wooded camping areas offsetting the open-field camping, a palatial VIP covered bar and well-laid-out grounds don't hurt either. If, at Summer Camp next year, you happen to find a bit of grit dancing too close to your clean, white, music-minded muscle tee, just noodle on over to the next patch of grass. The next note will sweep it on by.