By: Tom Miller
Photos: Tom Miller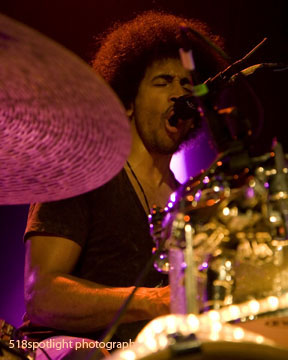 Soulive is the instrumental trio of Eric Krasno (guitar), Alan Evans (drums) and Neal Evans (Hammond B3 organ, keyboard, clavinet). The saxophone duo of Sam Kininger (alto sax) and Ryan Zoidis (tenor sax) make up The Shady Horns. Add the masterful vocals of Nigel Hall and it was guaranteed to be a show filled with groovy jazz, "ass-kicking" funk and heartfelt soul.
The venue was Revolution Hall in Troy, NY. I wasn't expecting a huge crowd, it was a Wednesday night after all. Man, was I wrong! By the time the show started, close to 100 people filled the dance floor while others mingled on the upstairs balcony. As the night went on, those numbers quickly grew to several hundred.
Nigel Hall kicked off the evening with a few solo numbers including a warm and soulful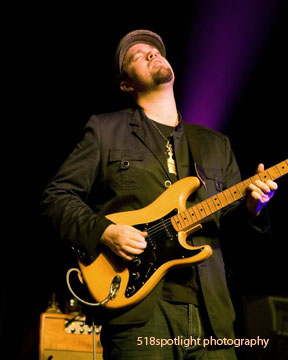 rendition of the 1971 Donny Hathaway cover "A Song for You". Although the Evans brothers played with Hall, Hall's voice was certainly the highlight of this segment. Watching and listening to Hall, the only thing one could appreciated more than his masterful vocals was his bright, ever-present smile and humble personality.
Soulive took to the stage and opened with "Outrage" off of their 2007 CD, No Place Like Soul. The set list was dominated with tunes from the bands most recent release Up Here, including "Up Right", "For Granted" and "Backwards Jack". With each song, Kranso performed lengthy, intricate solos while the Evans brothers kept pace. Thoughout the night, The Shady Horns contributed just the right amount of brass.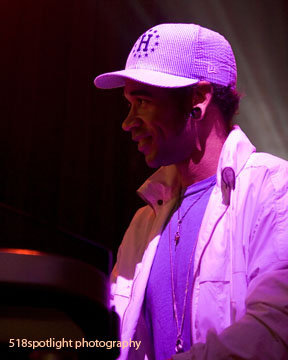 Nigel Hall rejoined the band for a few numbers including another tune off of Up Here entitled "Too Much". The main show wrapped up with "Tuesday Night's Squad", one of the bands earlier hits from their 2002 CD, Next. The encore consisted of the a funked-up version of the Beatle's "Get Back" and "James Brown Medley".
Even after playing together for 10 years, Soulive continues to produce and perform fresh music. Krasno, much like a fine wine, only gets better with age. Alan and Neal Evans continue to be the perfect supporting cast, equally sharing in the spotlight. If  Soulive visits a venue or festival near you, be sure to check out one the scene's most prominent funk-soul instrumental bands.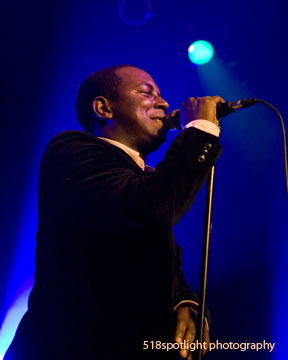 http://www.myspace.com/soulive