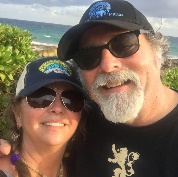 Throughout our lives, we have had the good fortune to go to many shows and festivals. Though we have never been to a bad one, some stand out above the rest. Widespread Panic's Panic en la Playa (PELP) Siete was one of those. PELP began in 2012 as a way to bring die hard Panic fans together in a beautiful location for the vacation of a lifetime! PELP Uno was such a success, the band decided the adventure must continue. Though it has been held in other places in Mexico as well as the Dominican Republic, PELP has called the Hard Rock Hotel Riviera Maya, in Puerto Aventuras, Mexico home for the past 3 years.
Normally we festival (yes we do consider this to be a verb) with our music crew of anywhere from 6-30 close friends. For this vacation, we headed out on our own - this trip was our one-year wedding anniversary present to each other. We decided to fly in the day before it all began to enjoy some quiet couple time, to make sure we were rested up for the shows and so that as first timers we knew our way around the sprawling resort. Little did we know what awaited us.
Thanks to the private Facebook group just for PELP, we felt prepared. There was not a question posted in that group that was not answered - those who had been before were more than willing to share their experience and advice. Our adventure began with last minute packing the night before we left. It was essential that we have our large unicorn float, plenty of glitter (for Kim) and outfits for theme nights. After pulling an all-nighter, we finally headed out. The last leg of our flight headed out of Miami. It was filled with Panic family ready to go….and then we were informed that our plane had a flat tire and we must deplane for it to be changed. So, what do all good music people do in this case? Yep - turn it into a party. By the time we were called to board again, we had a great buzz and several new friends!
We landed in Cancun, breezed through customs and once outside the party began! Frozen drinks and beer were everywhere and our hotel shuttle awaited. As we arrived at the resort, we were greeted by hotel staff and shown in to the convention center. Cloud 9 had this place completely organized for a flawless check-in experience. A buffet with a bountiful of choices and waiters everywhere providing drinks were exactly what these tired travelers needed. In no time we were headed to our room via golf cart.
The resort is divided into two sides - Heaven and Hacienda. There are numerous pools and beaches as well as restaurants and shops for both sides. At one end of the complex is the Hacienda Lagoon with a stage overlooking the water. You can sit in your favorite floatable (hence the need for our unicorn), drink and listen to music. Each day there was an afternoon show here called the sunset show. At the other end of the resort there is a stage at the Heaven Terrace. This is where the late-night magic happened. Smack dab in the center of the resort and adjacent to the beach was the main stage.
The main reason for going to PELP was to see the band we all love so much. Shortly after we arrived, it was time for WSP's sound check. We had been told not to miss this and we were not disappointed. The band arrived via golf carts waving and smiling to the couple hundred of us who were gathered there. We were then treated to a 5 song mini show and we danced around as we were greeting old friends and meeting new ones. As the sun went down, we grabbed a bite to eat and headed back to the room to get some much needed sleep.
During the day there are plenty of activities at the various pools and beaches including Jamily Feud, Mac and cheese off with JoJo and lots of other fun stuff. Wherever you are, there are waiters bringing you all the drinks you want and there is a buffet at every turn. Our livers may never be the same… nothing we have ever experienced in our 50 some years on this earth can compare. Many of these details will be left out of this story to protect the guilty - including ourselves. But not enough good things could ever be said about the staff at Hard Rock and those working with Cloud 9. The days spent lounging (partying) around pools and beaches turned into nights of wild abandon listening to some of the best music out there today - WSP, Big Something, Marcus King, Eric Krasnow, Ivan Neville, George Porter Jr and many more.
Night one was one that will go down in the books for sure. We were treated to Climb to Safety, Shut Up and Drive and a phenomenal Pusherman. The band made it through 7 songs of the second set before we were hit with a very strong storm. It blew in and wrecked equipment and sent the very large video screen behind the band swinging out towards the crowd. If you look at the set list on panicstream.com track 8 is listed as Break Down The Gear And Get The F*** Out Of Dodge! Everyone was drenched. Most ran back to rooms, changed headed back out to continue the party.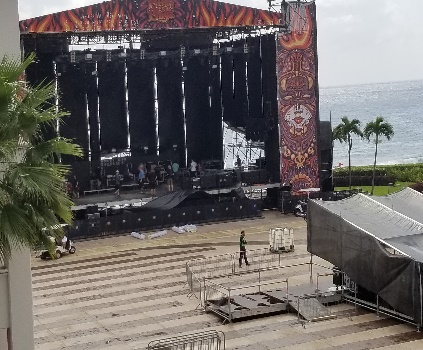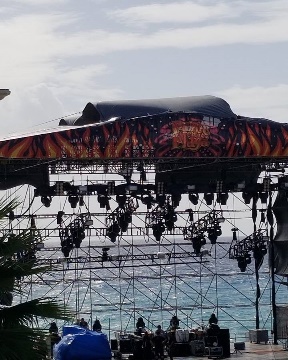 Stage before and after
On night two, the first thing JB said was "I want to thank all the boys and girls who worked very hard to put this place back together again". From what we heard the sound board was ruined and had to be replaced along with a lot of other equipment. This was also second skin night where you were encouraged to come as your spirit animal. Yours truly came as a T-Rex and Kim was glitter fairy. The entire show that night was great. Highlights include Bears Gone Fishing, Tall Boy and an appropriate A Hard Rain's A-Gonna Fall. That should have been on the set list the night before. My favorite though was the three songs toward the end of the show, Maggot Brain, Ride Me High and Bust It Big. They were joined onstage by Eric Krasno and Ivan Neville. Krasno is an amazing guitarist, songwriter and producer who has several Grammys and has played with Tedeshi Trucks Band, Lettuce and Soulive. Neville founded the New Orleans based funk band Dumpstaphunk.
Night three was 80's night. People were dressed as their favorite 80's star. We had Madonnas, Run DMC and lots of jogging suits. Panic started off with Conrad and ended the first set with Blackout blues. They were joined in the second set by George Porter Jr for Ain't No Use and Arlene. There was and occasional drizzle for part of the show but nothing dampened the crowd's enthusiasm or the bands.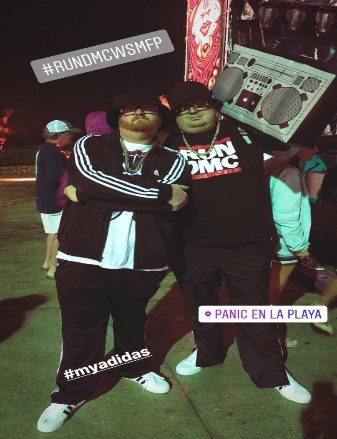 At the beginning of night four we were a little sad about it being the final night. Those feelings quickly left as Panic started with Schools singing Werewolves of London. There were lots of great songs that night including a 21-minute Mountain Jam with Marcus King joining the band. The eighth song of the second set was Sundown Betty, a new tune that had not been played before. Marcus King is 21 and has the voice and guitar talent that should have taken lot more than 21 years to develop. His father was bluesman Marvin King. He is soon releasing his second album produced by Warren Haynes. Also, that night we got a new song debut, Sundown Betty.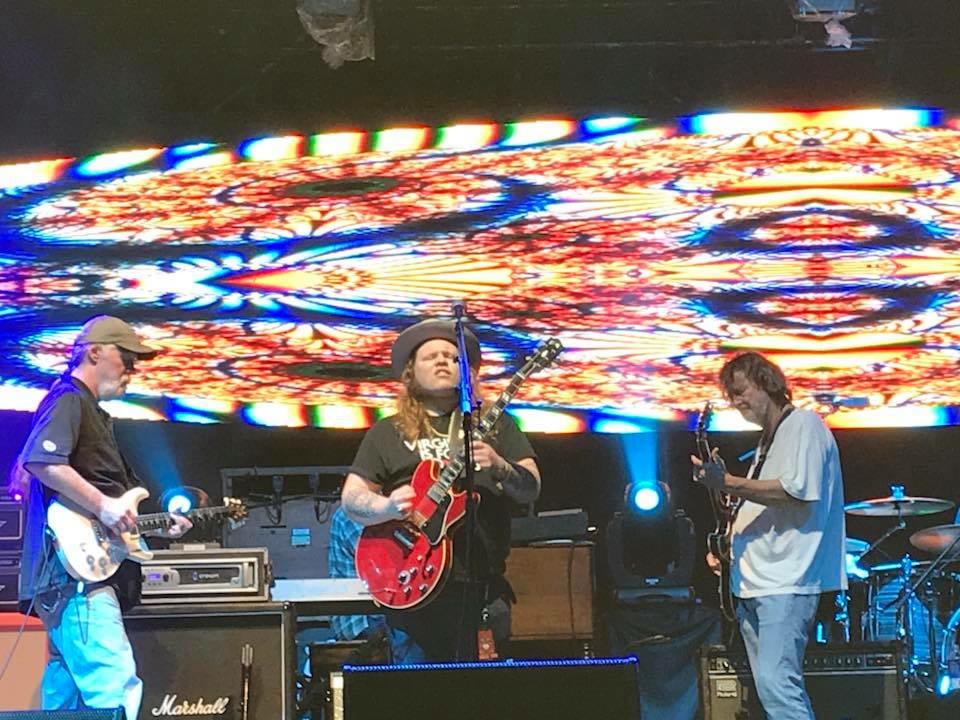 Marcus King, JB and Jimmy
There were two all-star groups formed for the late-night shows. Night three we were treated to The Cleaners. Marcus King joined Eric Krasno on guitar, Kevin Scott on bass, Duane Trucks on drums and Deshaun "DVibes" Alexander on keys. One of the highlights was Scarlet Begonia. King and Krasno trading guitar licks is something you have to check out.
The other late night super group was the Playa Allstars. This included Krasno, Ivan Neville, George Porter Jr, Cyril Neville, Jennifer Hartswick, Terrence Higgins and Cochemea Gastelum. They played nights two and four. On that Monday night back in the states George's band the Meters received a life time achievement award at the Grammys. George skipped the celebration to be at PELP instead. The Allstars played an 18-song set on night four that included Eyes of the World. For the final 4 songs of the night they were joined by Marcus King.
For me one of the highlights of the weekend was seeing Big Something play two late afternoon sets. They were originally scheduled to play a late-night show on the first night but that was canceled because of the storm. The late afternoon shows provided a great warmup for the Panic evenings. I have seen these guys play for several years. They have done the after shows for Panic in Milwaukee for the last two years. They have also played a host of festivals, opened for bands like Umphreys McGee and even host their own festival The Big What. I recently interviewed lead singer Nick MacDaniels about what it was like playing PELP for the first time. The first thing he said was it was a great honor to even be there. Nick said they got to spend a lot of time with the guys from Panic. He and Casey (sax and EWI) joined JoJo and Duane for a round of JAMily Fued. He also stated that the entire Panic crew could not have been nicer or more helpful. They have helped them with equipment and for Big Something's 2018 tour Paul Hoffman (Panic light wizard extraordinaire) has helped them with their lights.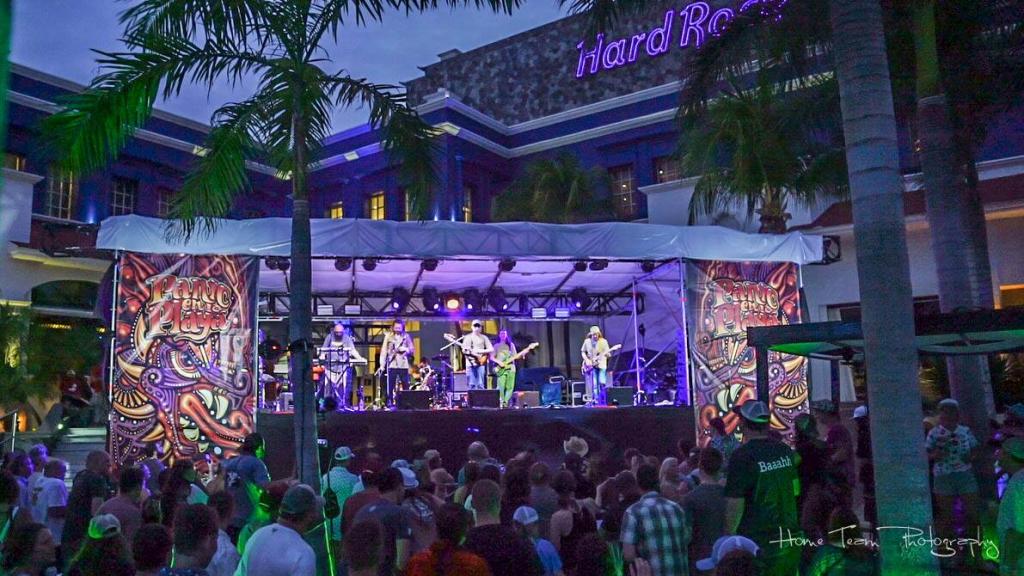 Big Something
We knew how great Big Something was but there were a lot of Panic fans who had not seen them before. It was fun just listening to people, who were getting their first taste, go on about these guys. They definitely expanded their fan base that weekend. Their sets included mostly originals like Tumbleweed and our favorite Love Generator and several covers by Sabbath and Little Feat. The band all played great but we have to give a shout out to lead guitarist Jesse Hensley. Jesse as he often is was in a zone. You catch yourself just staring in amazement at him when he seems to just go into another dimension. With all the incredible guitar talent there this weekend, I would still say his playing was up to the level set by Krasno, Herring and King. One of the best times to catch these guys is at the Big What festival in Pittsboro NC this summer where they are playing an amazing 11 sets.
Even though we had our share of rain and a show cut short it was an incredible weekend. I was a little hesitant about going because of the cost but Kim (who believes you can go to every show) insisted. For that I am very grateful and plan on going back next year. The whole vibe of people loving their friends and bands and helping each other out is what a jam festival should be. Thank you to WSP for setting the example and supplying us a place to dance, sing and forget all the trouble we may have back in our day to day lives. Thank you to all the PELP veterans who helped make our first PELP a great experience.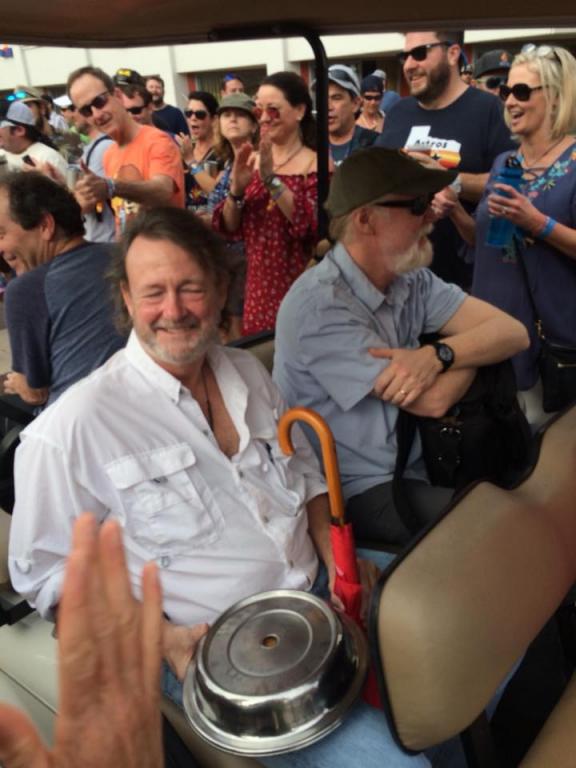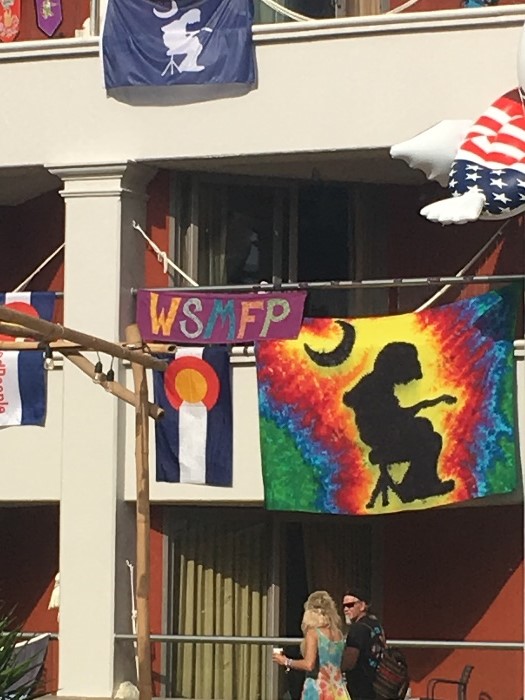 JB and Jimmy arriving at soundcheck / Balcony decorations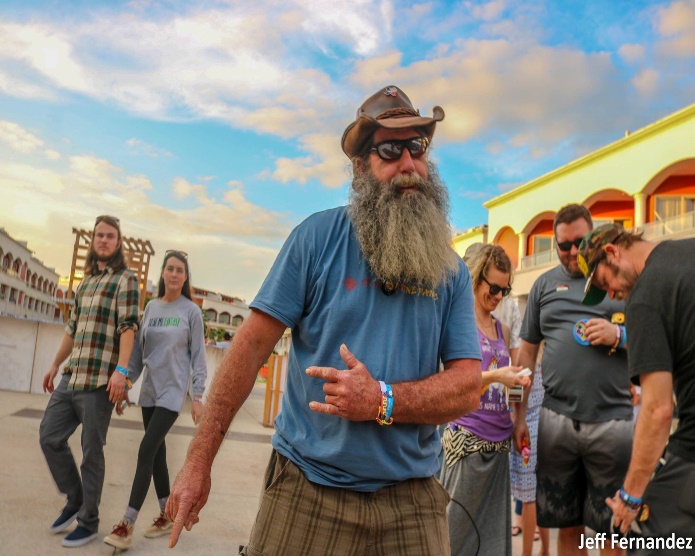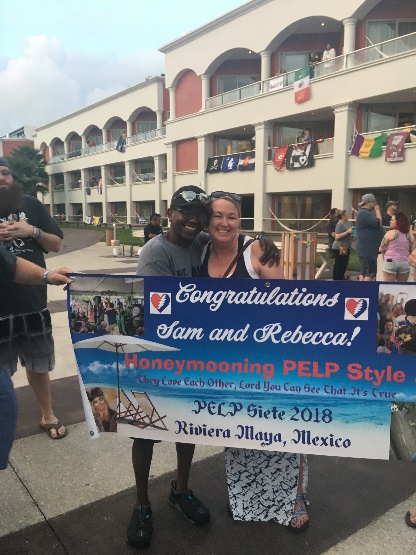 Chris Covington, a stable at most WSP shows / Sam and Rebecca, honeymooners
By: Barry Driver and KimSniffen