Even the bands you've not heard of are likely going to make your ears and body dance just as much as the heavyweights on the bill. This makes things difficult when sitting down to write an alliteratively titled My Five Favorite Sets piece, because I cannot just look at the heavyweights like Furthur, Primus, STS9, Umphrey's McGee, Warren Haynes, and so forth. I actually have to weigh every option, and (this is a good thing) almost everyone ends up on the final scale.
I was able to cull through my options and come out with five of the choicest cuts that are going to stay locked upstairs in the ol' memory for quite some time. This is about as much of a perspective-based article as someone can write. For instance, Primus is always one of my favorites, and whatever they performed it would have been hard for them not to have made it on my list (even though I've seen them an estimated nine or ten times); they are, after all, one of the major reasons I wanted to go to the festival. Otherwise, three of these are bands I've never seen, but that made an impact on me and the likely paths of my future concert plans, and Keller Williams is a guy I've seen in various incarnations, but whom it was great to see back in his solo format. So, there's no need to get upset if these aren't the bands you'd put at the top of your list. I was just awestruck by the following five groups; I'm grateful to have seen them.

In order of performance: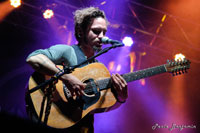 John Butler Trio was a pleasant surprise. This is a band that I've heard, but I didn't realize the force that follows them on stage. This band grabs your attention from the first note, and they don't let go until they are thanking you for being in their presence and departing with peace signs waving. When John Butler is alone on the stage, you realize that he is a musical and socially minded force, one that cannot be ignored and one that deserves a spotlight every time. He can play a guitar like nobody I've ever been privileged to observe, and his singing is that powerful goose bump sort of singing, due to both song and sound. This guy is a gift to us all, and I just wish I realized that sooner; I would have been at some of those shows I missed.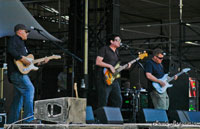 Giant Panda Guerrilla Dub Squad is a group I was extra excited to see. I'd heard some of their recordings, and I'd seen them on YouTube.com, but I'd never managed to catch them on stage. I love my reggae, and these guys know how to bring it! Their songs are deeply conscious and their live dub techniques are top-of-the-line. Once the melody drops out and the dubbing begins, look out, because the room, the field, wherever they are playing is going to start grooving right along. If you catch yourself just standing around, something's wrong. I can promise that if these guys come nearby, I'm going to be there, again, and again...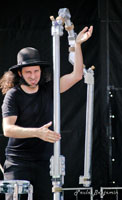 That 1 Guy... hmmm... how do you even start to describe him? He sounds a little like Claypool when Claypool pulls out his whamola, and he's a story teller sometimes sounding like his admitted influence, Tom Waits. That 1 Guy's instrument looks like something a plumber put together in the back of a van, but it sounds like something both purely tribal and uniquely futuristic. I know this description is confusing, but the man is definitely a paradox on stage. Watching his show, you're left wondering whether you should be dancing or quietly listening for some easily missed nuance that you won't want to let fly by. I guess it comes down to the fact that, dancing uncontrollably or listening plaintively, you won't be disappointed; I know I wasn't. This guy is about as unique as they come, and today's music landscape can use as much of that as it can get!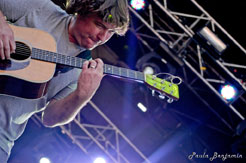 Whenever I see Keller Williams on stage, I feel like I'm getting ready for a familiar friend to take the stage. He just has that presence that makes the entire crowd feel like family, with nary a bad vibe. Having seen him, most recently, with The Keels, I was glad to catch him back in his one-man-band loop-heavy arrangement.  It's this setup that made me a Keller Williams fan long ago, and this is still the way I prefer to have his music dished up. His beats are still funky, his bass is still heavy, and his guitar skills have only matured over time. If you've not caught Keller, be sure to catch him in whatever arrangement you can, but try to catch him performing solo, because his solo set is going to make the most landlocked feet move and the staunchest faces crack a smile.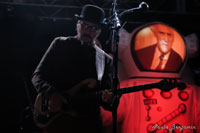 Primus is back to its earliest days with its original drummer (Jay Lane) back on the throne, having left Furthur's percussion duties to Joe Russo's capable limbs. I've never been disappointed at a Primus show, because (with Claypool at the helm) it's simply always going to be an entertaining and a unique experience. I originally saw Lane with Ratdog back in 2000, or so, and it's nice to see him back with his formative team. He and Claypool are undeniably one of the most amazing rhythm teams on the planet, and once LaLonde starts playing that guitar of his, there isn't another band anywhere that sounds like these guys; as long as Primus keeps on rocking, that's just fine by me.

There you go... the five sets that stood out the most for me at the 15th annual All Good Music Festival. I hadn't been to All Good since its tenth year, and it's definitely become an even meatier meal along the way. The music is prime cut, from top to bottom, and I don't have anything to complain about. Tim Walther has fathered a top-notch festival that can compete with the best of them, and you actually get to see all of the bands at All Good! All I can say is, thanks for another one, and I appreciate having my musical palette shaken up, once again...
Article by: Jeremy Sanchez
Photos by: Paula Benjamin