By John Phillips
Photos by John Phillips/Festy Shots Photography

Mike started the festival in 2011 when he found himself with extra time on his hands.  "I used to own a second restaurant down in Nags Head that's open year round, so when we closed here for the season I'd work full time through the winter down there.  I sold it to my partner four years ago.  I'd always wanted to do a music festival, and I'm definitely not one to sit around and be idle."  So the Mustang Music Festival was born.  "We started planning it around the first of July and held the festival in November.  Talk about a steep learning curve!  It was a one-day festival with seven bands, all performing on the deck.  There was some initial pushback from the local businesses; they envisioned 500 smelly hippies invading the place.  But it's a different crowd, and they came and spent money at a time when business is usually slow, so there's been great local support ever since."  Although Mike has plans to add a second organization to benefit from the proceeds next year, the sole beneficiary from the start, and the festival's namesake, is the Corolla Wild Horse Fund (http://www.corollawildhorses.com/).  The wild horses in Corolla are Spanish Mustangs descended from a line that was shipwrecked here in the 1400's.  "They're the only purebred Spanish Mustangs remaining anywhere on the planet" says Mike.  "No other horses have been introduced into the herd.  But their habitat is facing pressure and encroachment from human activity.  Some have been injured or killed by collisions with motorists, and they get sick from time to time.  That's where the Wild Horse Fund comes in.  They keep an eye on the herd, treat and rehabilitate sick or injured animals, and educate the public about what they should and shouldn't do around the horses.  It's a wonderful organization and we're proud to support them."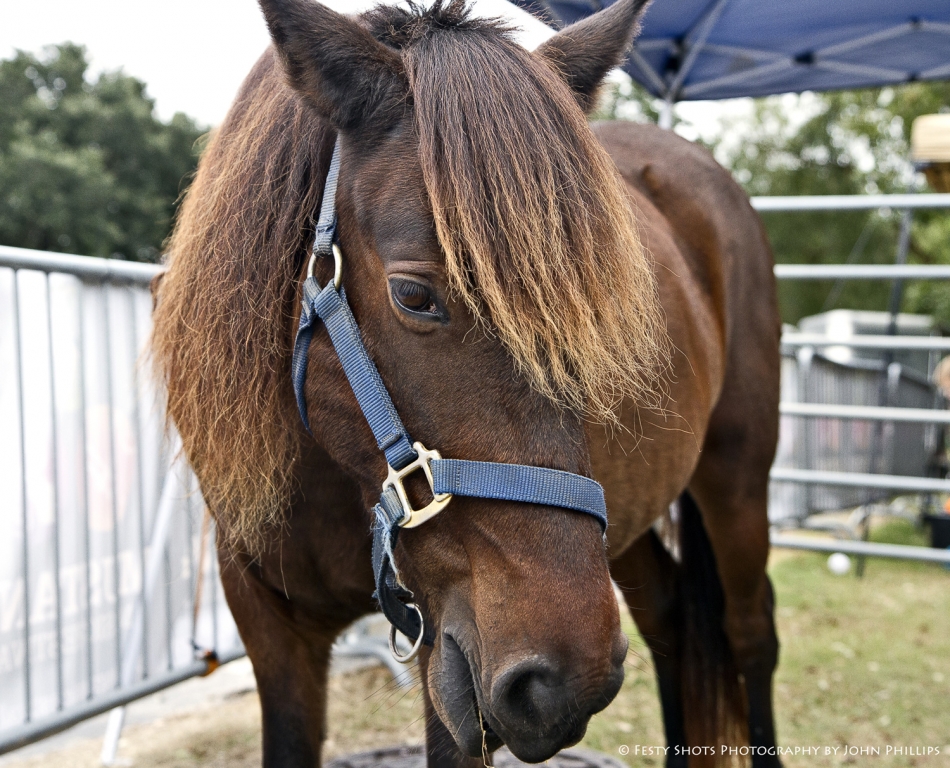 This year's festival was kicked off by Sean Olds and the Church of the Eternal.  Sean is an Outer Banks native who returned this summer after playing with a number of different bands and moving from Wilmington to Raleigh to Richmond.  His new band brings a mix of alt country, rock and roll and Americana that got everybody movin' and shakin' on a cool, grey day.  Moving to the deck stage, the show continued with Category 5, a local blues-based jam rock band with a strong local following and a great sound.  This was second year seeing them, and these boys have great chops and know how to get a crowd dancing.  The Kansas Bible Company took over the tent stage next.  Billed as a psychedelic, indie surf rock band, they bring a big, enveloping, multi-layered sound.  With as many as 12 members, this Nashville-based group brought eight players for the show and filled the air with music that had everyone swaying, dancing or just plain jumping up and down, depending on whether they were playing a soaring rock piece or singing an acappella dirge.  With a three piece horn section, two guitars, bass, drums and keys, they really command the stage.
Back on the deck stage, the crowd was treated to a rousing set by Seth Stainback and Roosterfoot.  This five-piece ensemble from Virginia Beach is fronted by Seth Stainback, a native Texan with a smoky, soulful voice, guitar licks to die for, and a talent for spinning life's experiences into working man, bluesy rock tunes that resonate with the audience.  I've been following this band closely since March, and they get better every time I see them.  Once they started playing, the crowd on the deck quickly swelled to near capacity, and they all left smiling after the set.  As the music shifted back to the tent stage, the big horn theme continued as Bonerama took the stage.  Fronted by three trombones (that's right, THREE TROMBONES), this New Orleans-based group has pushed well beyond the conventional limits of a brass band.  Between their own original tunes and mind-blowing interpretations of songs like "Whipping Post" and "War Pigs", there really is no party like a Bonerama party.  With a solid rhythm section backing them up, Craig Klein, Mark Mullins and Greg Hicks blew us away with their harmonies and solo riffs.  The Big Easy was definitely in the house.
So, it was time for something totally different.  That's when Big Daddy Love stormed the deck stage.  This western North Carolina group mixes rock, roots and mountain music into a truly unique melange that makes them at home in nearly any setting.  They can funk it up, or have you grinnin' at their pickin'.  They can rock it out as easily as they can croon a sweet ballad.  I mean, when a group like this starts their set with Aerosmith's "Sweet Emotion", you know you're in for something special.  The deck was packed and straining under the weight of the crowd as the band got their groove on.  Sweaty and spent, everyone moved back out to the tent stage for the evening's headliner, Karl Denson's Tiny Universe.  Karl Denson is an iconic saxophonist with a decades-long resume of genre-busting work.  His collaborations with a wide range of artists, founding membership in The Greyboy Allstars and current stint with dub rockers Slightly Stoopid are testament to his abilities.  He brought the Tiny Universe to Corolla and tore the place down over a two-hour set.  This superstar ensemble is tight and incredibly talented.  And when he invited the trombonists from Bonerama to join him, the place went absolutely nuts!
Since the outdoor music has to end by 10 p.m., the scene shifts across the street to Sundog's Raw Bar and Grill for the last two sets of the day.  Friday's starter was Formula, a local power trio that thrilled the crowd with a mixture of original work and cover tunes.  The understated stage presence of lead guitarist and vocalist Matt Hoggard was belied by his blazing guitar riffs and soaring vocals.  In stark contrast was bassist Jason Ribeiro, who laid down solid and inventive bass lines with a very demonstrative style.  Keeping everything in the groove, drummer Jayson "Mole" Hicks displayed a powerful rhythm that completed the sound perfectly.  He really beat that kit into submission, and this band totally rocked it.  They were followed by the Richmond-based electro-rock group Former Champions.  These guys are great players who mix synthesized keys, distorted guitar, samples, and all types of percussion with harmonized vocals to create their own particular style.  If you're a fan of band like Lotus, Conspirator, EOTO, P-Groove, Papadosio or Dopapod, you'll love this band.
Day two began on the tent stage with local favorite Andy Begina and his acoustic, solo stylings.  The day before, he was working the food tent.  While there's nothing wrong with his cooking, I prefer him on stage.  A native New Englander, Andy relocated to the Outer Banks nine years ago.  The locale has inspired his lyrics and compositions, infusing the music with that "sand and salt air" feel.  He even did a turn on a cigar box guitar (provided by Round 2 Music) for the first time ever.  His cover of Richie Havens' "Freedom" was superb.  Next up was Violent Mae, a Connecticut-based indie rock duo with Becky Kessler on guitar and Floyd Kellogg on drums.  Kessler's vocals are tinged with the earthiness of Janis Joplin and the jazz sensibilities of Billie Holiday.  Along with her solid guitar work and Kellogg's impressive drumming, this duo is very promising.  They have a CD scheduled for release in November, and I can't wait to hear it.
If anyone in the crowd was still dragging their tails from the night before, they were absolutely jolted awake at the tent stage by David Wax Museum.  The group is known for their unique fusion of Mexican folk with American roots and indie rock, sprinkled with Caribbean and Eastern European musical flavorings.  David's very energetic performance, combined with the musical virtuosity of each band member, created a visual and aural tapestry that thrilled the crowd.  While those familiar with the band likely missed Suz Slezak's vocal harmonies (she was off the road, soon to give birth), this band delivered a rousing and unique performance that left everyone wanting more.  Rolling onto the deck stage next was Session Rockers, a Hampton Roads area band known as "roots reggae rockers" to their loyal and growing fan base.  With two guitars, bass, drums and keys, rounded out with sax and trumpet, the band created an infectious vibe that stirred the crowd from a slow simmer into a state of nirvanic joy and happiness.  While straight up reggae is often eschewed by many for its seeming repetitiveness, the style cultivated by the Session Rockers is very inviting and accessible for a broader spectrum of music fans.  The crowd at the Mustang Music Festival sure did embrace it.
A true R&B/funk legend took the tent stage next.  It was time for George Porter Jr. & the Runnin' Pardners.  George is a legendary bass player and a founding member of The Meters, a seminal New Orleans band that essentially defined the funk sound in the mid 60's.  The Runnin' Pardners keep that New Orleans sound alive and well.  Their album, "Can't Beat The Funk", was Porter's personal homage to some of the Meters original tunes that were recorded but never really performed live.  He and the Runnin' Pardners' reinterpretation of these tunes are fresh and vibrant.  The crowd boogied to the sounds of "What Cha Say", "Doin' The Dirt", and "Britches".  My favorite was "Liver Splash", a funky, upbeat tune that made me put down my camera and shake my tail feathers along with everyone else.  Following George on the deck stage was The Fighting Jamesons, a late addition to the bill when The Critters had to cancel due to a death in the family.  I'd planned to see this band earlier in the month but wasn't able to, so I was happy to see them bring their traditional Irish pub music to the stage.  Apparently, so was everyone else.  The deck was packed to overflowing, with mere inches between the frenzied dancers in the front row and the performers.  With songs designed to create audience interaction and their high energy performance, these guys were a real crowd pleaser.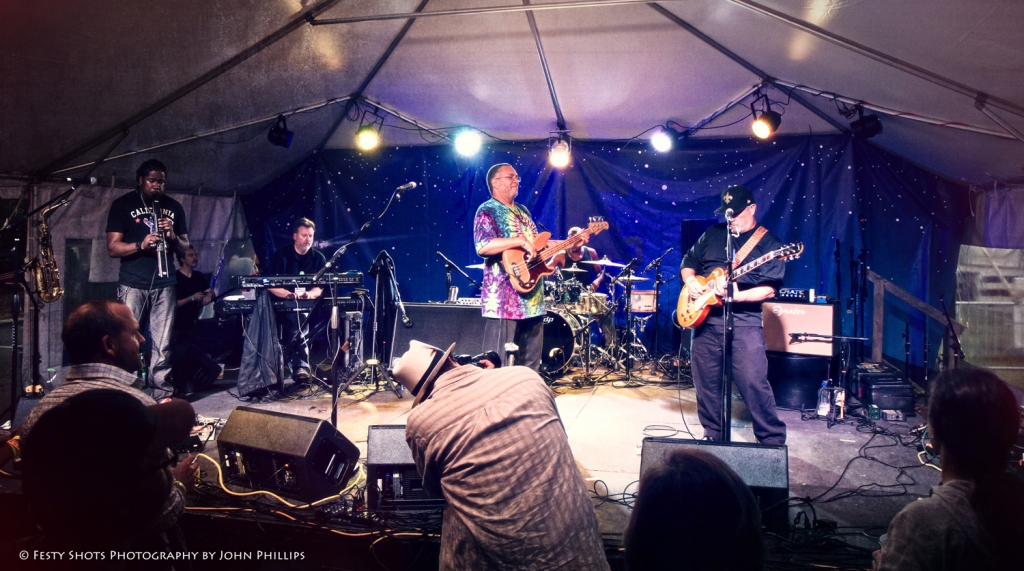 Saturday's headliner, Orgone, is a LA-based funk/soul outfit with a powerful sound that shakes you down to the soles of your feet.  In spite of a number of lineup changes over the years, the core of the band and their trademark sound is solidified by guitarist Sergio Alejandro Rios, keyboardist Dan Hastie, drummer Sam Halterman and percussionist Stewart Killen.  They alternate between funky instrumentals and soulful tunes with new vocalist Tiffany Austin.  Rios is a talented and frenetic guitarist; it's difficult to get a good picture of him playing because he's always in motion.  And Killen's percussion stylings are key to the band's unique sound.  Their performance at Mustang Music Festival was one of the best I've seen.
The late night sets at Sundog's began with Zack Mexico.  A friend who's heard them before told me I was in for something special, describing their music as "psychedelic surf rock".  It was certainly a unique performance.  With tight and trippy guitar riffs, creative feedback loops, and a number of compression and distortion effects, the band creates a complex, intricate layered sound.
The final performance of the festival was reserved for The Mantras.  This Greensboro-based jam band is a staple on the festival circuit and one of the hardest working bands on the scene.  Their blend of funk-rock, electronic and metal with Middle Eastern influences has been thrilling crowds up and down the east coast and the Midwest since 2007.  They put everything they've got into every live performance, and this one was no exception.  With the six band members and their gear squeezed onto the smallish Sundog's stage, the band took the crowd on a two-hour tour through familiar favorites and cuts from their latest release, "Jambands Ruined My Life".  Their show was a perfect ending to two days of incredible music.
I heard a number of musicians remark about the level of hospitality at this festival.  Most, outside of the headliners, were unaccustomed to the treatment they received.  But that's just a part of Mike's philosophy.  "I've cultivated this ethos with my restaurant staff to always be nice to the customer.  We also try to not only be the best at what we do but try to be the only ones doing what we do.  And I've tried to take that same approach with this festival.  I want the musicians to enjoy themselves, treat them with respect, and make this a unique experience for them."  By all accounts, he's accomplished what he set out to do.  And what about the future?  Mike said "I'm really excited about what lies ahead.  We've got a great new primary sponsor in Saga Construction and Development.  They're really out-of-the-box thinkers that are fully behind what we're trying to do.  We're moving the festival to the Whalehead Club next year.  It's a larger venue that will give us the room to expand.  We're also toying with the idea of expanding to a three-day lineup as well, but we'll have to wait and see.  But I think everyone will be pleased with where we're headed."  With the great foundation they've already put down, this festival is poised to step it up a notch.  Keep an eye out for the announcement and treat yourself to a great musical experience next year.