By Pete Murner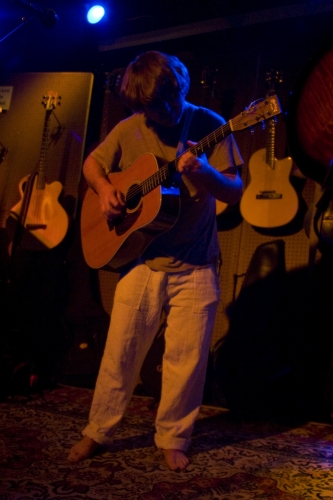 After 20 minutes of criss-crossing downtown Austin looking for a free parking spot, I finally gave up and forked over the $10 to park. Who would've thought that at 7:30pm on a Friday night every imaginable spot would be taken in the entire city?  My purchase did however earn me a spot across the street from my destination--Antone's--and much to my surprise, there was a line wrapped around the front of the building, around the corner and down Lavaca St.  It was official...Keller Williams was in town, and a groundswell of fans were on hand to partake in his unique brand of musical mad science.  
 Squeezing my way forward with my photographer Rick, we landed slightly right of center stage. Spinning around to take in a 360-degree view, the room was abuzz with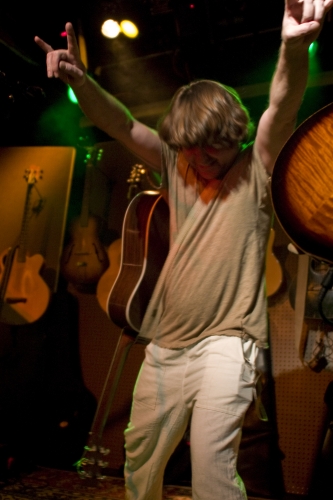 conversation, pre-concert dancing, and a constant ebb and flow to and from the bar.  Hipsters, hippies, and hometown Texans all must have penciled this date into their calendar, because by 8:45 the room was no longer just a room--it was now an organic entity alive and pulsating with anticipation.  After soaking in the proverbial scene, I fixed my focus on one of the cleverest and appropriate sets I have ever seen. The stage was dressed to emulate a fully operational music shop, and I mean FULLY OPEARTIONAL. Hanging on or in front of the brown wall were at least 25 different varieties of stringed instrument: banjos, mandolins, electric and acoustic bass, a cello, keyboards, a beat pad and some of the funkiest guitars you have ever seen.  To the left of all the hanging instruments was a wall of strings, magazines, concert posters and music books. And in front of that was a fully-equipped cash register with a credit card swiper, a set of store policies, and over ten different types of guitar pedals.  Of course, standing predominantly in the middle of the stage was Keller's mixing station and his electric bass and guitar, on stands ready to be manipulated in unimaginable ways.  But it was the little things that truly set the tone for an unforgettable show. Instrument price tags labeled with phrases like "Arm and a leg" and signs reading "You break you buy" and "Shoplifters die slowly".  The stage was literally set.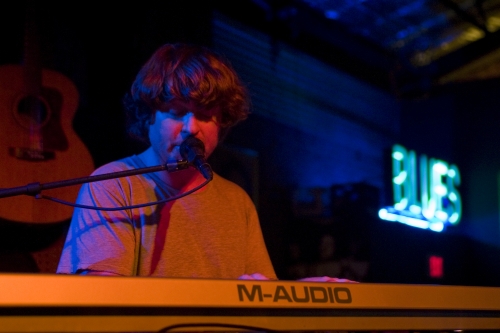 As Keller's tech tuned the final instrument and arranged the final cords, a distinctive guitar strum erupted from the darkness, sending the crowd into a frenzy.  From that same darkness, a silhouette could be seen armed with his trusty six-string, making his way onto the spotlighted stage. Keller donned a distinctly White Ninja-like outfit with baggy, white, hemp-like pants and a similar t-shirt. This ninja-reminiscent outfit was very fitting for the musical acrobatics we were all about to witness. "Art" kicked off the set, slowly picking up momentum as it organically formed its own unique structure and flow. Following "Art" was a crowd- and Keller-pleasing cover of Heart's "Barracuda" laced with whistled and robot-driven lyrics and solos. When the song reached its pinnacle, Keller took the opportunity to rock out along with the crowd to the inspirational version of the cover.  The next two songs, "You May Be Right" and "Chicken," blended as one--making for an interesting cluck-filled sing-along. The tone was set, and it was going to be a fun-loving rollercoaster ride of fluid musical creation.

As the first set progressed, Keller built and deconstructed "Cornpone," "Stupid Questions," "Blatant," "By the Drop" and "Doobie." All incorporating different measurements of vocal, string, percussion and lyrical elements cobbled together into a final comprehensive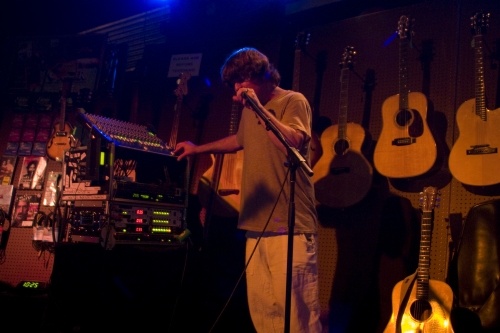 formula...or what is commonly known as a "song." The equation that Keller calls "Novelty," played at one point played on the 12-string (which doesn't actually have 12 strings), was particularly mesmerizing and invigorating. "Focus on the bass," followed by a string of pointless lyrics, book-ended with pulsating dance music was the formula for success on this song.  The various components: three different types of bass, beats, vocal contortions, and a guitar masquerading as a bass weaved a seamless tapestry of rhythm that sent the crowd into motion. Following up quickly, Keller moved into "Eva Braun," "Kinky" and then into a keys-driven version of Syd Barrett's "Terrapin" that had everyone singing along as Keller made it his own.  To end the first hour-and-20-minute se, Keller busted into a romping version of "Mexican Fat Dance" that truly reflected many of the cultural elements found in and around Austin. The assembly of the song was both surprising and appropriate for the venue, and the groove it put out was contagious and left us all wanting more. So when Keller said "Don't go away. I'll be right back" to end the set, we all hopped and knew he would keep his word.
The 30-minute set break allowed everyone a collective breath. Groups, people and drinks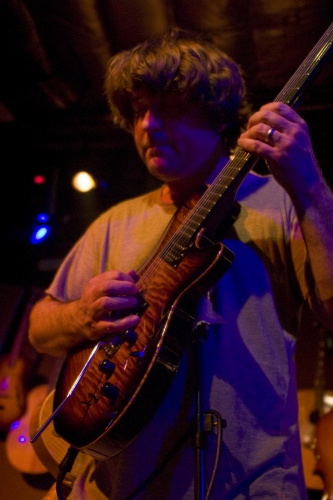 all fluctuated and found a new environment. The positioning of the crowd might have shifted, but the energy and eagerness only grew.  As the second hour-and-a-half set kicked off, Keller flew through "Cookies" and "Breathe" and then directly into "Caddy," into "Apologies" and then back into "Breathe", and somewhere in the midst of all that hustle and bustle there was a "birds of a feather" sing-along/dance-along that brought a tear to many eyes in the room. Keller then strung together a set of covers: "Jeremy," "Plush" done in his own unique way, followed by one of my personal favorites, "Love Handles", then "Tuna" and then the classic "Gate Crashers."  "St. Stephen," "Yoni", and "Lifetime" polished off the set, and Rick and I squeezed our way to the back of the room to get some perspective on the crowd, stage and show. After witnessing what would usually take five or six band members to conjure come out of a single man, I was pleasantly confounded and musically satiated.  As Keller re-entered the spotlight, he truly embodied a barefoot ninja with his tribal version of "Celebrate the Drum." Having room to move and breathe at the back of the crowd, and being able to enjoy a cold beer while witnessing a packed room move with liquid-like properties, it was clear. Keller Williams is the modern-day musical equivalent of Dr. Frankenstein, but instead of creating monsters of doom, Keller creates agents of groove.

All Photos by Rick Kern
http://www.rickkern.net/
To see all the photos check them out here :
http://www.facebook.com/editphoto.php?aid=2033096#/album.php?aid=2033096...
Peter Murner
FreeRangeState