The festival was nestled within the quaint little Jomeokee campground near Pinnacle, NC with stunning views of Pilot Mountain. Pilot Mountain is a metamorphic quartzite monadnock (an isolated rock that rises abruptly from a gently sloping or virtually level surrounding plain) which rises to a peak of about 2,500 feet; it is one of the most distinctive natural features in the state and is a remnant of an ancient chain of mountains called the Saura Mountains. The Saura were the earliest inhabitants of the region and their original Native American name for the mountain was Jomeokee which stands for "The Great Guide" or "Pilot". What a perfect place for music with a natural amphitheater built right in. 2 stages were side by side at the bottom of the hill with a few great food venders like Dank Eats and Green Light which were conveniently located on the left of the stage, the other venders such as Home Grown Music, Sabai Sabai, Shakedown Goods and Dragonfly were on the far side of the stages and on top of the hill. All venders had a direct line of sight to the stages which was appealing to all that had to stay put in one location.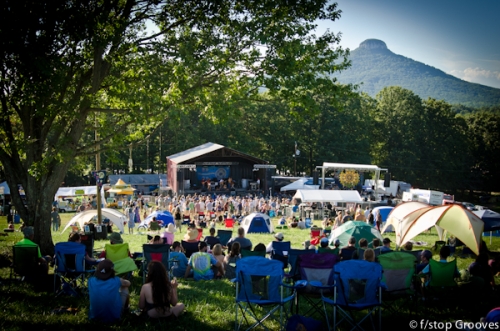 FRIDAY
Upon arriving at the festival on Friday I could see that a lot of people could camp where they parked, that's a very big plus at any festival. The lineup for this first year festival was stellar, an all-star cast of artist combined with some impressive up and coming bands. One of those up and comers to start off the day was a band based out of Asheville, NC called Invisible III, the band consists of Jay Sanders from Acoustic Syndicate, Ryan Burns from Laura Reed and Deep Pocket and Josh Phillips Folk Festival, and Mike Rhodes from The Blue Rags. The culmination of these awesome band members extruded excellence, the music coming off that stage was downright electrifying.
Invisible III is a hard hitting instrumental experimentation between the band members that is sure to take off in the near future. Jay Sanders put down the bass from his other bands and picked up one of the coolest instruments I've seen in a long time called a NS Stick. This 8-string instrument is a collaboration between Emmett Chapman (creator of the Chapman Stick) and Ned Steinberger (creator of the NS Double Bass, Bass Cello and many other instruments) its designed to optimize both two-handed tapping, and conventional guitar and bass techniques, this instrument incorporates a number of ideas from both The Chapman Stick (the tapping fret board) and the Steinberger bass (knee rest and headless design). The sounds coming from that thing were amazing when accompanied by the full throttle beat down from Ryan Burns and his organ and Mike's up-tempo drum beats. The music takes you on a fun filled funky organic groove that is unleashed and unbound by most conventional means of music. I had the privilege of interviewing the band after their show; here is what they had to say:
Where did you come up with the name Invisible III? We've been the backup musicians for so long and accompanying other bands it was time to come up with our own thing that's where the concept came from. In most bands the secondary musicians get unnoticed and almost invisible in the spot light.
Talk a little about the music and what you're trying to accomplish? We are trying to push boundaries, you have to find those edges and make them bigger or else you are just regurgitating the same ideas over and over again.
I noticed that the organ seemed to be in the forefront of the music in most of the songs…. Well this particular organ had a lot of gain on it and it was super crunchy. It reminded me of a lot of Jon Lord's stuff; with him just passing, this particular show with that particular tone kind of reminded me of his playing and his sound and I just embraced it because I'm not used to it being that distorted.
Where do you guys see yourself going with this project? Now we are working on writing some new material and look to be going into the studio within the next few months. We're really trying to hone our sound and come up with a creative product to be able to go out and show people what we can do. We also are looking forward to the festival scene and getting some good spots at night because a lot of our stuff tends to tread on the dark side.
So Jay, what made you pick up this crazy instrument the NS Stick? When I was a kid I started off playing the guitar, then around '96 I picked up the bass when Snake Oil Medicine Show needed a bass player. I found a good career playing standup bass with Acoustic Syndicate and Donna the Buffalo but my broader melodic musical understanding has never left me so the first time I ever saw it which was around 5 years ago I knew right then that's what I wanted.
With no overlapping sets the music continued with The Captain Midnight Band, a band with a solid abundance of crunchy guitar licks and a visionary take of some sweet R & B grooves with some spacey Dead improv harmonies intertwined within. Accompanying Captain Midnight were two females with pink wigs playing the keys and percussion, (Miss Siren and Lil' Rae Rae) who added some flare on stage as well as the bassist (Andy Leab) wearing what looked like a green African dress and on drums was Little Mike. The set was a fun energetic joyful soundscape of tunes that seemed to be a bit edgy at times but seemed to become grounded with some sweet harmonious vocals. Next time I see them I gotta ask Captain Midnight "What's up with that hat you always wear", he wears a hat that I would say resembles an Asian fisherman hat all the time. I believe I overheard from someone that he hand makes them.
Continuing on through the day I caught some of Twin Cats who had a funky punkish heavy bass kinda tone to them and Larry Keel who of course threw it down with some of the fasted flat pickin' ever. Keller Williams graced the stage for Ramble on Rose which was sweet.
The next band to really get me off my feet was Floodwood from upstate New York. At first I thought they were introducing Fleetwood without the mac, but I just misheard that little announcement. At first glance I would have said that Floodwood was a well-polished tight newgrass band but when I approached the stage to my astonishment I saw Al Schnier from moe on stage as well as drummer Vinnie Amico. That shed a whole new light on the band. It's amazing how the perception of a band can change just by knowing who's on stage. Their progressive style of bluegrass resembled Yonder in a way but it had a little different twist to it.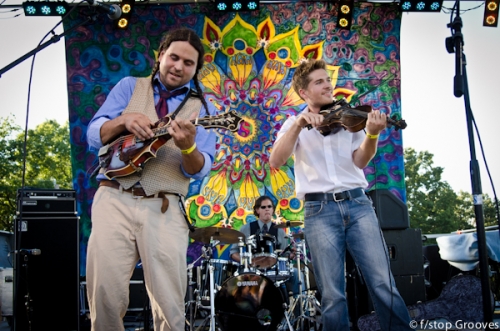 Floodwood
Up next was another new act for me, a gentleman by the name of Patterson Hood, co-founder of The Drive by Truckers. Patterson Hood has crafted an iconic sound with the Drive-By Truckers and his solo set was a far stretch from what I've heard from them, the music seemed to tell certain lifetime stories filled with the types of characters who appeared to have touched his soul which was prevalent in the meaningful tones of his vocals. A wonderful example was in his song "Better than the Truth" where he tells the story of one fun filled friend by the name of Billy Ringo, who is set on the road of self-destruction by always setting himself up to get hurt. The story continues by telling the story of him one day waking up, getting stoned then walking over to hang out the window with a water-pipe in his hand where he fell to his death, this song along with many others that he played was off his new album out "Heat Lightening Rumbles in the Distance." Patterson's melodic signature reminded me of a new reinvented Neil Young with a tension throughout the music that one does not generally expect from mid-tempo acoustic arrangements.
As the night approached the one and only Jimmy Herring took the stage looking better than ever, the super shredder had accompanying him Jeff Sipe on drums and Neil Fountain on Bass. As the set progressed each song seemed to progressively get a little more intense and uplifting. Jimmy's guitar was set in high gear with a combination of funk, gypsy jazz, and southern rock. I'm so used to seeing Herring play with Panic and how can I say it but he just over shreds, his hands tend to gravitate toward the bottom of the fret board when playing with them, but not now. His playing was charismatic, a compelling captivating sound with catchy tunes, toward the end of the set he pulled out an amazing Beatles cover "A Day in the Life" each note was so crisp, clean and perfectly in tune that my jaw about dropped to the ground.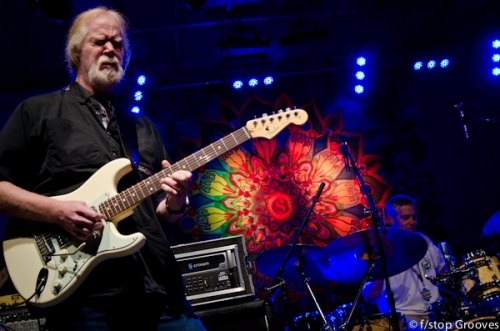 Jimmy Herring & Jeff Sipe
Soon after was Keller Williams with the Travelin' McCourys. A fun filled acoustically masterful set. Keller's quirky attitude mixed with the McCourys is a perfect match. Most of the songs during the set were from their album released this year "Pick" for the exception of "Freaker by the Speaker" and an awesome rendition of "Pumped up Kids" from Foster the People. Jeff Austin from Yonder and Larry Keel joined them on stage for that one.
It was Reggae time after Keller with Stephen Marley. This Marley son not only reflects on the past glories of his father, he is helping to build upon a tradition established by his father. His is helping spread the community spirit promoted by Bob. In his musical endeavors the message of hope and social revolution is a constant theme in his music. Stephen played a lot of his own tunes as well as some classic Bob tunes like "Buffalo Solider" and "Could You Be Loved."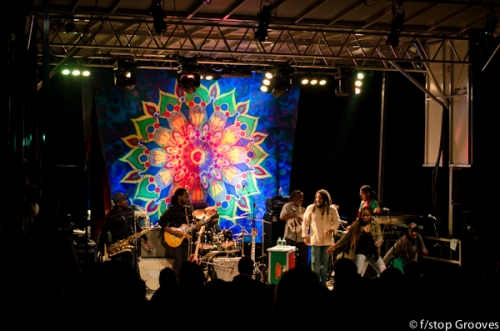 Stephen Marley
The end of the night came with the 1st of 2 nights of Yonder Mountain String Band. (Pretty Daughter, Pass This Way, My Gal, Pockets, High On A Hilltop, Looking Back Over My Shoulder, Strophe, Years With Rose, Girlfriend Is Better, Spanish Harlem Incident, Rag Doll, Sharecropper's Son, Angel.) Not my favorite Yonder set but definitely a good one. I was really hoping they were going to bring the heat tomorrow night.
Saturday
As the fog lifted off the wet grounds and the sun rose bringing the warmth, the festival started off with a pleasant yoga meditation and an engaging hula hoop workshop. Today's music was filled with a shear conglomeration of remarkable workshops and an impressive lineup of diverse music. The sets started with The Danberrys, The Broadcast, The Mantras and Floodwood who graced the stage for a second time. (Floodwood and The Danberrys were the only bands to play twice.)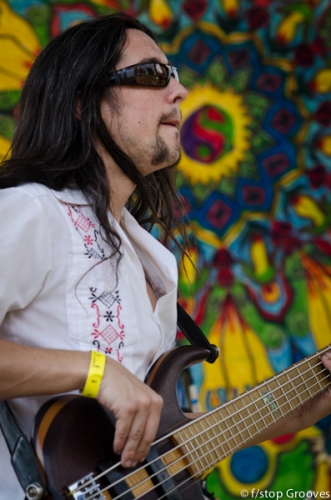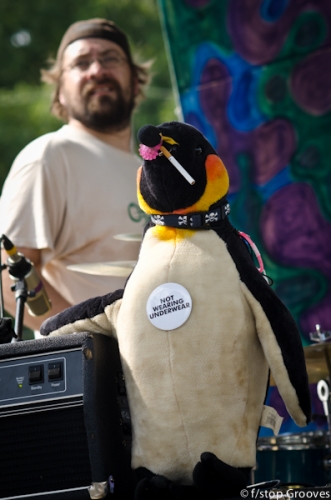 The Mantras
My day started with the outstanding workshops that were set up on a very small stage over in the camping section. This tiny stage was called The Lester Flatts Pickin' Stage and it looked like this stage had been there for eons. The first workshop was the masters of the mandolin, Drew Emmitt and Ronnie McCoury. They both talked about how their influences made them who they are today. Ronnie told a story about getting a care package from David Grisman at the age of 15 of all his albums that he had made to date. David and his dad Del put out an album called "Early Dog" and they did one show together in 1966; this really influenced Ronnie because he had never really heard anything like Grisman's playing who took the music in another direction away from the traditional bluegrass he was so steeped in. Some things Drew enlightened us with were the band's he had started with before Leftover Salmon. He started with Perfory Mountain Boys then Tractor and that soon turned into the Left Hand String Band. In 1989 he met Vince Herman who had created a band called The Salmon Heads. Vince made a joke about combining the two bands and calling it Leftover Salmon and of course it stuck.
Later in the day The Emmitt-Nershi Band took the stage, throughout the set the two took turns between Leftover Songs, and String Cheese songs. Among some of the songs we heard were Black Clouds, Good Times Around the Bend, Long Road Back to You, and Colorado Bluebird Sky.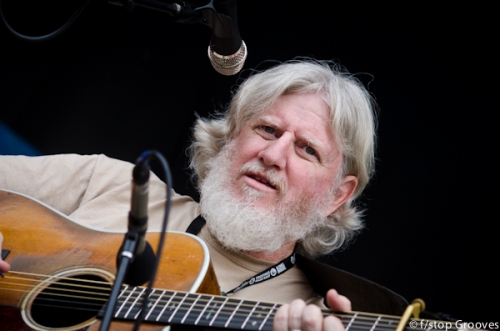 Bill Nershi
Another workshop soon followed with two of the best guitarist on the scene, Eric Krasno and Al Schnier. This workshop mostly concentrated on guitar theory and styles of playing which to anyone that doesn't play guitar this would be way over their head. One thing that I thought was interesting was when Al talked about following the Suzuki Method which states that all people are capable of learning from their environment. The essential components of the method spring from the desire to create the "right environment" for learning music. Al stated, "When learning music, you should learn to play then learn how to read and write music just like when learning a language, you first learn how to speak then you learn how to read and write.
During the workshop was Midnite who I got to catch the tail end of then it went from one extreme to the other with The Del McCoury Band into Lettuce. Talk about diversity whoa. From the most traditional bluegrass to the funkiest funk there is, this night was starting off in the right direction. The Lettuce set was one to remember with Jimmy Herring and Jennifer Hartswick getting on stage for a few songs.
Yonder's time for redemption was next and man was it a show. The first set went like this (Sideshow Blues, Straight Line, Maid of the Canyon, Fingerprint, All the Time, East Nashville Easter, Mother's Only Son, Another Day, Don't Worry Happy Birthday, Ten, Follow Me Down to the Riverside, Ten.) This first set was amazing especially during the tail end during Ten and Follow Me Down to the River, I've never heard Jeff Austin get so dark and almost demonic it kinda freaked me out then it was time for the Yonder all-star jam (Up On The Hill Where They Do The Boogie > 2 Hits And The Joint Turned Brown with Drew Emmitt on mandolin & Andy Thorn on banjo, June Apple and Casualty with Ronnie McCoury on mandolin & Robbie McCoury on banjo, Death Trip w/Michael Kang on fiddle & Al Schnier on guitar, Shady Grove > Wheel Hoss w/ Billy Nershi on guitar & Jason Carter on fiddle) the second set was amazing starting with one of my favorite Leftover song, Up on the Hill, also when Jeff Austin invited a member of String Cheese to come on stage of course I assumed it was going to be Billy Nershi coming up but no it was none other than Michael Kang that was probably the biggest surprise of the evening.
What happened next left my jaw on the floor. The Everyone Orchestra ended up being the last act of the night. Now, my understanding of the Everyone Orchestra is that Matt Butler the conductor uses the best artist at the festival to create an astounding impromptu improvisational set of music that always delivers a set of music that will blow you away. That didn't happen, what I was expecting was more than likely having Jeff Austin, Eric Krasno, Al Schnier, Nigel Hall, Jeff Sipe, Jimmy Herring, Drew Emmitt and others. But what was just down right miraculous was seeing on stage artist that just showed up for this hour and a half of music like Michael Kang, Melvin Seals, Jennifer Hartswick, and George Porter Jr all on stage for this last stint of music. Why they flew in these artists and spent all that extra money when they had perfectly good artist there already to fill the stage was beyond me but I can't really complain because it was magical. The set started off with jam that morphed into a nice song "Another Day in the Sunshine," Matt really got the crowd into it with his dry erase boards that he slung around with different sayings on it. Michael Kang then picked up his violin and circled around to each band member almost taunting them to give him everything they've got and to play their ass off, this song mutated into what seemed like a String Cheese melody which soon turned into the Jimmy Herring show, I could see Jimmy just itching to let his guitar rip but he was kept at bay and did a really good job of showing us his rhythm side. There seemed to be a pattern of melodies stewing from the stage from one artist to another and taking their genre of music and going with it. First was a Jennifer Hartswick sounding tune followed by a SCI melody then the Jimmy thing, Melvin Seals got in on the action as well with a nice tune that definitely had a Jerry sound to it; what an amazing way to end the night.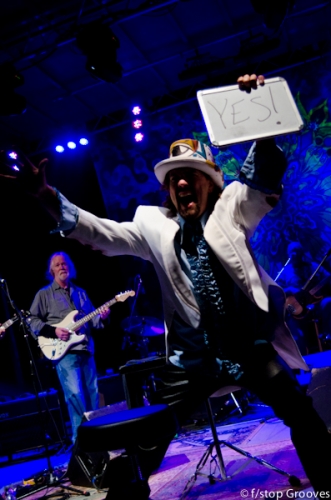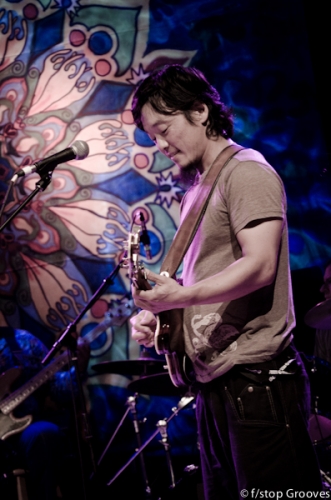 Everyone Orchestra (Jimmy Herring, Matt Butler, Michael Kang)
Sunday
What a wonderful way to wake up to none other than The Del McCoury Band's Bluegrass Gospel Hour and some traditional bluegrass. Following were The Danberrys and some good ole Dead tunes like Catfish John, Brown Eyed Women, Deep Elm Blues and Not Fade Away. The last act was Love Canon who take 80's tunes and put a bluegrass twist to them. Growing up in the 80's I knew most of the songs which were timeless. We heard them play (Centerfold, Blinded Me w/ Science, Money Ain't For Nothing, SledgeHammer, Axel F, Sweet Dreams, Don't You Want Me, Boys of Summer, Melt With You, Don't Stop Believing, Video Killed the Radio Star, She's a Maniac, Down in Africa.) The band preaches that they only cover a band once for every 100 songs they play which I thought was pretty cool.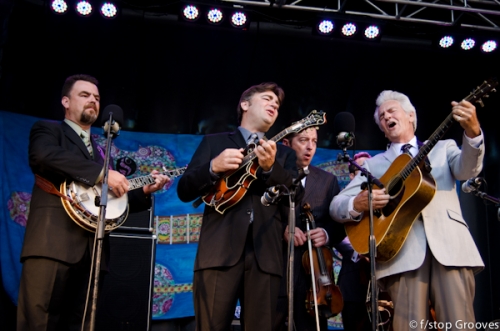 Del McCoury Band
Being a first year festival I though Jomeokee did a fantastic job with the organization and the caliber of artists that played. I really look forward to next year's festival and what surprises they have in store for us.
Article by: Brad Winecoff
Photos by: Gabriel Nelson