By: Tom Miller
Photos: Tom Miller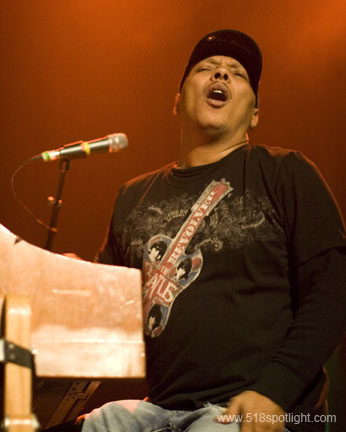 It was a "funk-filled" Saturday night in upstate NY. Three bands were scheduled to perform at Troy's Revolution Hall, each with its own unique style of funk. Of course most people were there to see New Orlean's very own Ivan Neville's Dumpstaphunk,
but each of the other two performers had their own following too. I arrived at Rev Hall around 8:00 pm just in time to hear the end of sound check (from outside). A small line had already formed and by the time security let us in around 8:20, fans were ready to get the show on the road.
Local favorites, Nautilus, opened the show. The seven piece band included skilled vocalist Josh Farrell, as well as the impressive brass section of Bryan Brundige (trombone) and Jeff Nania (saxophone). The guys sufficiently warmed up the crowd delivering a style of music that was part funk, part jazz and part hip-hop. Two particular standout tunes were "Tighten Up" and "Rockpile".
By the end of the Nautilus performance the hall had filled up with a diverse mix of college students, hippies (current and former) as well as the "40-and-over" crowd. After a short intermission, Brooklyn native Jonas Smith took the stage. Smith's meek persona was quickly refuted by his huge vocals and magnificent ability to play the keys. His music was soulful and powerful. Each tune delivered a message or told a story through well written lyrics, warm melodies and flowing composition. Jonas Smith was a huge hit with the Rev Hall crowd performing fan favs including "Everything is New" and "Skyscraper Blues".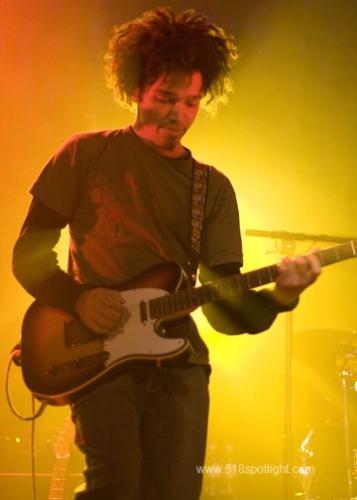 The crowd was restless with anticipation by the time Ivan and D-Phunk took the stage a little after 11:00 pm. They opened with "Greasy Groceries", a New Orleans staple both musically and nutritionally, followed by "Shake It Off" and "Jesus Children of America". By now, people were grooving on both dance floors, upstairs and down.  After a crowd-interactive "Put it in the Dumpsta", Phunk played on, pounding out more of their hits including "Paper Chasin Britney", "You Can Make It" and "Deeper and Deeper". As in many of their shows, the band invited several women on stage to show off their dance moves to the tune of "Everybody Wants Some".  
It was now well past midnight and I don't think a single person had left the hall. The music was still going strong as was the partying. Apparently, for those of us that didn't make it to Mardi Gras, Mardi Gras had come to us! Ivan and the gang jammed on, as did the crowd, dancing and singing to "Turn Dis Thing Around", "No More Okey Doke", "She's Music", "Standing in Your Stuff", "The Gasman Chronicles" and "Meanwhile". The marathon finally wrapped up around 1:30 am with a masterful drum solo from Raymond Weber leading into a James Brown medley consisting of "Soul Power" and "Super Bad".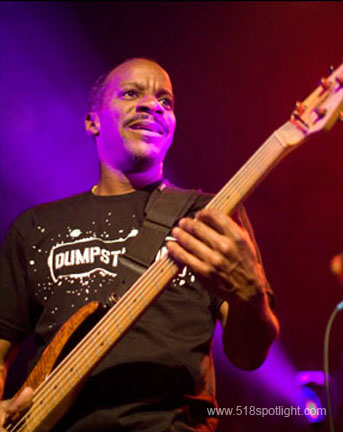 In the wee hours of Sunday morning, people started to trickle out of Revolution Hall. The excitement of the show still lingered as we each tried to name our favorite moment or song. All three bands were simply spectacular and D-Phunk is NOLA's best kept secret. With festival season right around the corner, take the opportunity to check out Ivan and the boys. You certainly won't be disappointed.  
Dumpstaphunk Setlist: Greasy Groceries, Shake It Off, Jesus Children of America, Put It In The Dumpsta, Paper Chasin Britney, You Can Make It, Deeper and Deeper, Cannot Make It, Everybody Wants Some, Turn Dis Thing Around, No More Okey Doke, She's Music, Standing In Your Stuff, The Gasman Chronicles, Meanwhile..., Drum Solo->James Brown Medley: Soul Power->Super Bad
Band Members: Tony Hall (Lead Guitar/Bass Guitar/Vocals), Nick Daniels (Bass Guitar/Vocals), Raymond Weber (Drums), Ian Neville (Lead Guitar), Ivan Neville (Keyboard/Vocals)
www.dumpstaphunk.com