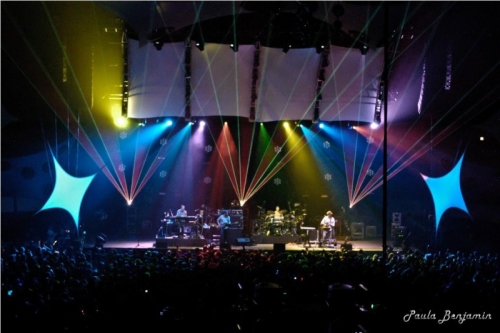 First it was time for Philly's favorite The Disco Biscuits who promptly started at 7:30 with "Hope", a slow going but meaningful start that quickly picked up steam with a dirty "Astronaut >Spacebirdmatingcall> Astronaut" sandwich with a highlighted tease of "Suspended in the Air." Following was a danceable "Shimmy in a Conga Line" which seemed to also go unfinished; the set abruptly ended with an epic, heavy tranced "Basis for a Day." The complete set lasted around 75 minutes which was just enough time for the band to get warmed up and before you knew it, it was over. All the songs played were pre 2002 which was nice to hear classic Bisco. They did pull out some astounding new lasers for the show but they seemed to be over before you knew it. The crowd was responsive but you could tell that most Biscuit fans were gearing up for their Halloween show in Charlottesville, VA and didn't bother coming to this 5 song opener set.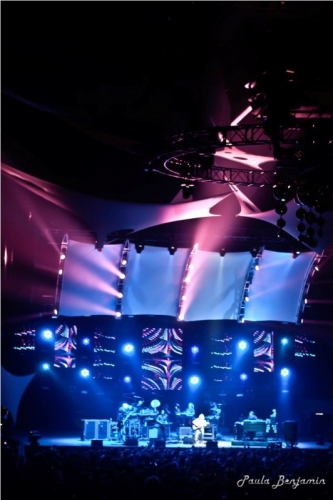 The time had finally come for String Cheese to grace the stage; the floor soon filled with eager fans who made the place erupt with excitement, I thought the kids beside me were going to spontaneously combust at one point. Cheese began the set with a long time Keller Williams favorite "Best Feeling Jam", as the band played through some technical difficulties the visuals made up for it with a 3 piece movie screen up above as well as 5 LED panels behind the band. The screens and LED's followed the songs perfectly with some unbelievable lights, showing fishes when Kang belted out "I felt like a fish cruising around in the sea." About 14 minutes in, Kyle Hollingsworth pulled out a talk box and coordinated his keys with some amazing vocal sounds; the band continued into a little spaceyness then out came Billy Nershi's "Texas". Not the best Texas I've heard however it did have a worthy extended jam with a climax that had everyone jumping up for joy. I think it's the way Billy envisioned playing it, without the Texas trance that has seemed to plague him in years past steering away from his idea of traditional Bluegrass. The third song was "Daryl" which was a defining moment when everything seemed to come together for the band and they started feeding off of the audiences higher than usual energy. Kang pulled out his trusty fiddle for the first time of the night and just ripped it while Nershi jumped repeatedly with excitement. "It was time to get this Spaceship off the ground", quoted Nershi which was the Hulaween theme for the weekend. It appeared that it was a Billy Bluegrass night with another great cover, Peter Rowan & Bill Monroe's "Walls of Time." The spotlight turned to Kyle next, who opened up the organ pipes with "Got What He Wanted." The projector screens soon turned dark and gloomy with lightening striking down as they busted into a Billy classic "Black Clouds." BC must have been this year's favorite for the band playing it 4 out of the 9 shows. The end of the set was a fantastic "Miss Brown's Teahouse > L'il Liza Jane > Miss Brown's Teahouse."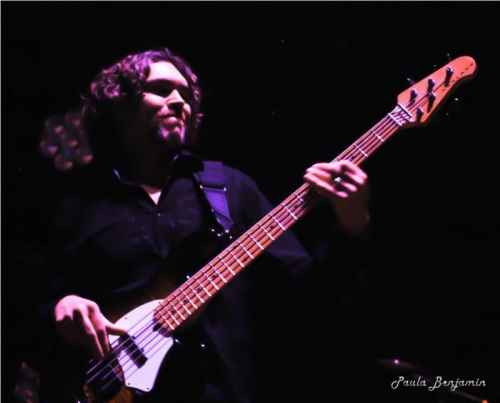 This was String Cheese's first time playing the Coliseum and it was dearly noted at the beginning of the second set with a quick shout out by Keith Moseley who mentioned what an honor it was to be playing the Hampton Coliseum for all of us. This set was a fantastic showcase of each member's originality. It started with a Nershi original "Song in My Head"; a really nice bluegrass tune that he has been playing around while SCI has been on hiatus. Next was Kang's turn with "Just One Story," the song was a continuous jam that seemed to bring out the band's awe-inspiring ability to improvise during the song. Stepping up to bat next was Keith Moseley and "Joyful Sound." Being a fan favorite the crowd went crazy as Keith sang the positive lyrics making you just feel all warm and fuzzy inside. The rotation kept going with an out of this world EOTO jam that I believe got the Mothership off the ground. Michael Travis and Jason Hann were gearing up for the Norva after party where they would be raging until the wee hours of the morning. After a full rotation it was time for round two with a Bluegrass Billy hoe down, "Rollin' in My Sweet Baby's Arms." Into a seemingly unrehearsed Kyle Hollingsworth's original "Way That It Goes." "Sirens" was next with a dark funky beat that twists and turns and ends up with a glowing blissful chorus "I just want to say I love you, make sure you feel it every day" also adding a little twist to the song Jason Hann threw in a little off pitch rap. Kang's, "It Is What It Is" and a Nershi favorite "On the Road" gave a close to the first night set. Cheese came out soon after the place erupted with jubilation for a not so memorable encore "Jellyfish" which really didn't do it for me I was expecting something amazing, then my mouth dropped when Michael Travis ran out in black tights, red panties and a blonde 80's big hair wig looking just like David Lee Roth. They then leaped right into Van Halen's "Jump" with Travis pulling off some amazing kicks, splits, and stage dives; this was an encore to remember.
Oct 30th 2010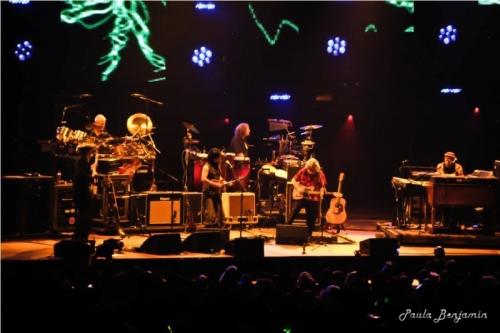 Tonight the venue was maxed out with 14,000 costume wearing String Cheese loving freaks from all over the country. There were Smurfs, Astronauts, Avatars, Mad Hatters, Billy the Exterminator was even there, and so many other different unique costumes that made the night that much more memorable. At around 8ish the screen lifted above the stage and the band stylishly walked out. From left to right Keith Moseley had his face painted white with black thick rings around his eyes with a blinging silver top hat, Michael Kang wasn't dressed for the first set, Billy Nershi had a stylish red Hawaiian shirt with big black nerdy glasses, Kyle Hollingsworth was dressed with Rasta attire also sporting a funny dready wig, while Michael Travis and Jason Hann weren't feeling the costumes to begin the night. The first set brought the heat. "Come as You Are" was a perfect opener for the night followed by a "Restless Wind" that was good but it was soon over shadowed by a stellar "Rain". In "Pack it Up" the instrumentation was phenomenal with a 12 minute jam which lead into "Turn This Around." One of the biggest highlights of the night for a lot of folks was the little 2 minute tease of Pink Floyd's "Breathe" sang by the off key Michael Travis which lead into a free formed fun little Hampton "Mothership" Jam back into the end of "Turn This Around." "Rivertrance" was for me one of the best I'd heard in a long time. Kang picked up the fiddle and made it flow with such finesse and speed, breathtaking is all I can say about that. Billy then stirred up the rowdy crowd by saying "Thanks a lot everybody, that's all we have time for tonight see ya next time". Just kidding of course, they went right into a remarkable "Las Vegas" where Billy and Kang showed off their electric guitar shredding ability.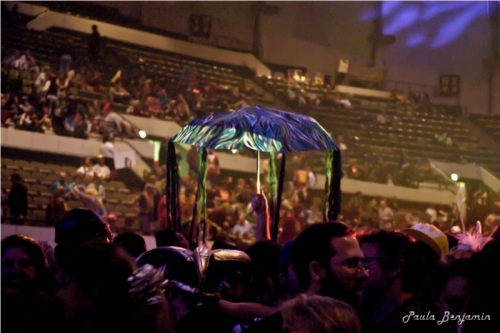 The second set started with the band marching to the front of the stage and saluting the crowd. They were dressed in what looked like space outfits as if they were ready to take off in the Mothership. Kang stated that since we were in the Mothership they were going give us a set that would take us on a journey through space. A good cover started off the set, REM's "It's the End of the World as We Know It" which they had done before in 2003 on NYE in Chicago, so I was hoping the set would intensify, it did at first with Steve Miller's "Fly Like an Eagle" but these songs really didn't have anything to do with journey's through space or taking off in the Mothership in my eyes. Up next was a song I can see being in the journey "Born on the Wrong Planet" where the band continued to astonish the crowd. Afterward Special guests Keller Williams and Liza Oxnard took the stage and it was finally time to blast off. Introducing himself as "Star Child Citizen of the Universe", Keller and Liza rapped out Parliaments "Mothership Connection." He wasn't dressed like star child though; he more or less looked like a washed up deranged Santa Clause with a tall green elfish fuzzy hat, a tattered drench coat and green sweatpants, while Liza was dressed to impress with silver glittered hair and Madonna's cone bra from the 1980's. After Keller exited stage left Liza sang an outright disappointing Jamiroquai song, "Space Cowboy" where she had the audacity to change up the lyrics to Space Cowgirl. The vocal harmonies were just awful. It really didn't get any better either; they were stuck in the 1980's lameness with Dee Lite's "Groove is in the Heart." Keller came out again and accompanied Liza with the vocals as platforms raised on either side of the stage where girls dressed up in skimpy space outfits distracting us from the funny but dreadful song. After the ridiculousness Cheese raised the bar with a first time played cover"21st Century Schizoid Man" and oldie but goodie from King Crimson. The songs rough edges and meaningful poetry lyrics catapulted Cheese out of the eighty's and into the present. The set was shaping up to coincide with the journey through space with Peter Schilling's "Major Tom (Coming Home)", which is about a character unofficially related to "Major Tom", the theme of David Bowie's 1969 album Space Oddity being caught in an accident in space. Mixed into the song was a stylish B-52's song "Planet Claire" Liza continued with her pitchy vocals and harmonies destroying what hope I had for the end of the set. Ending the set Cheese came back to "It's the End of the World as We Know It.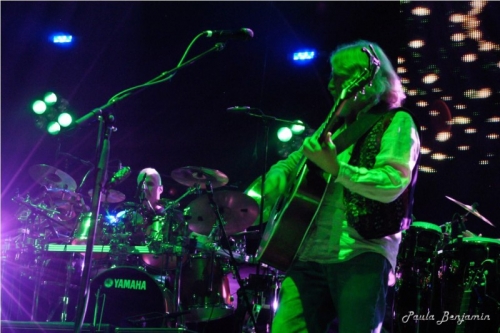 The third and final set was all Cheese no more covers no more disappointments just all out heart and soul. The beginning of the set started out kind of slow with "Piece of Mind", it really didn't get the feeling of climatic resonation I thought possible but "Bumpin' Reel" did with its all-out SCI trance. "Shine" is what put the venue over the top with excitement, the dynamic crescendos and over the edge musicianship is what I believe saved the evening after that dreadful 2nd set. Finally getting a breather from the mostly up tempo night the band pleased us with "Drifting" into a mind-blowing "MLT" that made the place explode with exhilaration. After a nice ten minute drum duo the ending of the set melted faces with a thrilling, high energy, full blown "Desert Dawn". After catching my breath for a couple of minutes SCI came out for a 2 song encore. "Search" was first with a nice rollercoaster of emotion within the song as the band came closer to the final song of the year. "Howard" was the finale and they killed it. This 15 minute Howard put a staple on the weekend, the deeply textured minor chords the song begins with soon became a jubilation of happiness and an all-out jam; everyone in the band seemed to give it their all for this one. It was a delightful way to end the magnificent weekend and a perfect end to a short but sweet year for String Cheese.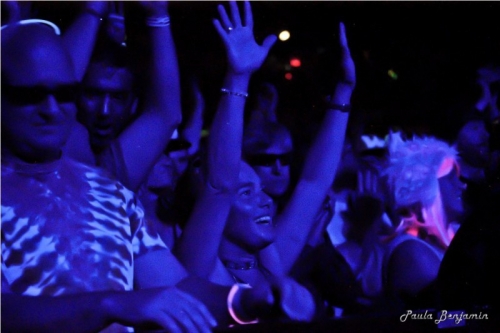 There is something to be said about a holiday String Cheese show. It's an event that lets the fans experience something much bigger than just the music; it in turn gives them a sense of being a part of the show instead of just going to see a band play. The String Cheese Incident express a sense of togetherness that is conveyed within their music which is felt deep within the heart and souls of everyone attending. Even when the band cannot come to terms with their differences in music they seem to pull together when it matters and show their fans that they care enough to put their disagreements aside to satisfy a need, a need for cheese.
If you would like to see the weekend in its entirety iClips captured every magical moment on stage please visit http://www.iclips.net/.

- Brad Winecoff
- Photos by Paula Benjamin