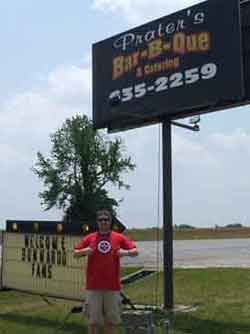 All kidding aside, I do book a hotel every year on the route to the fest that takes me by Prater's. What's better than some "Q," chili, potato wedges and sweet tea to prepare a person for the sweltering daily musical overload that is Bonnaroo?
For four days I milled about the hot and dusty collection of stages, stopping for chunks of bands during the day and soaking up the headliners at night. I found myself struck by the uniqueness of each stage more this year than ever. Thus, I give you a stage by stage review of the endless music I saw the weekend of June 14-17, 2007.

Yet Another Comedy Tent and Somethin' Else Jazz Tent: Nothing to See Here

After three full Bonnaroo experiences, I have yet to see a comedy show. The amount of music that must be sacrificed to wait in line can't possibly be worth it. This year proved more ludicrous than ever, as the Comedy Tent line stretched on so far that I couldn't tell if it actually ended at all. At least I got to hear Lewis Black tear a disrespectful fan a new one during Gov't Mule's Saturday set (read on, you'll see). Far more disappointing was the Blue Note-sponsored Somethin' Else tent. Even longer waits than the Comedy Tent squashed any notion I had of seeing music there. For example, to get the Billy Martin & John Medeski late night set, I would have had to wait through the entire Friday night headlining set, perhaps longer. I suppose attendees who were not fond of any other bands on the bill could see jazz all weekend, but I personally couldn't justify it. The disappointment was felt throughout the grounds, since the Jazz Tent was one of the most highly publicized aspects of this year's event and practically no one was able to get in.


Sonic Stage: One and Done

While the Sonic Stage hosted plenty of acts worth seeing (Annuals, Michael Franti, Tea Leaf Green, and Warren Haynes, to name a few) I didn't find myself visiting it as much as last year because the busy location wasn't a practical route to other stages. However, one of my personal highlights occurred at the Sonic Stage on Sunday as country music legend Charlie Louvin entertained a modest crowd with his classic country songs and sassy stage presence. One of the reasons I chose to write this review in ascending order by stage is so I could get Charlie near the top. Louvin will turn 80 years old this July, and the influential singer looked every day of it in the sweltering afternoon sun but delivered a stunning performance nonetheless. Backed by a crackerjack band of acoustic guitar, dobro, bass, and drums, Louvin's straightforward delivery and timeless material was relief to my ears, which had been ravaged nonstop for the previous 3 days. Before closing out the short set with a spot-on rendition of "Ain't Gonna Work Tomorrow," Louvin teased the stage manager mercilessly, made a young woman in the crowd blush with a ballad, and took potshots at the expensive food and drink at the festival. The handful of songs was great, but mostly I'll remember the spontaneous moments from this once-in-a-lifetime show.

The Other Tent: Not Just Any Old Tent
One of the hotspots of the weekend for me was The Other Tent, which boasted a slew of worthwhile acts. Situated in a comparatively remote part of the site, the area backs up against the campground and seems light years away from the main stage monstrosity. The New Orleans Klezmer Allstars made sure that the dust got good and kicked up on Thursday night, as their wild fusion of traditional music and modern attitudes inspired pockets of the audience to take a shot at some traditional Israeli circle dancing. Apollo Sunshine came with a little more bombast, wowing the early arrivals with a retro rock feel and plenty of onstage daring, combining dub, rock, funk, and improvisation. It was especially hard to leave The Other Tent on Saturday, as the lineup was the best of any stage.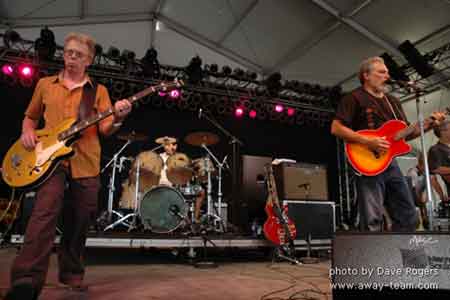 After Railroad Earth got things off to an early start (noon is really early at Bonnaroo), Hot Tuna provided a hellacious start to my day with some seriously smoking blues-rock courtesy of legends Jorma Kaukonen and Jack Casady. The crowd consisted mostly of older folks (like me) and experienced travelers, and everyone hooted and hollered at the amazing playing during classics like "Rock Me Baby" and "99 Year Blues." The sublime element of Hot Tuna's playing really sticks with you, and it is one of those indefinable qualities that their ardent fans keep coming back for.
The afternoon was well-planned with Xavier Rudd and Keller Williams' WMDS wrapping up the daytime sets. Rudd drew increasingly appreciate and fervent cheers from the crowd as he and drummer Dave Tolley mesmerized us with thudding house rhythms and deeply rooted world music accents. Rudd's didgeridoo alternately rumbled and sliced through the steamy air as he whipped the crowd into a frenzy of tribal dancing, looping, plucking, stomping, and shredding guitar lines all the way, even jamming on "Iron Man" for a spell.
One of the more interesting lineups ever assembled, the WMD'S consist of Keller, legendary drummer Jeff Sipe, SCI bassist Keith Moseley, and guitarist Gibb Droll, who himself is a legend in certain east coast circles. Together, the trio assembles a rhythmically rich improvisational sound to match Keller's relentless riffing and stream-of-consciousness approach. Performing songs from Keller's stable for the most part, the band is gradually getting tighter and tighter and this show far exceeded the set at the Asheville Music Jamboree a few weeks earlier. Attendees will certainly remember Gibb Droll's diverse playing, as he morphed his sound between celestial Jerry-style twinkling, furious rock shredding, and potent rhythmic interplay. The full-band setup inspired Keller to take a fresh swing at some older tunes, such as the groovy "Still Wishing to Course," which found its way into Porno for Pyros' "Pets" and back again. The perennial crowd favorite "Freeker By the Speaker" got everyone moving, as did gems like the Dead's "Brown-Eyed Women" and Keller's "People Watching."
Late on Sunday afternoon, saxophonist Ornette Coleman and a trio of bass, drums, and guitar closed out The Other Tent with a fine set of exploratory free jazz. I later learned that Coleman fainted during the set, just after I departed. He was treated and released from a local hospital and is OK, but it goes to show that the weather and dust were a huge factor on Sunday.
This Tent: Anything But Typical
This Tent was one of three stages operating on Thursday night, and it hosted two stellar bands in a row. The Black Angels provided an interesting backdrop to our arrival with a psychedelic, sometimes sludgy blast of bass-heavy rock, sort of like The Secret Machines without the inspiring instrumental breaks. MuteMath followed and proved to be the highlight of the night for many. Kicking off their hour-long set with "Typical," one of the finest pop songs I've heard this year, the quartet throbbed with energy as they cavorted in front of a backdrop of white lights. Showcasing their danceable, all-inclusive sound, they surged through "Chaos," "Plan B," and "Control," introducing many to what I can only describe as a pop-rock-in-a-blender mix of things as disparate as old-school jam-pop like Percy Hill and the atmospheric rush of Radiohead and Coldplay. As accessible as they are, MuteMath proved to be one of the most difficult Bonnaroo bands to describe.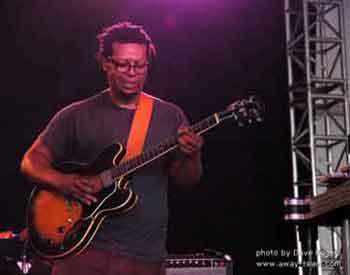 Tortoise was one of a handful of bands that I practically sprinted to see. The Chicago outfit had eluded me for years, coming to my area only when I was out of town or otherwise occupied, so I soaked up the majority of their enchanting performance. While their jazzy, ambient compositions might be better suited for nighttime activities, it sounded perfect to me as they treated us to several tracks from the essential Standards album. As an unabashed fan of the band's albums, I couldn't have been happier to hear them move swiftly through a large chunk of their catalog, such as the longtime staple "I Set My Face to the Hillside" from TNT and the very first Tortoise song I ever heard, "Swung from the Gutters." With a fantastic onstage presence for an instrumental band, they drew a laugh by introducing one song as "brown fountain," referencing the nearby Centeroo fountain - the dingy water it spews is visible from the stage.

After a few songs at the competing Flaming Lips latenight on Saturday, my curiosity could not be contained and I had to see what the Gov't Mule boys were up to. My brief stay at This Tent was eventful, as we wandered up just in time to catch Bob Weir guesting on "Sugaree" and "Loser." After Weir left the stage and the Mule started jamming, Lewis Black came on stage for what I assumed would be a humorous spoken word thing, or a joke of some sort. The whole thing derailed when some moron landed a plastic bottle right on the side of Black's head, and the angry "comedian" proceeded to verbally abuse the idiot for a solid minute. Passersby stopped in their tracks to gawk at the spectacle created by the verbose tirade, and the band's sudden jump back into the aborted jam made the scene even more surreal. I made my way back to The Flaming Lips in a seriously bemused state, smirking at what turned out to be my last visit of the weekend to This Tent.
That Tent: Sorry For the Wait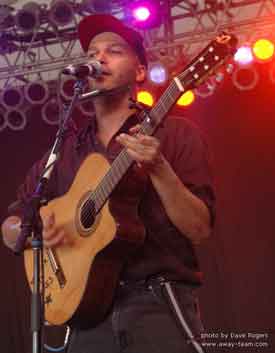 That Tent actually served up the first music I saw all weekend, as The Little Ones opened up to the gathering crowds with their energetic, vaguely Talking Heads-influenced pop. The National also performed on Thursday night, and while I am a fan of their latest disc, Boxer, I found that their style didn't come across as well in the live setting. The National started very late, and Flamenco/metal guitar duo Rodrigo y Gabriela had their set pushed back to a time later than a late-night set as delays at That Tent became a trend for the weekend. The Night Watchman, a.k.a. Tom Morello, a.k.a. the guy from Rage Against the Machine was right on time with his solo set, and even though he obliged the crowd with RATM's "Guerrilla Radio" late in the show there were practically no other similarities to the music of Rage. Morello's arresting voice and throaty tones conveyed an urgent seriousness, and his songs harkened back to the time of Woody Guthrie - poetic and verbose narrative manifestos that call for action and, well, rage against the government machine. One concertgoer was heard to say "I feel like I'm at a rally" after one of Morello's especially poignant between-song proclamations.

Delays also held up the start of Annuals on Saturday, and it seemed they would never take the stage. Just as I began to consider going back to Hot Tuna, the Raleigh, North Carolina band finally appeared. The instrument-switching sextet was a joy to watch, as leader Adam Baker traded guitar for keys, keys for drums, and back again, randomly pounding a floor tom or sliding a slide whistle here and there. The whole scene was quite uplifting, as neither dust nor sound problems nor heat could keep the energetic group from belting out their fractured pop masterpieces. They appeared as mad scientists in a lab, all their individual experimentations coalescing into one joyous bomb of noise that exploded and somehow settled into one unforgettably catchy tune after another.
Which Stage: ADD Central
Over the course of its existence, the Which Stage has possibly become the most eclectic of Bonnaroo's 5 main music stages. The 2007 lineup proved no different as the stage hosted acts as far-ranging as Franz Ferdinand, Regina Spektor, Old Crow Medicine Show, Damien Rice, and The Flaming Lips - on the same day. On Friday I caught the very end of Brazilian Girls' set, and the strains of their most popular song, "Pussy," serenaded me while I made my way to another part of the grounds. This continued a surreal trend of my Bonnaroo visits; it seems that I always manage to catch a well-known song, even if I only buzz the stage briefly (this year it also happened with Wolfmother's hit "Woman," the only song of their Which Stage set I witnessed).
Michael Franti and Spearhead just keep plugging along and their sets remain enjoyable despite their long-running gimmicks and similar set lists. I enjoyed "East to the West," which featured 18-year-old Australian guitar prodigy Kieran Murphy, but I soon opted for other things after a brief visit to let Michael know I was feeling pretty good (hey, he asked). The rest of my Which Stage experiences were mainly bits and pieces. I caught splashes of Manu Chao Radio Bemba Sound System and their hyper-speed world music, which wasn't exactly my thing, as well as portions of The String Cheese Incident (hey, I had to at least say "so long"). The crown jewel was The Flaming Lips' midnight set, which really started around 11 PM with a "War Pigs" sound check and over an hour of palpable anticipation, wild PA music, and general tomfoolery on and around the stage.

"What are these guys about?" I heard one spectator ask as the Lips started with "Race for the Prize" and dozens of giant orange balloons jostled through the crowd, bouncing in the brilliant white light of the stage, while confetti cannons fired their psychedelic payload several stories into the air. Perhaps he missed frontman Wayne Coyne's show-opening bubble-aided descent into the crowd from the top of the lighting rig, which lowered and ascended like a UFO. For a first-timer, a Lips show is quite the overload and this show was an admitted blowout for the band as their only US date of the summer. The eyes can't rest because something new is happening with every passing song, whether it's more streamers mysteriously appearing at the top of the stage, or the wild backdrops and constant smoke, or the elves and Santas on stage. Musically, the show was longer than usual and full of surprises such as a wee-hours cover of The Rolling Stones' "Moonlight Mile" and a rare performance of "Mountainside," which had been shelved for over a decade. Special bands make special performances at Bonnaroo, and The Flaming Lips are proving to be the go-to band for a good time at this festival.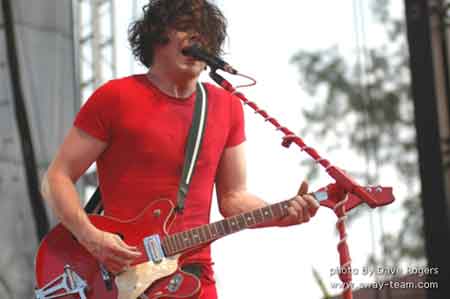 Though my Which Stage time was short in comparison to the rest of the fest, The White Stripes' Sunday performance there served as one of my most anticipated and memorable moments of the weekend. Shrouded by dust and heat waves, the duo kicked out a typically fast and furious set taking time only for Jack to introduce a handful of songs. I found the first portion of the show to be the most entertaining, including an appropriate "Dead Leaves and the Dirty Ground" opener, a pummeling "When I Hear My Name," a scorching cover of Dolly Parton's "Jolene," and the title track from their new album, "Icky Thump." Other highlights included the usual suspects: "Blue Orchid," "I Just Don't Know What To Do With Myself," "Black Math," and the closing "Seven Nation Army," all of which trembled with vigor and energy. After seeing this band for the second time, it has become clear that "wham, bam, thank you ma'am" is the way of the Stripes.
What Stage: Many Miles Away
Friday was a winning day in the enormous main field, kicked off by Kings of Leon, who survived a power outage (and admitted awe from performing on the main stage) to deliver a searing set highlighted by songs from their latest disc Because of the Times. The band plowed through the older "Razz" despite the power cutting out to the main speakers, and their resolve drew a huge cheer from the masses. "My Party" and "On Call" soared through the sunny skies, "Black Thumbnail" raged, and the gentle "Arizona" showed their dynamic range. The anthemic "Knocked Up" made a late-set appearance that confirms the song's status as an all-around heavy hitter.
The Roots, long lauded for their live shows, stepped things up a full 10 notches or so for their late afternoon main stage set, offering alternating blasts of hip-hop and screaming rock and roll. The set included a sprinkle of material from their latest album, such as the ballistic "Here I Come," and centered on a monstrous jam that incorporated a litany of hip-hop hits from the last 20 years. Starting with a tongue-in-cheek "Inna-Gadda-Da-Vida" jam, which no doubt was in reference to the Nas track "Hip Hop Is Dead," they swiftly and surely moved through bits of songs from Tribe Called Quest, Snoop Dogg, Method Man, Ol' Dirty Bastard, Salt-n-Pepa, and more. Taking on the role of the ultimate mash-up artists, they also offered a jaw-dropping take on Bob Dylan's "Masters of War" that incorporated "The Star Spangled Banner" and a lengthy "Machine Gun" jam sparked by the manic fretwork of Captain Kirk. They also fearlessly dropped The Police's "Roxanne" into the fray, foreshadowing Saturday's headliner.
Friday night's main event proved a real battle for some. 2 songs into Tool's 2-hour set, those with more "sensitive" ears were seen scurrying for the exit. I can understand, I suppose; even last year's Radiohead set, which everyone thought would be so out of place at Bonnaroo, was a gentle journey by comparison. But come on, this is an experience not to be missed! Tool frontman Maynard James Keenan welcomed the crowd with a cheeky "I smell patchouli!" Opening with the churning "Jambi" from their latest opus 10,000 Days, the band stuck mostly with the new album but broke out a few older gems for one of their longest and biggest sets in recent memory. With a backdrop of 4 individually controlled video screens at stage level and another giant screen above, Maynard's silhouette became the gyrating, menacing focal point for those of us in the back. Our view of the stage, which was flanked by two ubiquitous video screens, was excellent - a visual spectacle the likes of which Bonnaroo has scarcely seen. Even The Flaming Lip's colorful and well-publicized shenanigans paled in comparison to the overwhelming imagery of this show. Fire, human images, abstract art, Alex Grey's tribal/psychedelic artwork, water, flatlines, buildings, elements from music videos, and more surreal sights painted the gigantic stage, and dozens of high-intensity lights moved about on various rigs, which themselves lowered, raised, and circled for our delight. A laser show was unveiled about halfway through the set during the somber "Wings for Marie," and put to full use for the rest of the show. The high-intensity lasers reached out to the campgrounds like celestial fingers and moved around the stage to create shapes and textures that were inherently cerebral. Sure, the music is hard and the subject matter heavy, but there's no doubt that Tool is one of the most impressive bands on the road today. They and their crew drove the gigantic stage like a finely-tuned sports car. I never heard a bum note from the band as they treated us to dramatic classics like "46 & 2," "Flood," and "Stinkfist" as well as masterful performances of newer material like "Schism," "Lateralus" (which featured a guitar solo from guest Tom Morello), "The Pot," and "Rosetta Stoned," which Maynard so graciously sent out to the doped masses gathered before him. The closing duo of "Vicarious" and "Aenema" was as powerful a one-two punch as I could ask for, and I left the show wired and hoping that Tool had altered some people's perceptions. Heavy music can be heavy in a lot of different ways.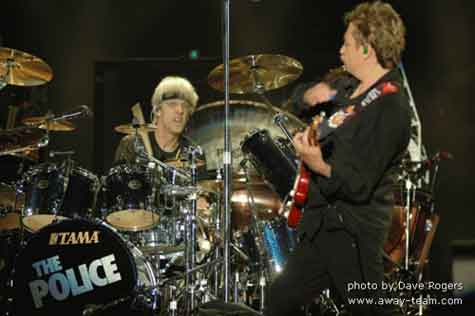 Saturday had a highly anticipatory air to it. The Police were to play on this night, and that was firmly on the minds of everyone in attendance including vendors and staff. I wandered over to the What Stage just in time to hear Ziggy Marley join Ben Harper & The Innocent Criminals for a rousing "Get Up Stand Up" and to hear the raucous set-closing "Better Way." After that, everyone's thoughts immediately turned to The Police - How would it be? Would Sting show us the goods? A joyous cheer arose as Stewart Copeland took the stage, sounded the opening gong, and the band started with "Message in a Bottle." What followed was an uneven but epic performance that took a few days to sink in. Although a tad short at approximately 90 minutes and lacking such classics as "Don't Stand So Close To Me," "Invisible Sun," and "Spirits in the Material World," the set still satisfied the 100,000 or so folks in attendance with timeless tunes like "Synchronicity II," "Walking on the Moon" and "When The World Is Running Down" as well as less-ingrained gems like "Walking in Your Footsteps" and "So Lonely." Copeland promised that the Bonnaroo set would be "the jamband version of The Police," and seemingly delivered as songs like "Wrapped Around Your Finger" and "King of Pain" stretched into undulating, spacey moments unrelated to the song structure. There were a couple of times that I wished they had just played songs in the classic format and overall the music was not technically incredible, but with Sting and Stewart onstage again, they could have played "De Doo Doo Doo De Da Da Da" for 30 minutes and I would not have left.

While Tool's show had an epic feel due to their mammoth musical efforts, all The Police had to do was step on stage together. The show couldn't have possibly been a disappointment for the guy behind me who kept yelling for Sting to "show us his tits," as he was obliged before the last encore.
Sunday offered a much mellower time in the big field, and Bob Weir and Ratdog delivered a pleasing, above-average set featuring a careening "The Other One" that challenged the hottest day of the year in Tennessee for radiant supremacy. By the time Widespread Panic took the stage to close out the festival, I had spent my reserves and took in some of their set from a reclined position, not paying much attention to the music until they broke out one of the biggest surprises of the weekend. In the middle of an otherwise fairly standard Panic show ("Disco," "Travelin' Light," "Surprise Valley," Chilly Water," etc.), I heard the ominous tones of Black Sabbath's "Fairies Wear Boots" arise. Offering some of the finest Jimmy Herring-era Panic yet, "Fairies" jammed into "Space Wrangler" and finally into a drum segment, at which point I decided I had had enough for the weekend.
Rivaled only by the New Orleans Jazz and Heritage Festival in intensity, Bonnaroo is not the music festival for everyone. It's hot, crowded, sometimes dusty, and I've heard that it even turns into a mudfest sometimes (in my three trips, the total rainfall comes out to about an inch). But as the years go by, and the list of amazing shows I've seen at Bonnaroo grows by the dozens, I'm becoming convinced that it is the festival for me. Hell, I'd go for the barbecue alone.
--Bryan Rodgers
All Photos copyright 2007 Dave Rogers (www.away-team.com) except Flaming Lips & Prater's photos by Esther Edelheit & Charlie Louvin photo by Bryan Rodgers