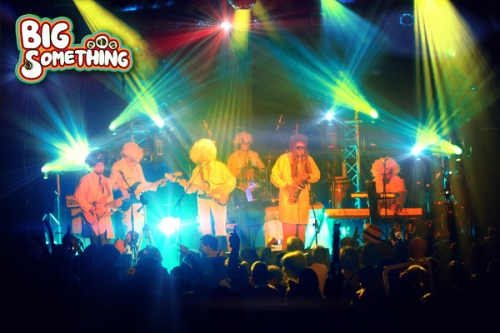 I was really looking forward on kicking off the summer season big with Big Daddy Love and Big Something.  After a scorching day on Thursday the evening's cool air paved the way for an enthusiastic night at the Local 506 in downtown Chapel Hill.
It was my first visit to the Local 506 and my first time out in downtown Chapel Hill. The place was really starting to fill up by the time I walked in and Big Daddy Love was already on stage killing it. I was really impressed with these guys and it was also nice to see Big Something's Jesse Hensley (Guitar) and Casey Cranford (Sax) come out and jam on a couple songs. One of the highlights of the night for me was when they did a rockabilly rendition of "Sweet Child O' Mine" by Guns N Roses.
After a blistering Big Daddy Love set Big Something finally took to the stage shortly after 11 PM. Home Grown Music Network's 2010 "New Band of the Year" began what would become a surreal musical journey. Playing to a full house, Big Something showed us why they're more than just a band, they are a spectacle. Extraordinary musicianship mixed with epic jams, sing along hooks and mesmerizing showmanship captivated the audience throughout the night. Watching the intelligent exchanges between solos added to the magic that makes this band unique. Song favorites like "A Simple Vision", Pinky goes to jail", and "Amanda Lynn" from their album "Stories from the middle of nowhere" rocked the house as fans grooved to the sound of these Burlington, NC natives. Cover's "Mary Jane" by Rick James and "Birthday" by the Beatles playfully made it into the set as per request from members of the audience.
Big Something's encore came on around 1:29am; the crowd wasn't ready to leave just yet but the night had come to a glorious close. Great vibes, incredible crowd, every song better than the last. The energy that filled the air at the 506 on Thursday night was inspiring. It was beautiful to see all the people who came out in support of the bands; longtime fans, new fans alike.  You can check out both bands at the upcoming Big What? Festival August 9th- August 11th in Prospect Hill, NC.
- Pedro Lavezzari
Upcoming Tour dates
Fri Jul 0610:00 pm
The Whiskey, Wilmington, NC
Sat Jul 0710:00 pm
The Blind Tiger, Greensboro, NC
Mon Jul 0910:00 pm
Dog Star Tavern, Fernandina Beach, FL
Tue Jul 1010:00 pm
The Wormhole, Savannah, GA
Wed Jul 119:00 pm
Beachside Tavern, New Smyrna Beach, FL
Thu Jul 1210:00 pm
Jack Rabbits, Jacksonville, FL
Fri Jul 138:00 pm
Skippers Smokehouse, Tampa, FL
Sat Jul 149:00 pm
Guanabana's, Jupiter, FL
Sun Jul 159:30 pm 
Hurricane Bar and Lounge, Delray Beach, FL
Tue Jul 179:00 pm 
Boca Muse, Boca Raton, FL
Wed Jul 1810:30 pm
Will Call, Miami, FL
Thu Jul 199:00 pm
Will's Pub, Orlando, FL
Fri Jul 2011:00 pm
the 5 points pub, Columbia, SC
Sat Jul 218:30 pm
Visulite Theatre, Charlotte, NC
Sat Aug 118:00 pm The BIG What? 
Possum Holler, Prospect Hill, NC
Thu Aug 168:00 pm
Jammin' Java, Vienna, VA
Fri Aug 1711:00 pm
The 8x10, Baltimore, MD
Fri Aug 249:00 pm
The Backstreet Pub, Beaufort, NC
Sat Sep 0110:00 pm - Front Porch Festival 
Spirit Haven, Stuart, VA
Thu Sep 069:00 pm
Martin's Downtown Bar & Grill, Roanoke, VA