The "usual suspects" like Lettuce, Dumpstaphunk, The New Mastersounds, Orgone, and Soulive were joined by lesser known outfits like Freddy's Finest, Mingo Fishtrap, The Main Squeeze, Green Sunshine, Earphunk, Funky Knuckles, and The Heard to spread a thick layer of greasy funk across the Spirit of the Suwannee Music Park. Throw in a helping of soul from St. Paul and The Broken Bones, The Nicholas Payton Trio, Curtis Harding, The Nth Power, and the Alecia Chakour Band, and you've got a good roue for some tasty gumbo. Spice things up a bit with world beats from the likes of Benyoro, Kreative Pandemonium, Locos Por Juana, and See-I, add some meaty rock n' roll from The Broadcast, Come Back Alice, Sister Sparrow & The Dirty Birds, and Copious Jones, and mix in some Break Science, The Floozies, and Catfish Alliance to get everything moving. Now that's a tasty dish!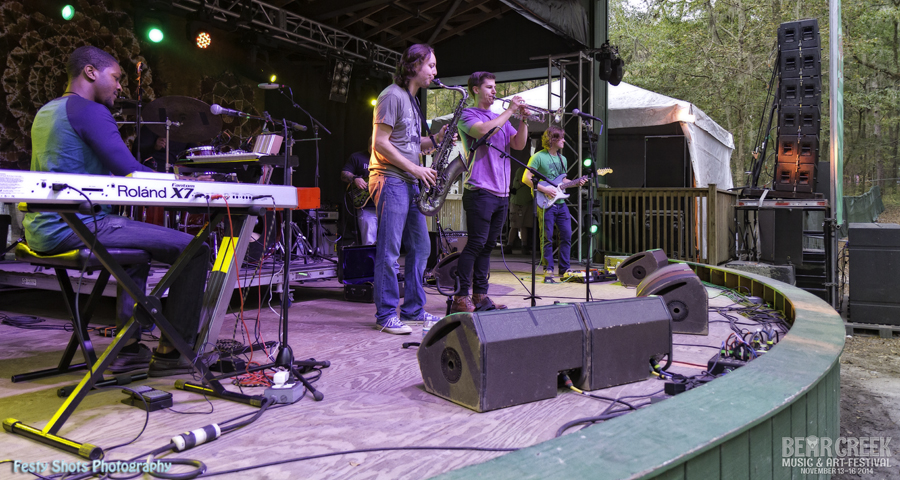 Thursday was sunny and warm as we rolled in and set up camp along Lake Rd. Several of our neighbors had been displaced by the new DC's Forest Stage, situated right near the Amphitheater entrance. It's a big improvement from the Campground Stage of years past; the stage is bigger and it has lights, extending the scheduling significantly. Since we knew some of the refugees from the Orange Blossom Jamboree, we immediately felt right at home. Freddy's Finest from Atlanta kicked things off at the Amphitheater. Gotta love a band with a bass playing front man laying down some funky blues! The Dirk Quinn Band followed over at the Forest Stage. These Philly boys sure got the crowd moving, and Dirk is one bad ass player! The Funky Knuckles hit the Amphitheater stage next. The buzz around the campground was that you didn't want to miss this band, and I'm definitely glad I didn't. This Dallas based group put down some funk-infused, horn-driven jazz improvisation that was out of this world. Asheville rockers The Broadcast were up next at the Forest Stage. Powered by Caitlin Krisko's powerful, soulful vocals, they worked out selections from their newest release, "Dodge The Arrow", along with a couple of nice covers. Next up was Herd of Watts over in the Music Hall. I heard this Jacksonville group for the first time at this year's Orange Blossom Jamboree and fell in love with their funky jams. The addition of trumpeter Paul Jackson to complement Joshua Bible's alto sax really filled out their sound. I hustled back to the Amphitheater to catch See-I, the Washington, DC based reggae/soul outfit that features members of Thievery Corporation. They jammed hard for a very appreciative crowd.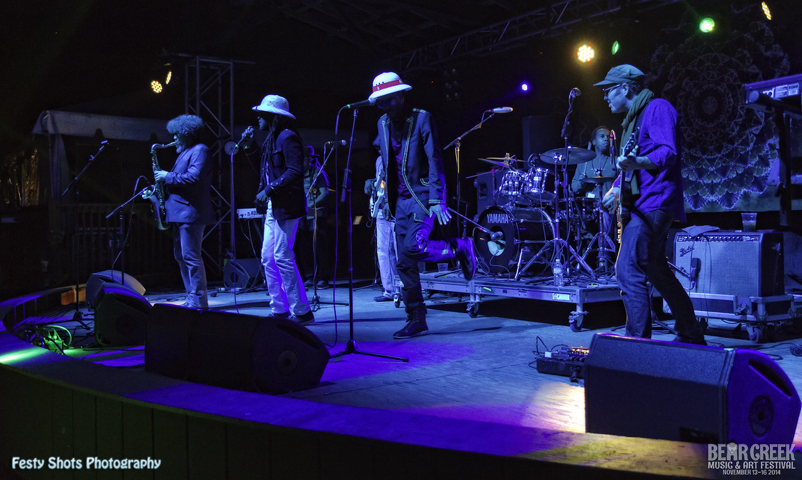 Miami's own Locos Por Juana kept the world beats theme going at the Forest Stage. Opening with a cover of Bob Marley's "Exodus", they immediately hooked the crowd and kept everybody dancing. I reluctantly tore myself away and made the trek back to the Music Hall for S.P.O.R.E. This Jacksonville group plays hard, overdriven, electronic-tinged jams that you either love or hate. I personally love 'em, and they drew a good crowd to what is typically a tough venue (unless it's nasty outside). Zach Deputy took the Amphitheater stage next. In the pantheon of loopers, Zach reigns supreme, and he drew a huge crowd for a Thursday. I stumbled over to the Forest Stage next to catch Mingo Fishtrap. Talk about some hot, Austin, TX funk! These guys really blew me away and earned my prize for best new band on Thursday. Definitely on my playlist. I've owned The Catfish Alliance CD "Sex, Manatees, & Rock 'N' Roll" for two years, but missed their show at my first Bear Creek in 2012, and I was determined not to let that happen this year. So I shagged it back down to the Music Hall to witness them in all their glory, and I was definitely not disappointed. 11-year old phenom Brandon "TAZ" Niederauer even sat in on a tune. Then it was time to hit the Amphitheater for Orgone, one of my all-time favorites. I've seen this LA-based funk outfit perform with three different female vocalists over the last three years, and they've all been stellar, but Adryon de Leon owns the stage like no other. With core members Sergio Rios on guitar, Dan Hastie on keys, Sam Halterman on drums and Darren Cardoza on trombone, they never disappoint. Quickly running out of gas, I skipped The Main Squeeze's set in the Music Hall and passed out in my tent.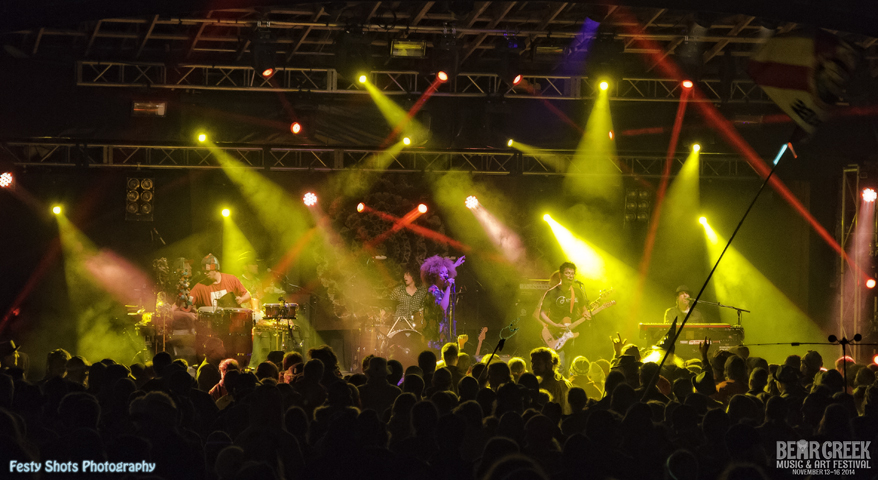 Friday dawned a little cooler than the previous day, giving a hint of the Brrrrrr Creek weather to come. It also brought challenges and choices; six pairs of bands had matching time slots at different venues, starting with Captain Green at the Forest Stage and Copious Jones at the Purple Hat Stage. Since the Forest Stage was a short stumble from my tent, I started the day with Captain Green. This jazz-funkfusion band out of Baton Rouge got everybody fired up, shuffling off any lingering chill from the night before. Their latest CD, "Protect Each Other Together" is a trippy, tour de force that is definitely worth a listen. Adequately warmed up, I hustled over to the Purple Hat Stage to catch the latter part of Copious Jones' set. I'd heard this Atlanta area group earlier in the year at Mountain Jam and dug their rootsy feel and songwriting style. I caught a taste of Curtis Harding at the Amphitheater Stage as he worked through interpretations of rock and soul classics like "Soul Power" and "Drive My Car". Then it was back to the Forest Stage for Yojimbo, a New Orleans trio featuring the frenetic Carly Meyers on trombone and vocals. What a treat for your ears and your eyes! Hurry now, back to the Purple Hat Stage to catch Alan Evans Playonbrother. This side project of the Soulive drummer, guitarist Danny Mayer and Kris Yunker on keys, has been steadily building an audience with their electrified soul rock. Sadly, this set was one of the last as financial troubles are causing Evans to shelve the project. I'm looking forward to the release of the album they've been working on.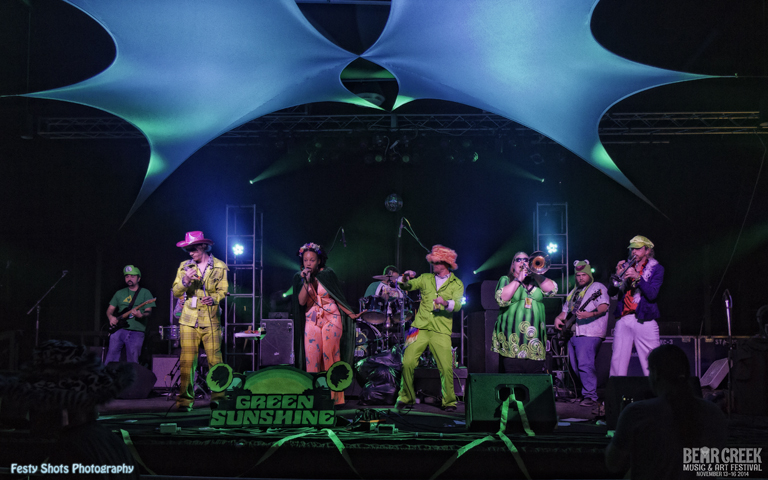 The next pair to be scheduled opposite each other was particularly tough. I love Sister Sparrow and The Dirty Birds, but they were up against Green Sunshine (featuring my daughter Sara on trombone), so I stayed for most of their high energy, funk/hip hop set in the Music Hall. They pulled in a really good crowd, so I don't think anyone noticed when I slipped out and sprinted down to the Amphitheater in time to catch the last two songs from Sister Sparrow, including "Boogie Man" with Roosevelt Collier on lap steel and Bernard Purdie on the kit. Sweet!!! As the crowd cheered, I hustled up the hill to the Forest Stage for Turkuaz. This straight up funk outfit from Brooklyn with a full-throated horn section and backup singers is the real deal, and gets the Friday nod for best new band. But I had to leave early and run down to the Purple Hat Stage to catch some of The Floozies. Electronic dance music isn't usually my thing, but the Hill brothers (Matt and Mark) made it pretty funky and I found myself unable to keep from moving to the beat. As they neared the end of their set, I took off for the Amphitheater to catch the first of two sets from Umphrey's McGee. I always love their shows. They're incredibly talented musicians with tight compositions, and the light shows are consistently mind-blowing. They wrapped up their first set with a cover of David Bowie's "Fame". By the end of their first set, I'd been on the go for eight hours and needed some food and a break. Then it was back to the Amphitheater for Umphrey's second set. They opened with the title track off their new album, "Similar Skin", later bringing Oteil Burbridge on stage for "Bridgeless". I left during their encore to catch Soulive at the Purple Hat Stage. They did an outstanding cover of Jimi Hendrix' "Third Stone from the Sun", then brought Talib Kweli for three songs including The Beatles "Eleanor Rigby". I had to leave early, but I wish I hadn't since Brandon TAZ Niederaeur joined them for a cover of "Manic Depression" that I've heard was really killer. But I was still having a great time since I was grooving to TAUK at the Forest Stage. This NY-based quartet has been everywhere in 2014, from small bars to huge festivals, building up a large following that loves their heavy rock fusion sound. At the end of their set, I drifted over to the Amphitheater to catch The New Mastersounds. Another fixture at Bear Creek, this UK-based jazz/funk quartet really loves the collaboration opportunities at a festival like this. As evidence, their set included appearances by Roosevelt Collier, Jonathan Lloyd, The Heard Horns, Khris Royal, Eric Vogel, Pee Wee Ellis, Brandon TAZ Niederaeur, and Grant Green, Jr. It was a great set to end the day, and I headed for the warmth of my campsite on what was the coldest night of the festival.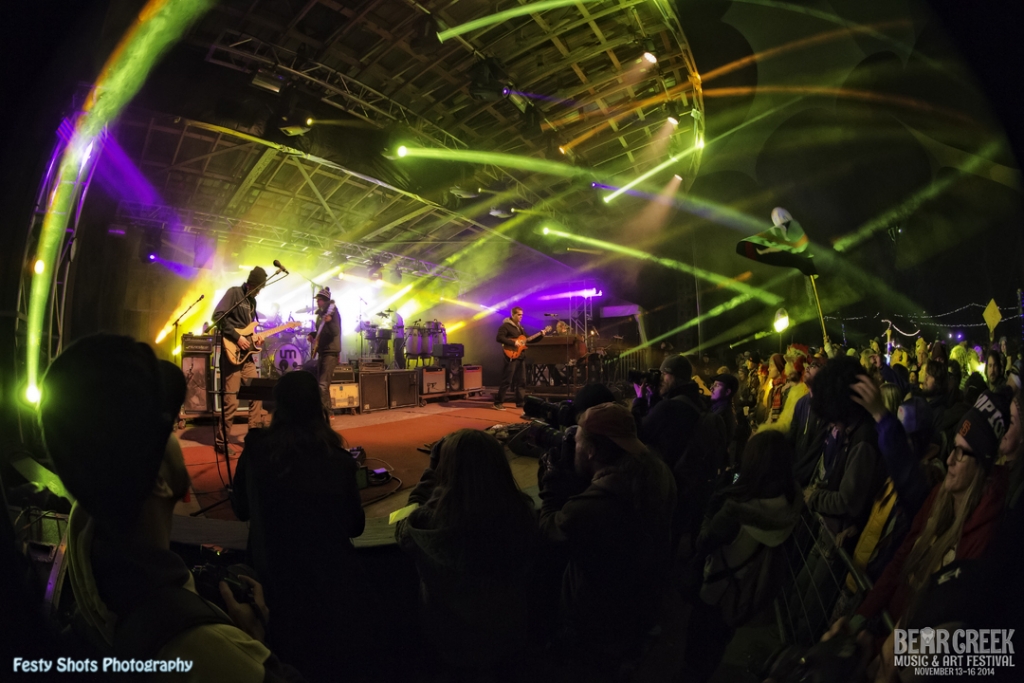 Saturday's schedule was just as jam-packed as Friday's, but with only four pairs of bands playing matching time slots. Mine started with the Alecia Chakour Band at the Amphitheater, and it was a beautiful way to start a Saturday. Supported by her father Mitch Chakour on guitar, their set also featured sit-ins by Pee Wee Ellis, Bernard Purdie, and Eric Krasno. Then it was off to the Purple Hat Stage for The Main Squeeze. I'd missed their late night set on Thursday and wanted to make sure I heard their Chicago post-funk sound. I'm really glad I did! But I had to hustle back to the Forest Stage about halfway through their set since the time slot was shared with Sarasota's Come Back Alice. Tony Tyler (guitar, keys, vocals) is a Macon, GA transplant who must have some Allman Brothers DNA in him. Complemented by the lovely Dani Jaye on violin and vocals, this band plays what they refer to as Southern Gypsy Funk. Keep an eye on them; they're going places. Then it was off to the Music Hall for Kreative Pandemonium, a world music ensemble from St. Louis lead by the ubiquitous Weedie Braimah. This group of young musicians and singers really stole my heart with their positive message and uplifting rhythms. I floated away from there to the Amphitheater where Oteil Burbridge and Roosevelt Collier had assembled a few friends to play some tunes. With Nigel Hall on keys and Nikki Glaspie on drums, their set also featured sit-ins by Bernard Purdie, Nick Cassarino, Jennifer Hartswick, Grant Green, Jr., and Brandon TAZ Niederaeur. Then it was back to the Music Hall to catch Benyoro and their West African Maninka and Bamana music. The blend of traditional instruments like the kora and djiembe with electric bass and guitar was beautiful and good for my soul. From there it was a short stroll down the hill to the Purple Hat Stage and The Budos Band. Their take on 70's psychedelic/prog rock, which includes varied percussion and horns, is quite unique. After a bit, I headed back to the Forest Stage to catch The Fritz. This funk rock group out of Asheville really rocked the house as the crowd boogied hard enough to raise a good dust cloud. Then it was off to the Amphitheater for Chris Robinson's Soulive Revue. As the name suggests, this collaboration featured the Black Crowes guitarist along with the members of Soulive, augmented by The Shady Horns from Lettuce. They probably should have included George Porter Jr. as well, since he played on all but two songs and provided vocals on "Sugaree". I stayed for the whole show, then headed up to the Forest Stage for Earphunk. I first saw this New Orleans group at Bear Creek in 2012 and tracked them on tour, hoping they'd come close enough to my home for me to hear them again. No such luck. So I was pumped to finally see them again. They put together a great set, mixing tracks from their newest album, "Sweet Nasty" in with earlier work and a smokin' cover of "Whipping Post". Then it was back to the Amphitheater for some more Umphrey's!! You can never have too much Umphrey's, in my opinion. This set featured a cover of Huey Lewis and The News' "Power Of Love" with Simon Allen on drums and Khris Royal on vocals, and one of my favorites, "Pay The Snucka". Nicholas Payton sat in on trumpet for the encore tune "Day Nurse". I made a mad dash over to the Purple Hat Stage for the first appearance of Lettuce. There's no doubt about it, Bear Creek LOVES this band. I hung for a good bit, then grabbed a quick bite to eat before heading to the Music Hall. TAUK was cranking up their second set of the festival, kicking it off with a sit-in by Skerik! Around midnight, I headed back to the Amphitheater for the Dumpstajam. This is another Bear Creek tradition, with Dumpstaphunk hosting a jam with whoever wants to get down and funky. However, it got started late, there were large gaps between songs, and some of the jams seemed to get stuck in a loop waiting for someone to take a solo that never materialized. It got tighter as the set evolved, and it was a good way to end the night.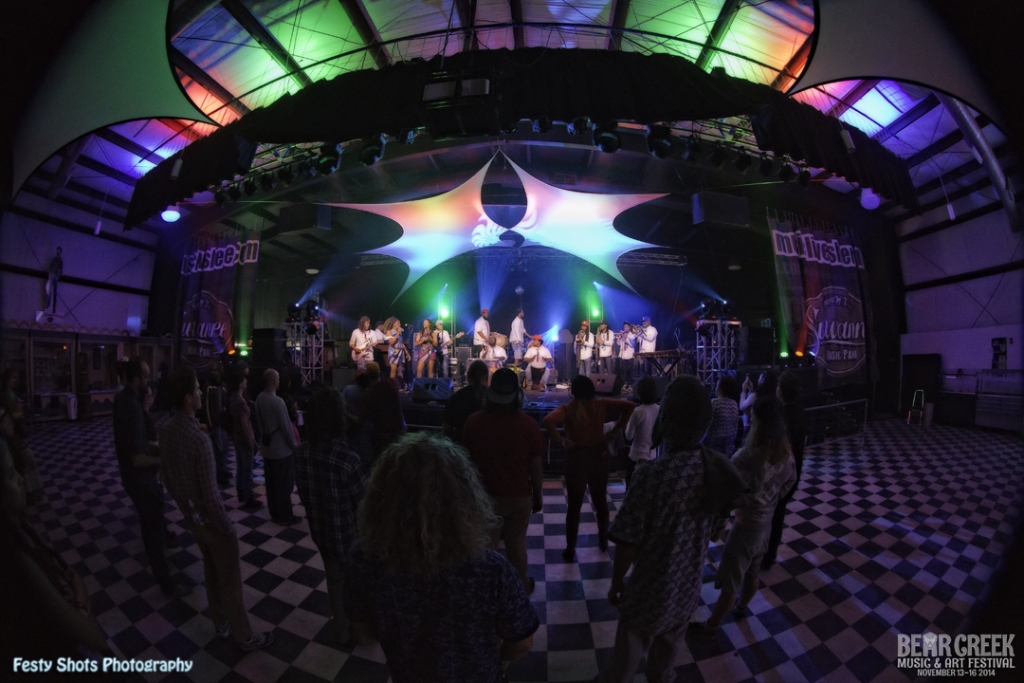 I was slow and sleepy on Sunday and didn't manage to get to a stage until 2:30. That's when I was jolted to life at the Amphitheater by St. Paul & The Broken Bones! I'd listened to their CD, but the live performance was much more intense. These Alabama boys have got soul! Paul Janeway channels a mix of Al Green and Otis Redding, pouring every ounce of his being into every song. This is a band you don't want to miss if they make an appearance anywhere near you. Next up was The Nth Power at the Purple Hat Stage. It was a sweet Sunday afternoon, and they delivered a soulful set that fit the day like a glove. Then it was time to head to the Amphitheater with all your cares and worries and let Dumpstaphunk help you put 'em in the dumpsta! The New Mastersounds followed back at the Purple Hat Stage, and Lettuce closed out the 8th annual Bear Creek Music and Arts Festival back at the Amphitheater. As we wandered back to camp, saying our goodbyes to folks that were heading out, we basked in the warm glow of this special festival and the family that makes it feel like home. It's been our November tradition for three years in a row, and I'm looking forward to many more years to come.
Words and photos by John Wayne Phillips