What made this year so special was that the organizers seem to listen to the fans each year and build on the success of the previous years, with much more diverse music and other amenities making it a huge accomplishment in my eyes. There are some festivals that have so much going on as far as extracurricular activities that if you had FOMO (The fear of missing out) then you would be in trouble if you wanted to see music and partake in the other activities. At Bear Creek the focus seems to be on the music and the party ensued by the intimacy of friends and family coming together to create a magical moment.
Thursday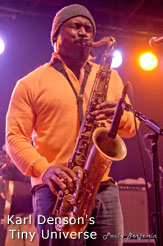 Arriving at the venue, my friends had rented an RV from Bear Creek who had them set up and ready to go once we got there. It was amazing not having to setup anything, just throw the stuff in the RV and we're off to the races. The RV's were conveniently located next to the Purple Hat stage which in years past has been a huge tent but for some reason this year they changed it up and put up a nice sized stage in its place.
We were able to catch an amazing set by Karl Denson and his Tiny Universe. This was by far one of the best performances by Karl Denson I had seen and I've seen him to many times to count. I think what did it was his old friend from the Greyboy Allstars Robert Walters accompanying him on keys. This funk train was on track from beginning to end. During the set Karl really impressed me by showing off his talents when he ended up behind the keyboards with Mr. Walters and started ripping it on keys proving he's got IT.
Friday
Today was a beautiful Florida day for music, getting it started on the Purple Hat Stage was Shane Pruitt, a power house guitarist from Spartanburg, SC. Shane's blend of blues and rock are downright filthy. Shane is backed up by a very solid band with the likes of Hammond B3 player and vocalist Lil' Jimmy Peterman who is a founding member of the Steve Miller Band and Drummer Bill Fletcher who once toured with Robin Rodgers. During the set I was thinking to myself that I could hear a little Eric Clapton in his style of playing and BAM! They slayed "Why does love have to be so sad" by Derik and the Dominos. The intense energy coming from the band as a whole hit me in a way that not too many bands can do. I shed a slight tear during one of his solos which hasn't happened in god knows how long. Shane and his band look to be releasing a new album here shortly that looks to be a real treat of "Live" tracks from recordings of stellar performances from 2011.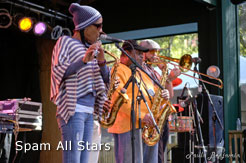 The day continued with The Spam Allstars on the righteous Spirit of the Suwannee Big IV Amphitheater Stage. This set is when I started noticing some of the artists at large like the infamous "Pee Wee Ellis" and The Lee Boys "Roosevelt Collier" who both made the Allstars and other bands throughout the weekend music shine. 
I was privileged to see later in the day Dr. Lonnie Smith who has been a legend in the Jazz community for quite some time. Playing his Hammond B3 the doctor set the mood with a mellow jazzy ensemble. I left for a bit and came back to a much more upbeat sound where I really saw the raw talent of Dr. Smith and his band go off. If you get a chance check out his tribute to Jimi Hendrix albums they are a juicy taste of a master at work.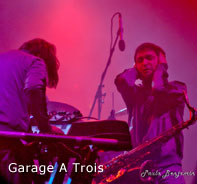 I had a feeling it was going to be a special night because of the alignment of the date being 11/11/11 with a full moon and man was I right. Next up was the band that everyone seemed to be waiting for all day; the excitement was full throttle for Garage a Trois. Garage a Trois consists of Mike Dillon on Vibraphone/Percussion, Skerik on Sax, Stanton Moore on Drums and Marco Benevento on Keys who marched on stage in silver striped space suits from the looks of it. This group of characters when put together can lay down some nasty hitting crazy sounds. To begin, the songs were led by Dillon's Vibraphone, and damn did it sound awesome. With the infused sound of Skerik, Moore and Benevento this set turned out to one of the hottest of the weekend. Their music starts out as a structured melody but soon becomes a journey into the improv unknown and somehow they bring it all together with a musical intellect that far surpasses the average band. During the set Skerik channeled the demons within with his rants of nonsensical gibberish then chanting "No Marco, No, No Marco No! As Marco summoned his Organ to scream bloody murder; leading into a whirlwind of raw musical tones. The end of the set turned into a crazy punk rock tune where Dillon sported the wife beater t-shirt and pounced around the stage yelling, fully embellishing the punk era to a tee. 
Tonight became a Warm & Fuzzy costume party where the festival asked if everyone would sport their warm and fuzzy animal costumes, or any other strange fuzzy attire you can find, so the freaks were coming out for sure. Another fantastic thing Bear Creek had to offer over the weekend was the Groove Shark silent disco raging till 5am each morning. One of the highlights was DJ Kraz (Eric Krasno) who mixed in his tunes to a phenomenal upbeat DJ set. It was so funny to watch people dancing to nothing until you were inside wearing the headphones.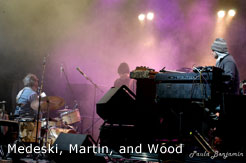 Other notable acts throughout the night were the amazing Medeski, Martin and Wood, Galactic, Soulive, Beats Antique and another set by Karl Denson who covered The Rolling Stones "Sticky Fingers." Thank god they had the late night shows inside because it was freezing outside, I think the temperature was 20 below, I'm exaggerating just a little but you get the hint. Within the confines of SOS Music Hall an enchanted set by Dr. Klaw and one of Skerik side project Hairy Apes BMX threw down till around 6am.
Saturday
Another fun filled day of music started with a new band for me, Snarky Puppy. Snarky Puppy is a Brooklyn-based instrumental fusion jazz band led by bassist, composer and producer Michael League. With 10+ people on stage it made for a very interesting high energy show to start off the morning.
What really set off the day was the Marco Benevento set. His eclectic organ was still ringing in my ear from the night before. Right about mid-day I really was torn on whom to see, would it be The Funky Meters, Shak Nasti or Greenhouse Lounge. Wanting to see all three I sparingly ran to all of them to get a glimpse of each act, this is where I don't care too much from the overlapping sets, but Bear Creek counters that by choosing a lot of acts to play twice which is nice.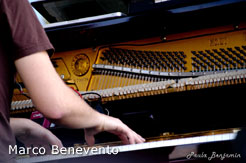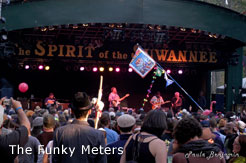 Tonight was another costume party deemed "Funk Soldiers Gone Wild" The Festival asked if everyone could bring their leisure suits, disco glasses, bell bottoms etc... to make it a FUNK PARTY! The New Mastersounds with their English style funk started the early evening with Lettuce soon following. With Eric Krasno at the helm and Adam Deitch beating the drums like no other, Lettuce fulfilled my every expectation with the funkiest set, by one of the funkiest band.
The headlining act of the festival went to The Trey Anastasio Band on the Big IV Amphitheater. I wasn't really holding my breath for this set just because I know what to expect when I see Phish and that's full throttle Trey at his best, taking their music to another place at any given time. When he's with the Trey Band his music is much more arranged and he really doesn't venture off the beaten path that much; he gets to the point and moves on. The songs however; are magnificently catchy and with Jennifer Hartswick and the rest of his band backing him up it gives the music a full bodied flavor of tones that kept the crowd rowdy. (Push On Til' The Day, Cayman Review, Burlap Sack & Pumps, Gotta Jiboo, Magilla, Money Love & Change, Sand, Valentine, Ooh Child, The Devil Went Down To Georgia, Simple Twist Of Fate, Small Axe, Shine, Alaska, Mr. Completely, Tuesday, Clint Eastwood, First Tube Encore: Pigtail, Heavy Things, Black Dog) The Amphitheater is one of my favorite spots to see music; where else can you lie back in yours or someone else's hammock to chill for a bit and still see the show.
After the show and a quick bite of the tastiest Asian pasta chock full of veggies we were lured back into the silent disco for a quickie then it was off to the icing on the cake, the Dumpsta Jam with Ivan Neville leading the way. A smorgasbord of talent offered to make this a funktified good time. Zach Deputy, Eric Krasno, Skerik, Nigel Hall, The Shady Horns, Robert Walters and the list just goes on and on making this a very special set. Some of the late night sets kept the night going with such acts as Big Gigantic, Dopapod, Jennifer Hartswick Band and Break Science with non-other than Adam Deitch on Drums.
Sunday
Today the music continued with a full day of greatness. After 3 days of raging I was ready to take it easy and what better way to do that than a little off beat jazz from the Jacob Fred Jazz Odyssey. The eclectic jazz group with special guests Skerik and his horn buddies went into an experimental vortex of music at some points rising to a cacophony of sounds that only jazz musicians now how to achieve.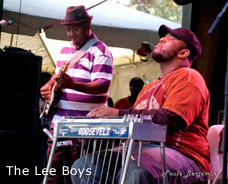 Up next, one of the best sacred steel ensembles, The Lee Boys took the stage with a blistering set. To my surprise one of many special guests that caught my ear was Shane Pruitt. With his bluesy sound and Roosevelt's steel pedal it was a match made in heaven. Saving one of the best for last, Bear Creek summoned an Orchestra at Large set which consisted of the artists throughout the weekend who were at large, playing with every band they could. Will Bernard took the pleasure of organizing and being the leader of the orchestra which turned out to be: Topaz (Sax), Skerik (Sax), Pee Wee Ellis (Sax), Jonathan Lloyd (Trombone), Scott Messersmith (Percussion), Johnny Vidacovich (Drums), Jamie Mclean (Guitar), Will Bernard (Guitar), Nikki Glaspie (Drums), Roosevelt Collier (Slide Guitar), Reed Mathis (Bass), and Robert Walters (Keys). The first tune was Snakes and Spiders which is the first song on Robert Walter's Cure All album. Continuing with all covers we also heard Sly and the Family Stones "Thank you" and "Dr. Watson".
The festival was soon coming to an end but not before 4 power houses; Yo Mama's Big Fat Booty Band, The New Mastersounds, Lettuce, and the capper an amazing set by Dumpstaphunk.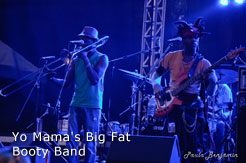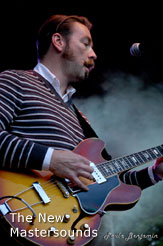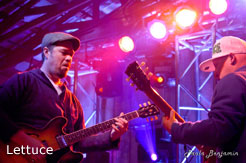 I really look forward to seeing what's in store next year and how they can top this one. Each year I'm more impressed than the year before and I am guessing the planning stages have already begun because to make a festival as successful as this I'm sure it takes a full year of organization and planning. My Hats off to Paul Levine and the whole staff for making this event so special. Thank You!
Article by: Brad Winecoff
Photos by: Paula Benjamin