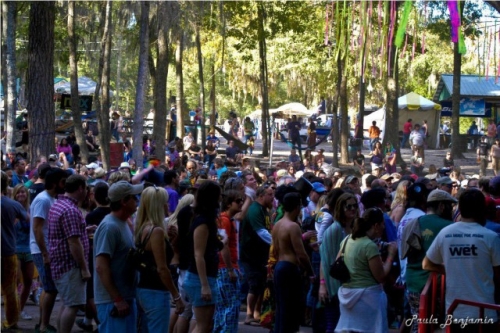 If you've never been to Suwannee, it's not like the typical Florida beach setting you would think of, Suwannee sits on a limestone bed riddled with underground freshwater streams that surface in dozens of beautiful springs. This phenomenon, known as "Karst topography", gives the area a local supply of renewable fresh water and abundant sources of great fishing. If you felt like playing hooky from work for half a week and paying a little extra the festival was prepared for you with a pre-pre party on Wednesday and a pre-party on Thursday, both days were filled with some great music. On Wednesday the party consisted of Aquaphonics, Honey Island Swamp Band, Zoogma, and The Heavy Pets and if that wasn't enough the next day was even more action packed. Bear Creek spared no expense for Thursday's pre-party with the likes of Umphrey's McGee playing 2 sets, Garaj Mahal, Rebirth Brass Band, Toubab Krewe, The Heavy Pets, and many more.
This year's festival brought back some familiar faces that through the years have seemed to have bonded into a special Bear Creek musical family who gather to this magical place to rage it with their friends and fans all weekend. This year Bear Creek welcomed back Eric Krasno and his 4 different projects (Soulive, Lettuce, Chapter 2 and Dr. Klaw), The New Mastersounds, Toubab Krewe, Ivan Neville's Dumpstaphunk and many more. I think it's safe to say that Bear Creek is deemed the "Funk Festival"; keeping with what works is all good but this year it was nice to see the festival having a more diversified side with a better blend of electronica which added to the mix. The New Deal, Papadosio, Zoogma, The Malah and Greenhouse Lounge to name a few were present this year to represent the trance infused genre.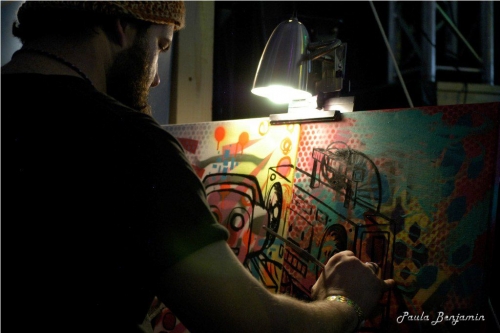 Along with all the music during the festival, there were an abundance of painters and various artists creating a plethora of inspiring canvases during performances. One notable addition to this year's festival that stood out among everything else was Ralph Steadman's art work printed on all the new festival shirts and a limited number of signed festival posters. Ralph Steadman is best known for his collaboration with the infamous journalist and author Hunter S. Thompson.
Friday
Friday we were able to get down to the river and check out the banks of the ole Suwannee in a very enjoyable 4 mile canoe trip.  I highly recommend for anyone that visits to make time for this amazing trip.  The 2 hour journey took us through mile after mile of white sand beaches, ancient limestone bluffs, and the peace and joy of nature. After such a relaxing ride we were ready to start the day and see some favorites as well as some first-time seen bands. With 31 bands and DJ's on 6 different stages there was way too much to write about so I'll mention the highlights throughout the day.  My favorite during the day was a new band for me, John Brown's Body, a dub infused reggae with a little drum and bass, this band held down tight rhythms with an exceptional horn section and vocalist Elliot Martin leading the way with upfront, strong and meaningful vocals.  Greenhouse Lounge was another band worth mentioning.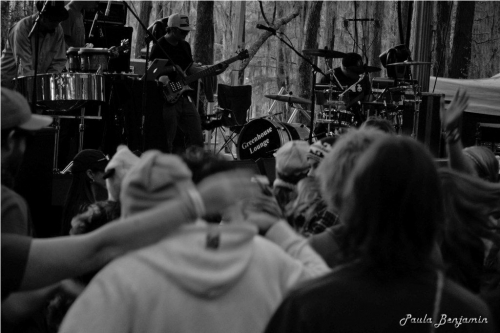 Chilling at our camp the night before we had overheard a band playing across the way in what sounded like the RV camping at around 3:30am, raging like late night music should. I really couldn't make out who the band was until we heard over the PA "we will be at the Campground Stage at 4:30pm, come check us out." Quickly I pulled out my schedule to see who was playing at that time and it was Greenhouse Lounge.  This was one band I would have loved to have seen late night on a good sounding stage.  This band from Jacksonville FL brought out some sweet samples of 50 cent, Dead Prez and Lil' Jon, and they laid down melodic well-crafted beats that left the crowd yearning for more. Toubab Krewe was another band that left your jaw dropped; playing on the Big IV Amphitheater, (the primary stage and the most beautiful stage on the grounds) with Roosevelt from the Lee Boys and a heavy hitting horn section gave the set a unique twist on their world beat tones.
On the way back to camp we stopped by the Purple Hat Tent which was named in remembrance of Rachel Hoffman' an area music aficionado who died. The 23-year-old college student was known among festival organizers and musicians at Suwannee for her "free spirited'" enthusiasm for live music' and her trademark purple fuzzy hat that she wore at music festivals.  In the Tent was DJ Alex B from the band Pnuma Trio. This DJ set was so good, I usually don't get into dancing to DJ's, (I need instruments) but Alex B's set was a total exception with his insane mixes and non-stop beats.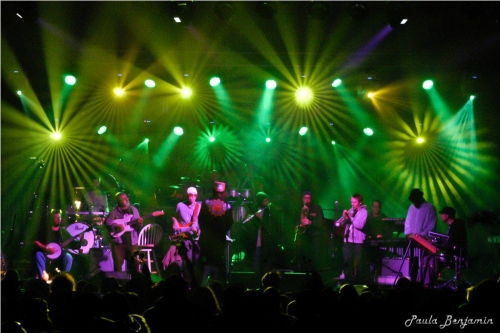 The Everyone Orchestra was next on the "most stellar music of the day" list.  EO is a unique conglomeration on musicians gathered by conductor Matt Butler who takes improvisation to a whole new level.  Holding large signs (which had all kinds of different phrases and words) up for both the audience and musicians, it's group participation like no other.  The band members Matt Butler carefully picked were Fareed Haque, Kai Eckhardt, Jans Ingber, Jennifer Hartswick, Joel from Umphrey's McGee, Jeff Mosier from Blueground Undergrass and members of Toubab Krewe. With so much improvisation in the air even the painters were catching the improv fever by taking turns painting some very unique art on the Everyone Orchestra sign. With this unbelievable lineup of super musicians how can you go wrong?
As night fell, it was time for Zach Deputy, Umphrey's, Soulive and The Newmaster Sounds. Nestled between the Amphitheatre and the Purple Hat Stage was the Uncle Charles stage  where we saw one of the best turnouts for one of the best one-man bands around Zach Deputy. Zach brought the dance party and some nice beats. Soulive started out with classic Soulive then erupted into Beatles mania promoting their new album "Rubber Soulive" a superb interpretation of instrumental Beatles songs.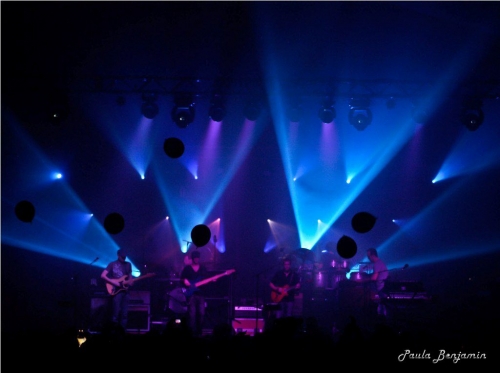 Then Umphrey's McGee killed it again, after Thursday's performance I was excited to lap up more. Thursday's set went like this (Set 1: 2nd Self, Rocker Part II, Cemetery Walk, Ringo > Much Obliged > Ringo, Bright Lights, Big City > Shine on You Crazy Diamond Set 2: Bad Poker, Pay the Snucka > Dump City, Slacker, Everybody Wants to Rule the World/The Way You Make Me Feel > Glory > Plunger, Pay the Snucka, Cemetery Walk II Encore: All in Time.) I have to say that the "Shine on you Crazy Diamond" was one of the best covers by a band I have ever heard hands down. That awe inspiring set is what left me yearning for more. The Friday set went like this (Set 1: 1348, Resolution > Wellwishers, Hurt Bird Bath > Making Flippy Floppy > Hurt Bird Bath, Women Wine and Song, Nothing Too Fancy, Ocean Billy > Barracuda, Hangover) Hearts "Barracuda" was a sweet rare cover with Jennifer Hartswick sitting in, I believe that they have only played it like 3 other times.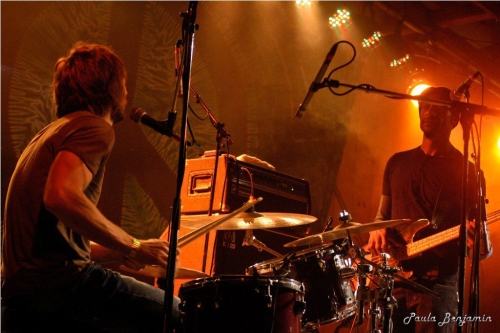 The New Mastersounds closed out the night with very special guest, Roosevelt Collier on his lap steel, Mike Dillon on congas, Jennifer Hartswick vocals/trumpet, Brad Hauser - baritone, and Jonathan Lloyd – trombone. The set was off the chain with a raw "new funk" sound with a groove that only The Newmaster Sounds can deliver.
Saturday
Saturday we started the day with George Porter & The Runnin' Pardners who gave a New Orleans wakeup call to patrons that stayed up all night long. George Porter gave us a taste of the funk with Iko Iko, Hey Pocky Way, Sneaking Sally through the Alley, and I Get High (Every time I think about you.) Later in the day it was a true privilege to see the hard hitting Sax player Maceo Parker.  Best known for his work with James Brown, Maceo gave a performance that left you wondering where the spark was.  The funk and gospel were there and the band played extremely well but it lacked the enthusiasm and energy I was expecting from such a big name, a defining highlight of the show was his famous "Pass the Peas" song and when Maceo sported sunglasses and performed a nice Ray Charles cover.  Soon after we headed to the Music Hall where there were two stages set up with a nice bar.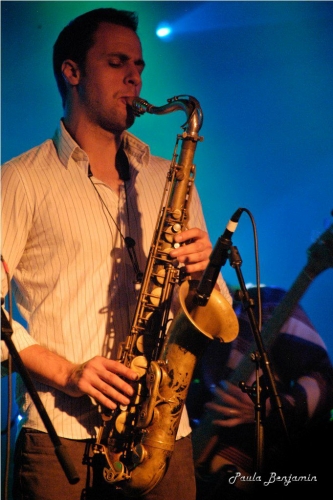 On the Music Hall Stage Cadillac Jones from Atlanta GA. laid it down with some impressive heavy hitting funk with an Atlanta favorite, Donna Hopkins sitting in for a few.  Giving me an ear full, Caddy Jones was probably one of my favorite new bands of the festival and one that I will keep an eye on in years to come.  The visuals on the stage were the strangest I have seen in a long time, there were two bears on either side with a projector on both of them showing a video of dancing chickens inside the bear if you can imagine that. A welcomed and new family member to Bear Creek was next, moe. I think mostly everyone that came to Bear Creek made it to this show and what a show it was.  In honor of their 20 anniversary tour moe decided to dress up for each gig in slick looking suits. 
Looking sharp as ever moe came out with a killer set (The Pit > Don't F**k with Flo, Happy Hour Hero, Wind it up, Spine of a Dog > Buster > Yodelittle > George, Brent Black, and Encore: Seat of My Pants.) Having a hurt foot didn't hinder Basses Rob Derhak at all; even though he had to sit for the performance the energy of everyone in the band exploded through the elated crowd.  Sitting in with moe was Mike Dillon on percussion during "Don't F**k with Flo" and Sam Kininger on sax during "Happy Hour Hero" Sam brought the set to a new level of energy during his stint. The rest of the set was fantastic with old school moe mixed in with some more recent tunes.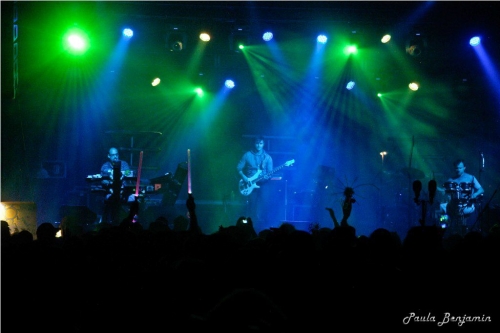 Later that night, we checked out The New Deal who pretty much blew the roof off the Purple Hat Tent. The three piece band gave such an impressive show, I don't think I witnessed anyone standing still during this set, it was out of control. Lettuce closed it out Saturday with Eric Krasno leading the pack with a heart pounding array of a funky, soulful in your face music but it was nothing compared to Sundays Lettuce set.
Sunday
I thought Sundays were about rest and relaxation, not at Bear Creek. The festival had music up until midnight. Today we did get a little rest for most of the day just so we could make it another night.  Starting in the afternoon there was George Porter, Zach Deputy, Josh Phillips, and Brock Butler. I'm sure all of them were excellent.  We did make it for a second dose of Lettuce but this time it was with some legendary musicians that put a staple on the festival. (King of the Burgs > Nyack > House Party >The Chicken > MACEO Jam > Got to Get U > I Got You (I Feel Good) > Shake Everything You Got > Breaking Bread >Super Bad) guests include: Fred Wesley, Peewee Ellis & Maceo Parker. The New Mastersounds hit it up again but this time they had help from Zach Deputy & Nigel Hall. That was the first time I have ever seen Zach stand up and play with someone, it was very special in deed.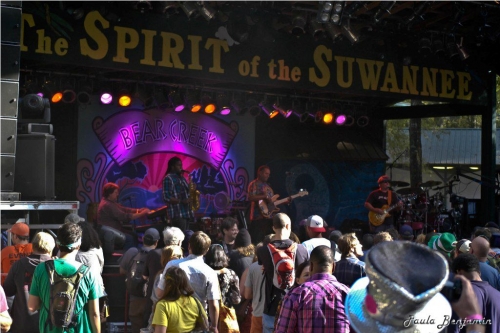 The festival came to an end with Dr. Claw, DJ Logic, and Dumpstaphunk. Dr. Claw is a musical collaboration from New Orleans that is a rarity to see.  Dr. Claw consists of Eric Krasno, Adam Deitch, Nick Daniels, Ivan Neville, and Nigel Hall. They dropped another funk bomb with this one playing some favorites like Stevie Wonder's "Higher Ground" and The Headhunters "God Made Me Funky".  There were so many artist that sat in with them it was ridiculous, Kofi Burbridge, Adam Smirnoff, Maurice Brown, Ryan Zoids, Skerik, and Sam Kininger just to name a few that graced the stage during this mind-blowing set. Saving the best for last it was time to pull out the big guns with Ivan Neville's Dumpstaphunk.  Yet another Funkafied set by one of the masters of funk. The set went like this (Fight The Power (Isley Brothers cover) > Deeper (w/ Skerik & Pee Wee Ellis) Gasman Chronicles (w/ Skerik & Pee Wee Ellis) My Freedom > Put It In The Dumpsta >Liar (The Meters cover) > Everybody Want Sum > Meanwhile >Unfunky UFO > drum solo > (Parliament cover) (w/ horns) Paper Chasing Britney > You Can Make It If You Try (Sly & The Family Stone cover) (w/ horns & flute). What a way to end the festival, as always Ivan Neville put everything on the line and made New Orleans proud.
Bear Creek has achieved one thing that I believe stands out among any other festival, a sense of family.  This is what sets Bear Creek apart from others. That sense of togetherness that you know will be there year after year which is felt among the returning artists and fans year after year. One thing is for sure Bear Creek is not going anywhere; the promoters already have a line up for next year which will feature none other than Medeski Martin & Wood featuring John Scofield, The Funky Meters, Karl Denson, Pimps of Joytime & John Cleary.  See you next year.
- Brad Winecoff
- Photos by Paula Benjamin