For all the merits of the North Carolina music scene, and there are many, Wednesday night "sell outs" are uncommon.  Such was the buzz created by Bassnectar for his two day jaunt through North Carolina, playing the Lincoln Theater in Raleigh on Wednesday, 9/21 and Charlotte the following night.  Both shows "sold out" days in advance, and this negated long lines at the door of the Lincoln when I got there.  If you wanted to witness the Bassnectar "live" experience in Raleigh that night, you had to plan ahead.  The Lincoln was filled to the rafters with 800 wide-eyed (or is that "wide-pupiled") Bass Heads, so there were no "after thoughts" getting into the building that night.  Lia Holland from Bassnectar Labs had hooked me up with tickets, so we thanked her quickly at the merch booth, and made the climb upstairs.  We found a great spot along the front of the center balcony, settled into two Firefly Sprites, and enjoyed watching tons of enthusiastic, beautiful people.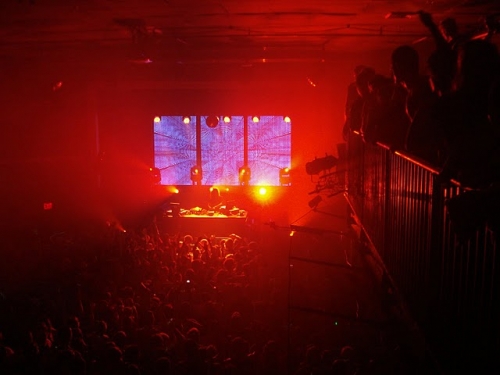 Since I would be reviewing this show for Home Grown, I went in hoping to create a setlist for the evening.  I was to learn that chasing a setlist at a Bassnectar show is a largely fruitless endeavor.  Lorin Ashton, the mad scientist at the helm of Bassnectar, explores trains of thought more than songs.  He finds his beats and embellishes them with intricate accentuation and throbbing bass lines.  The crowd swarms towards the stage, laughing, giggling, banging their head more than dancing.  Yells of delight and mid week hilarity punctuated the brief segments of quiet between passages.  Ashton stands at his control panel like some Admiral on the Seas of Hallucination.  He is silhouetted by intense yellow lights, the flash of blue, and moves in minimal fashion compared to the extroverted explosions he generates. 
I was tickled to hear passages of "Boombox" mutate into the spirited beats of "Bass Head."  My red-headed compatriot yells with delight, then nearly cries when "When I Grow Up" is played.  She has been drawn to that track, and the lovely chanteuse voice that frames it, in the year that we have explored the "Cozza Frenzy" album.  The crowd responds with boisterous yells and roars of approval.  On instances where I escaped for a drink or to the restroom, I could feel the bass coursing through the building's architecture.  The joists of the building throbbed, paper towel machines rattled in their own screws, while Bass Heads rattled in their own teeth.  Such was the thump and power of Wednesday Bassnectar in Raleigh. 

After a two hour display of eye-splitting lasers, intense bass, and wicked mixing skills, Ashton claims to have "one more song to play."  He then tears into an extended remix of Metallica's "Seek and Destroy."  This song ventures through varied layers of intensity, prompts my own head banging and reminds me that I'm not the kid I used to be.  I'm fine with that, but the incipient headache reminds me why I gave up the Mosh Pit.  Ashton finishes his set but remains on stage for a good twenty minutes afterward, as lines of eager fans paw at him for signatures and validation.  The Bass Heads, both old and freshly minted, clamor for the chance to meet him.  I can't see his face, but he waits patiently, and signs most everything placed in front of him before making his exit into the Raleigh air.  The RedHead and I gather our eyeballs, cheek bones, and any other various body parts that fell off in the "face melting," and make our own way out into the night.
- by J Evan Wade