Friday
Driving through this western South Carolina city I could see the passion the city has for its horses. Aiken is known throughout the world as "Horse Country," for its excellent thoroughbred racehorse training facilities producing such champions as 1990 Preakness winner Summer Squall and 1993 Kentucky Derby winner Sea Hero. The festival was held near downtown Aiken at the Highfield Event Center which is a large 60 acre equestrian facility.  When we pulled in we were promptly directed to go to the back of the facility next to the stables where the RV hookups were, a pleasant shady area for tent camping was also available near the entrance.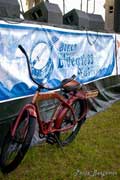 This weekend Highfields also held another event, the PSJ Horse Show, so as you can imagine there were some magnificent horses galloping around all weekend.  Within the festival there was a nice covered stage setup for the bands as well as a large covered tent with tables and chairs setup for the guest to block from the elements such as the sunny 95 degree weather and the upcoming scattered thunderstorms.  The vendors this weekend consisted of a nice arrangement of different choices like pizza, BBQ, hamburgers, hotdogs, and a kettle corn stand just to name a few. In the far corner of the area was a nice kid's area with tons of hand crafting activities for the little ones.  Tonight the festival had a $50 cover which included a wonderful buffet of delicious BBQ and an all you can drink bar compliments of New Belgium Brewery the makers of Fat Tire beer based out of Colorado who were one of the major sponsors of the festival; they also had a raffle for one of their very sweet bright red nostalgic looking bicycles where all proceeds went to the STAR Riding organization.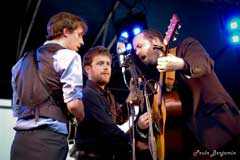 The music started around 6:00 with an Asheville, NC favorite, 4 time veterans of the Aiken Blue Grass Festival, Town Mountain.  Town Mountain can best be described as a modern bluegrass "LIVE" band.  You really need to see them live to get the full spectrum of the band.  Knowing this, they have recently released a spectacular live, in studio album called "Steady Operator".  The set started off very smooth with some fantastic brand new tunes; a couple especially caught my ear, "Leave the Bottle" by banjoist Jesse Langlais and "You Weighed Heavy on my Heart" which showcased their new addition, Bassist Jon Stickley. Guitarist Robert Greer and the band then pulled out a pleasant cover by the Wood Brothers, "Loaded" which truly gave an idea of the versatility of the band. The next song featured mandolinist Phillip Baker with an instrumental by Bill Monroe, "Southern Flavor". The set was suddenly interrupted by a dark nasty storm that swept in like a rolling river but as soon as it arrived it dispersed and the festival was back in business. Thanks goodness the storm came because it brought much cooler temperatures to the already hot muggy day. Town Mountain came on again for a couple more songs and that's when I really notice violinist Bobby Britt and the amazing tone coming from his fiddle, I think they must have turned him up after the storm because before he seemed to just blend in with the rest of the instruments. Town Mountain finished out the set with "Falin' off the Wagon" and a beloved "Sparkle City" both from Steady Operator.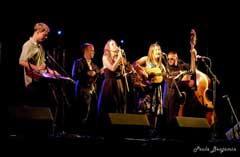 Next on the roster was another Asheville, NC band by the name of Dehlia Low.  Dehlia Low is known for their melodic harmonious tones which come from the two leading ladies, Anya Hinkle and Stacy Claude who separately have delightful angelic voices but when brought together it's like a match made in heaven.  Matching their perfect harmonies in the band was one of the most outstanding Dobro players that I've heard in a long time, Aaron Ballance along with Bryan Clendenin on Mandolin and Greg Stiglets on Bass. During the set Anya showed just how talented she was playing the fiddle like no bodies business.  The band played mostly originals that were an impressive showing of their Folky Americana side as well as some unique covers thrown into the mix, like an off the wall Willie Nelson song "What Do You Think of Her Now" from his Crazy: The Demo Sessions which is a compilation of songs written by him back in the 60's but not released until 2003. They took his song which is only a minute or so long and skillfully added their own lyrics to make it their own.  The band went on to play the title track to their new album coming out named Raven's & Crow's which is due out August 2nd; a slow and melodious tune that seemed to make me sway back and forth uncontrollably.  The band closed out their set with some splendid originals; this was my first time catching Dehlia Low live and I highly recommend checking them out when they come to your town.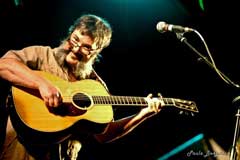 The last act of the night was the infamous Larry Keel and The Natural Bridge who took the stage and picked their way into the hearts of everyone there.  The set started out of the gates fast and furious with a gripping instrumental, getting most of the audience up out of their chairs.  The set continued with Larry's raspy, growling yet sweet vocals on "Mountain Song".  Mandolinist Mark Schimick then displayed his incredible skills with a strumming speed so fast it would make your head spin with one of his creative creation and the foot stomping continued on with a fantastic Tony Rice cover.  A meaningful "Fire Line" led by longtime friend and fishing buddy, Banjoist Will Lee ensued next, this song was written by a fellow by the name of John Doan who was inspired while driving through the Carolina's during a dreadful forest fire. An Instrumental collaboration by Timmy Baker, Bill Monroe and Ben Eldridge erupted into the fastest finger frenzy on earth by the band that left everyone's jaw on the floor. By this time everyone there was up and shaking their bones to another classic festive cover "Let's go to the Fair" by the legendary Dr. Ralph Stanley. The show then took a turn for the better or worse depending on how much alcohol you had already  drank when low and behold the stylish Fat Tire bike rode up front and center with a keg strapped on the back pouring beer freely for those in need of a quencher. The band played around three more tunes and we got a glimpse of what was coming up for Larry, they will be hosting the 4th annual Bass & Grass near Perry, GA which looks like it might be a full on hoe down, hook line and sinker.
Saturday
Today the festival started off with a nice "joy ride" to Hotel Aiken and back.  The music started around 11:30am with Doug and the Henry's a 4 piece bluegrass band who comfortably played though some fine traditional country and bluegrass songs like "Hey Good Look'in" by Hank Williams Sr. into "Foggy Mtn Breakdown" by Earl Scruggs. Continuing with mostly cover songs the band played an enjoyable "Ring of Fire" by Johnny Cash and we also got the best known fiddle tune of the twentieth century "Orange Blossom Special" a 1938 Classic by Ervin Rouse.  To me if you are a band that is going to play at a festival you need to play originals with a few covers but that's just me, I enjoyed Doug & The Henry's none the less.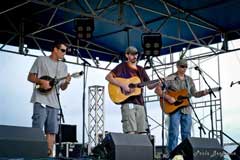 Next on the Agenda was a band called Taylor Creek, they started out with a song called "Cabbage Town" which seemed to me needed some help or more rehearsal.  The wind was picking up good about that time of day making it very hard to hear some of the vocals; the sound guys were all over it with microphone covers.  A sweet Taylor Martin cover soon followed who played at The Aiken Brewing Company  for the official after party the night before. Consisting of two guitars and a mandolin I started yearning for some more instruments to make their songs a full and well-rounded tone.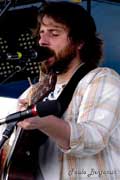 I regretfully missed the first part of the next band, The Kenny George Band, but I gotta eat some time. During the set though, another bad storm came rolling in cutting their set short, the stage had to be lowered so it didn't blow away and people ran for cover as the wind and rain came thundering down, easy-ups came crashing down and chairs were flipping end on end, luckily the festival tent was big enough for everyone to fit under, it was a nice intimate moment for everyone to get to know each other.  This storm lasted about an hour or so then another hour passed while the resilient sound crew and stage hands rushed to put everything back in place and dried off. Aiken Bluegrass festival was once again ready for action.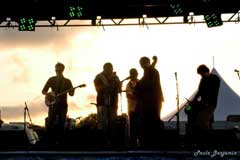 Dehlia Low and Town Mountain made their second appearance of the weekend both being stellar shows back to back. As the night slowly creped in it was time for Big Daddy's Bluegrass Band.  As the band took the stage I was pleased to see who was in the band, it was of course Big Daddy (Steve McMurry), Jay Sanders (Bass), and Billy Cardine (Dobro) of Acoustic Syndicate, Robert Greer of Town Mountain, Jason Flournoy (Banjo) formally of Larry Keel and The Natural Bridge. This unique setup of individuals only mean's one thing we were in for one hell of a show, with the distinctive voice of Big Daddy the set started rolling with a song that I believe is called "Hey Hey Dahliamane" but I'm not too sure, then the band gave props to one of Larry Keels songs into "Red Clay Halo" by Gillian Welch.  Big Daddy then went back to his roots with a song his daddy taught him, "Leg of the Great Titanic" a somber remembrance of when the great ship went down. A Honkey Tonk song pursued as 20mph gusts of wind blew through as the microphones picked up all the noise the wind made which didn't fare well for anyone recording the show.  As the top of the stage swayed back and forth Jason took the reins of the next song and gave his fingers a work out with masterful banjo pickin'.  The sun set on the band as they continued to bust out some phenomenal grass like "Do My Time".  Towards the end of the set Larry and Jenny Keel jumped up on stage for a song Steve wrote about 20 years ago called "The Sweetest Breeze".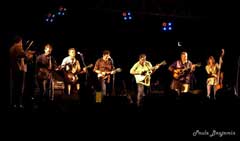 Larry Keel and The Natural Bridge soon took the stage for another memorable set but what was The Natural Bridge soon became Larry Keel's Natural Bridge super jam with Big Daddy, Jason Flournoy, Bobby Britt and the last song with Ferd Moyse from the Hackensaw Boys all playing "I don't drink and I don't smoke and I don't wear no greasy coat". 
The Hackensaw Boys took the stage after Larry Keel was sworn in as the new ambassador of the Aiken Bluegrass Festival and will be summoned to the event for years to come.  The Hackensaw Boys have a very funny repertoire of songs and an ability to engage the crowd in an up most energetic way.  Songs about all going to heaven on a billy goat and other frantic up beat rage grass is what puts The Hackensaw Boys in the forefront of the genre. I see them as a kind of backwoods southern kind of red neck bluegrass with an uplifting sense of humor.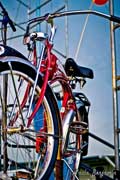 After the Boys played it was time to raffle off one of New Belgium's bicycles the first number was picked and low and behold Homegrown's own Paula Benjamin's number was picked, what a glorious night indeed to end up with the  focal point of the festival, the beautiful big bright red Fat Tire bike. We both had the feeling I bet Ralphie had when he got his Red Ryder BB Gun on Christmas day in The Christmas Story movie.
The last band to take the stage was a band from Colorado by the name of Mountain Standard Time who about blew me into next week with their set. MST was way different from any other bluegrass we had witnessed for the past two days; they were more or less a jam grass band that I fell in love with from the very first song.  The band seems to have stemmed from the likes of The String Cheese Incident, taking all that is good and trying to add more depth by adding a saxophone and banjo to the mix.  The melodic upbeat songs all struck a chord with me giving me that warm fuzzy feeling inside that doesn't happen too often.  I just found out they played in Asheville last night and am kicking myself in the ass for just realizing it a day later. Boo!!
Sunday
Sunday marked the end of a fantastic weekend.  It really is heartfelt to see such a festival take place, where the main focus is the music and raising money for a great cause.  My hat goes off to Christian Schaumann for making us feel so welcome and giving us the opportunity to cover such a fun loving event. I also want to give big props to the sound and stage guys, Pat Mulkey and Andy Marks for doing such a remarkable job on making each band sound the best they can and for braving through the wind and rain. Throughout the weekend I had so many people come up to me and tell me "Oh man, I've seen Larry Keel hundreds of time but I've never heard him sound this good." And they were right!  Thanks for the great time and we can't wait for next year.
Article by: Brad Winecoff
Photos by: Paula Benjamin