Posted by: Anonymous | September 19th, 2008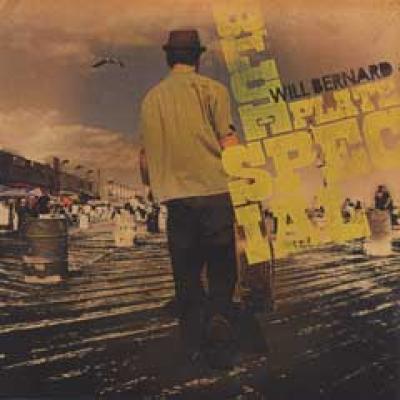 On Blue Plate Special, guitarist Will Bernard and his powerful quartet - comprised of Bernard, John Medeski, Stanton Moore, and Andy Hess - push the universe's funk and groove limitations to the max. The fabric of time and space may be damaged by the steadily expanding fatness of these sounds, but this experiment is necessary to determine the modern world's capacity for bulbous beats. While I need not write more than "Will Bernard, Stanton Moore, John Medeski, Andy Hess" to sing the praises of this disc, Blue Plate Special is well worth further elaboration.
Bernard's clean, chordy guitar leads the band through a buffet of freshly baked pure funk rolls ("Baby Goats," "571," "Awanna"), streetwise jazz-funk ("Magpie," "Blister"), and engaging, multi-faceted compositions like the mysterious title track, which features Medeski and Bernard trading spaces on a nifty piano and guitar solo section. Each member is energetic and intense throughout. Medeski is typically in-your-face with his scorching solos, endless cache of keyboard sounds, and bursting organ runs, Moore contributes his powerful signature sound with obese kick drum thumps and crisply crackling snare pops that sizzle with perfection, and Hess delivers the infallible style that has made him the preferred bottom-end badass for everyone from Gov't Mule to John Scofield to The Black Crowes.
Bernard shines on every track, whether he's lending some wistful slide guitar to the loungy "Genpop," riding high atop the kinetic groove of "Fast Fun,", or char-grilling some spooky sounds on "Awanna," which says a lot about his place among the modern greats of the guitar - it takes quite a bit of fire and fortitude to burn as brightly as his highly skilled band members. Blue Plate Special is as pleasing and comforting as its namesake - made with love and packed with loads of flavor for the price.

--Bryan Rodgers