Posted by: leeway | July 13th, 2010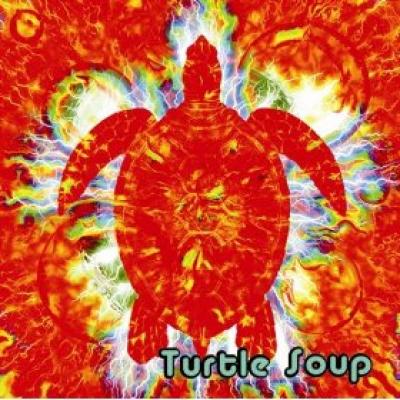 Turtle Soup, dubbed by JamBands.com as the "New Groove of the Month" for June 2009, showcases a diverse mixture of funk, rock, and jam with this self-titled release.  Based in the Asbury Park area of New Jersey, Turtle Soup has released an album that bridges the gaps between funk, rock, and livetronica.  Turtle Soup features the talents of Jeff "Mudd" Mahajan on vocals, guitar and guitar synth, Ben Feld on keys, piano and vocals, Michael McDermott on bass, Andy Meyer on drums, and Al Romao on percussion.  The group has assembled 11 tracks for this album that feature warm production qualities and sharp work on guitar and keys.
"Turtle Soup" begins with the sparse piano of "Baby Don't," then ratchets forward on the strength of amplified guitar.  Interludes of lilting piano are interspersed with moments of squealing guitar as the song races forward.  The next track, "Changin'" spotlights percussion, keys, and guitar and makes for a spicy gallop, punctuated by feedback.  "Crumble" features funky syncopation and interesting arrangements before settling into a nice groove defined by guitar, drums and bass.  "Crazy Legs" is another infectious number featuring nice work on guitar and guitar synth by Jeff "Mudd" Mahajan.  The song settles into an atmospheric jam to close, and the opening notes of "Jess" gallop into earshot.  As with the previous tracks on the album, the song starts off energetically, then changes speeds and races forward with strong guitar. 
"Trials of Life," with its use of guitar synth, invokes an almost "retro" quality, as if some older pop song from a disjointed universe.  The song ventures through several different measures, using Indian and Middle Eastern rhythms and closing with squealing, enthusiastic guitar.  "Wiseman" starts with caterwauling guitar, but changes directions, allowing nice opportunities for Ben Feld to show his skills on keyboards.  "Run" reminds of all kinds of jam luminaries; splashes of Phish's "Poor Heart" mingles with the Allman Brother's "Southbound" to create an energetic, bouncy track.  Driving rhythms announce the arrival of "5 Minutes Left," a track characterized by paint-peeling, scorching guitar.    The album closes with "Automatic Trance Mission," an amplified guitar workout that has long been a crowd-pleaser in their live shows, according to various bits of research I read on the Internet in preparation for the review.  I can see the attraction for sure.
In reviewing "Turtle Soup," the album, and Turtle Soup, the band, I am impressed with the concoctions on display.  The name for this band seems very appropriate, as the jams composed herein do seem to be a very elaborate gumbo.  Tightly wound guitar and guitar synth meshes with keys, vocals, bass and drum to create savory recipes that are appealing and constantly shifting.  There is a lot of bounce and swagger contained in these tracks, and the overall mixture is quite appealing.
- J. Evan Wade