Posted by: leeway | April 2nd, 2009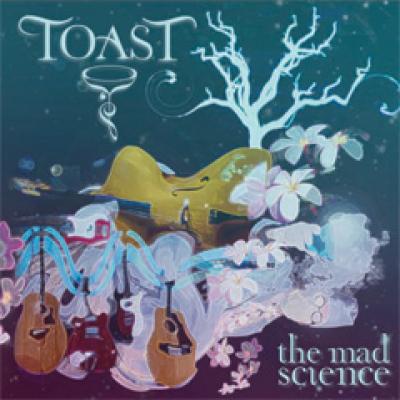 The quartet's second album is sophisticated in places, with jazzy keyboard flourishes, while other tracks feature strong guitar and a raucous "jam" sensibility.  The quartet spotlights the talents of James Pate on guitar and vocals, John Brown on bass and mandolin, Vincenzo Loechel on drums and percussion, while Russell Dobda complements the group with his spectacular work on keyboards and saxophones.  The ensuing collaborations on this album are thoughtful, interesting, and showcase a wide variety of possible influences.  Dobda's keyboard work has sterling moments that invoke the spirit of Dave Brubeck and his West Coast "cool," while horn arrangements on other tracks remind me of "Hot Rats" era Frank Zappa.  The album is defined primarily by instrumental jams, but the vocals are solid and well-delivered, with Pate, Dobda, and Loechel all taking turns at the microphone stand.  ToasT explores many different musical genres and a wide variety of subjects in the fourteen tracks on this album.  The overall result is an intriguing snapshot and a well-produced studio effort.
"The Mad Science" begins with "Twilight Mischief," a sonic instrumental defined by Pate's exploratory guitar.  "Tude," which features guest musician Leah Zeger on violin, summons the spirit of Jean Luc Ponty-era Mahavishnu Orchestra, with caterwauling violin and solid grooves from the rhythm section.  "Fro Sho" is punctuated by Dobda's jazzy keyboard flourishes while guest musicians Tony Alexander and Lea Dobda accentuate the mix with tenor saxophone and trumpet.  "The Dub" changes gears, offering an intriguing, carefree stroll through tropical waters until James Pate ratchets up the intensity with a blistering guitar solo.  "Estudio" features yearning guitar and solid work from John Brown on bass.  This sets the stage for "Jam Sammich," a funky throw-down that spotlights saxophone and guitar in a feel-good jam reminiscent of old 70s television shows.  "Blind Cat," the first track with vocals, further demonstrates Pate's prowess on guitar while "Shrinkage" and "Chrome" offer vocals reminiscent of David Bowie, King Crimson and other legendary acts of yesteryear.  "The Joker" features lilting keyboard and a charming, playful sensibility that culminates with crunchy guitar and sampled maniacal laughter.  The epic "Doc Marshall," which clocks in at over 10 minutes long, closes the album.  This song begins with nice interplay between guitar and saxophone, changes gears for one of Pate's signature explorations on guitar before rumbling toward its conclusion.
ToasT, in presentating "The Mad Science," displays a musically varied palette, showcasing jam, funk, and jazz sensibilities in this ambitious, lengthy album.  The tracks on the album feature solid guitar work and significant contributions from all the respective members.  However, I found the contribution of Russell Dobda on keyboards and saxophones to be the most compelling part of the album for me on a personal level.  Chalk this up to personal preference or whatever, but I really enjoyed the jazzy flourishes that he added to the equation and found his work to be exceptional.  However, James Pate's talent with the guitar is prominently displayed throughout the album, and those tracks he shines on definitely deserve mention.  His guitar work serves as a solid backbone for the entire album, and without that, the rest of the album might flounder.  If you are looking for a solid "jam" album, and enjoy guitar, keys, and saxophone, ToasT might just be the appetizer you're looking for.
- By J. Evan Wade