Posted by: pkerr | June 17th, 2023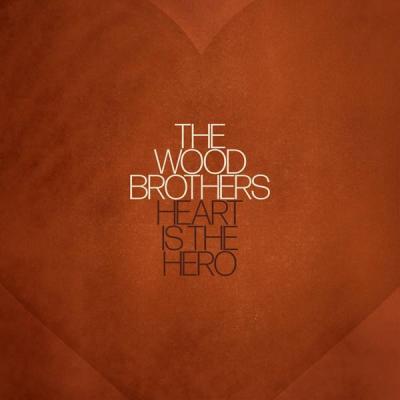 The Wood Brothers triumphantly return with a remarkable new album titled Heart is the Hero. Their eighth studio creation is an introspective masterpiece filled with musical creativity and poetic refrains. Now celebrating 20 years together, the Grammy-nominated roots trio consists of Oliver Wood on vocals and guitar, his brother Chris Wood on bass, harmonica and vocals, and their spiritual brother Jano Rix on percussion, keyboards and vocals.
The intimate album is musically soft but lyrically devastating, with earnest, profound and clever lines revealing a struggle between loneliness and optimism, with beauty and truth as guideposts along the journey. With words reflecting on humanity, society, love, family, gratitude and survival, the tracks elegantly blend heartfelt Americana roots with a special spark of spirit and soul. Slow but swinging, it's layered with delicate intricacies that color the songs and sentiments in a thousand shades and hues.
The recording opens with the rich sound and fun bouncy swing of "Pilgrims." Oliver sings on the album's most boisterous song, "A soul takes it slow, like a pilgrim he knows, he's gonna get where he's goin', if he just stays on the path." Next is the gentle melodious pulse of "Heart is the Hero," the album's namesake and one of their finest compositions, a reflective look at oneself with trust in the prospect of redemption. "The heart is humble, the heart is strong, the heart is the hero of every song." 
The dazzling vocal blends and gleeful piano runs of "Worst Pain of All" lead into passionate singing in "Far From Alone" and a gorgeous acoustic guitar introduction to "Between the Beats." The infectious hook of "Line Those Pockets" proclaims "Everybody's just tryin' to be happy, line those pockets with grace," followed by the subdued intensity of "Mean Man World" which bursts with musical embellishments of slide guitar, barroom piano and heavenly harmonies.
"Rollin' On" is a catchy and romantic survival anthem where he sings "Nothin' I can see brings me any peace besides you and me." It leads into "Someone for Everyone" which radiates with exquisite keyboards and powerful vocals. The record concludes with the soft farewell of "Kitchen Floor" where he offers a stirring and touching send-off, "If I left my soul in a song for you, would you sing it sometimes when I'm gone? I don't mind if you change up the melody, or even the words, it's only a song."
The Wood Brothers avoided the use of computers in the studio, and like much great art it innovates by pushing against restrictions to discover new possibilities. It's a quiet album with a loud message of hopefulness and understanding, shot through with musical flourishes, lush harmonies and a refreshing dose of vulnerable honesty. Their sincere lyrics sum it up perfectly: "I wanna fill the world with peaceful sound."
- Paul Kerr