Posted by: leeway | June 29th, 2017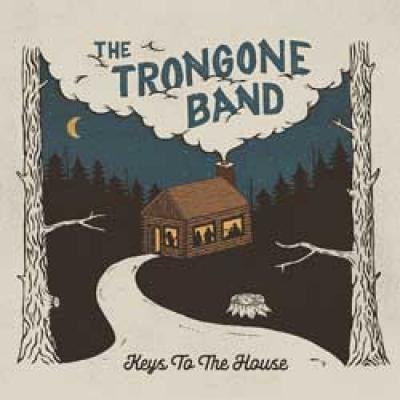 Their sound and stage presence have a raw, mesmerizing quality and make you realize that we have an ever-present void of true rock-and-roll in our life. Sure, we have jam-rock and its close brother still living at the parents' house, prog-rock. And lately, we've been blessed with some great alt-country-rock; but short of Dave Grohl and Grace Potter, true rock and roll on a national level has never recovered from the Nirvana moment.   
There are a few southeastern bands trying to change that, and Trongone is one of them.
Initially making a name for themselves in Richmond, VA by playing entire shows of classic rock giants such as Grateful Dead, The Rolling Stones, The Doors, Jerry Garcia Band, and Little Feat, The Trongone Band has released their debut album Keys To The House on the independent, and iconic Harmonized Records label.
The above-mentioned bands all have something in common beyond their storied legacies and engaging live shows: they all switched gears when they entered the studio. They didn't try to capture their live magic on tape, because they understood it was fundamentally impossible. Instead, they relaxed and focused on the art of song-craft, groove, and sonic space that allowed each song to find its own identity. That's one of the first things you notice about Keys To The House: nothing is rushed. Each song builds into itself with a patience not usually seen in young bands and very rarely seen in debut albums.
One of the first things you notice when you open up the album is that it's not overloaded with songs, as some albums tend to be these days. Nine  tracks is the perfect amount to give your fans a full recorded experience. "It's more of an old-school 36-minute vinyl LP experience," says Johnny Trongone, the drummer, "which will work out great when we do put it on vinyl, hopefully later this year."
"Blind" opens the album as an unabashed southern rock tune that gallops along as the band finds a deep and comfortable groove. The blues riffs, heavy with distortion, move the song along as Johnny Trongone and Todd Herington (who also produced the album) link up for a foundation as solid as they come. Great rock and roll begins and ends with vocals, and Andrew Trongone sings with the same bluesy passion found in many great singers we all love and respect.   
The album features an overt hat-tip to one of the greatest and most underrated rock bands of all time, Little Feat, with "Not Coming Home." There are several moments in the album where all the hours of learning entire shows of these great rock bands really pays off, and this is most definitely one of them. Kudos to both the band and producer for allowing this much space and groove in the track, when the natural tendency is to over-play.  "We spent some time talking about how to make each song great, and allowing ourselves to leave space in the music was a big part of that," says Johnny Trongone.  "Todd produced it, and that's what he was really pushing for. We still have a lot of piano and guitar solos, but we were all in the mindset to not do too much. We wait for the live shows to really open it up!"
The band features somewhat of a musical unicorn with Andrew Trongone. With a rockstar stage presence and vocals that match, the odds are he's a mediocre guitar player that chunks through some power chords as the rest of the band carries the music. Well, sometimes the odds are wrong. He's a rare trifecta, and there's nothing better than realizing, as I did one night seeing them live, that the dude can play. He's in the rare breed of frontmen that have the ability to push the music into higher levels. Again, the entire experience is just amazingly refreshing in today's music scene.  Rounding out the four-piece band is Ben White on piano and Hammond organ. "Canyon Road" gives White a chance to show off his impressive New Orleans' style piano work. White's presence throughout the album is always felt through tasty and soulful pads, fills, and solos.  
The Trongone Band has been doing everything right to become one of the top southeastern rock bands. They've put 10 times more work into their live shows and building their regional following than most bands ever think of doing. There was only one puzzle piece missing, and that was a full length album of original material. Keys To The House not only fills that hole, but comes at you determined to carry them to the next level. The band is ahead of the game and you'd be smart to jump onboard now as they set their sights for a national level. Without a single weak spot in their sound, they have a great chance of making it.    
- Brian Swenk