Posted by: leeway | January 26th, 2015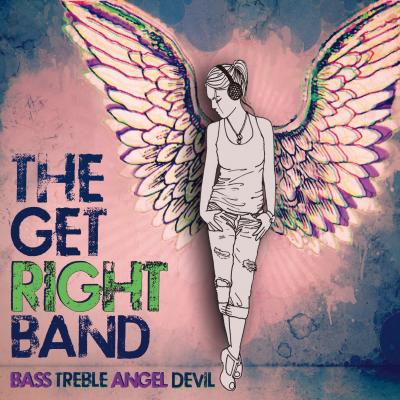 The Get Right Band is a self described rock/funk/reggae band from Asheville, North Carolina that spotlights Silas Durocher on vocals, guitar, and songwriting, Jesse Gentry on bass and vocals, Jian-Claude Mears on drums, percussion and vocals and a varied cast of supporting players who contribute to the album as well. In listening to this album, I find it important to add that this band more seems like a "soul" band than they give themselves credit for, and the vocals throughout their release "Bass Treble Angel Devil" are spot on, well-delivered, and fun.
The album begins with the crunchy, fuzzy notes of "Satisfied Man." This track offers a mixture of vibrant funk and couples it with a sort of low-fidelity indie buzz, sounding almost like some mixture of Rick James meets the Kills. "We Work All Day" is a fun, energetic number that hearkens back to funk traditions of old. Eleanor Underhill and Stephanie Morgan contribute vocals to this track and their voices, coupled with a confident, loping beat result in a charismatic, yearning track that references classic funk, while remaining stylistically fresh and modern. The yearning, nostalgic "Get Right" starts off in loose, lightly flowing waters, but coalesces around a strong, reggae beat. The vocals are particularly pensive and yearning in this track and are framed nicely throughout the track. The track culminates on the strength of vocals, crunchy guitar, and a rather joyous spirit. "You Can Come" uses a loping, reggae-infused beat in describing an invitation to a lovely lady, stating "you can come, you can come, you can come, but your boyfriend can't."  This sort of light, airy tone seems to personify the album to this point, but if the lyrics are light and fun, the grooves are atmospheric, deep, well-executed, and of consequence.
After the airy measures of "You Can Come," "The Carpenter's Daughter" offers a deep, soulful, sexy return. This expansive 7-minute track summons funk traditions from the vault and is nicely punctuated by interplay between Durocher's exploratory guitar and Jesse Gentry's bass. "Give It" is swanky and sexy, personified by honey-dripped guitar, soulful lyrics, and a deep grooves. "Prettier" has this sort of lovely, deceptive quality, with Silas Durocher's vocals and delivery nicely framed throughout the song. The track is more pensive and complicated, asserts a certain irony in asking "If I was prettier, would you love me," amidst a wistful backdrop. After galloping and jaunting through the airier turns of "Lovin in the Kitchen" and "Broken Paradise," the album returns to decidedly more pensive waters in "Love Won't Come Around." This stripped down track features nice vocal interplay between Durocher and Eleanor Underhill and Stephanie Morgan. With its light percussion, lingering guitar and lyrics, the track is decidedly stylish and well-executed. The spirit of black water and alligators in the Everglades is summoned through the sludgy, blues infused grooves of "Florida." This track is defined by deep, bluesy riffs, hip shaking grooves, and Silas Durocher's charismatic delivery. The track closes in loping, lingering fashion and sets the stage for a fine cover of the Talking Heads, "Life During Wartime" which closes the album in joyous, energetic fashion.
In compiling my thoughts on this album, I find myself thinking this is one of the more impressive albums I have ever heard in my 5 years of reviewing albums for Home Grown. This album is dazzling in presentation and execution, drawing from all sorts of musical moods and genres, and seamlessly tying them together in production. The lyrics are intelligent, fun, and well-realized. Durocher is charismatic and engaging throughout the album and the musical arrangements on this album are robust, well-produced and satisfying.  I am definitely impressed with the quality of this album, from production elements to vocals, to the robust grooves offered, and the intelligent quality of the songwriting. This album will definitely move up in the rotation, and coming from an audiophile, that says something to the quality present therein.
- J. Evan Wade