Posted by: leeway | July 7th, 2009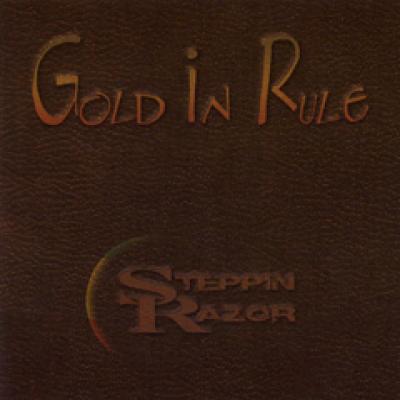 Philadelphia-based Steppin Razor formed from the ashes of a Bob Marley tribute band that had dissolved in 2005.  Johnny Myers and Mark Patterson decided to form a new band; they joined up with Ben Bean and James Hoy to further pursue their passion for making reggae music.  They have played many shows throughout the Northeast in the meantime, and have set their sights on a larger touring schedule in the year to come.  Their shows incorporate a mixture of reggae classics and their own originals.  After several years refining and enhancing their sound with weekly Wednesday night shows and a host of performances in various venues across the Northeast, the band resolved to record an album of reggae originals.  The resulting 2009 package, "Gold In Rule" signifies the next step in this band's emergence, as they present an inspired collection of reggae originals with this recording.  
The album begins with "Overstanding," as Myers' voice complements James Hoy's expressive guitar quite nicely.  "Gold In Rule" saunters along with smooth lyrics, a nicely layered groove, as yearning guitar colors the later measures of the song.  There is a definite political and/or humanistic awareness in these first songs, as those overtones then segue into the smooth pro-cannabis awareness of "Jah Herb."  Myers' keyboard playing gains prominence as the song lopes along, extolling the virtues of "Jah Herb" and meditation.  The unusually named "Dankzegging" features a spiritual message of "Thanksgiving" for those small pleasures that we may overlook or not fully appreciate.  The song seems to have a mildly sardonic tone at times, encouraging one to praise the "sand" if one is trapped in the desert.  There is a carefree, light-hearted quality to this song that contrasts significantly with the previous tracks.  
"Human" strikes with a strong anti-racist statement, claiming there is no "black man, white man, brown man...only HuMan!"  Crystalline guitar complements the inspired message at the core of this song, as Ben Bean's bass playing keeps things honest and forward-moving.  The opening notes of "Guidance" feature rollicking bass lines, Myers' trademark vocal skills, and accentuation from Hoy's guitar.  Ben Bean also contributes nice backup vocals for this track, and his voice contributes an entirely different quality than Myers'.  "Coming Home" begins with an energetic funk groove before ambling into more traditional reggae waters.  This song is punctuated by nice interplay between keyboards and guitar and features energetic vocals that close the album with an optimistic flourish.
When listening to this album, I am impressed by the quality of the songwriting, the excellent playing and vocal arrangements, and the inspired social message at the core of many of these songs.  Johnny Myers contributes excellent vocals, interesting keyboards and melodica, and is supplemented ably by his band mates.  The varying vocal deliveries of Myers and bassist Ben Bean create an interesting synergy on the album.  The playing of Mark Patterson and James Hoy also contribute to make a sonically interesting package that dabbles in funk and roots rock in creating socially conscious reggae.  The rhythms at the core of this album are well-constructed and well-executed.  With plans in order for a second album, Steppin Razor has positioned themselves for more shows and wider-reaching audiences in the years to come.  
- by J. Evan Wade
WRITER'S NOTE:  Biographical info was found at the band's official website at
www.steppin-razor.com