Posted by: leeway | January 8th, 2009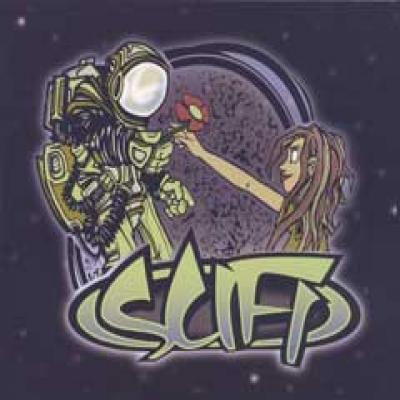 Sci-Fi, a trio from Wilmington, North Carolina, completed this album at Earth One Studio in Atlanta, Georgia.  Tyler Simmons' keyboard work explores jazz idioms and metaphors against the backdrop of dub, break beats, and funk.  Justin Heter and Tim Philpott provide compelling drum and bass work to complement Simmons' virtuosic work, resulting in richly layered grooves that showcase the band's different influences and styles.
The opening notes of the "Intro" create a yearning, innocent quality, as if the song is recounting some distant, childhood memory.  Simmons closes the track with a wistful flourish that sets the stage for "Classical Dub."  This track's melodic keyboard meshes with lush layers of saxophone, bass, and drums to create a pleasing, atmospheric tapestry.  After lingering in the tropics on "Classical Dub," "Mid Tide" accelerates forward with strong work from the rhythm section.  "Front Street," with its lingering, loose keyboards sounds reminiscent of 1970s fusion jazz greats, the Weather Report.  Simmons closes the track with a frenzied keyboard solo that invokes the spirit of ragtime and stride piano.  "Wanderlust," with Laura Reed on vocals, provides a true highlight for the album.  Reed's sexy, smooth voice, coupled with the band's sophisticated grooves, elicits an exotic quality and accessibility that is quite pleasing.  "Jeb," "Click," and "Zen Groove" all provide interesting textures for Simmon's keyboard solos to rise from.  The "Bass Outro" at the conclusion of the album provides a melodic, subtle refrain that demonstrates Philpott's own soloing ability and closes the album in the same winsome fashion that it began.
The lover of keyboards, dub, fusion jazz and electronica will find lots to enjoy in this ambitious, sonically interesting disc.  The album features several prominent guest musicians, including Laura Reed of Deep Pocket and Greg Hollowell of Yo Mama's Big Fat Booty Band.  Alex Ginzburg's accomplished production work lends a warm, nicely polished sound to the album.  With certain stalwarts like the Disco Biscuits and Lotus garnering so much attention in the electronica scene, the tracks on this album bear witness that Sci-Fi can do more with less; that they are capable of carving their own distinct niche if given the time and resources.  Here's to their effort, whatever the ultimate conclusion may be...
- By J. Evan Wade