Posted by: leeway | January 18th, 2016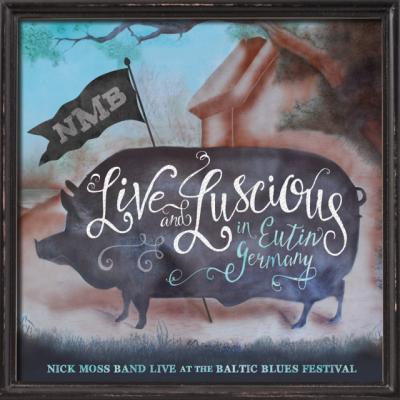 In doing research on the Nick Moss Band, one finds an impressive list of credentials. In checking his press kit materials, one sees mention of "17 Blues Music Award nominations" and recognition from the International Songwriting Competition for "his ability to add amazing new songs to the blues genre." Those seem to be pretty lofty words, but as I delved into this live recording from a blues festival in Germany, I found the proof was definitely "in the pudding" as the old saying goes.  By spotlighting 8 robust jams and over 67-minutes of music, the lover of guitar-driven jam and blues will find so much to chew on in this recording. This recording features Nick Moss on guitar and vocals, Michael Ledbetter on guitar and vocals, Patrick Seals on drums, Taylor Streiff on keys, and Nick Fane on bass and backup vocals. By featuring muscular, guitar-driven jams spiced with excellent vocals and pertinent social commentary, the resultant mix proves pretty savory here.
The album begins with nice lacquered grooves of "Breakdown" and the track features energetic guitar, keys dancing around the perimeter and smoky sounding vocals. The track coalesces around Moss's energetic guitar and charismatic vocals and swells to its conclusion with the crowd responding warmly. The second track is titled "Catch Me I'm Falling" and presents with a sense of gospel-infused blues and strong vocals that prove quite lively and fun. One signature of the Nick Moss Band is its lush, exploratory blues jams, with frantic guitars that induce feverish head bobs. This is especially true with "Try to Treat You Right," an old fashioned blues workout featuring wailing guitar and vocals, and a spirited run on keys from Taylor Streiff. As guitar caterwauls down the homestretch, there is feverish accentuation from the drum kit as the jam swells in intensity.
"The End" hearkens to the greatest blues guitar traditions, with yearning, screaming guitar that summons and pays homage to the greats; one hears this song and thinks of the great moments in "Band of Gypsys." That is a pretty lofty comparison, but well-deserved and manifested in this exploratory 12-minute jam. "Shade Tree" offers a wistful, yearning sensibility and a sense of nostalgia. This track feels measured and deliberate in comparison to its more frantic brethren as it begins, but this only sets the stage for a muscular, well-developed jam to close. The live album closes with "Stand By" and features a scalding guitar jam coupled with a confident loping blues foundation.
This album was made for fans of blues, blues guitar, or anyone with love for the "gospel" quality of the blues. For these types of people, these tracks may even prove to be a revelation. I know I will definitely be passing this info along amongst my circle of blues-loving friends, as I have a certain weakness for excellent blues guitar, and this album has that in spades.
- J. Evan Wade