Posted by: leeway | June 10th, 2010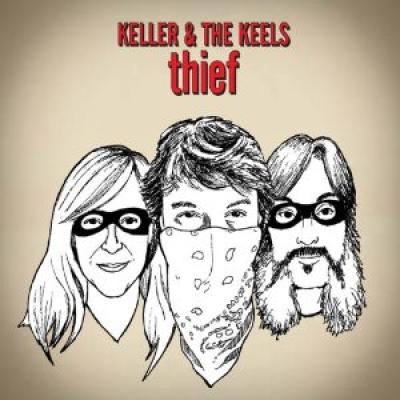 His latest album is another worthy title in the catalog. Thief finds Williams joined, once again, by The Keels. The Keels are a married bluegrass-focused unit comprised of Larry (vocals/guitar) and Jenny Keel (vocals/bass). Thief is an album full of choice covers that have been arranged by Keller and his Keel cohorts, and the arrangements are so sweet on the ears.
The artists covered and rearranged here include a diverse list of people whose songs are sure to be recognizable to many listeners. Although the titles may not always jump out at you, what follows is a list of songs you can likely name in just a few notes...that is, before they were interpreted through the collective brains of Keller and his friends, The Keels.
The infamous Kris Kristofferson will receive double the pay for his creative efforts, as two of his songs act as bookends to this recording. "Don't Cuss the Fiddle" is the album's first track, appropriately placed with the line, "Let's settle down and steal each other's songs." Thief closes with Kristofferson's "The Year 2003 Minus 25." All songs on this album have a bluegrass lean (thanks in large part to the Keels), and these two tracks are perfect for the mood of the album.
Patterson Hood's "Uncle Disney" thoughtfully examines the impact of "decisions made" over the years. What might ol' Walt Disney think of the world he left behind, and would he really want to be unthawed to live its current rendition? Who knows? But, that's the interesting question this song poses. Next to take the stage is Amy Winehouse. Her "Rehab" isn't a personal favorite, but here's to going with something nobody would have predicted on a Keller album; I wouldn't have. It's a track that I may have liked more, had I never heard the original, and maybe that's not a fair way to assess a song's worth, but it's an honest reaction to this one. I certainly like it a lot more than her original take.
Danny Barnes' "Get it While You Can" begins with some elegant string interplay between the musicians, before leveling off and chugging into a song about hard times and the need to "Get it While You Can." Ryan Adams' "Cold Roses" follows in a sedated vein. Sticking with the family Keller is now a member of, The Grateful Dead follow up on Adams. I'm an admitted fan of most things Grateful Dead, so how could Keller and The Keels go wrong with "Mountains of the Moon?" I'm going to argue that they couldn't. I was obviously pumped to hear this great trickling take on the song.
Cracker's "Teen Angst"  is a fast romp that is sure to be noticeable to a great swath of listeners. Yonder Mountain String Band's "Wind's on Fire" receives a beautiful tribute, "Switch and Spur" (The Raconteurs) is sparked to life under the efforts of Keller's trademarked mouth trumpet (literally just his mouth), and Marcy Playground's "Sex and Candy," one of the most recognizable song on here (amongst all audiences), came as an unexpected treat. I can't say I'd buy a Marcy Playground album (maybe I should), but I certainly enjoy hearing this light and airy take on "Sex and Candy." The Butthole Surfers' "Pepper" is another unexpected treat. If you don't recognize it by the title or these lyrics, "I don't mind the sun sometimes, the images it shows. I can taste you on my lips and smell you on my clothes..." then if you ever turned on a radio in the late 90s, you'll certainly recognize it when you hear it. I used to dig on the Presidents of the United States of America and their goofy take on music and life, so their "Bath of Fire" made me wish I still had one of their albums. That said, if this album does nothing else, it will turn you back on to some music you forgot you used to like, and that's pretty valuably booty in my book.
All of Keller's albums sport a karma inducing warning not to steal/copy. Thief warns that, "If you record this album in any way, your body will be used as a butt plug for an elephant. You will be rammed feet first into the elephant with only your head sticking out as the world watches via live 24 hour webcam on www.iamanelephantbuttplug.com . To avoid this, immediately send 10 dollars to Keller Williams at..." Keller Williams then adds a note to let the reader know he is paying "9.1 cents on every copy sold," to each of the artists he has "stolen" these songs from. This is probably a good idea on his part, because although I'm thoroughly enjoying this release, I'd hate to see how karma might treat a thieving artist, knowing that thieving fans will suffer such a heinous end as being an elephant's butt plug.

- Jeremy Sanchez