Posted by: pkerr | March 18th, 2022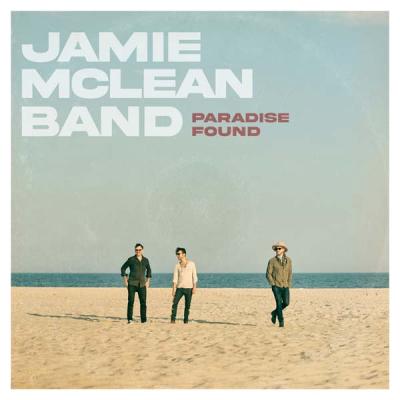 Fiery guitarist Jamie McLean first rose to prominence playing lead for the storied New Orleans ensemble the Dirty Dozen Brass Band where he twisted musical genres like sonic pretzels. He then appeared for years alongside Aaron Neville, and has also graced the stage with Gregg Allman, Dr. John, Derek Trucks and countless other luminaries. Along the way he launched his own solo career, fronting a blues-based Southern roots rock power trio run through with huge doses of soulful R&B and funky rhythms.
Paradise Found is his sixth album in twelve years, with a glossy and crisp production from Ken Coomer of Wilco and Uncle Tupelo. Dripping with honesty and raw emotion, it's immediately heartfelt and relatable - a perfect mix of filthy and beautiful. Fans of the Rolling Stones, the Faces and the Black Crowes will surely recognize the spring in his spirit. The rock and roll stomp is an avalanche from the first note, but it's the unexpected beauty of each snowflake that lingers in the memory - the glistening harmonies, the lyrical vulnerability, and the passion squeezed from each solo.
The needle drops straight into "Give My Life to Rock and Roll," an ecstatic and tight rhythm whose relentless forward momentum leaves no doubt that the train has left the station. Tasty barroom piano jangles underneath pure Southern rock vocals and a deeply distorted guitar tone filled with wailing bends. An enticing acoustic riff opens "This is It," with impassioned vocals and luscious harmonies producing an indisputable album highlight. The midtempo pulse of "Ghost of You" features a spirited solo and leads into "Paradise Found," whose gorgeous acoustic intro and catchy changes strengthen an exceptional vocal performance: "This could be all you've ever dreamed now that paradise is found."
"Something About Love" opens into a glorious melody with jubilant guitar licks and phenomenal falsetto vocals offering a peek at his worldview: "Our eyes are open and here's to hoping this love is built to last." Next up is the forthright rocker "Waiting On You," whose stylish slide guitar leads into "Ransom," which opens with a blast of noise from outer space that breaks up in the atmosphere into chunks of heavy groove. Swinging with an unstoppable energy, he's "searching for just one grain of truth" through an epic guitar solo that glows and vibrates with a ragged but beautiful tone like a drunken butterfly in a milkweed delirium.
The soulful "Turn Around" opens with a memorable fingerpicked riff featuring plaintive and heartfelt vocals lamenting the past yet never giving up hope for the future: "It's the end of the road and I'm hoping to turn around." The heavenly harmonies of "Easy Rider" then lead into "Hotels and Cabarets" to close out the album with a simple but profound declaration: "All my love I leave on the stage." Paradise Found, much like McLean's combustible live performances, is a perfect embodiment of rock music's twin pillars of destruction and celebration, tearing down yesterday's walls while dancing in joy at the blueprint for tomorrow.
- Paul Kerr