Posted by: leeway | October 7th, 2011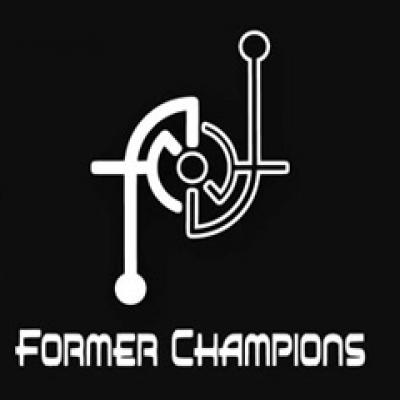 Former Champions, a four piece outfit from Richmond, Virginia, features a nice selection of tracks on their self-titled album. With influences that range from "live electronica" to jazz, jam, rock, and even "pop" music in places, the band offers lots of style and precision in the tracks of this album. The band is comprised of Matt Walton (guitar/vocals), Ben White (keys/vocals), David Ashby (bass), and Geoff Bakel (drums). In employing a nice mix of structured song arrangements, solid lyrics and vocals, and platforms for "jam," the tracks on this album display the Former Champions to be an up-and-coming act on the Eastern seaboard.
The Former Champions' self-titled album begins with "Stereo System," a shorter selection that features interspersed passages of confident guitar and energetic lyrics. "Virtual Playground" displays flashes of "progressive rock" in the vein of Return to Forever, but splashes the arrangement with playful lyrics and head-bobbing rhythm. Thumping bass and swirling keys introduces "Worldwide Traveler," which offers ruminant observations gleaned from travels to Spain, Egypt, Brazil, and Mexico. The song hits its peak with galloping guitar in the third minute, and one can tell that this track would have the dance floor churning in a live performance. The pensive "Infinite" surfaces next; the track utilizes nice harmonics that hearken back to a bygone era in the realm of popular music, before settling into a nice, instrumental jam that spotlights lucid work from Ben White on keyboards. I really like this track a lot, as it seems multidimensional, layering a "jam" sensibility with excellent vocal arrangements that might even be considered, dare I say, "pop" music.
"17th Street" proves to be another moody arrangement that draws from varying genres, with splashes of "fusion jazz" spiced with funk and jam. "We" proves to be one of my favorite tracks on the album, with evocative vocals and nicely layered compositional values. The song swirls and swells in intensity, offering a nice contrast of musical peaks and valleys. "(Worthless) Human Artifacts" defies categorization by incorporating playful lyrics and reflective guitar with a more moody sociological awareness. Playful bass from David Ashby signals the beginning of "GTFD," but the song seems futuristic and space-age with vocals that almost sound "auto tuned." A frantic dash of Ben White's keyboards rounds out the recipe. "Veer From What's Known" offers another side to view the Former Champions, as harmonic keyboard arrangements almost sound "deep fried" in this track, offering glimpses of such Southern rock stalwarts as the Allman Brothers and Widespread Panic. Such description may seem surprising considering the frames of reference so far employed in this review, but the track displays a surprising singularity, and I like it. The album closes with "40s;" rollicking guitar is paired against sparse keys in an enthusiastic jaunt to send us home.
The band has played to increasingly wider audiences at marquee music festivals on the East Coast over the last year, and in press materials, prides itself on creating "groove-based improvisational rock." Such description does seem apt and pertinent, as the tracks on this album feature moments of well-arranged, nearly symphonic passages, coupled with looser moments in the pocket that would be good platforms for improvisation. Most of the tracks on the album are on the shorter side, which can be unusual for bands in the "late night" jam scene. But each of these tracks establishes a nice foundation that could easily translate to longer, more exploratory passages. I find several of the tracks to be particularly nice, with "Virtual Playground," "We," and "Veer From What's Known" standing out now in reflection. With 13 tracks to chew on, there is plenty to discover in the most recent release from the Former Champions.
- J. Evan Wade