Posted by: leeway | November 16th, 2010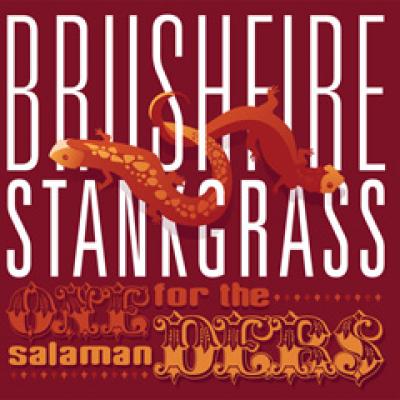 Hailing from Asheville, North Carolina, Brushfire Stankgrass features the talents of two brothers, Ben and Will Saylor on banjo and guitar, Bryan White on bass, and Micah Thomas on drums.  The recording spotlights a performance from two years ago (with Ian Cunningham on drums) at the French Broad Brewery in Asheville, with selected recordings included from Broadview Studios.  In classifying their sound as "stankgrass," the Brushfire quartet fuses the music of mountain traditions with a modern twist; Moog effects and other instrumentation create a truly genre-bending form of bluegrass.  In reviewing their website for the review, I see mention of the term "trance-mountain dub," and that seems like an excellent description of the music that they present.
"One for the Salamanders" begins with the swarthy swoon of "Higher Bliss."  Will Saylor's crystalline guitar soars into prominence and enthusiastic lyrics close the song triumphantly.  Banjo and guitar mesh nicely in "Dropping In," while "Sugar Glider" incorporates trance elements for a dance floor rager.  The track changes directions, sliding into a bluegrass breakdown, before galloping forward.  Will Saylor's guitar shines in moments of precision, while banjo drives the momentum forward.  Lilting banjo serves as the initial backdrop for "One for the Salamanders," but the track ultimately coalesces around strong interplay between bass and guitar.  The likable "Me, John Lennon and the Escalator" charms with fun, homespun lyrics (they remind me of John Hartford and his "Steam Powered Aeroplane") as well as excellent turns on guitar and banjo. 
"Fumaquious Monarch" alternates from deliberate steps to frantic sprints, and features excellent work from the brothers Saylor.  Not one to be undone, Bryan White displays his considerable talents with an enthusiastic jaunt on the bass.  "Hedgehog Highway" ambles and saunters playfully at first, but ramps up in intensity with spirited runs from Will Saylor's guitar.  "Harvest Reggae" blends elements of reggae and dub music with bluegrass, providing for interesting banjo effects in the early measures of the song.  The song extols the virtues of "harvest time" in the mountains, and features an oscillating dub jam that is truly psychedelic.  "11-07" feels cinematic in scope, and features shifting, well-penned arrangements.  Bryan White's polished, excellent bass work shines here, and provides excellent foundation for guitar and banjo, which deliver their trademark efficiency and style.  "Funk Epidemic" was recorded at Ruby's Tap House, and saunters along with enthusiastic bass and spirited drums.  The album closes with the energetic "Carnivorous," and Will Saylor shows his ability to captivate with six strings.
By blending traditional bluegrass with elements of trance and classic rock, Brushfire Stankgrass creates a savory package with "One for the Salamanders."  The recording displays exceptional work on guitar, bass, and banjo, and these tracks seem to invoke lots of different influences.  One hears permutations of Leftover Salmon's "sound" blended with the witty idiosyncrasies of the Talking Heads in these tracks.  The majority of these tracks were recorded "live," and they reveal a band with considerable chops in such a setting.  This album will have lots of treasures for those who love crystalline guitar, and lively, forward-moving songs.
- J. Evan Wade